WIMBIZ recorded more than 2,000 attendees for the two-day conference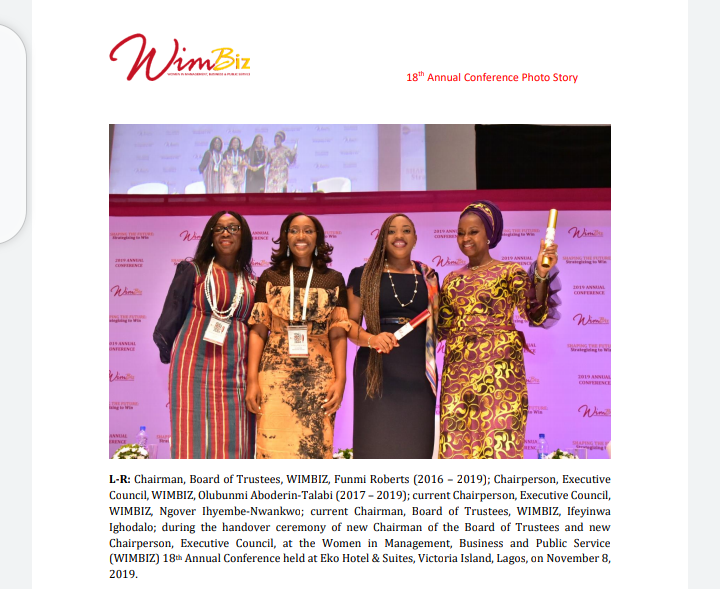 By Ifeoma Ikem
In its committiment, shaping the future and developing winning strategies for women in the long run was the
focus for Women in Management, Business and Public Service (WIMBIZ) during the 2-day WIMBIZ 18th Annual Conference on November 7th and 8th at Eko Hotel & Suites, Victoria
Island, Lagos.
The 2-day conference themed "Shaping the Future: Strategizing to Win" provided an opportunity for frank discussion, deliberation and debate on the future for women in their various sectors, and how they would build and sustain a successful career.
The conference also helped equip women with winning strategies to shape the future and provided practical
solutions to several common issues affecting women professionally and personally.
The event,which takes place in November every year, and is the flagship event of WIMBIZ,this year, for the first time, attracted what some estimate to be more than 2,000 attendees over the two-day period.
In her welcome address to delegates, Chairperson, Executive Council, WIMBIZ, Olubunmi Aboderin-Talabi pointed out that the rationale behind the theme for this year's conference is to the inherent ability that is latent within each person to make something of their future. "We all have the capacity to be proactive in shaping the outcome of our lives" she
added.
Aboderin-Talabi, urged women to set their goals for the conference and be
mindful of how these can be achieved.
The event was chaired by former Chief Judge, Federal High Court of Nigeria, Hon. Justice Rose Ukeje, OFR. Justice Ukeje commended WIMBIZ for putting together the conference and their
consistency over the past 18 years with empowering and inspiring women.
Mrs Erelu Bisi Adeleye-Fayemi, First Lady, Ekiti State who delivered the keynote address on Day 1 of the conference, urged women to be the change they want to see in others.
She implored women to shield and support one another, rise and set their sights on all the great things women can accomplish together.
She also called on women to be politican engaged ,we can leave everything for men alone aleast 45 percent of women should be in the office. Many of us do not know what is happening in our community let us be involved political.
Giving the keynote address on Day 2 was Fred Swaniker, Founder and CEO, Africa Leadership University. Mr Swaniker charged women to be more confident in themselves and their abilities.