Winners Emerge From 9nth Edition Of International Spelling Bee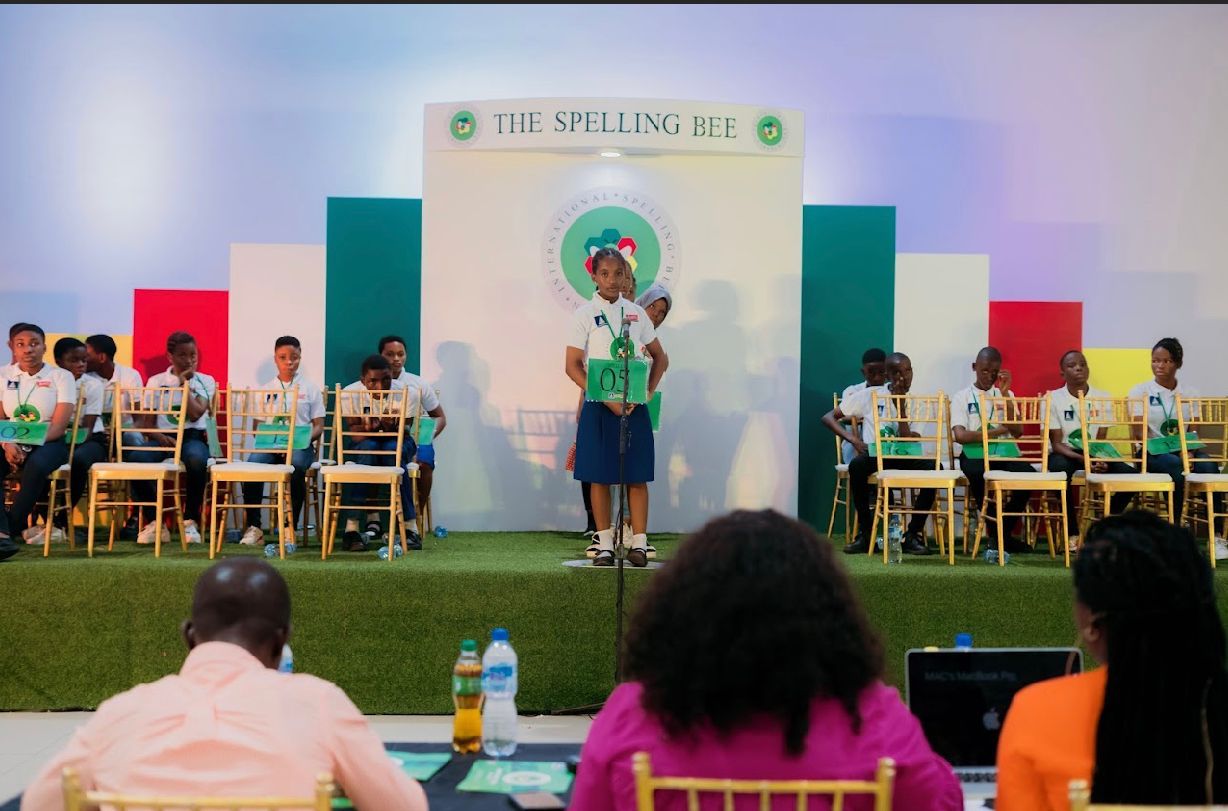 Winners Emerge From 9nth Edition Of International Spelling Bee 
Schools from Nasarawa, Ondo and Lagos State recently emerged winners at the recently concluded ninth edition of the International Spelling Bee Nigeria, organised by Peat Philips Foundation, while six students outwitted other finalists at the national final which took place at Marcellina's place in Ikeja, Lagos.
Agbo Divine Capable of Intimacy with Christ International School, Nasarawa came first in the senior category while Miss David Kate Ene also of Intimacy with Christ International School, Nasarawa and Master Charles David from Greater Tomorrow International School Ondo State came second and third respectively.
The junior category was won by Ojochenemi Solomon Ojotumale of Intimacy with Christ International School, Nasarawa, and Fakande Ifeoluwa David of The Truth Academy Lagos and Odunlami Temiloluwa Janet of Bopton Nry & Pry School, Lagos coming second and third respectively.
Speaking at the national final of this year's The Spelling Bee Nigeria Competition, the Team Lead at Peat Philips Foundation, organisers of the competition, Mr Akinleye Olu-Philips, said such competitions would build the knowledge of participants, boost their memory and confidence, as well as create healthy competitive spirit.
"Spelling bee involves the use of words and how it is applied in communication". We believe that when the young ones are taught to develop critical thinking ability at early stage, it will help equip them as great leaders in adulthood. When a word is called out to be spelt, a participant should not assume what it could mean and that is why the participant has the right to ask relevant questions, which are known as the Lifelines. For instance, reign and rain may sound similar, but they are not the same. That is telling the participant not to assume, assumption could be dangerous at times.
"Assumption is one of the factors that is drawing us back in our nation". The competition is also to help participants develop critical thinking skills. Today 's world requires people who can think out of the box. Critical thinkers are needed for the growth of our society," he said.
The Team Lead at Peat Philips Foundation, Mr. Akinleye Olu-Phillips, said spelling enhances education by improving students' critical reasoning skills and helps Learners develop poise and composure.
"It also encourages reading because if you are a reader, you will be a great speller, and you will have depth and can contribute meaningfully to the development of any nation you find yourself in," stated Olu-Phillips.
He said the foundation runs two literacy programmes, with international affiliations, The spelling bee and The young orators, which are focused on leadership and communications, believed to be one of the country's major challenges.
While congratulating the winners, he advised them not to rest on their oars but to study hard and prepare for the intercontinental stage in the first week of October, 2022.
The event this year was sponsored by Learn Africa Plc formerly known as Longman Publishers with support from Indomie Noodles and Rite Foods Plc.
In his speech, the Managing Director, Learn Africa Plc, Alhaji Hassan Bala said Spelling Bee Competition would improve students Spelling and vocabulary and boost their confidence. He said Learn Africa dictionaries comprising Learn Africa Student's English Dictionary for intermediate students and Learn Africa English Dictionary for Advanced Learners are the official dictionaries of the International Spelling Bee and The Young Orators competitions in Nigeria.
SERVICE TO HUMANITY : SAVE OMOLOLA OGUNLAJA A 32 YEAR OLD TAYLOR NEEDS 15 MILLION NAIRA TO WALK AGAIN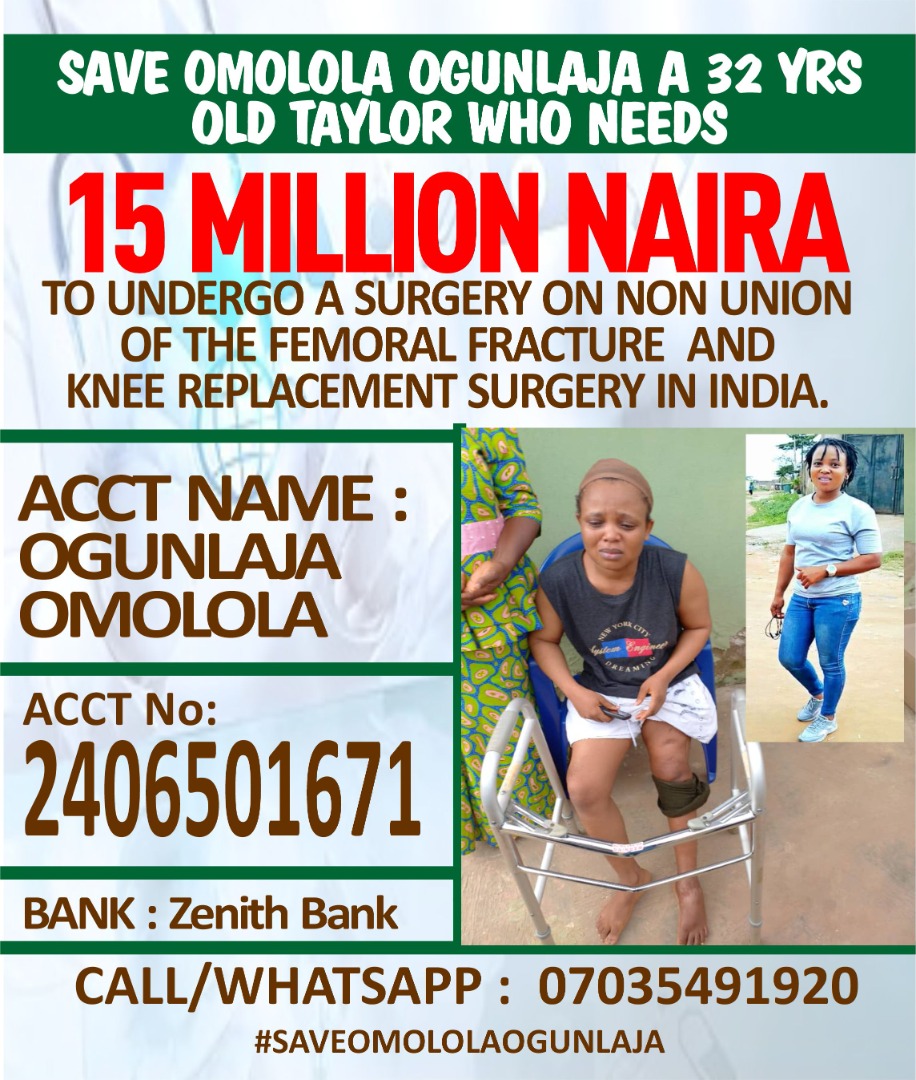 SERVICE TO HUMANITY : SAVE OMOLOLA OGUNLAJA A 32 YEAR OLD TAYLOR NEEDS 15 MILLION NAIRA TO WALK AGAIN
Service to humanity, they say it's the best work of life, what else could we have live for in life, if not seeing our fellow human living well. Pains isn't something we all clamor for, but in the case of a 32 years old Tailor, OMOLOLA OGUNLAJA she has been in pains since February, 2019.
Omolola Ogunlaja is a well known fashion designer who encounter the pains she has been in for over 3 years in the course of delivering her Job, as she had an accident on her way back from her esteemed customer. However, Omolola made it known to 1steleven9jatv that she has undergone varieties of surgery both in Lagos State and Abeokuta, but both surgery in both states were not successful as the injury has been infected.
She was however advised to undergo a surgery on non union of the femoral fracture and knee replacement surgery in India, which is why she called upon 1steleven9jatv for broadcasting help to the fellow Nigerians.
It's of our utmost priority at the moment to seek for the help of Nigerians both Home and Abroad for the surgery of our Dear friend, Omolola Ogunlaja who's currently down in sick bed and couldn't continue again with her chosen field sequel to the accident she had. We all can make her walk again and live beautifully well if we all support her with our little peanut which will go a long way.
Omolola is in need of 15 million naira to undergo the surgery, below are the account details for payment;
Account Name : OGUNLAJA OMOLOLA
Account Number : 2406501671
Bank : Zenith Bank.
Phone No : 07035491920.
May God bless us all with good health. See Graphics for more details. #Saveomololaogunlaja
Why You Should Patronize Winney's Secret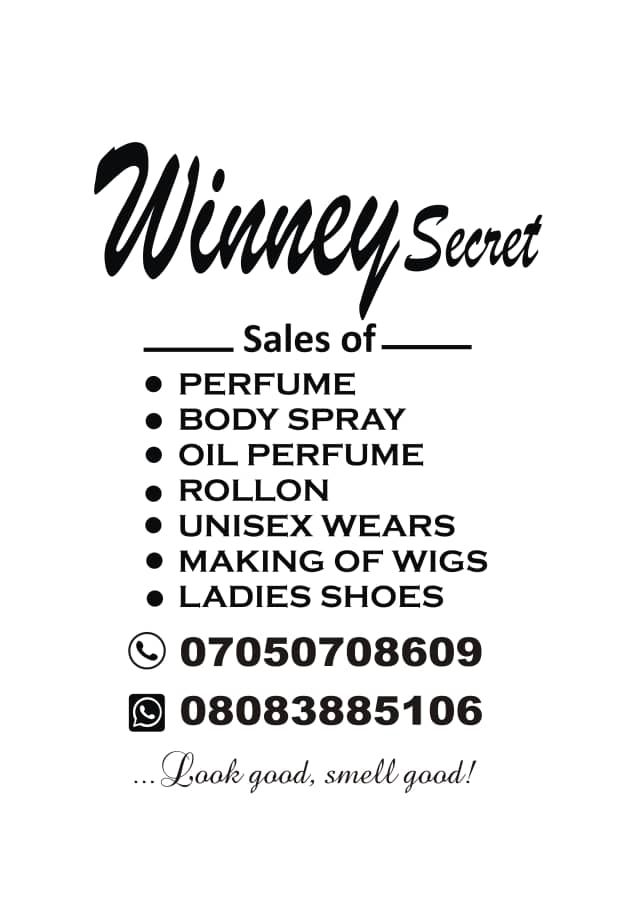 Why You Should Patronize Winney's Secret
Get your fashionable needs covered with winney secrets!
Make yourself, and your outfits noticeable with the best of Perfumes, Body spray, Oil perfume, and roll-ons from winney secrets, passing on a good impression to others.
Winney secrets also have got you covered on Unisex wears that are intriguing and eye-grabbing.
You can also get your wigs of various types, and various shades of beauty.
Also, you can shop for elegant shoes to make your feet look beautiful
To place an order;
Call: 07050708609
WhatsApp: 08083885106
Lady Born Without Legs Shares Emotional Story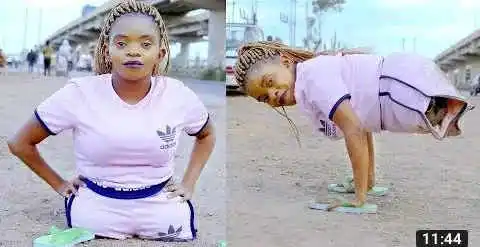 Lady Born Without Legs Shares Emotional Story
Lady born without Legs shared her experiences with his boyfriend. Eunice narrates how she was betrayed by people she loved and trusted so much with her life. Eunice, who was born with a disability, shared her story. Her parents died when she was 3 years old, and she was left in the care of her grandparents. She was humiliated, insulted, and demeaned in school because of her disability. She felt sad that she couldn't run with her peers because of her disability. She was "very upset" when a classmate asked her why she didn't have legs. She cried and asked her grandparents to send her to a disability school.
After graduation, she searched and searched for a job but was unable to find a job because of her disability. She later moved in with her brother. One of her family members volunteered to assist her and take care of her because of her disability. It wasn't long until she met someone she liked and they started dating; he came to see her often until the unexpected happened.
When she got home one day, after a long day of searching for a job, she found him and her caregiver on the couch embracing each other. When they saw her, they pretended to not be doing anything since they were in a state of awe.
The most terrible event of my life, because I loved him so much," says Eunice. When she tried to get in touch with her ex-boyfriend, he told her to never call his phone again and to delete all of his memories. According to her, the caregiver tendered an apology. In the end, though, she was able to move on and forgive her. She cry every day since she couldn't find a man to love her and marry her. Having a disability has made it difficult for her to get a job, she said.
As her brother prepares to get married, she is begging friends and family to please help her start a cosmetics business and rent an apartment for her so she won't be a financial burden to him. She always cry knowing she will may not find a man to marry her and might never find a job because of her disability now her career snatched the only man that loved her from her.