With Governor Agbu Kefas, The Set Time For Taraba State Is Now! By Oluwatosin Alex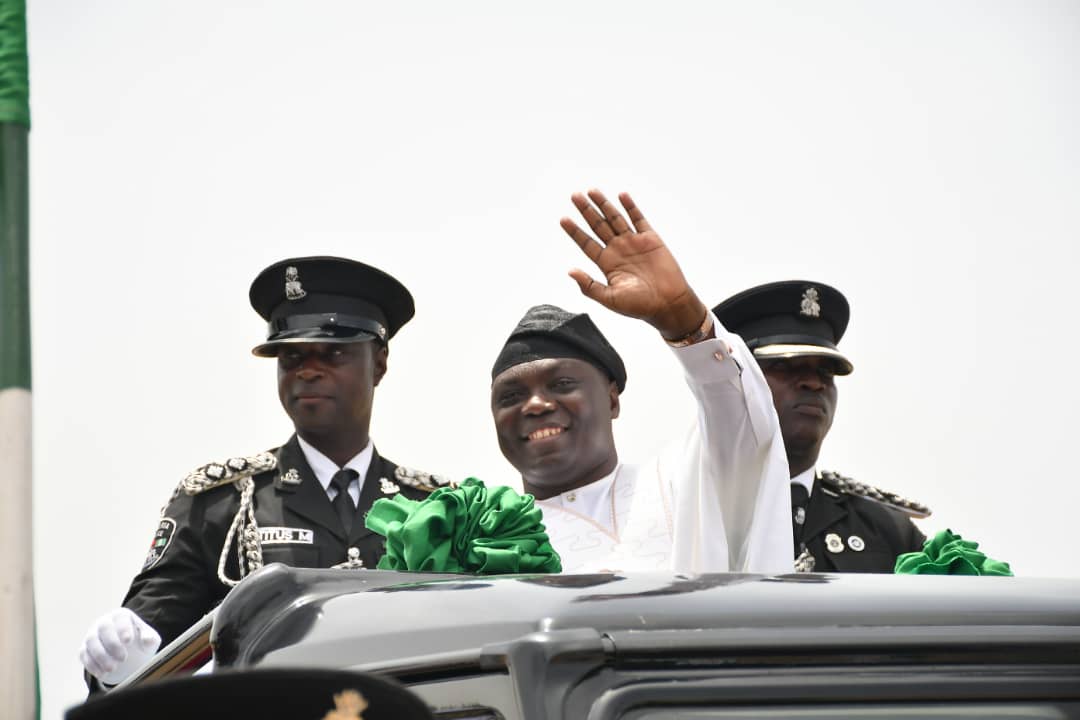 By Oluwatosin Alex
I have written several articles regarding Dr. Agbu Kefas since he won the keenly contested March 18 governorship election in Taraba state. In all these articles, I addressed him as the Governor-elect of Taraba state but now, the title has to change following the smooth inauguration ceremony that was held yesterday Monday, 29th of May, 2023.
Therefore, I would love to first congratulate Dr. Agbu Kefas on his successful inauguration as the duly elected Governor of Taraba state. This has further confirmed that indeed, He was voted for by the good people of Taraba who want rapid change in the affairs of the state. It's indeed a dream come true not for Governor Agbu Kefas but for the people of Taraba state. Once again, accept my congratulations.
Speaking about the inauguration, the venue of the ceremony, Jolly Nyame Stadium again mirrored the organic love and support the people of Taraba state have for him. The stadium was filled to the brim with shouts of joy as Governor Agbu Kefas took the oath of office and gave his inauguration speech.
For some of the attendees, it wasn't just an ordinary swearing-in ceremony but a significant event that marks the end of perilous times and the beginning of a new dawn. The event didn't just have supporters of Governor Agbu Kefas and PDP Chieftains alone, many members of opposition parties, former governors, elder statesmen, senior citizens, youths, and women representatives, among a host of many others, were in attendance. It wasn't a one-man's show but an event for the true lovers of Taraba state.
Many who are conversant with Governor Agbu Kefas can testify that he indeed has a great mind, a Midas touch, and extraordinary skills in turning situations around positively. It was only normal for true lovers of Taraba state to storm the inauguration ceremony in the interest of the state.
Governor Agbu Kefas during the inauguration melted the hearts of many when he gave his mind-blowing speech which reiterated his plans for the people of Taraba state and called for support from everyone while acknowledging that the job of governance isn't a one-man show thing but a collective effort in the interest of Taraba state.
His inauguration speech was not just a ceremonial speech but a statement of hope for the people of Taraba state. Governor Agbu Kefas is loved but was loved more after delivering the masterpiece of a speech at the inauguration ceremony.
Among his promises, He promised to prioritize security, women and youths empowerment, enablement of the disabled, and create an environment where everyone will prosper. Governor Agbu Kefas has never for once deviated from his campaign promises for the people of Taraba state.
Apart from his promises, He made his first appointments yesterday to hit the ground running as promised. It has also been confirmed that within 60 days in office, other appointments will be done for the sake of progress.
Governor Agbu Kefas' mantra since his campaign days has been 'Moving Forward' and undoubtedly, the set time for Taraba state to move forward is NOW.
Help Restore Hope In Our Youths, Bejeroku of Oke Agbo Urges Realtor Adeyemo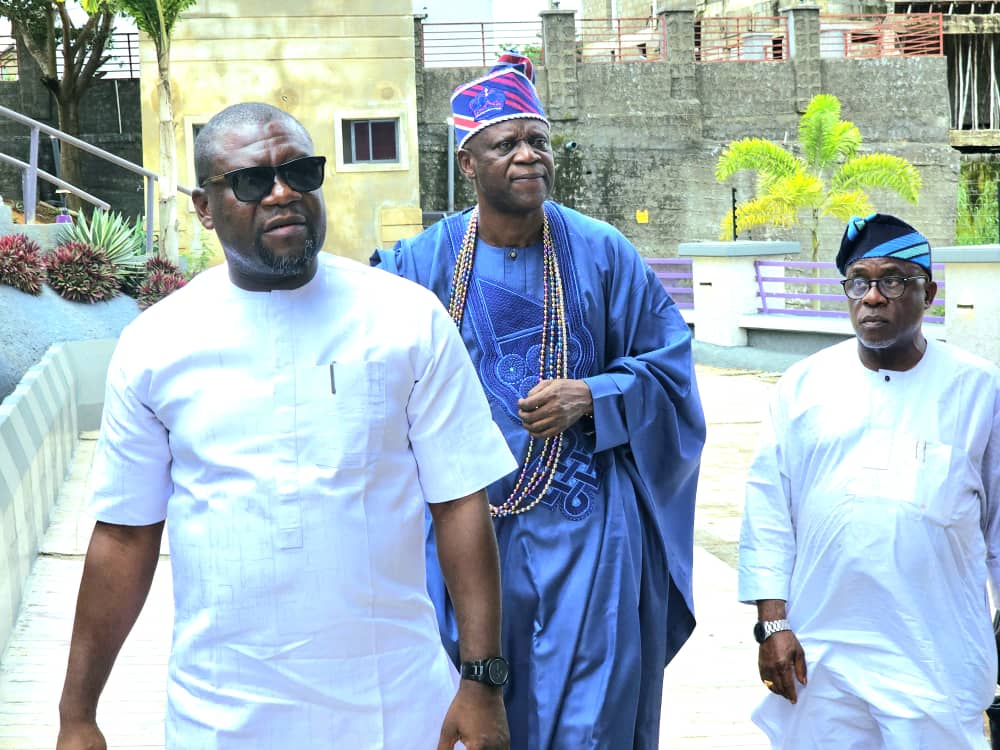 Help Restore Hope In Our Youths, Bejeroku of Oke Agbo Urges Realtor Adeyemo
…As Monarch Partner Pelican Valley CEO To Drive Development
Sahara Weekly Reports That The Bejeroku of Oke Agbo, Ijebu Igbo,Oba, Stephen Adeleke Adekoya, has described realtor Babatunde Adeyemo as a beacon of hope and charged him to use his vision, impressive achievements and experience in real estate business to restore hope in Nigerian youths.
Oba Adebajo who noted that hope is what keeps life going, said that at this critical time of the nation's economic trajectory, hope is an essential ingredient needed to stay on right course and navigate safely.
The monarch gave the advice during an interview with The Daily Crucible at The Podium within the cosy Pelican Valley Estate Laderin, shortly after a guided tour of it by Dr. Adeyemo, the Chief Executive Officer (CEO) of Pelican Valley Nigeria Limited, a foremost real estate firm.
Oba Adebajo and one of the illustrious sons of Ijebu Igbo were at Pelican Valley to deliberate on feasible practical partnership with the CEO on community development and youth mentorship.
He expressed satisfaction with all the experiences and knowledge shared during the tour and voiced out his readiness to partner with the Pelican Valley to bring development to his domains.
The monarch said, "Anytime you see me in this element, that I'm truly and genuinely happy, I'm always turned on when I see people doing something differently and achieving uncommon result. I think such has been an experience with Pelican Valley in the last three hours we have been moving round some of your estates around in the capital city of Ogun State.
As a young man, I respect his vision and I thank God on his behalf and I'm happy again to still be a Nigerian and happy too to still be a Black man because a number of times we write ourselves off by our statements, by our actions, by our beliefs system that oh nothing good again can come from us. So, when we see things like this from young people, we are not just Blacks but who are Nigerians, you know that there is still hope for Nigeria. Like I have mentioned before, Hope is why all of us live. We all live for hope. And when there is no hope, human beings become desperate. When there is hope and continuous loss of hope, the initial thing that will set in is depression. A number of the cases that we treat in this country today that lead to fatalities are as a result of depression and also as a result of loss of hope. When the road seemed closed, fear is immediately created. When that fear that was created is not addressed on time, and there seem to be blockages as to the way out of the problem, one runs into depression. The rest can be left to the imagination. So, I have come, I have seen and my mission when I was coming was different. It was just to come, discuss with one big man in a big and cosy office and why I say he should be a mentor and add mentorship to the vocation he is presently doing, is to encourage our youth. Whatever it is that I have come for, we can do everything here with what I have seen and in my seeing, I have learnt and I have gained a lot from Pelican. And I want to appeal to the CEO and I'm praying too, that God will continue to support him. And I want him to keep the flag flying and share his vision with a number of our youths. When you do that, you create hope. Hope is the foundation of everything we become in life. It is that thing that makes you say, 'oh I can do it?' So, if I do it, there is an opportunity here?'
It encourages a lot of people, it gives them a renewed hope that will turn their lives for the better.
On How youths can key into the Pelican vision
Seeing is believing. A number of times, especially based on the experiences they have had, people now believe only what they can see. So, he could go to an institution, it could be one – off programme in a year, you look at all our institutions within Abeokuta and Ogun State, you pick the town Planners, architects, engineer and take them round, you let them know it is an engagement and opportunity to ask questions, to let them see how you did it and how you started, what gave you the vision, how you developed the vision and how you had the opportunity of taking easy money to start ,which would have become a challenge probably intractable challenge and how you avoided it through advice by somebody whom you can also regard as a financial mentor now. So, when you take them through such a life experience that is practicable, the end result of which they are seeing here and you bring people to this type of environment and they see it and say, 'so things like this could happen here by vision of somebody,' it gives them a lot of hope. The hope is what we should bring back to our youths in Nigeria.
Partnering Pelican to drive development in Ijebu Igbo
I'm already partnering with him in my mind and I don't do anything outside of my mind. I'm telling you from the bottom of my heart that I'm already partnering with him because I have gained. When I mentioned knowledge gap which I believe is the missing gap either at the government level, individual level or at the institutional level. Yes, we have vast land that is there and my own take off point is, 'how do we develop it?' I started the discussion with my brother and I told him that all our children abroad and diaspora, can't we create an estate that we can name Diaspora Estate or something befitting? Or Ijebu Diaspora Estate? He now said, 'Yes, I have a friend, lets go meet that my friend, he is into things like what you have in mind. So, I think I have come, I have seen and I believe I will be able to conquer all the challenges facing me as far as development of this vision and my domain is concerned. If I have seen him do it, he has done it, I have seen it and he has told me so many things that assisted me in allaying some of the fears, very simple statements he might not have known or imagined the effect. He has told me that I could approach the government and of course, I will not do it without him. So, every step of the way, we will carry him along and that is deemed practical partnership. We will carry him along, we will share his experience, he will guide us, he will mentor us and I want to assure him that we will not disappoint him because we will also do well.
Speaking on the visit of the Royal father, the CEO, Pelican Valley Nigeria Limited, Amb (Dr) Babatunde Adeyemo, who expressed pleasure over the visit, described the traditional ruler as an extremely good listener and one of the most cerebral traditional ruler he had ever met. The recently inducted anti-corruption ambassador and ECOWAS youth ambassador also stated that the king had said his mind in totality and might not really need to add much. "Kabiyesi his one of the most cerebral and good listener I had met in recent times, you see, I don't often tell people about my life stories and how integrity, goodwill, creativity and fiscal discipline can squeeze water out of the rocks, because I often sound like a motivational speaker, so nowadays days, I feel the best way to inspire is to let the people see for them selves and judge. I don't really like motivational speakers, realtors or politicians who don't speak with direct references or tangible evidences,talk is always cheap. Show us what you have done and use them as reference points. That is why we don't do aggressive marketing, adverts or sales promotion at Pellican-Valley, We speak to clients through continuous value adding and developmental projects in our various Estates ".
Coup In Africa: Buratai, An Unsung Hero By Femi Oyewale (Opinion)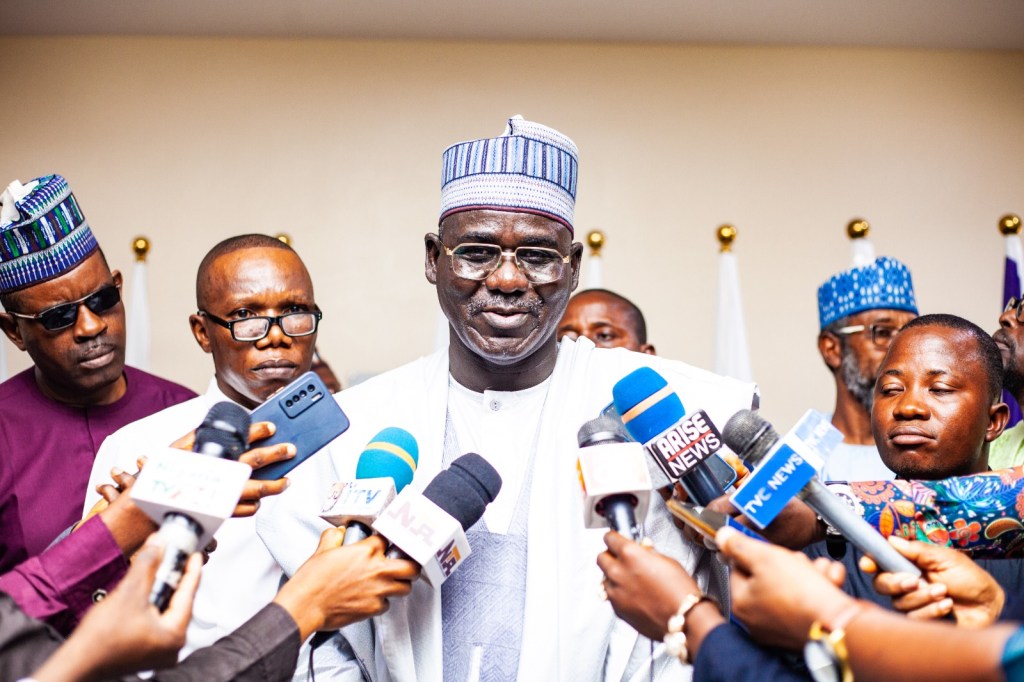 Coup In Africa: Buratai, An Unsung Hero By Femi Oyewale (Opinion)
Sahara Weekly Reports That Of a truth, a prophet is not without honour except in his hometown. Against the backdrop of recent military coups in West and Central Africa, Nigeria is enjoying relative peace because the present crop of Nigerian army are thoroughbred professionals who understand the code of ethics and the constitution.
This assertion was confirmed when more recently, the current Chief of Army Staff, Lieutenant General Taoreed Lagbaja, declared that the Nigerian military would always defend the nation's democracy at all costs using every constitutional means.
Interestingly, the foundation for this relative peace Nigerians are enjoying against any notion of coup plotting from the military was solidified by the former Chief of Army Staff and ex-Nigerian Ambassador to Benin Republic, Lt. Gen. Tukur Buratai (rtd) who with dedication and adherence to military professionalism built a Nigerian Military that is thoroughbred professional and can be a force to be reckoned with globally.
Like him or hate him, he is one of the finest pure-bred military brass in the history of the Nigerian Military ( A visit to the military HQ would attest to this)
His mission to make the Nigerian Military apolitical began in 2016 at a time when the duly elected president of Nigeria was battling with severe health issues and there were rumors of a coup d'etat, unlike a greedy General who is tempted by all and sundry, he read the riot act to his officers maintaining that their primary role and mission is safeguarding the constitution and entity called Nigeria.
According to the report by Vanguard Newspaper in 2016, in an obvious step to put to check the rumoured coup threat, Buratai summoned all Principal Staff Officers (PSOs) and General Officers Commanding (GOCs) of the Nigerian Army to an emergency meeting.
The meeting was called to strategize toward preventing any such incidents and other security challenges in the country.
https://guardian.ng/news/coas-meets-principal-officers-over-coup-threat/
Also, in 2017, He put in place several measures to nip in the bud any attempt by army officers to disrupt the democratic process in Nigeria by coup. This he even disclosed to the former vice-president of Nigeria, Prof., Yemi Osinbajo. He told his men that he had all the security checks through which he monitored all these attempts by politicians to lure them into such a dangerous venture. He proffered a way out for them, resign voluntarily and join politics.
Read More
https://www.premiumtimesng.com/news/231436-stay-off-politics-army-chief-buratai-warns-nigerian-soldiers-as-coup-rumours-spread.html?tztc=1
Furthermore, in 2020, Lt. Gen. Tukur Buratai warned newly promoted generals against plotting a coup to topple Nigeria's democratically elected government.
Speaking during the decoration of 39 newly promoted major generals, he warned that the Nigerian army would not tolerate any coup plot.
General Buratai disclosed that some army generals were being approached by politicians, adding that the generals were being watched.
"Democracy has come to stay. We will not tolerate any agent of destabilization. The years of military misadventure in politics have never carried us anywhere. It is over," he stated.
He added: "Do not hobnob with politicians. At this rank of two-star generals, do not lobby for appointment. If you want to lobby for an appointment, lobby the Chief of Army Staff and you can only do this through hard work, discipline, and loyalty.
"The crop of officers decorated will never be dragged into any interest that is contrary to the sustenance of democracy in our nation.
"All our eyes are on you. We know there are several moves to get your attention. You must make sure that whatever you are doing, and when some persons approach you, you must act within the confines of the constitution."
One salient strategy adopted by Lt Gen Buratai Rtd was the continuous engagement of the officers and soldiers all the year round with series of exercises and drills. There was never a dull moment in the Nigerian Army during his tenure in office as COAS.
He was once asked why all these exercise CROCODILE SMILE, PYTHON DANCE, HARBIN KUNAMA, SAHEL SANITY etc?
General Buratai smiled and said " you see, an idle mind is a devil's workshop. We must continually keep our troops engaged professionally. Essentially these are all training exercises to ensure the troops remain professional. It is equally a strategy to ensure that they maintain focus on their constitutional roles and not to be distracted by anti-democratic forces to derail the national democratic political order. My insistence on these exercises achieved 2 things. First; high professional standard through regular training and secondly; preservation of democracy."
Those close to General Buratai would attest to it that he is an extremely intelligent officer who is not governed by greed or lust for positions. Rather, he is a man on a mission with a vision, a line crosser, and a barrier breaker. Read The Legends Of Buratai and you will have a peep into his kind of person.
Did he foresee the series of military coups that would sweep out civilian administrations and put the West and Central African regions on edge? An experienced Army general is like a prophet who gives prophetic warnings about security issues within and around the world. Truth, be told, The former Chief of Army Staff, Lt. General TY Buratai Rtd is one of the most seasoned army intelligence General the country has ever produced.
This is not unconnected to his timely report weeks before the series of coups plaguing the African region when he declared that it was high time African governments should classify military Coup D'etat as organized crime. His report came in handy.
Speaking at an International conference on 'Organized Crimes Network as Emerging Threats to National Security', at the Nigerian Army Resource Centre, Abuja, the former Ambassador to Benin Republic said "Coups should also be identified and termed as organized crime. That is why I am happy that President Bola Tinubu emphasized to African leaders, the need to checkmate incidences of coups at the last meeting of African leaders.
"They (military) can have many ways to influence the government to make sure that security role is played appropriately and also allow the democrats, the civilians, to perform their roles properly.
"The best way is for the military to remain within the constitutional bounds and also encourage the civil administration to do their best to solve the governance challenges or the developmental challenges of our country.
"It is by doing so that everybody playing his role, the democrats doing their own properly, the politicians, the military, the populace performing their own roles properly. The politicians and the military should try to avoid being influenced externally to disrupt the democratic process in the country.
Continuing Buratai said, "With Nigeria currently grappling with many emerging threats, the conference holds particular significance for the Bola Tinubu government, providing an opportunity to examine successful initiatives implemented elsewhere and adapt them to the local context.
"Organized crime refers to a complex network of individuals or groups engaging in unlawful activities, often with a well-defined hierarchy and operating in a systematic manner to achieve their objectives. They engage in violence, corruption or related activities in order to obtain, directly or indirectly, a financial or material benefit.
"The causes of organized crime in the Sahel, particularly in Nigeria, are undoubtedly multifaceted. One of the primary contributing factors is the existence of porous borders, which allows for the easy movement of criminals and illegal goods across national boundaries.
"Also, prolonged conflicts in countries like Somalia, DR Congo, Libya, Mali, Burkina Faso, and now Sudan have a direct impact on the rise of organized crimes. Additionally, the prevalence of poverty and unemployment within the region creates a desperate environment that can push individuals towards criminal activities as a means of survival.
Greed and the pursuit of personal gain contribute to the proliferation of criminal networks, as individuals are enticed by the potential financial rewards.
"Furthermore, the absence of effective law enforcement (police), weak deterrence mechanisms and weak governance structures, further enable criminal organizations to operate with impunity.
"The economic hardships resulting from the implementation of anti-contagion measures made some of the world's most vulnerable populations more susceptible to human trafficking and various forms of exploitation.
"The oil market experienced a dramatic collapse primarily caused by a decrease in demand. As a result, vessels transporting oil cargo became exposed to the risk of piracy.
"In Nigeria, organized crime has taken various forms, reflecting the country's socio-economic challenges and political landscape.
https://www.vanguardngr.com/2023/07/coups-should-be-seen-as-organized-crime-buratai/
A very close ally of General Buratai once told me that despite the fact that he is no longer the incumbent chief of Army Staff in Nigeria, He still keeps abreast of every security issue globally, especially African continent. In fact, he is considered an encyclopedia when it comes to security issues and is well-versed in both theoretical and practical affairs as it relates to safety and security. If you want to have a peep into some of his achievements as the COAS, read:
Buratai's Achievements As Nigerian Army Chief of Staff
Eidel—Maloud: Prince Dr. Adedipe Dauda Ewenla Felicitates Muslims, Preach Peace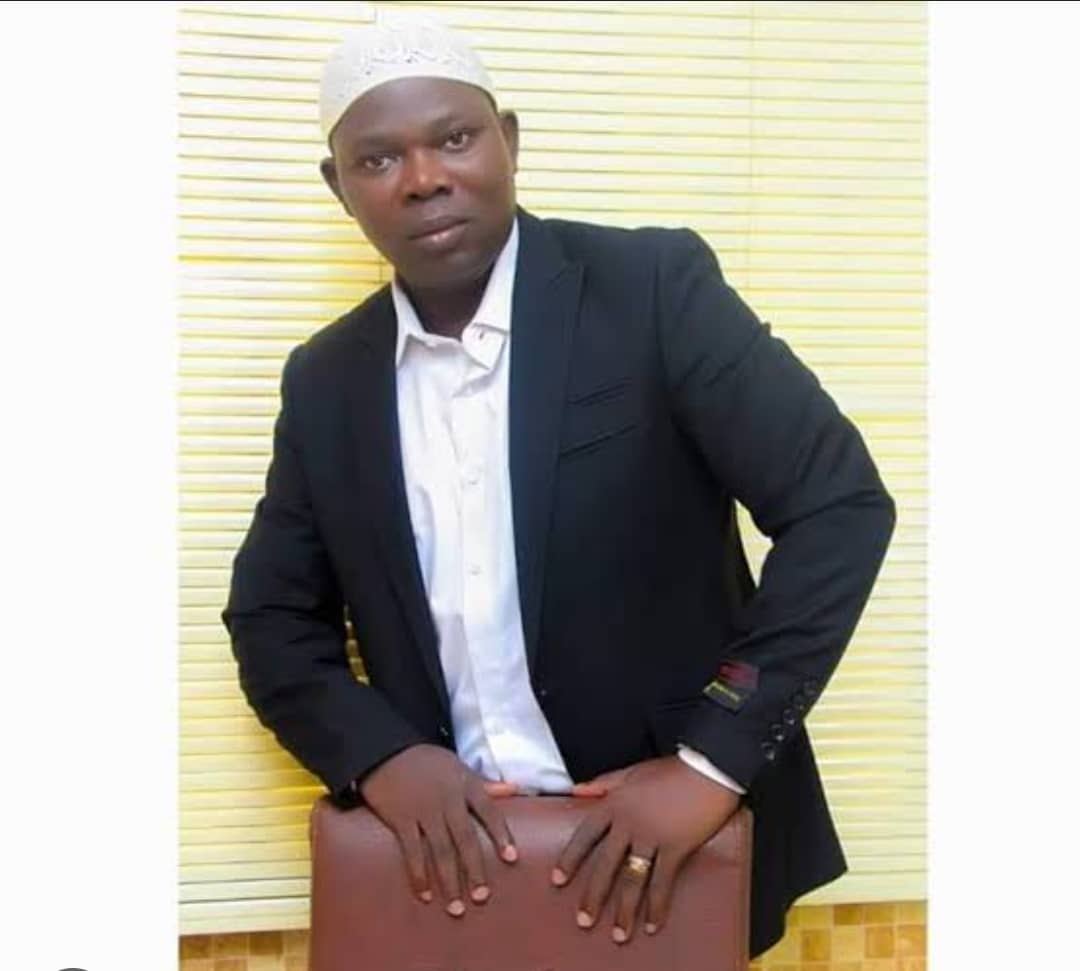 Eidel—Maloud: Prince Dr. Adedipe Dauda Ewenla Felicitates Muslims, Preach Peace
As-salamu alaykum wa rahmatullahi wa barakatuh,
Sahara Weekly Reports That On this blessed occasion of Eid-ul-Maulid, I, Prince Amb (Dr) Adedipe Dauda Ewenla Nis DiL Bsc Msc , Arowo-sadini of Abule Egba Lagos, extend heartfelt greetings and sincere prayers to my family and friends, All People Democratic party (PDP) Leaders and members worldwide including our Muslim brothers and sisters across the globe.
May this auspicious day, commemorating the birth of our beloved Prophet Muhammad (peace be upon him), bring an abundance of joy, peace, and blessings into your lives and homes.
In the Quran, Allah (SWT) tells us in Surah Al-Ahzab (33:21):
"Indeed, in the Messenger of Allah, you have an excellent example for whoever has hope in Allah and the Last Day, and remembers Allah often."
Let us reflect upon the teachings and noble character of the Prophet (peace be upon him) as a source of guidance and inspiration in our daily lives.
As we celebrate this special day, let us remember the importance of compassion, kindness, and unity within our community and beyond. May we continue to uphold the values of peace, tolerance, and understanding that our faith teaches us.
In Surah Al-Anfal (8:46), Allah reminds us:
"And obey Allah and His Messenger, and do not dispute and [thus] lose courage and [then] your strength would depart; and be patient. Indeed, Allah is with the patient."
Let us stand together, united in faith and purpose, and work towards a brighter and more harmonious future for all.
I pray that Allah showers His choicest blessings upon you and your families, protects you from harm, and grants you success in all your endeavors.
Eid Mubarak!
With warm regards,
Prince Amb (Dr) Adedipe Dauda Ewenla
Nis DiL Bsc Msc
Arowo-sadini of Abule Egba Lagos