World Champion, Tobi Amusan, Arrives In Lagos Following Triumph At The Championship Games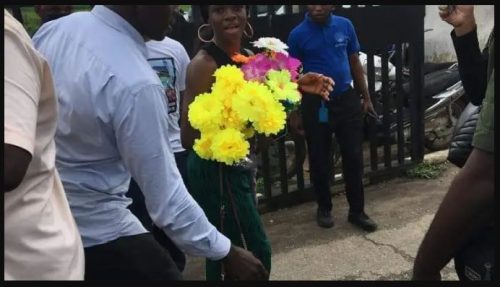 World Champion, Tobi Amusan, Arrives In Lagos Following Triumph At The Championship Games
Reigning Commonwealth and World 100m hurdles champion, Tobi Amusan, has arrived in Lagos following her victories at the World Athletics Championship in Oregon, US, and more recently in Zurich, Switzerland.
The 25-year-old set a meet record of 12.29secs to win the women's 100m hurdles in Zurich and won $30,000 last Thursday.
Tobi Amusan explains why she is cool without a Husband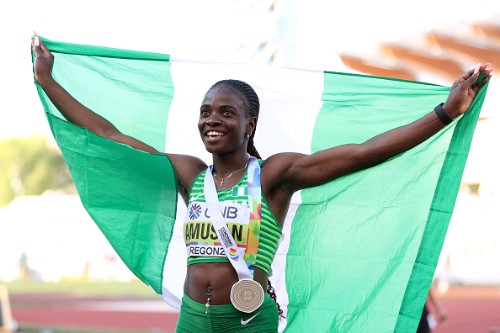 Tobi Amusan explains why she is cool without a Husband
The current World Athletics, Commonwealth Games, and African Champion in 100 metres hurdles, Tobi Amusan, give reasons why she is cool without a Husband
Going by her achievements, popularity, and humble disposition, she would be the toast of every young man, but the world record holder (12.12 seconds), said she's only focused on athletics at the moment.
Speaking at a rousing reception and befitting home-coming dinner event in Lagos organised by her management outfit, Plug Sports, she, among other things talked about her journey to the top, aspirations, relationships, and future plans.
In the star-studded event attended by top young achievers in the country such as hip-hop star, Naeto C, Obi Asika, Adesola Adesugba, Bukola Olopadenilayo, FK Abudu, and a host of others and where the multi-million dollars Nigeria fintech company Flutterwave, unveiled a multi-year partnership deal with the hurdler, Amusan informed that, though she may be open to having a relationship, she is more focused at breaking borders on the track.
Asked about her love life, and relationship status, she coolly answered. "I'm chilling. Right now, I am working hard on myself, and my career. I know at the right time a man will come. There are men watching me now but at the right time my man will come."
She's however confident that she can even do more on the track following the recent ratification of her 12.12 seconds record at Eugene, Oregon USA by the world athletics apex body.
"That is the best feeling ever because we know we've done the work. It's a breath of fresh air for me and I'm still getting a hang of everything happening to me right now. My 200 million soldiers across Nigeria supported me through the World Championships, Commonwealth Games, and the Diamond League, I trust them.
She recalled the moment she crossed the line in Oregon as accomplishing and special.
"It was accomplished for me because looking back at the previous years of major tournaments and championships, it was always fourth-place finish. That one time was not just like any medal. It was a world record; the first Nigerian to do everything on that stage. I felt elated."
She said that lining up alongside other accomplished stars such as Puerto Rico's Jasmine Camacho-Quinn and USA's Kendra Harrison, did not affect her confidence.
"This is a competitive event and I would not say it is not challenging. When I lined-up against the other seven, I knew it was me versus the clock. In as much as you are aware of the environment and the people, you are competing against; you just have to bring your A-Game every time."
Primate Ayodele's Prophetic Impact On Ibrahim Gusau's Victory As NFF President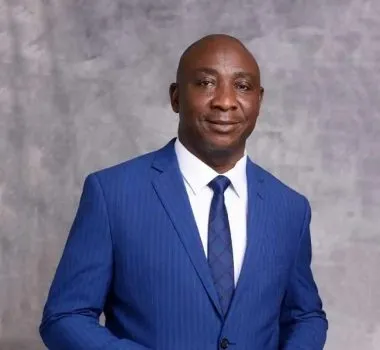 Primate Ayodele's Prophetic Impact On Ibrahim Gusau's Victory As NFF President
Alhaji Ibrahim Gusau has just been elected as the new president of the Nigeria football federation (NFF) in Benin at an electoral congress after the tenure of the incumbent, Amaju Pinnick expired.
Gusau contended with several other candidates in the election but was favoured to have received the highest vote from the electorates.
Ibrahim Gusau's bid to become the next NFF President was not ordinary, it was more of a divine orchestration considering some prophetic declarations and revelations said by popular prophet, Primate Elijah Ayodele concerning his ambition.
Primate Ayodele made a statement in April 2022 concerning the NFF presidency and mentioned that Ibrahim Gusau has been endorsed by God to take over from Amaju Pinnick if the federation wants the best. He said this while warning Pinnick not to seek a third term ambition in office.
Again in August, Primate Ayodele made a more elaborate revelation concerning the ambition of Ibrahim Gusau by saying the NFF deserves a better leader because the country's football is in serious dilemma. He revealed that humanly speaking, he would have loved Amaju Pinnick to maintain the position but God has spoken and His choice is Ibrahim Gusau.
These were his words ''The only person who can make the NFF better is Ibrahim Gusau. I want Amaju Pinnick to retain the seat in my human capacity but God said No to his ambition but Yes to Ibrahim Gusau. Pinnick is a nice man, loveable and compassionate man but he is not God's choice for the leadership of NFF. He is a man I love so much, I prayed for him to still retain his position as NFF president but God rejected him, there is nothing that can be done to it.''
''Amaju Pinnick is my brother, he is a good Christian and I would have loved a Christian to be there but God said No, he should not continue, there is nothing I can do about it, I will keep praying for him to go higher but for NFF Presidency, God has rejected him despite my prophetic declaration on him.'' (https://www.owngoalnigeria.com/2022/08/05/i-want-amaju-pinnick-to-remain-as-nff-president-but-god-rejected-him-for-ibrahim-gusau-primate-ayodele/)
Later in August, Primate Ayodele further stressed his prophetic revelation that Ibrahim Gusau is the man whom God has chosen to take Nigeria's football to the next level because there is so much rot in the system. He also called on Pinnick to support him in order to leave a good legacy behind as his tenure expires
''Amaju Pinnick has done so much for Nigerian football and he needs someone who will build on his good legacies. The best person that can do better than Pinnick in NFF is Alhaji Ibrahim Gusau. I am not a footballer or an NFF official but that's what God has shown me, Gusau is the only man that can bring success to Nigeria football and perform excellently well.'' (https://theeagleonline.com.ng/primate-ayodele-says-ibrahim-gusau-is-best-candidate-as-next-nff-president/)
Finally in September, Primate Ayodele noted that if Ibrahim Gusau emerges as the next NFF president, Nigeria will perform well in the coming African cup of all nations (AFCON) and can reach the quarter final stage in the next world cup.
''Ibrahim Gusau and Aisha Falode will make a better leadership in Nigeria Football Federation than anybody, the country will do well in the next world cup and can reach the quarter final stage if these two are in leadership positions. Nigeria also stands a better chance of winning the next African cup of nations with them in the system'' (https://theeagleonline.com.ng/nff-congress-primate-ayodele-makes-prophetic-pronouncement-on-ibrahim-gusau-aisha-falode/)
As Ibrahim Gusau emerged as the newly elected president of the NFF, the impact of Primate Ayodele's prophetic revelation cannot be over emphasized. Every human in all aspects of life looks up to God for directions and when HIS servants speak, it's definitely the right way to go. The prophetic revelation of the man of God served as a directive for the electorates who want a better representation for the NFF considering the fact that Nigeria's football has suffered greatly in the last few years.
With this, Primate Ayodele has been confirmed again as the only prophet who proves to the world that God is interested in every area of man's life with his prophecies concerning all sectors of the country including sports, economy, education, politics, governance, corporate organizations, to mention a few.
Ibrahim Gusau Elected As New NFF President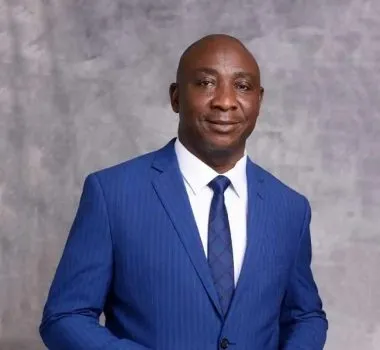 Ibrahim Gusau Elected As New NFF President
Ibrahim Musa Gusau, Chairman of Zamfara Football Association, has emerged the new President of Nigeria Football Federation, NFF.
Gusau, a member of CAF Organising Committee and Chairman, Football Associations chairmen, garnered 39 votes to succeed Amaju Pinnick.
In the first round of voting during the election held in Benin, Edo state, Gusau garnered 21 votes, defeating outgoing NFF First Vice President, Seyi Akinwunmi and Second Vice President, Shehu Dikko, who got 12 and 6 votes respectively.
He also defeated Peterside Idah and Abba Yola who got one vote each.
But, while Akinwunmi, Dikko and Yola, withdrew from the race, Peterside Idah, proceeded to the second round with Ibrahim Gusau, who needed 22 votes to be declared winner.
At the end of the second round voting, Guasau got 39 votes while Peterside Idah got only one vote.