World Champion, Tobi Amusan Bags GLO Ambassadorial deal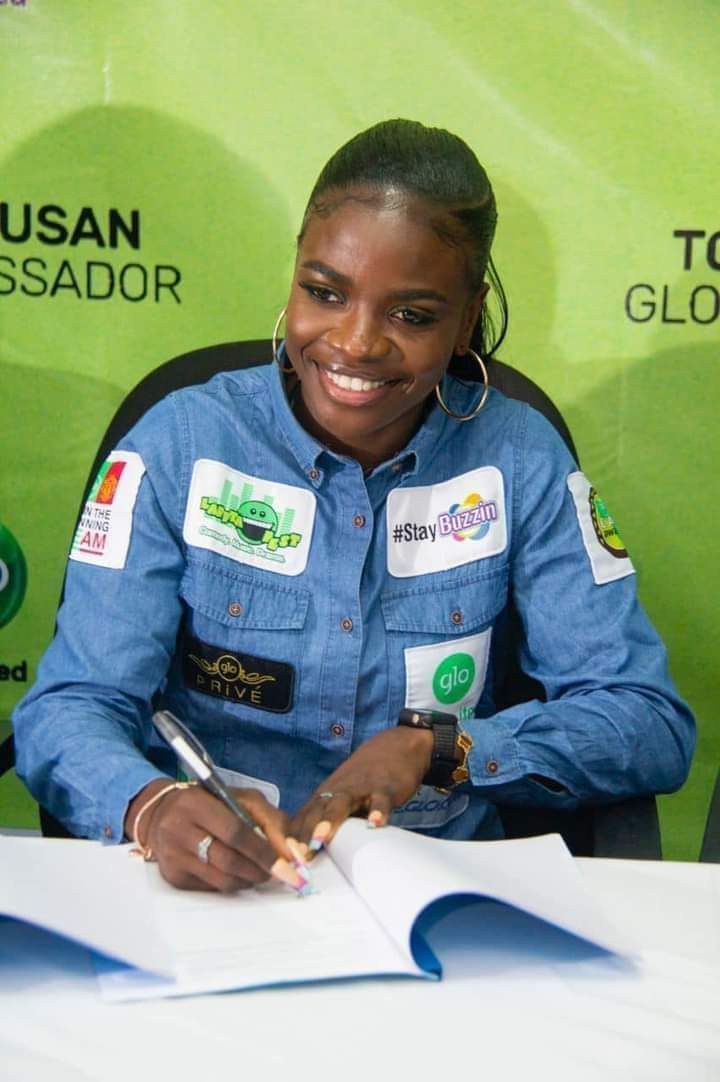 World Champion, Tobi Amusan Bags GLO Ambassadorial deal
Multiple winners of global athletics records, Tobi Amusan has been announced as a brand ambassador for a digital telecommunications solutions provider, Globacom.
Born April 23, 1997, Amusan, an indigene of Ijebu Ode, Ogun State is the first Nigerian champion in a world athletic event to win the gold medal in the100 meters hurdles event at the 2022 World Athletics Championships setting a new world record of 12.12 seconds in the semifinal. She also finished with 12.06 seconds in the final to take the gold medal.
She is a double winner in the African Games championship in the event, winning back-to-back African and Commonwealth titles in 2018 and 2022 in the 100m hurdles event. Amusan topped her laurels with a 12.29-second win in the 100m hurdles at the Zurich Diamond League event.
She was introduced as a new brand ambassador for the mobile network operator at an impressive ceremony on Thursday, September 29, 2022, at the Mike Adenuga Towers, Victoria Island, Lagos, and with sports aficionados, orthodox and new media practitioners as well as Glo officials in attendance.
Globacom said in a speech delivered by the Regional Manager, Sales, Lagos, Mr. Lawrence Odediran at the event that Amusan's enlistment was to recognize and reward her for her outstanding accomplishments. The move, he added, will also promote Nigerian sports while encouraging the future generation to be fastidious in their dreams regardless of the challenges that may confront them, saying, "We, therefore, urge them not to be discouraged by present challenges, but to continue to strive to realize their dreams".
According to him, "At Globacom, we are very proud of what Tobi Amusan has achieved in her athletics career. She is an embodiment of the Nigerian spirit of resilience, hard work, and enterprise which enabled her to excel irrespective of the enormity of the challenges she encountered in her quest for success. These are qualities that Globacom identifies with".
Quoting a Malcolm X dictum, Odediran posited that "the future belongs to those who prepare for it today", adding that "she prepared very hard in the previous years and today belongs to her" and that "Tomorrow is also waiting for other determined Nigerian and African youths who begin their preparations today."
In her appreciation address, the new ambassador gave kudos to Globacom for giving her the privilege of becoming an ambassador. While promising to be a good representative of the brand at all times across the globe, she enthused, "I am proud to be associated with Glo as its brand ambassador. It is a proudly Nigerian company doing great things and empowering Nigerians. I am grateful to the Chairman, Dr. Mike Adenuga, Jr., for giving me this amazing opportunity."
Serie A: Oliseh advises Osimhen to quit Napoli over TikTok video
Serie A: Oliseh advises Osimhen to quit Napoli over TikTok video
Former Super Eagles head coach Sunday Oliseh has advised Victor Osimhen to leave Serie A champions Napoli.
Napoli mocked Osimhen in a TikTok video posted earlier this week after he missed a penalty in the 0-0 draw at Bologna.
The forward reacted by deleting all of Napoli's pictures and videos from his social media handles, with his agent threatening to take legal action against the club.
The 24-year-old snubbed a number of his teammates on his arrival at the team hotel ahead of Napoli's Serie A clash with Udinese on Wednesday.
Commenting on the issue, Oliseh wrote on his X handle:" Forever proud to be Nigerian; One must show personality, work hard & refuse to be intimidated. let Racists and ingrates talk! That's why they are eternal losers who secretly wish they were created like you! Osimhen needs to leave Napoli as soon as yesterday!!."
The forward has scored four goals in six league appearances for Rudi Garcia's side this season.
BREAKING: Ogun wins first medal in Asaba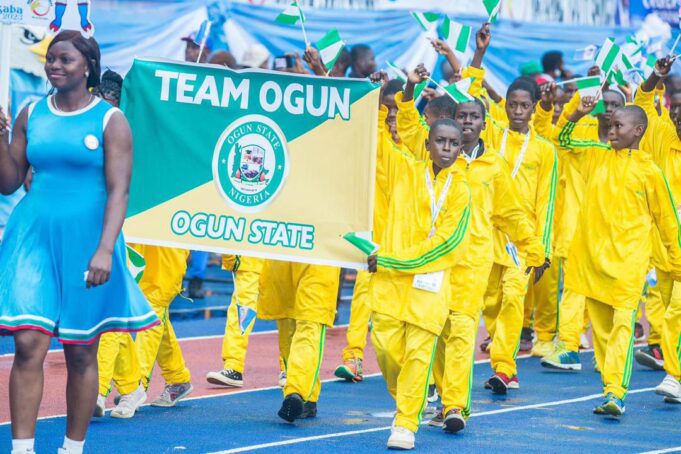 BREAKING: Ogun wins first medal in Asaba
Team Ogun has recorded its first medal at the ongoing National Sports Festival in Asaba, Delta State.
Mojeed Rilwan won Bronze in the 40kg Boys after a very hard-fought encounter against his rugged Edo State opponent.
A fight of 3 minutes for junior categories couldn't end until 34 minutes in a straight fight without any break.
#Asaba2023 #NationalYouthGames #TeamOgun #BuildingOurFutureTogether #ISEYA #DapoAbiodun
Megan Rapinoe's X account still active, claim of Elon Musk ban is false | Fact check
Megan Rapinoe's X account still active, claim of Elon Musk ban is false | Fact check
The claim: Elon Musk banned Megan Rapinoe from X
A Sept. 15 Facebook post claims an outspoken female athlete was banned from a popular social media platform.
"Breaking: Elon Musk Banned Megan Rapinoe From Twitter," reads the post. "Full story in the first comment."
It was shared more than 50 times in six days.
Our rating: False
Rapinoe's account on X, formerly Twitter, was still up as of Sept. 21. The story in the comment below the post claims the supposed ban happened after a back-and-forth exchange between Musk and Rapinoe on X, but there are no records of any such interaction.
No evidence of any X interactions between Rapinoe, Musk
Rapinoe's X account, a formerly verified account under the handle @MPinoe, was still accessible as of Sept. 21.
A review of archived screenshots of the account did not indicate it had recently been banned.
Though the article linked in the comments claims a ban came after an argument between Rapinoe and Musk on X, there is no evidence of any such exchange. A search of both Musk and Rapinoe's X accounts found no posts about or to the other.
Fact check: No, CNN did not announce EU citizens no longer need to work; it's a deep fake
Rapinoe is an outspoken advocate for various issues, including race, gender equality and LGBTQ rights. She has referred to herself as a "walking protest" and has knelt during the U.S. national anthem in protest of police brutality, as reported by CNN.
In various X posts, Musk has decried what he calls the "woke mind virus" that he claims is infiltrating institutions such as higher education and the media. He has also criticized what he described as an "anti-American self-destructive element in … elite circles within the U.S.," Fox News reported.
Musk has banned various users since buying the social media platform in October 2022. They include journalists who tweeted or reported on Musk's ownership of the company, comedian Kathy Griffin and Kanye West. The accounts have since been reinstated.
USA TODAY has previously debunked claims that Rapinoe stomped on an American flag, that Musk admitted to being a flat earther and that Musk intends to buy Meta.
USA TODAY reached out to the user who shared the post for comment but did not immediately receive a response.
Our fact-check sources:
Thank you for supporting our journalism. You can subscribe to our print edition, ad-free app or e-newspaper here.
Our fact-check work is supported in part by a grant from Facebook.