You're mirroring integrity, Creativity with Pelican Valley – Canadian Parliament Aide Tell Realtor Adeyemo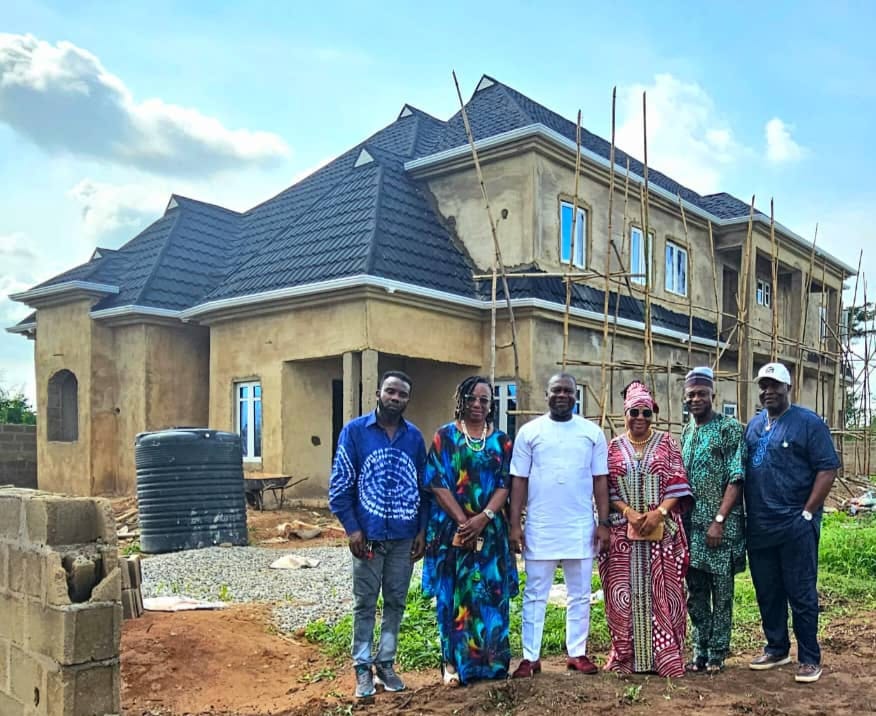 You're mirroring integrity, Creativity with Pelican Valley – Canadian Parliament Aide Tell Realtor Adeyemo
… Laud Him For Top Notch Estate Projects
A Canadian parliament legislative Aide Mr. Akin Oduntan has commended the Anti Corruption Ambassador and realtor, Dr Babatunde Adeyemo, for his level of focus, creativity and innovation as reflected in the top notch Pelican Valley Estate at Laderin and Pelican Brief Estate project at Kobape – both in Ogun State, Southwestern of Nigeria.
… Said he has heard so much about Pelican Valley and submitted that he was so excited to see things for himself,concerning the well executed real estate projects.
Mr Oduntan who spoke at The Podium within the Pelican Valley ,Abeokuta shortly after a guided tour of the estates, said it was rare to see an indigenous real estate firm come up with such projects as obtained in Pelican, that could compete effectively with international standards and creativity.
The Canadian guest who expressed instant interest in the Pelican"s Ecostay Apartments project, visited in company of the Bobawoga of Orile – Itesi Egba, high Chief Wale Olaleye, a renowned industrialist, Mrs, Ronke Daniel and a veteran HR strategist, Mrs Dorcas James.
He said he was particularly happy that the brain behind the Pelican project, Ambassador Adeyemo could achieve such feat in a challenging business environment without having issues with banks, the police and the court, declaring that it is a testimony to his integrity and honour.
said, "Seeing the place, with plots of land in a challenging situation turning to fortune, I would have thought that only the whites could achieve this type of project here but seeing our own person, son of the soil doing this type of project mavels me. I thought we could only see this type of creativity in the foreign land.
" I want to give that to you. That integrity, and the type of challenge people run away from and you are able to make wealth from it, you have been able to bring to the fore that Nigerians are creative, innovative and also face challenges that will bring about result that will be beneficial to others. You have passion for others and humanity, that is why you have come out with things like this to benefit people like us. Once again, I will say, ' Thank you."
Also, a renowned industrialist and international Agricultural consultant, Mrs, Ronke Daniel also noted that she had carried out her independent checks and found out that Realtor Adeyemo, is a young man of integrity and due diligence who is worthy of being consulted and collaborated with on real estate matters and most importantly, his Greenish acres farm Estate.
"I'm happy to be here because since I know Bobawoga, he has been talking about Pelican this and Pelican that. I was so excited. Do you know the reason? I was asking who is doing this type of things here. Who is doing this type of project, it is our indigene. It is rarely that you can see something like this from our people. I'm very happy with Pelican Valley. Upon all the obstacles and stress, he did not relent. He has focus, that is why he achieved success.
"If I see young people doing something like this, I always feel happy and ready to cooperate and collaborate with such person, give him or her some support because if he or she has the support of the elders and from the indigene, he will be excited to do more.
"I have done my own check, I have seen that this is somebody one can work with and somebody you can collaborate with and somebody you can consult with. So, if somebody is doing this thing and he does not have issues with the banks, nor police, then let's give it to him.
Also speaking, Chief Olaleye who is a property owner at Pelican Brief Estate, described his investment in the estate as one of the greatest things that had happened to him in recent years.
Olaleye, himself, Canada based, commended Adeyemo for the encouragement he received especially guiding him with the building construction, getting government approval and sourcing right raw materials for construction, saying it makes his project to run faster and seamlessly.
"For Pelican to have encouraged someone like me to invest in the estate, from documentation to getting government approval, it was seamless efforts. I so much appreciated it. It makes the project even more faster because when you have guidelines, set of rules and procedures guiding you through a project, you won't step on people or Government. You can take a look at my building in Pelican Brief today, it's nothing but a product of God's guidance and manifestation.
"So, investing in Pelican real estate is a great thing to have happened to me, probably I would not have gone far with that project without his support. I'm glad being part of Pelican Family," Olaleye said.
ZENITH BANK SIGNS MOU WITH CFA INSTITUTE TO DEVELOP FINANCE AND INVESTMENT PROFESSIONALS
ZENITH BANK SIGNS MOU WITH CFA INSTITUTE TO DEVELOP FINANCE AND INVESTMENT PROFESSIONALS
Zenith Bank Plc has signed a Memorandum of Understanding (MoU) with the Chartered Financial Analyst (CFA) Institute to promote efforts and activities that support the formation, training, and updating of human capital in finance and investment for the overall development of the Nigerian financial services sector. The MoU, was signed by the Group Managing Director/CEO of Zenith Bank Plc, Dr. Ebenezer Onyeagwu; the President/CEO of the CFA Institute, Margaret Franklin; and the President of CFA Society Nigeria, Ibukun Oyedeji on Tuesday, November 28, 2023.
Speaking at the MoU signing ceremony, the Group Managing Director/CEO of Zenith Bank Plc, Dr. Ebenezer Onyeagwu commended the CFA Institute and the CFA Society, Nigeria for their laudable programmes in developing finance and investment professionals in Nigeria. According to him, your Women in Investment Management Initiative, CFA Institute Research Challenge, CFA Society Nigeria Ethics Challenge and University Affiliation Program are very laudable, and Zenith Bank will continue to partner with the CFA Institute and the CFA Society Nigeria to ensure that young finance and investment professionals get the needed support for their career development. In his words, "As a good corporate citizen, Zenith Bank remains committed to furthering the economic, cultural and social development of the society. As such, we continue to support projects and initiatives that have long-term social and economic benefits for our various publics and stakeholders. Partnering with the CFA Institute and the CFA Society Nigeria is therefore a demonstration of our commitment to building professional excellence in the finance services industry in Nigeria".
At the CFA Institute Africa Investment Conference, during the 'Journey to the Top: A Discourse with CEOs' segment, Dr. Onyeagwu inspired future finance and investment professionals to uphold the highest standards of integrity. He stressed the importance of making difficult yet high-quality decisions, building robust networks, and dedicating themselves to hard work for career success. In his words, "as upcoming professionals, the opportunities are immense for you. Africa doesn't get bigger than Nigeria. There is scarcity of the right kind of people that have the talent, that have the character and the leadership to provide leadership in organizations. Make a decision to be one of those, make a decision to be different. You must be driven by your passion; you must delay gratification. In Zenith what is driving us is the strive for excellence. It is not about who you are and where you come from. We have the best class of talents you can think of anywhere in the world." He assured the young finance and investment professionals that Zenith Bank will offer immediate employment opportunity to CFA Charter Holders and those who qualify as Chartered Accountants.
Also speaking on the MoU, the President/CEO, CFA Institute, Margaret Franklin reiterated the Institute's commitment to the professional development of students and upcoming professionals. In her words, "there are many things that we do for students, we invest heavily in students and why is that? Because they are our future. The mission of the CFA Institute is to lead the investment industry with the highest standards of ethics, education and professional excellence for the ultimate benefit of society and that starts with our CFA programme". She commended Zenith Bank for its continued support to the CFA Society Nigeria and sponsorship of the CFA Institute Research Challenge over the years. She also commended the bank for being one of the top employers of CFA members in the country. She expressed her admiration of the culture of excellence in Zenith Bank. Also speaking at the MoU signing ceremony, the President of CFA Society Nigeria, Ibukun Oyedeji commended Zenith Bank for its partnership with CFA Society Nigeria and its commitment to the development of young finance professionals in the country.
The the CFA Institute Africa Investment Conference is being hosted by the CFA Institute and CFA Societies from Ghana, East Africa, South Africa and Mauritius. The conference has representatives from over 20 universities in Nigeria (members of their investment clubs being supported by CFA Society).
De-dollarisation: As Naira Trades Flat, Analyst Urges Ban On Dollar Transactions In Nigeria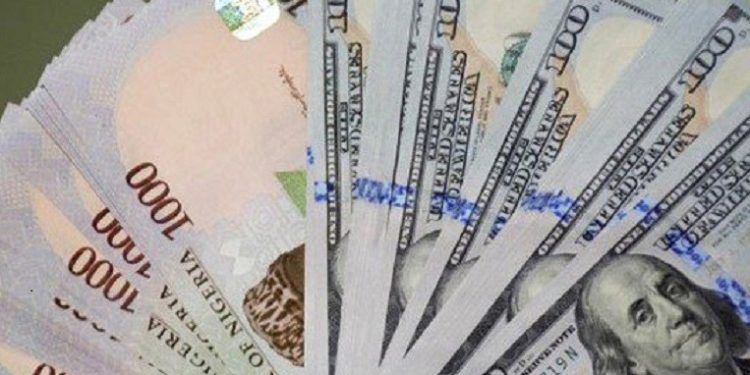 De-dollarisation: As Naira Trades Flat, Analyst Urges Ban On Dollar Transactions In Nigeria
In other to de-dollarise the nation's economy amid flutuation in the value of the naira against the United States dollar, an investment analyst, Adejumo Isaac, has called for ban on all foreign currency transaction in cash in the country.
In a statement, on Thursday, Isaac, advised the Central Bank of Nigeria (CBN) to declare cashless policy on forex, saying that would enable majority of forex cash domiciled in people's homes to automatically enter the banking system.
It could be recalled that the naira traded flat against the dollar, on Thursday, at N832.32/$1 in the Nigerian Autonomous Foreign Exchange Market (NAFEM), the country's official exchange rate window.
According to data from FMDQ Securities Exchange, a platform that oversees foreign exchange (FX) trading in Nigeria, the daily FX turnover is at $115.41million and that reflected increased FX inflow in the economy on Thursday, 30th November, 2023.
According to Data, the local currency, on Monday, hit an intra-day trading high of N1,137 and a low of N700.
However, speaking on how to shore up the value of the naira, Isaac, added that it should be a criminal offence with 6 months imprisonment for anybody to hold physical forex cash for any transaction in Nigeria.
He said, "All transactions involving use of forex should be done electronically via transfer or cheque payment that must pass through the bank account of payer and receiver.
"Give one month notice to anybody in Nigeria holding physical forex cash to deposit the same with commercial banks, thereafter, it becomes a criminal offence attracting jail terms of at least 6 months with no option of fine for anybody to hold physical forex cash for any transaction in Nigeria.
"In all fairness, dollars, pounds, Euro etc are not used to BUY petty food items or any retail items in the market that warrant exchange of physical forex cash.
"Generally, transactions that involve use of forex such as paying School fees, medical fees, importing raw materials for production, amongst others do not involve exchange of physical cash but they naturally pass through banks which is done electronically, therefore, there are no strong arguments to hold forex cash.
"By this policy, majority of forex cash domiciled in people's home will automatically enter the banking system and this will make forex liquidity robust for the good of the economy as availability will make stability of exchange rate possible thus reduce to the barest minimum volatility and unsubstantiated cum speculative demand as well as mop up of the available forex in the country by few privileged individuals for personal gains that inflicted more pains to the citizens.
"For the long-term solution is to increase our exports, firstly from increasing crude oil production volume to at least 2mbpd to boost dollar inflow into the economy (this volume was achieved and relatively stable for a number of years between 2012-2015), secondly to promote backward integration in terms of local sourcing of raw materials for production in order to reduce imports.
Ensuring petroleum products are refined in the country to save the volume of forex spent on importation of refined petroleum products which can thereafter be available for other uses."
Abbey Mortgage Bank Host Sustainability Workshop with Non-Profit Stakeholders in Abuja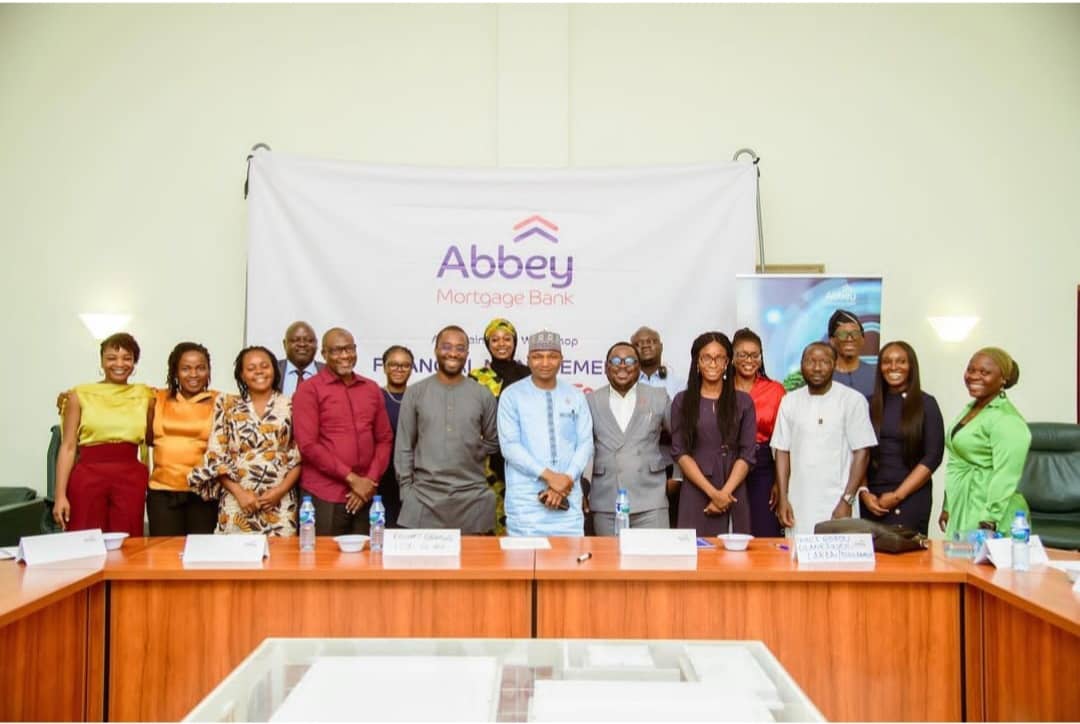 Abbey Mortgage Bank Host Sustainability Workshop with Non-Profit Stakeholders in Abuja
Geared towards boosting impactful investment opportunities for Non-profit organizations, a leading primary mortgage Bank in Nigeria, Abbey Mortgage Bank has organized a sustainable workshop for stakeholders of non-profit organizations to enhance financial sustainability and drive positive change within the civil society sector.
The event which was Tagged "Financial Management: A Sustainability Tool for Non-Profit Organizations" held on Wednesday 29th November 2023 in Abuja, is aimed at creating impactful investment opportunities to aid sustainability efforts in line with SDG 17 which supports the implementation and revitalization of Global Partnership for sustainable development in the civil society.
The workshop was attended by prominent guests including Jubril Shittu, CEO of PPDC; Dr. Ayodotun Olutola, CEO of CCCRN; Hamza Lawal, CEO of CODE; and Gideon Olanrewaju, CEO of AREAi among other guests.
Speaking at the event, The Group Head, Non-Profit Organizations at Abbey Mortgage Bank, Bukola Ewedairo, noted that, "Abbey Mortgage Bank is rightfully positioned to partner with institutions in the civil society by creating opportunities for long-term sustainable investment.
"We believe that Non-profit organizations need to be strengthened to achieve their mission and this workshop was our way of collaborating to ensure that they can thrive especially with the volatilities in our local economy." She stated.
Also speaking at the event, the Managing Director of Abbey Mortgage Bank and a key speaker at the event, Mobolaji Adewumi, noted that, " At Abbey, we are creating an ecosystem where non-profits can flourish, contribute meaningfully to society and drive sustainable change.
Adewumi further noted that "We are committed to helping individuals build wealth and attain financial empowerment and we are proud to collaborate with these distinguished leaders to make a lasting impact by supporting financial growth and empowerment" He stated.
The workshop had informative and interactive discussions, providing a forum for participants to share insights and explore collaborative opportunities. Attendees engaged in dynamic conversations, delving into strategies to enhance financial sustainability and drive positive change within the civil society sector.
Abbey Mortgage Bank reaffirms its commitment to fostering continued partnerships with NGOs, furthering its impact on the non-profit sector. The bank looks forward to ongoing collaboration, contributing to the achievement of sustainable development goals in Nigeria.