ZENITH BANK ACTIVATES THE YULETIDE SEASON WITH AJOSE ADEOGUN STREET CHRISTMAS LIGHT-UP
ZENITH BANK ACTIVATES THE YULETIDE SEASON WITH AJOSE ADEOGUN STREET CHRISTMAS LIGHT-UP
It was a great spectacle to behold as the Christmas and Yuletide season came to life at the 2022 Zenith Bank Christmas Light-Up Ceremony, which was held at the Ajose Adeogun Street Roundabout, Victoria Island, Lagos, on Saturday, November 19, 2022. The official lighting ceremony, which was performed by the Group Managing Director/CEO of Zenith Bank Plc, Mr. Ebenezer Onyeagwu, supported by Executive Management, was witnessed by many of the bank's staff and customers, with others joining virtually.
With the theme "Let There Be Light", this year marks the 16th edition of the Light-up Ceremony at the Ajose Adeogun Roundabout. The Light-Up event is an annual Corporate Social Responsibility (CSR) initiative by the bank to herald the yuletide season through the beautification of Ajose Adeogun Street – home to Zenith Bank's Corporate Headquarters – which has come to be recognised as an iconic place, attracting people from all walks of life who visit with their families and friends to take pictures and make videos of the wonderful spectacle, especially at night and enjoy the ambience of the street and season.
Speaking during the ceremony, Onyeagwu expressed his delight in heralding the yuletide season of 2022 through the iconic Ajose Adeogun Street lighting up. In his words, "today is a unique day. It is unique in the sense that we are going to turn on the Christmas light and activate the spirit of Christmas, which we usually have annually. It is also unique in the sense that we are honoured and delighted to have in our midst the wife of our Founder and Chairman, Mrs. Kay Ovia".
He praised Quantum Markets, the company responsible for the annual decorations, for the outstanding, very creative and extremely beautiful work that they have done. According to him, "when you look at the Christmas set-up we have every year, it looks completely different, and there is no repetition of themes. And when we think we have seen it all, by the time a new one comes, it is something completely different and massively so. The one for this year, as I entered here, I was wondering if this is a theme park".
Whilst urging everyone to imbibe the message and spirit of Christmas, which is about peace, love, forgiveness and above all, respect for humanity, Onyeagwu prayed for peace in every home, business and in the country and that this year's celebration would be like no other that we have seen.
Zenith Bank has clearly distinguished itself in the Nigerian financial services industry as an institution committed to building a more sustainable and inclusive economy and promoting responsible business practices in Nigeria through integrating sustainability principles in its business operations.
The bank's sustainability and CSR initiatives are hinged on the belief that today's business performance is not all about the financial numbers – the bank believes that an institution's social investments, contributions to inclusive economic growth and development as well as improvements in the condition of the physical environment, all constitute a balanced scorecard.
Through its CSR initiatives, Zenith Bank has embodied the overarching objective of the 17 Sustainable Development Goals (SDGs), which provide a framework for addressing the major challenges confronting society. Its social investments are targeted at health, education, women and youth empowerment, sports development and public infrastructure enhancement. Overall, Zenith Bank's total CSR investment in 2021 was NGN4.37 billion, representing 1.79% of its Profit After Tax (PAT) and 33.1% increase from 2020.
The bank remains committed to furthering the economic, cultural and social development of host communities, particularly through community-based initiatives and philanthropy. As a good corporate citizen, it continues to deliver projects that have long-term social and economic benefits for the communities because it believes that its business is only as strong as the communities in which it operates.
To demonstrate its commitment to creating and expanding opportunities, the bank regularly makes donations towards setting up ultramodern ICT centres in several educational institutions and cities across the country. It also supports various developmental projects, and healthcare delivery causes in Nigeria and contributes to the development of sports in Nigeria through its sponsorship of the Zenith Women Basketball League and the Zenith Bank Delta State Principal's and Headmaster's Football Competitions, amongst others.
In recognition of its contributions and social investments to its host communities and the society at large, the bank was recognised at the Sustainability, Enterprise, and Responsibility (SERAS) Awards 2021 as the "Most Responsible Organisation in Africa".
Africa Union ECOSOCC Partners ASO Cultural Festival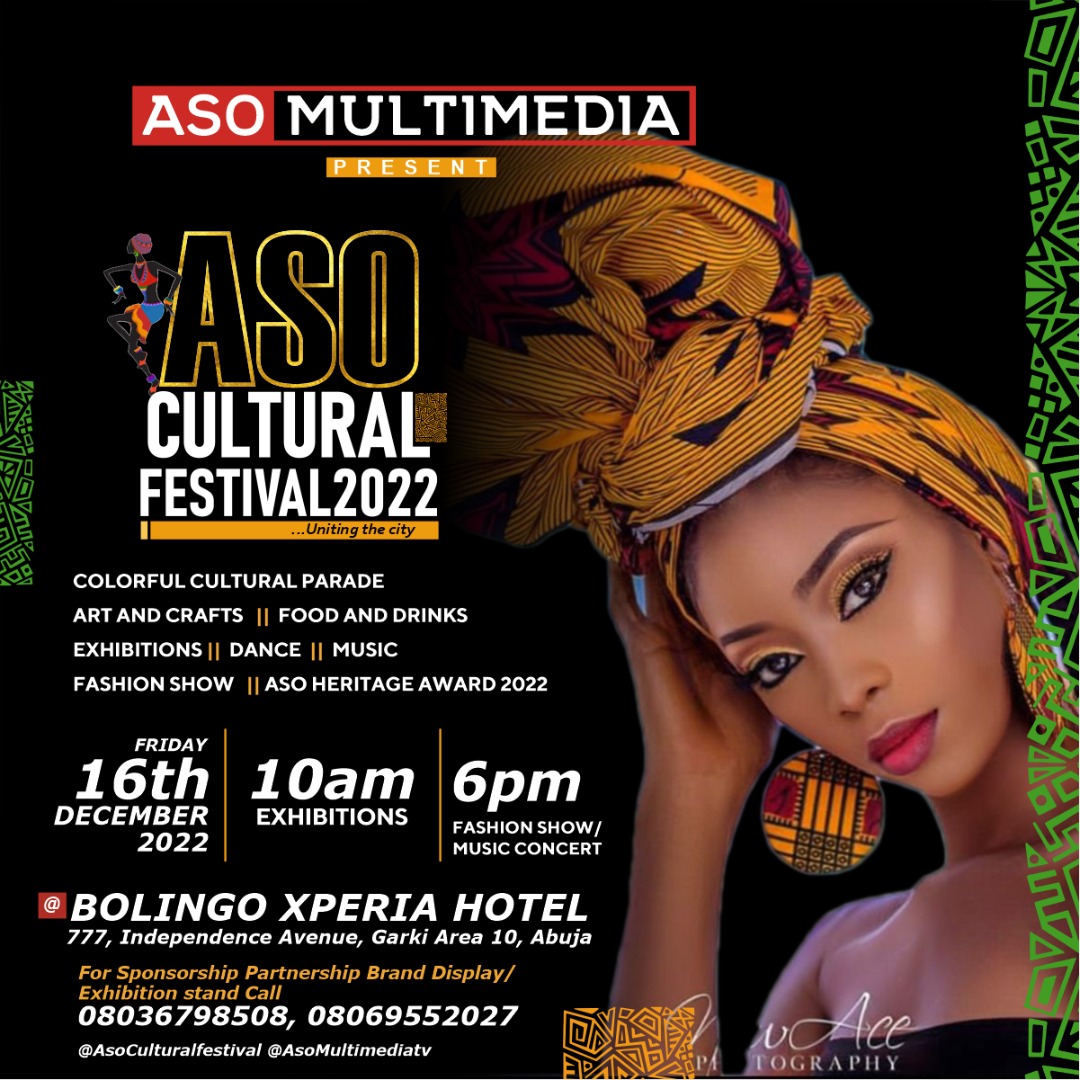 Africa Union ECOSOCC Partners ASO Cultural Festival
ASO Cultural Festival 2022, Theme" Uniting the City" it's a one Day Cultural jamboree designed to showcase the Cultural heritage of Abuja and tourism value to the whole world because the nigeria seat of power is unique and Rich in diverse Culture and tourist sites.
The event will Hold on Friday 16th December 2022 at Bolingo Xperia Hotel Central Business District , Abuja.
According the Head of culture and tourism African Union ECOSOCC Hon Quadri-Adu Shakir Kehinde said the organization is willing to partner with the Organizer to host the festival and in the long run assist in training young FCT indigenes in the Area of culture and tourism
The Annual festival will include various activities like Cultural competition among schools and Various local Government in FCT, colourful Cultural Parade, Fashion Show, Musical Concert, Art and Craft Exhibition, Dance, Award Presentation etc The ASO Cultural Festival Will also celebrate the Rich culture and crystallization of the creative spirit and Cultural diversity of the ASO people, the predominant indigenes of Abuja
The festival will attract over 10,000 local and international participants consisting of contingent from the 6 Local Government in FCT, some participating countries, visitors, volunteers, Vendors, Exhibitors, Photographers, Set/ Costumes Designers, Artisans, Students, Security Personnel, Traffic officers, Officials of supporting agencies of Government and Media Houses, other great event during the festival will also include entertainment show with top class musicians and comedians to add colour to the festival.
According to the creative Director – Amb Kingsley Tolu Agboola, The festival will unite the people of the federal capital territory and it will be an avenue to boost the economic activities of the City as many businesses will be involved like hotels, Exhibitors and all.
The Honourable minister for federal capital territory Hon Mohammed miss Bello and Haj. Dr Ramatu Tijani Aliyu – Hon Minister of State FCT will be the Special Guest of honour along with other important guests .
The Most Anticipated Event is Organized by ASO Multi Media, a reputable event management Company in Abuja in collaboration with African Union and other media houses as partners
Bidemi Rufai didn't bring any investor to Ogun, says govt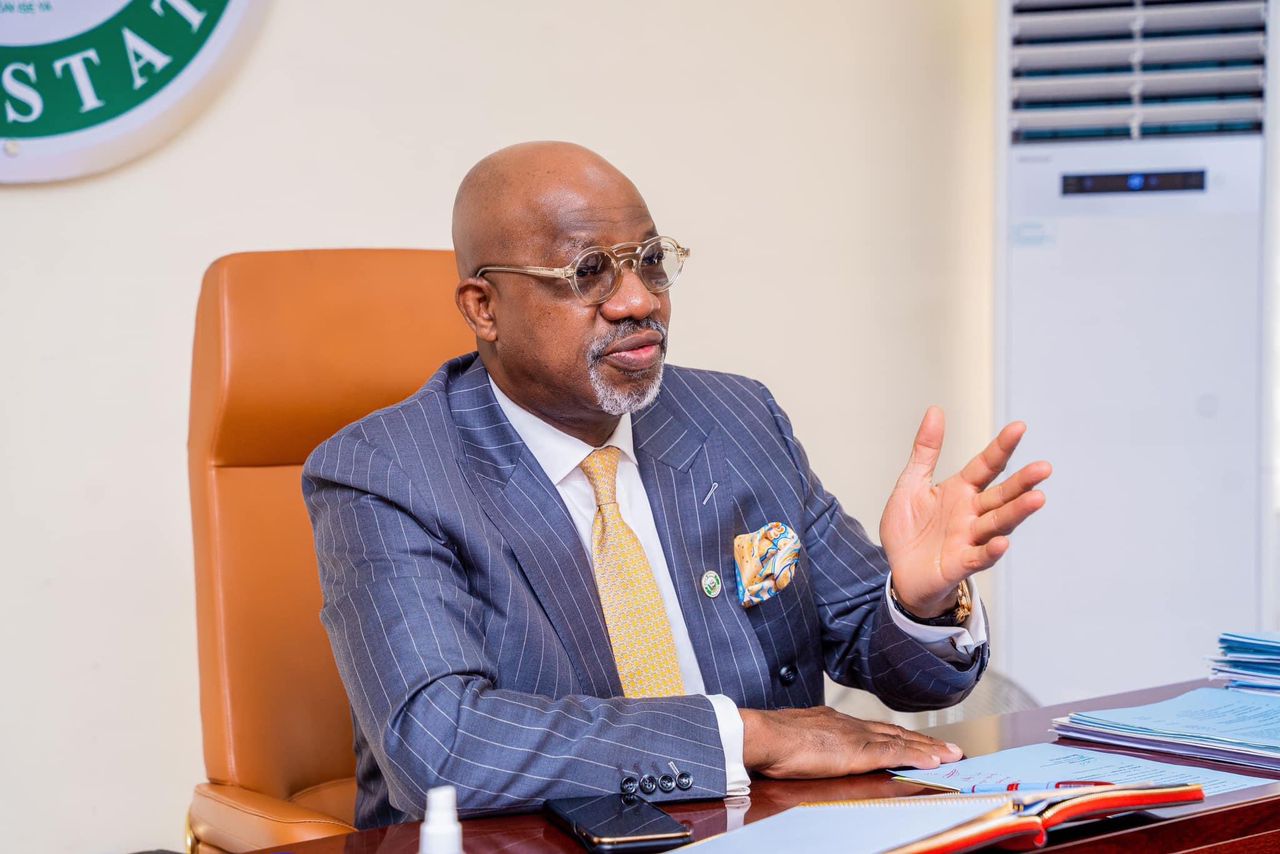 Bidemi Rufai didn't bring any investor to Ogun, says govt
The Ogun State government on Sunday said Bidemi Rufai did not bring any business concern to the state during his short stint as a special assistant to Governor Dapo Abiodun.
The state government also debunked a news report that Rufai was being paid $2,000 as an aide to the governor.
An online news medium, People's Gazette had reported that Governor Abiodun was paying $50,000 to Rufai each time he introduced people to him, along with monthly salary of $2,000.
According to a statement signed by the Chief Press Secretary to Governor Abiodun, Kunle Somorin, on Sunday, Rufai, who was appointed by the governor as his Senior Special Assistant on Housing, never had any close relationship with the governor, prior to his appointment.
According to Somorin, Rufai, like other aides of the governor, was recommended from his ward for the appointment, and not because of any special favour he offered to the governor during his gubernatorial campaigns in 2019.
The statement further faulted and denied the claims by the online medium that Rufai was being paid $2,000 salary, which according to it is "outrageous and baseless."
According to Somorin, salaries and wages of political office holders are fixed by the National Salaries, Income and Wages Commission, adding that no member of the government is permitted to any other allowances not known to law.
Somorin added that records in the state never showed that Rufai, while serving in the state, brought a single investor or facilitated any investment from the United States of America, wondering how the former political aide would then be paid $50,000 for a deal that never took place.
"Bidemi Rufai was appointed as a Senior Special Assistant to the Governor on Housing, and was nominated for appointment barely three months before he was arrested.
"He had not resumed formerly and had no official office to transact business. He wasn't part of the Ogun State Economic Management Team and have got no input into the state government activities. His appointment was based on his activities in his ward. He didn't sit in the State Executive Council meetings and couldn't have had inputs in policies of the state government.
"The governor had no deal with Rufai on any transaction. He brought not a single one. They can check with the US embassy," the statement added.
Somorin noted further that Governor Abiodun being a law abiding person and respecter of the rule of law, immediately suspended Rufai after his arrest for fraud in the United States and later terminated his appointment, even before his conviction for the crime by the US court.
He noted that the current political season in the country is an auspicious time for unscrupulous politicians to attack or sponsor attacks against their opponents, hence, the timing of the concocted story.
He said that the political enemies of the governor, who are perhaps not happy with his rising profile, particularly in terms of the huge foreign investment drive and infrastructural development in Ogun State, might want to play up the issue of Rufai to tarnish his image.
Somorin, while calling on the people of the state to disregard the report as a mere "attention seeking" gambit, said that Governor Abiodun would rather not be perturbed by the report, but remain focussed on his mission to position Ogun as number one investors' preferred destination in the country.
He added that Prince Abiodun would not be distracted by the antics of political traducers in and outside Ogun, submitting that the governor will continue to be just, fair, accountable and equitable in the distribution of amenities across the state.
He also warned journalists, especially online to beware of their eminent roles in the society and guide against succumbing to bread and butter journalism.
Lagos Agog ,As Mother Eagle,Dame Faith Ireoba Soars, Wins Jeep, N5 Million atJigsimur Zdex International Anniversary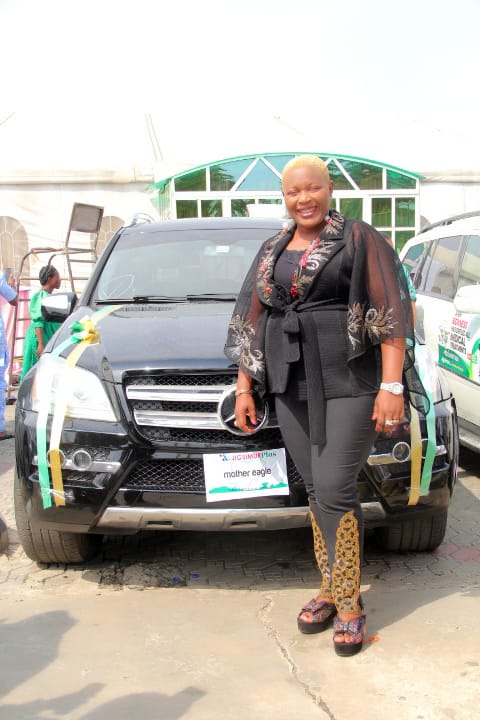 Lagos Agog As Mother Eagle,Dame Faith Ireoba Soars, Wins Jeep, N5 Million atJigsimur Zdex International Anniversary By Ifeoma Ikem
Festac Town, a densely populated area of Lagos state metropolis, was recently thrown into celebration as women, men thronged out in numbers to welcome their heroine, Dame Faith Adajiugonnaya Ireoba popularly known as Mother Eagle, who once again triumphed and won a black Mercedes Benz 4matic GL and a Cash prize of five million naira, at the fourth anniversary of Jigsimur Zdex International Company.
Infact, the exclusive but colourful ceremony witnessed the 'creme de la creme' of the society.
Indeed, as drums roll out in celebration, there comes a time when sterling quality of integrity and hardwork of a calm headed woman of substance is nationally and internationally recognized.
As Mother Eagle takes the center stage after Jigsimur Chief Executive Officer, CEO, Dr. Queen Lillian Osuofia, announced her winning, every guests appreciated her stunning beauty and her gorgeous apparels that left all in great admiration.
As envisaged, tributes poured in like torrents, as everyone extolled the virtues of the hard working woman also known as ' Adajiugonnaya.
Guests attested to the fact that the event was all full of emotions, fun, thrills and paparazzi, as 'Adajiugonnaya', one of the best adorable kind hearted woman leader,socialite and lovable lady of substance pulled crowd of the dignitaries, bigwigs and supporters to her side.
Judging from international records, Jigsimur Zdex International fourth anniversary and award recognition, was in tandem with the philosophical Maxim of a great writer, Late Pa Paul Anueyiagu Edom , that said " It is more glorious to celebrate achievers while alive,so that they will witness greatly than when they are dead".
Little wonder friends, families and well wishers deemed it pertinent last week Sunday, being precisely November 27th, 2022, to honor and felicitate with Mother Eagle, as she is fondly called by her inner circle friends, associates and admirers.
Dame Faith Ireoba, has with her remarkable quality of resilience, determination and boldness, weathered all storms of life and surmounted trials and obstacles, to become a successful mother Eagle and envy of her compatriots.
Truly, her life story of grass to grace, has been a turning point and reason her friends gets endeared and magnetized to her, which was evident at the event.
Mother Eagle despite past Jigsimur Wins, this year received a mezcedex Benz 4matic Jeep and cheque of Five million naira, besides international Trip award.
Blessed with lovely children, Adajiugonnaya is said to have a life style that is rooted in Godliness,as she constantly insisted that her life and family depended on God in all their activities.
Her colleagues, workers and down liners in the Multi level marketing business adjudged her as a down to earth woman, who would not contribute to anything that would cause problems, while many other people testified of her advisory capabilities once contacted.
For her children, they have learnt to bring their kneels on the ground, as they persistently pray for their sweet mother. One of them wrote: "Mummy thanks for all your support and encouragement. Happiness will not depart from you" .
Speaking, Mother Eagle who has since inception of the company, have been rated one of the topmost leading distributor and Ambassador, was full of excitement, as she thanked her CEO, Jigsimur Zdex International, Queen Lillian Osuofia,for her love and opportunity given to her.
She expressed her heartfelt gratitude to God Almighty and appreciated her families, workers, colleagues,friends and well wishers for their support .