2023 ELECTION: WHY NIGERIA'S CORRUPT POWERFUL ELITES ARE AGAINST CANDIDATE PETER OBI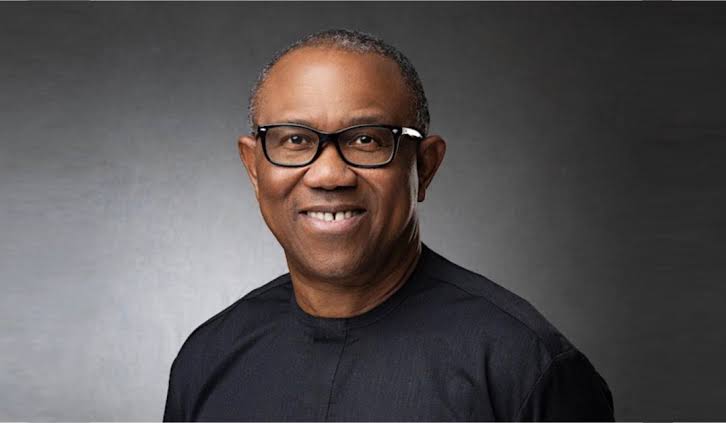 2023 ELECTION: WHY NIGERIA'S CORRUPT POWERFUL ELITES ARE AGAINST CANDIDATE PETER OBI
By Ikenna Asomba
Nigeria, Africa's most populous country and seventh-most populous country in the world is home to more than 200 million people.
In size, Nigeria is about 356,669 Sq Mi (923,768 Sq Km), slightly larger than the States of Texas and Minnesota in the United States.
Nigeria, a diverse multi-ethnic country with over 389 Ethnic Nationalities and more than 520 spoken languages is blessed with abundant natural resources, notably large deposits of petroleum and natural gas, including mineral resources such as gold, silver, coal, granite, iron-ore, barite, bitumen, gemstones, clay, feldspar, copper ore, zinc, dolomite, lead ore, limestone, phosphate, galena, gypsum, wolframite, kaolin, salt, magnesium, quartzite, tin ore, fluorite, manganese, tar sands, columbite, diatomite, titanium, marble, uranium, talc and silica.
Aside more than 35 mineral resources which Nigeria is abundantly blessed with; Nigeria produces daily over 1.8m barrels of crude oil.
The by-products contained in a barrel of crude oil (about 158.978litres) if judiciously harnessed can see Nigeria transmogrifying into a manufacturing and exporting hub as a barrel can produce a lot such as:
1. Wax for 170 birthday candles or 27 crayons.
2. Distillate fuel to give a large truck (five miles per gallon) for almost 40 miles, if jet fuel fraction is included, that same truck can run nearly 50 miles.
3. Asphalt to make about one gallon of tar for patching roofs or streets.
4. Lubricants to make about one quart of motor oil.
5. About four pounds of charcoal briquettes
6. Gasoline to drive a medium-sized car (17 miles per gallon) for more than 280 miles.
7. Nearly 70kilowatt-hours of electricity at a power plant generated by residual fuel.
8. Liquefied gases such as propane to fill 12 small (14.1 ounce) cylinders for home, camping or workshop use.
9. Enough petrochemicals to also provide the base for 540 toothbrushes.
10. 750 pocket combs.
11. 39 polyester shirts.
12. 23 hula hoops.
13. 135 four-inch rubber balls.
14. 65 plastic drinking cups.
15. 195 one-cup measuring cups.
16. 11 plastic telephone housing and 65 plastic dustpans.
17. The lighter materials in a barrel of crude oil (158.978liters) are used mainly for paint thinners and dry-cleaning solvents, and they can make nearly a quart of one of these products.
18. The miscellaneous fraction of what is left still contains enough by-products to be used in medicinal oils, still gas, road oil and plant condensates.
From the foregoing facts, it's instructive to state that crude oil is indeed a blessing, not a curse to the Nigerian State, as it is a real industrial horn of plenty. But when you look at the appalling condition of lives of the Nigerian people, particularly, the Niger Delta Region which produces the crude oil, you will weep.
Worrisomely, in its November 2022 Multidimensional Poverty Index (MPI), Nigeria's National Bureau of Statistics (NBS) disclosed that over 133million Nigerians are living in poverty, representing 63 per cent of the country's population.
Let me also point that the Gross Domestic Product (GDP) of Nigeria as of 2021 was $440.78 billion, far below the GDP of the State of Texas which was $2trillion in 2021.
Howbeit, of all frontline candidates for the February 25, 2023, Presidential Election, among whom are Bola Tinubu (All Progressives Congress, APC); Atiku Abubakar (Peoples Democratic Party, PDP) and Rabiu Kwankwaso (New Nigerian Peoples Party, NNPP), Mr. Peter Obi, former governor of Anambra State and presidential candidate of the Labour Party (LP) remains the only man deeply perturbed by the sorry state of Nigeria and Nigerians, despite the country's abundant natural and human resources.
Critically examining Nigeria's political firmament, it appears Obi is now on collision course with many of Nigeria's notorious and powerful criminal elites because at various campaign stops, town hall meetings, media parleys and conferences with several stakeholders across Nigeria's six geo-political zones, he has continued to reaffirm the determination of his administration when elected to office in February 2023 and assumes presidential duties on May 29, 2023, to dismantle structures of criminality preventing over 200million Nigerians from enjoying the full benefits and potentials of their country.
Addressing Nigerians on October 29, 2022, during his campaign kick-off rally in Nasarawa State, North Central Nigeria, Obi averred that the state's landmass is vast enough to provide food for the people of the state, pointing that Nasarawa is bigger than Israel's landmass in square kilometers.
Assuring his readiness to invest in the Nigerian youths to help pull people out of poverty, Obi said: "Remember what I said, Nasarawa has 27.1 thousand square kilometers of land. It's bigger than Israel with 22.1 thousand square kilometers. Nasarawa would feed itself. We'll put money here to make sure that we pull the youths out of poverty."
Obi was right. Nasarawa State measures 27,117 square kilometers, while the size of Israel is 22,145 square kilometers.
Having reeled out several by-products Nigeria can produce from 1 barrel of crude oil if properly harnessed, tie the information to the fact that Nigeria losses about 600,000 barrels of crude oil per day to oil thieves, you will weep for Nigeria, especially when compared in terms of growth and development to other oil-producing countries like Saudi Arabia, Kuwait, China, Canada, Qatar, the United Arab Emirates, among others.
Saddened by this development, speaking on September 12, 2022, at the Church of Nigeria (Anglican Communion) Standing Committee Meeting, held at St. Matthias House, Abuja, Obi decried that of all 13 countries belonging to the Organization of the Petroleum Exporting Countries (OPEC), only Nigeria was not meeting its supply quota, whereas other countries were angling for more.
"In July 2022, Nigeria did not supply 717,000 barrels per day out of its 1.8million barrel per day quota. This amounted to lost revenue of $22,227,000 daily at the rate of $110 per barrel which in a month totaled over $2.4billion. Using an average exchange rate of N550/$1, this amounted to an excess of N1trillion lost in the month of July alone."
Speaking further at the event, Obi revealed that N1.6 trillion was Nigeria's January-April 2022 income, while the country incurred N4trillion in expenditures resulting to over N3trillion deficit.
"Every day you hear people are stealing crude oil. The oil is being stolen by people in government. Oil is not sweet (candy) you put in your pocket. For you to steal oil, a ship must come to your territorial waters and must be approved by the Navy. Every ship is registered, and everybody knows where the ship is going to, and the ship must have approval. So, the only people who can steal crude oil are the people in power," Obi declared.
It would also be recalled that in 2014, the NBS disclosed that from 1961 to 2014, Nigeria had a crude oil production volume of about of 32.7 billion barrels valued at about N118.4 trillion, stating that since the return of democracy in 1999, Nigeria has had a crude oil production value of a whopping N116trillion.
Sadly, after over six decades characterized by several oil booms, Nigeria is yet to morph into a developed economy, even as it has been ravaged till date by endemic public service corruption, successive governments after another.
Countries like China, Indonesia, Malaysia and India that were at par with Nigeria at Independence in 1960 have left her still grappling with teething problems of nationhood, worst of all epileptic electricity across the country.
Of all frontline Presidential candidates, Obi of LP is one candidate who has continued to re-affirm his administration's determination to dismantle the old order of endemic stealing, public service corruption and machine politics of patronages, nepotism and cronyism.
These among other reasons are why Nigeria's corrupt powerful elites who are neck-deep in the old order are on collision course with Obi, who has wormed his way into the hearts of millions of Nigerian Youths.
Finally, it is instructive to point out that ahead of Nigeria's 2023 elections, the country's apex electoral umpire, the Independent National Electoral Commission (INEC) has disclosed that it registered a total of 9.5 million new voters, with 76.5 per cent of them comprising of young people between 18-34 years.
With young people between 18-34 years making up about half of the over 93 million people registered to vote in Nigeria next February, major polls conducted by globally recognized pollsters such as Bloomberg, Nextier and ANAP Foundation/NOI have continued to project Obi as winner of next year's Presidential election.
This is a welcoming development for Nigeria and over 200 million Nigerians.
Ikenna Asomba is a Journalist and Post-Graduate Student of Political Science, Public Administration and Public Policy, Eastern Illinois University, Illinois, he writes from Charleston Illinois, United States.
WHY IJEBU NORTH, IJEBU EAST, OGUN WATERSIDE PEOPLE SHOULD VOTE FOR RT. HON. ADESEGUN ABDEL-MAJID ADEKOYA| OPINIONS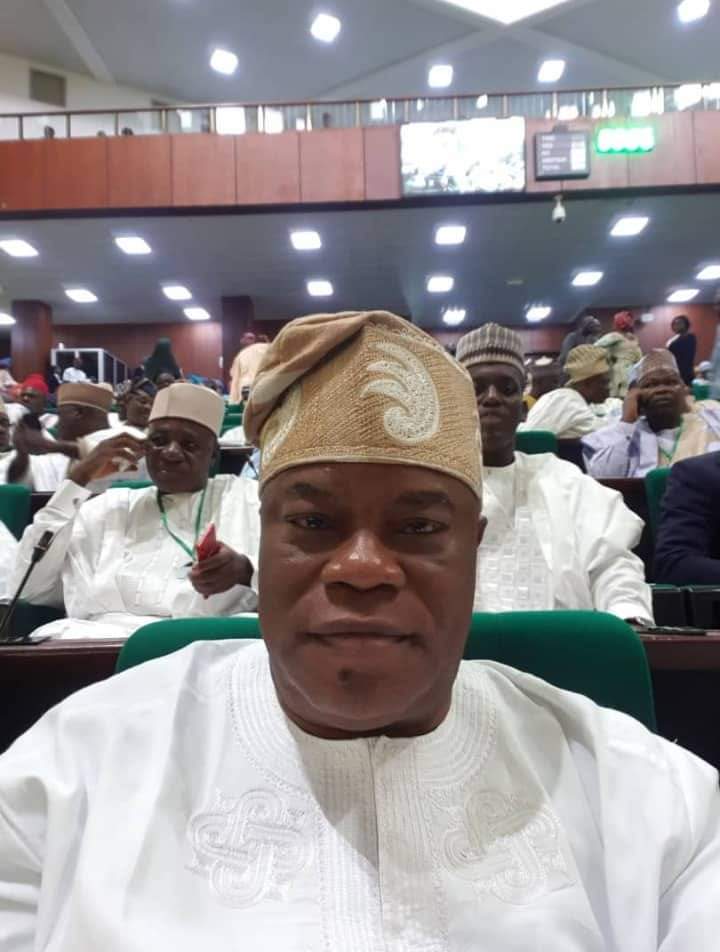 WHY IJEBU NORTH, IJEBU EAST, OGUN WATERSIDE PEOPLE SHOULD VOTE FOR RT. HON. ADESEGUN ABDEL-MAJID ADEKOYA| OPINIONS
By Solanke Ayomideji Taiwo
Ogun state is blessed with some of the finest and brightest politicians the country could possibly boast of. The man of the moment, the one regarded as the Master Political Strategist from Ijebu axis as we speak is none other person than Rt. Hon. Adesegun Abdel-Majid Adekoya, And of course, you can go on counting him among the impressive assemblage of politicians who represent proudly the future of Ogun politics; a brilliant and articulate Lawmaker called Hon. Adesegun Abdel-Majid Adekoya popularly known as ATTACKER is selfless to his immediate community with philanthropic spirit to ensure everyone is doing good in their respective field of endeavours.
He needs no introduction. Hon. Adesegun Abdel-Majid Adekoya is the Lawmaker representing Ijebu-North/Ijebu-East/ Ogun-Waterside federal Constituency of Ogun State. He has been a fantastic representative of his people. Currently in his second term, he has done remarkably well. It is no wonder that his people don't joke with him. The young admire him, the elderly adore him. His humility makes it so very easy for them to warm up to him. You can never catch him going about with an air of arrogance, he understands clearly that to be a successful politician, you must be warm and open to your people and give them unhindered access to you. And that is exactly how Adesegun Abdel-Majid Adekoya relates with his people. This is why, in Ijebu-East, Ijebu-North and Ogun Waterside federal constituency today, you could get yourself into trouble if you go around the constituency casting aspersions on their beloved son, Hon. Adesegun Abdel-Majid Adekoya.
The huge support and love he enjoys from his people shows through massive empowerment and human capital development, and unprecedented projects put together in his second term. Not only did over a thousand people come out to benefit from the massive youths empowerment where a good number of youths took home laptops and other gadgets to boost their training, Cosmetics training with free equipment, kampala production programme with cash for startups of business. Many associations, groups pledged support and appreciation to the man they have all grown to respect as a person and as their representative at the Federal House of Representatives. And he reciprocated their love. He gave back to them just as much love and affection that he got from them. Adesegun Abdel-Majid Adekoya mingled with the crowd freely and personally attended to many of the indigenous people who hunt games in the grassroots. He is particularly patient with the elderly and shows them such profound love that had many nodding their heads in obvious appreciation of his love for the weak and the aged. He would hold their hands, hug them and lead them to their seats. He is such a focused representative who never mixes pleasure with work. His parliamentary representation has never been matched.
To prove even further that the respected Lawmaker is fast becoming one of the political personalities to reckon with in Ogun state, he attracted three federal institutions of learning to Ijebu axis
These are College of Entrepreneurship and Skills Acquisition, Ijebu-Ife, The Para-Millitary School in Ijebu-Igbo, and Federal Technical College in Ako axis. The Establishment Bills for the Institutions have all passed the second reading on the floor of the House. He also single-handedly handled the construction of Orimolusi palace in Ijebu-Igbo, giving it moder touches with an elevator.
He has facilitated numerous roads for communities within Ijebu North, Ijebu East and Ogun Waterside whereby he turned the clay roads to beautifully and long-lasting tarred roads.
Abeokuta people cannot forget the multi-million naira Cardiothoracic Centre singlehandedly facilitated for the Federal Medical Center, Idi-Aba, by Rt. Hon. Adesegun Abdel-Majid Adekoya to ease the pain of receiving treatments by the people of Ogun state.
The numbers of motorised borehole facilitated by Adesegun Abdel-Majid Adekoya cannot be quantified to ease the hardship of water supplies in the local communities.
It is very obvious that Adesegun Abdel-Majid Adekoya remains the best lawmaker to vote for in 2023, if the people of Ijebu-North, Ijebu-East and Ogun Warerside federal constituency want a continuity of the dividends of democracy that he has been providing for them over the years.
Obasa, Ex-Deputy Governor, APC Chiefs Meet As Campaigns Heat Up (photos)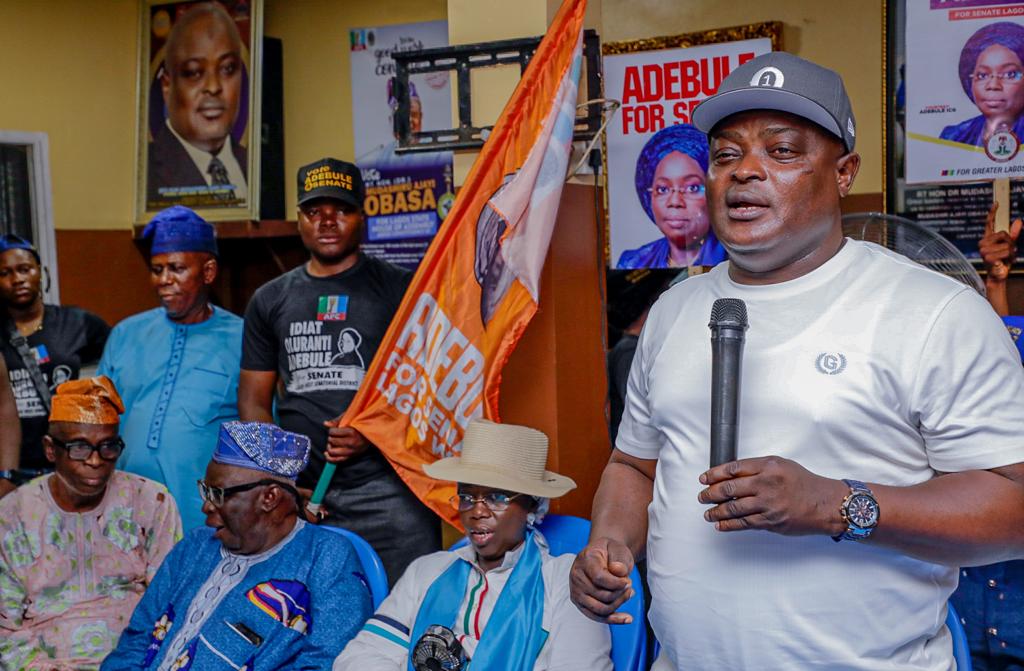 Obasa, Ex-Deputy Governor, APC Chiefs Meet As Campaigns Heat Up (photos)
As Nigerians gear towards the 2023 elections, the Speaker of the Lagos State House of Assembly, Rt. Hon. Mudashiru Obasa, on Saturday reiterated his resolve to work for the victory of all candidates of the All Progressives Congress (APC) both at the national and state levels.
Dr. Obasa said this when he received former deputy governor of Lagos and senatorial candidate of the APC in Lagos West, Idiat Oluranti Adebule and her team, who were in Agege as part of campaigns ahead of the election.
According to the Speaker, the goal of current political activities is to make sure that the APC wins at all stages of the election from the presidential to the House of Assembly.
Dr. Obasa expressed confidence that Asiwaju will become the president while further noting his expectation that the party would have the majority at the Senate and the House of Representatives.
"This would make governance at the federal level very easy. Same thing goes for our State," he said.
The Speaker urged members of the party as well as his loyalists to continue to remain dedicated and put their trusts in God to crown their efforts with the needed victories and successes.
He also tasked the members to work in unity, cooperation and with passion as, according to him, victory begins with internal cohesion just as he expressed confidence that the Southwest zone would deliver massively for Tinubu.
"Agege is so committed to the APC. We want good results. We want victories with a landslide. We must show total commitment and dedication and that is when we will get what we want. I commend you all for the support you have given our incoming senator," he told the party loyalists, who thronged his constituency office.
In her remarks, Adebule thanked Agege people for their commitment to the party. She said records have shown great results from the area during elections.
She said she decided to visit Agege to thank the people and further plead for their support.
Breaking: Northern Body Tackles Atiku Over Comment On Naira Policy, Opposing Sultan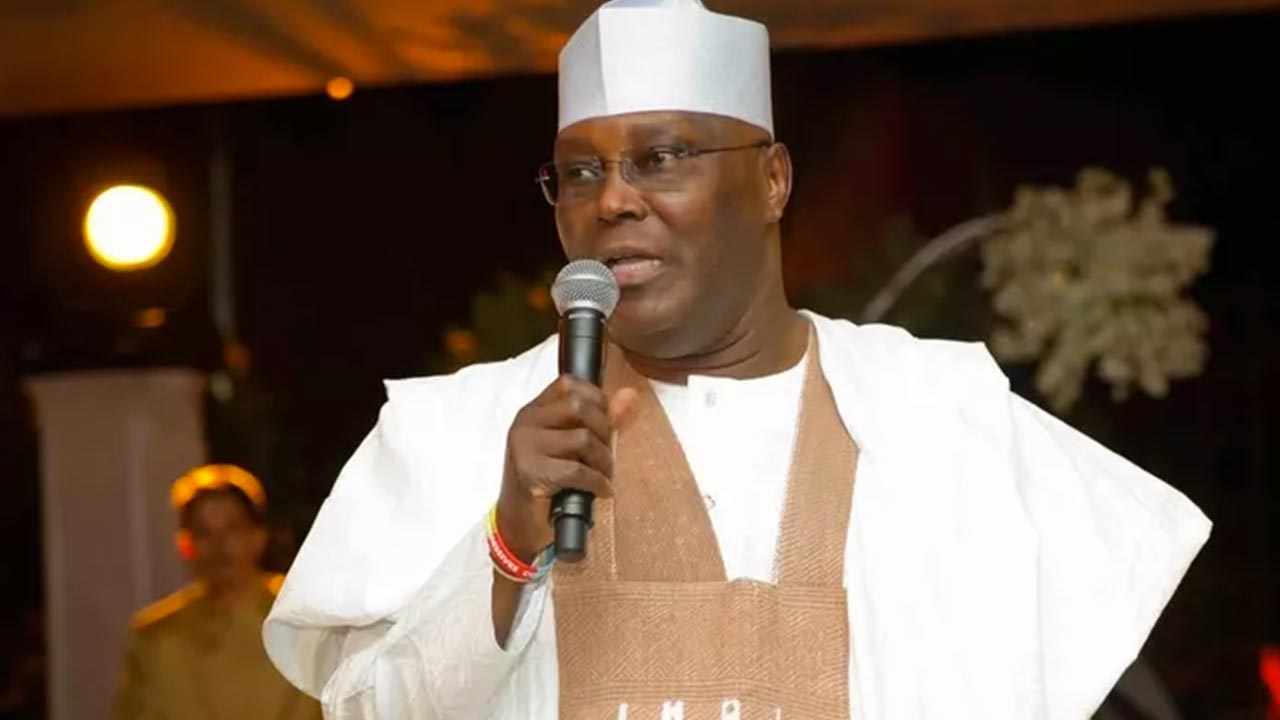 Breaking: Northern Body Tackles Atiku Over Comment On Naira Policy, Opposing Sultan
The Arewa Youth Consultative Forum (AYCF) on Saturday came hard on the presidential candidate of the Peoples Democratic Party (PDP), Atiku Abubakar, over his comment urging the Central Bank of Nigeria (CBN) not to grant further extension of its Naira swap policy deadline beyond the 10 days announced by the bank.
The AYCF declared that Atiku was on his own for recently opposing the opinions of the Sultan of Sokoto, Alhaji Sa'ad Abubakar, and the National Assembly on the policy.
Atiku had reportedly hailed the apex bank for a 10-day extension of the deadline while urging it not to grant any further extension.
In a press statement personally signed and released by Alhaji Yerima Shettima, National President of the AYCF, the organisation which said it was calling Atiku to order, wondered what Atiku hoped to benefit from the difficulties citizens currently experience as a result of the cash swap policy.
The group warned Atiku to stop playing politics with the policy adding that his comment was self-serving.
"Former VP Atiku's call was out of place because it is coming on the heels of growing complaint about the kind of sabotage that is causing untold hardship to Nigerians over this policy.
"Atiku stands alone in his call on the CBN not to review the deadline. He is against prominent Nigerians who made passionate appeal for deadline review, notably the sultan of Sokoto, the Senate and House of Representatives leaders and experts.
"What purpose will the current difficulties people are facing serve Atiku? Why would he rather identify with the need to let the difficulties faced by especially rural folks continue and for how long?" The statement asked.
While noting that the policy was good owing to the fact that as at end of June 2022, available data indicated that N2.72 trillion out of the N3.26 trillion in circulation was outside the vaults of commercial banks, the group said it, however, supports the calls by Nigerians for an extension.
"We are of course aware that the economy has suffered heavy, avoidable bruises.
"The AYCF wishes to state that it will be suicidal for this nation to consider Atiku's advice against a review of the CBN cash swap deadline, because for any policy to succeed, it must have a human face and we believe the CBN Governor, Godwin Emefiele, won't turn against overwhelming public interest, like Atiku has just done.
"The AYCF is therefore warning the ex-VP not to turn this policy into a weapon of political manipulation or political attention-seeking opportunity. He should forget about the continuation of a policy in the midst of loud calls for positive review for the sake of his selfish political and self-serving interests. We will not stop emphasising that Nigeria is never a Banana Republic.
"We advise the ex-VP to concentrate on his presidential campaigns by showcasing what he has done to merit the votes of Nigerians and stop playing politics with our economic policies and associated challenges. We thought the ex-VP would tell Nigerians what he has to offer in fighting inflation and weak national currency," the group added.