7th Year Coronation Anniversary: Oba Oniro Of Iroland Welcomes Guest Across Nigeria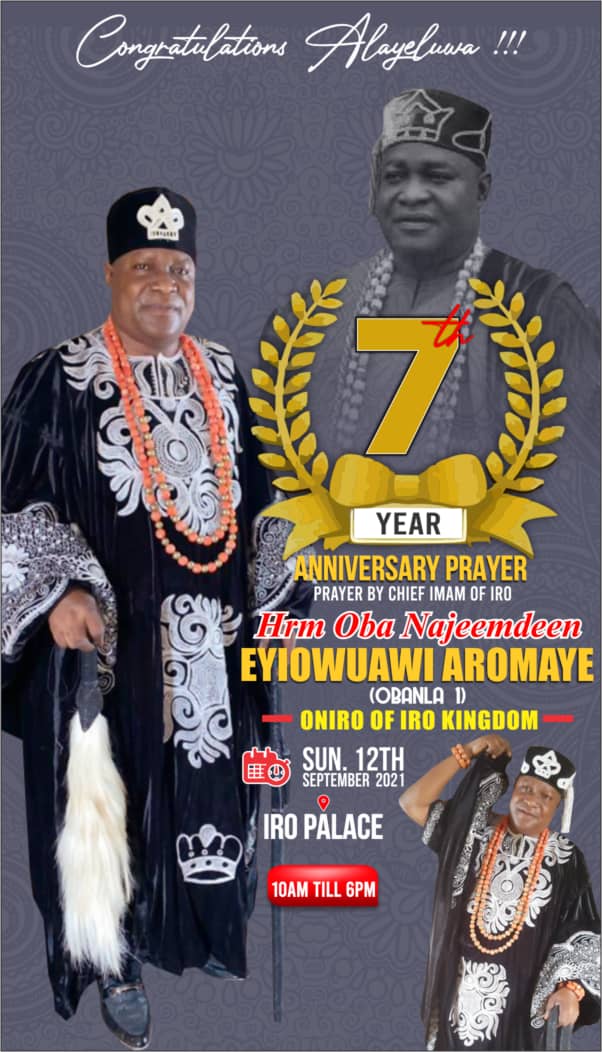 His Royal Majesty (HRM), Oba Nojeemdeen Alani Eyiowuawi Aromaye (Adebari) Ilufemiloye Obayemi (Obanla 1) Oniro of Iro Egbaland has welcomed all guest across the nation to his 7th year coronation anniversary which would be held at Iro along Papa-Interchange expressway in Ogun State.
The coronation anniversary shall be coming up on 12th of September, 2021 to celebrate God's love and support for the monarch.
Oba Nojeemdeen Alani, while speaking with newsmen in Abeokuta gave thanks to Almighty God for spearing his life on throne since his ascension on throne of his forefathers, he also urged all son and daughters of Iro Land in Egbaland to move in mass to celebrate the one and only recognised monarch in their hometown.
However, he commended the executive Governor of Ogun State, Prince Dapo Abiodun for the developmental projects across the state, and his efforts in ensuring the Papalanto to Interchanged road was approved for construction at the federal level, he highlighted the economic growth the road project will bring to Iro-land in terms of migration and business wise.
"I must commend the giant stride of His Excellency Governor Prince Dapo Abiodun Mfr across the state on the area of social and infrastructural projects to turn Ogun State to a mega city, also I must salute his courage in the area of all-inclusive government by accommodating everyone in government irrepsective of their political beliefs, I will always support his administration towards achieving his blueprints for the state during his period of governing the state." Oniro said.
He appreciated the support of the paramount ruler and Alake of Egbaland Oba Dr Adedotun Aremu Gbadebo Okukenu IV for his fatherly advise before, during and anticipating for further gesture from his pool of wisdom.
In the same vein, he saluted the courage of Hon Afolabi Afuape, the Hon Commissioner for local government and chieftancy affairs for putting the round peg in the round hole without supporting injustice.
He appreciated the Eleyo ruling house, his family and son and daughters of Iro-land most especially, Prince Segun Oladipupo, The head of Eleyo Ruling house and all the Oniro council of chiefs for their unalloyed support towards making Iro-land a peaceful place to settle.
He assured the guests across the country of maximum security with the security architecture put to place by His Excellency Prince Dr Prince Dapo Abiodun towards securing lives and properties of people living in the state.