80 percent of Abusers of women with disabilities are very close to them,..says PLWDs while celebrating world international women day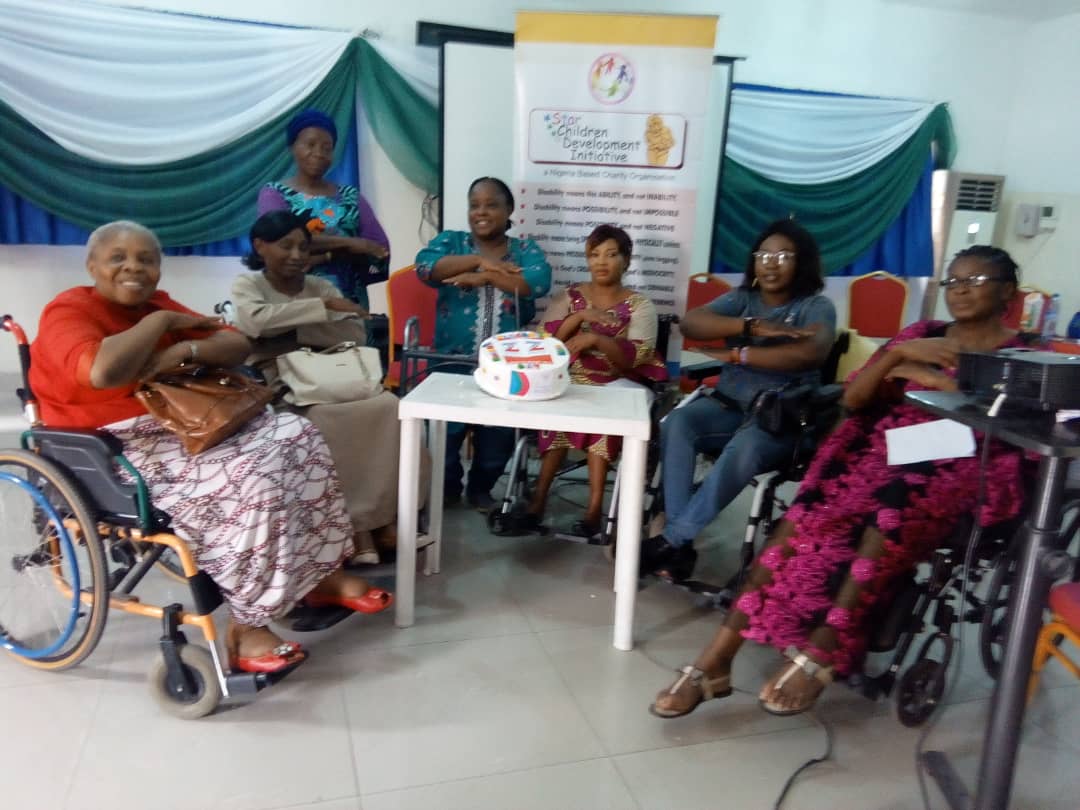 By Ifeoma Ikem
Start children development intitative ,an NGO, says it has embarked on measures to reduce poverty among the People Living with Disabilities (PLWDs) in Lagos
Its Manager, Mrs Adelani Fadeola, spoke with the journalist over the week that this month is the month to celebrate women all over the world because women are unique, beautiful and special with a lot of talent.
With our objectives starting this program since over five years now persons with disabilities is to assist them to be useful to the society not a liability and help reduce poverty among them.
According to her, persons with disabilities is being neglected, nobody remember them it take lot of effort to bring them together due to stigmatiztion many of them is married with children they are human being. It was during awareness program that those with talents was discovered, initially all this talents is being hiden, through such programs we discover what they have and to offer to the society. Government should support and assist them with something to boost their businesses.
One of the speaker, Mrs Foluke Ademokun with the :topic Disability Gender-Based Violence :Protecting Women&Girls with Disabilities in Nigeria -Our Priority is represented by Ihuoma Sussan Kelechi, delivery her speech noted that people do not speak out in term of physical and domestic violent ,the awareness is still low
Ihuoma said that over 80 percent of person with disabilities abuser is very close to them, right inside with them, people do not understand that our abuser is right with us, these are issues they faced on daily basis, it is problem without protection and nobody want to understand us. "I am adult living with disabilities, I was not born with disabilities but as a result of Polo survival".she said.
Most time terrible things happen to us, due to culture which is another problem of it own, our abuser keep abusing us physically, emotionally, finicanally we keep quite,we do not let people know about it because they are closed to us.
Narrating her ordeal when growing up as a child, it was domestic violent,a kind of conversation I am hearing make me feel bad, psychological down. Then there was no awareness or much of it so any person with disability the family tag that child a liability or evil,i have grown pass that stage with God every impossibilities become possible.
I join the campaign to enlighten the public that PLWDs need to be equip with skills so that they could have access to available opportunities. Our major challenges is infrastructural barrier it is difficult task it need urgent attention, with polities that will work, protect and also deserve social protection and polities that will implement.
She noted that in national level the bill have been passed yet notting is going on about it, but only Lagos State have sign it into law but not implemented, if the bill is not implement how are we going to benefit from it.
Another speaker Mrs Emmanuella Akinola, who spoke on Maintaining Sustainable livelihood :An Entrepreneurship Pathway For Women With Disabilities -Discuss,said person with disability need to be entrepreneur and have to understand the type of business he or she want to execute before embarking on it. A person with disabilities have a lot of opportunities.
Nowadays with the help of technology person with disability will excel if they know what type of businesses they want to invest on especially women with disabilities have greater opportunity in some cases, disability itself is recruiting if the person is highly skilled.
I am living with person with disability government should not abandon them, I'm appealing to them so that they should rethink and reconsider them in any subsequent job.
Also speaking, a brand Ambassador and co-ordnatior,Start Children Development Intitative, Assumpta Khalin, said we use this occasion to celebrate women on international women day and also reiterated the commitment of the foundation which is to ensue persons living with disabilities is not at a disadvantage in the society due to their condition.
With the support from Zenith Bank plc since last two years many have benefited with grant to boost their businesses, we will continue to do our best efforts and utilities the grants and while we are still appealing with other relevant stakeholders to support persons living with disabilities to break down barriers
Also government could do what it is expected to do, as the society is collaborating in that process, poverty among PLWDs would be greatly reduced,even, those who beg for alms on the roads would be positively impacted.