Access Bank Hunts Million Naira Debt From Muyiwa Bakare Days After Throwing Lavish 50th Birthday Party For Wife
The lives of some Nigerian millionaires and billionaires will resonate as one dismal lie from one end to the other, by the time Access Bank Plc completes its revenue recovery drive.
While this sad reality extends beyond the reaches of Access Bank, the pathetic case of Muyiwa Bakare and some other bank debtors has become hot gossip across the cubicles and halls of first generation banks and Nigeria's high society circuits.
According to The Capital, Bakare, who is the son of a former billionaire auto magnate, Chief S. O Bakare, founder of Oluwalogbon Motors, and also the former MD of the moribund Metropolitan bank, is currently indebted to Access Bank in several millions and this has incited the dissatisfaction of the bank's management led by meticulous banking Czar, Herbert Wigwe.
The latter has reportedly embarked on a debt recovery scheme as part of his drive to recover outstanding debts from the bank's chronic debtors.
It is interesting to know that Bakare is simply one of many debtors of Access Bank whose outrageous debts may put the bank in precarious financial situation if the bank's management does not recover loans owed by them by year's end.
At the backdrop of Access Bank's debt recovery drive, pundits note that Skye Bank may need to initiate a similar scheme to recover debts owed it by debtors such as Festus Fadeyi, Pan Ocean Corporation boss, who allegedly owes the bank N196 billion.
Besides Access Bank and Skye Bank, several other new generation banks are doing battle to recover outrageous debts owed them by career debtors.
The latter despite their disgraceful insolvency and indebtedness in billions, continually parade themselves as Lagos big boys and sophisticated members of Nigeria's high society.
In reality, they are chronic debtors and poor managers of wealth who have gone bankrupt, argued a highly placed source in one of the banks affected by their debts.
Interestingly, however, you couldn't have forgotten so soon the Bakare's expensive 50th birthday shindig for his wife recently.
The party was allegedly borne of his desperation to save face and make the world believe that even though Access Bank aggressively seeks to recover debts owed it by him, he is still rock solid.
Further findings substantiated the fact that for Muyiwa, the birthday celebration goes beyond just celebrating his wife; it presented a platform and opportunity to keep up appearances.
An alumnus of California State University in Northridge California, Warwick Business School and Lagos Business School, not even his education and exposure and privileged background could save his bank from going under then. And so went his cash cow too.
Several friends gave up on him and business associates deserted him but he was blessed to still have the likes of Saraki and Access Bank MD, Herbert Wigwe, in his corner.
The CBN governor, Godwin Emefiele, contended that the intervention became inevitable in view of the bank's liquidity and non-performing loan ratios which had been below and above the required thresholds respectively for a while.
Iconic Encounter: Music Superstar Davido Meets Wema Bank's New MD/CEO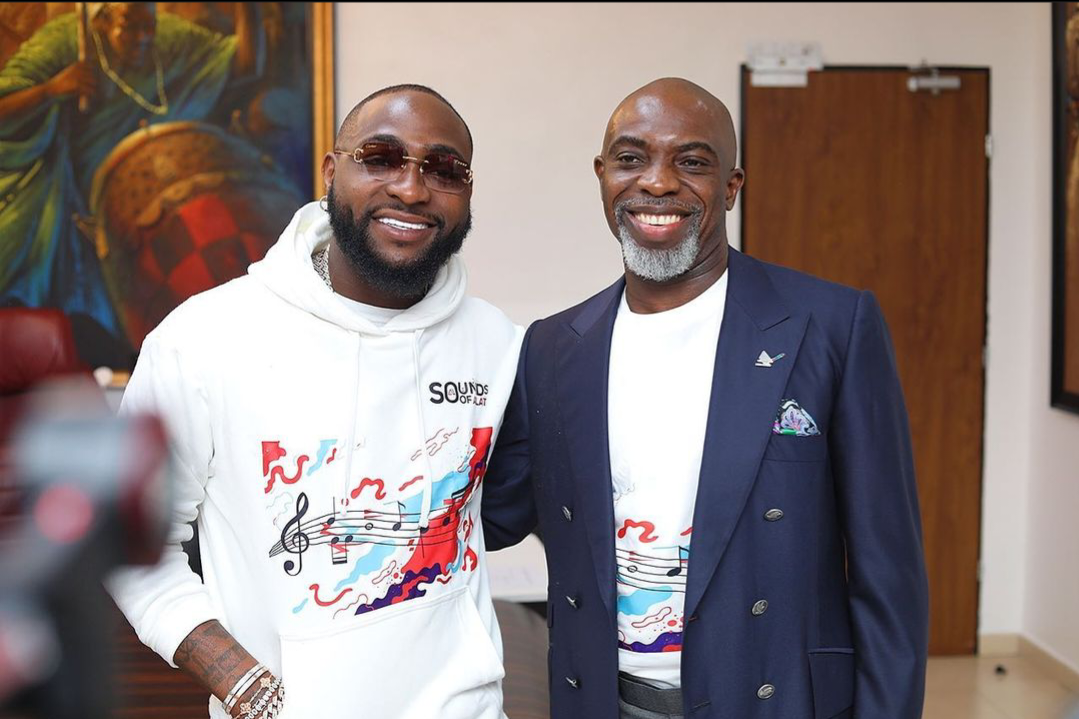 Iconic Encounter: Music Superstar Davido Meets Wema Bank's New MD/CEO
Sahara Weekly Reports That what will be recorded as a historic occasion in the worlds of entertainment and finance, globally acclaimed Nigerian music artist, Davido met with Wema Bank's Managing Director and Chief Executive Officer, Moruf Oseni, to explore opportunities for collaboration and transformation between the finance and entertainment industries.
The momentous meeting of minds took place at the bank's headquarters in Marina, Lagos and according to Oseni, signifies the convergence of visionary leadership, creative brilliance, and a shared commitment to innovation. Wema Bank Plc, a leading financial institution in Nigeria, recently welcomed a new Managing Director, injecting fresh perspectives and a dynamic vision into the organization.
"Wema Bank and Davido are both innovative brands that recognize the immense potential that arises from the fusion of finance and entertainment, setting the stage for groundbreaking initiatives that will captivate audiences and revolutionize customer experiences", Oseni said in his welcome address to the global music sensation and trendsetter who has captured the hearts of millions worldwide. Oseni further acknowledged Davido's entrepreneurial prowess and influential persona which have propelled him beyond the music industry, making him a force to be reckoned with in various business sectors. "Davido is well known for his unwavering dedication to excellence and having a finger on the pulse of the ever-evolving entertainment landscape."
The meeting with Davido serves as a catalyst for transformative change and positions Wema Bank as a pacesetter in the intersection of finance and entertainment. The bank's commitment to customer-centric innovation and providing accessible banking solutions aligns seamlessly with Davido's mission to empower and uplift his fan base.
Oseni insisted "We are fusing finance and entertainment with the aim of delivering innovative solutions that resonate with our customers. Together, we will drive positive change and create extraordinary experiences."
In celebration of the sixth anniversary of ALAT, Wema Bank's digital banking platform, Davido also Wema Bank's brand ambassador, has been brought on board to curate a series of exciting giveaways. It is an opportunity to showcase the strength and growth of the ALAT brand, offering customers and fans a chance to win exclusive prizes and experiences. The giveaways are tokens of appreciation for the continuous support and loyalty shown by customers over the years.
By leveraging their combined strengths, Davido and Wema Bank aim to further set new benchmarks in their respective industries while driving social impact and financial inclusion.
It promises to be a remarkable collaboration that will reshape the landscape of finance and entertainment, creating lasting experiences and opportunities that transcend traditional boundaries.
Aspire to be employer of labour, not job seekers..Pelican CEO tells students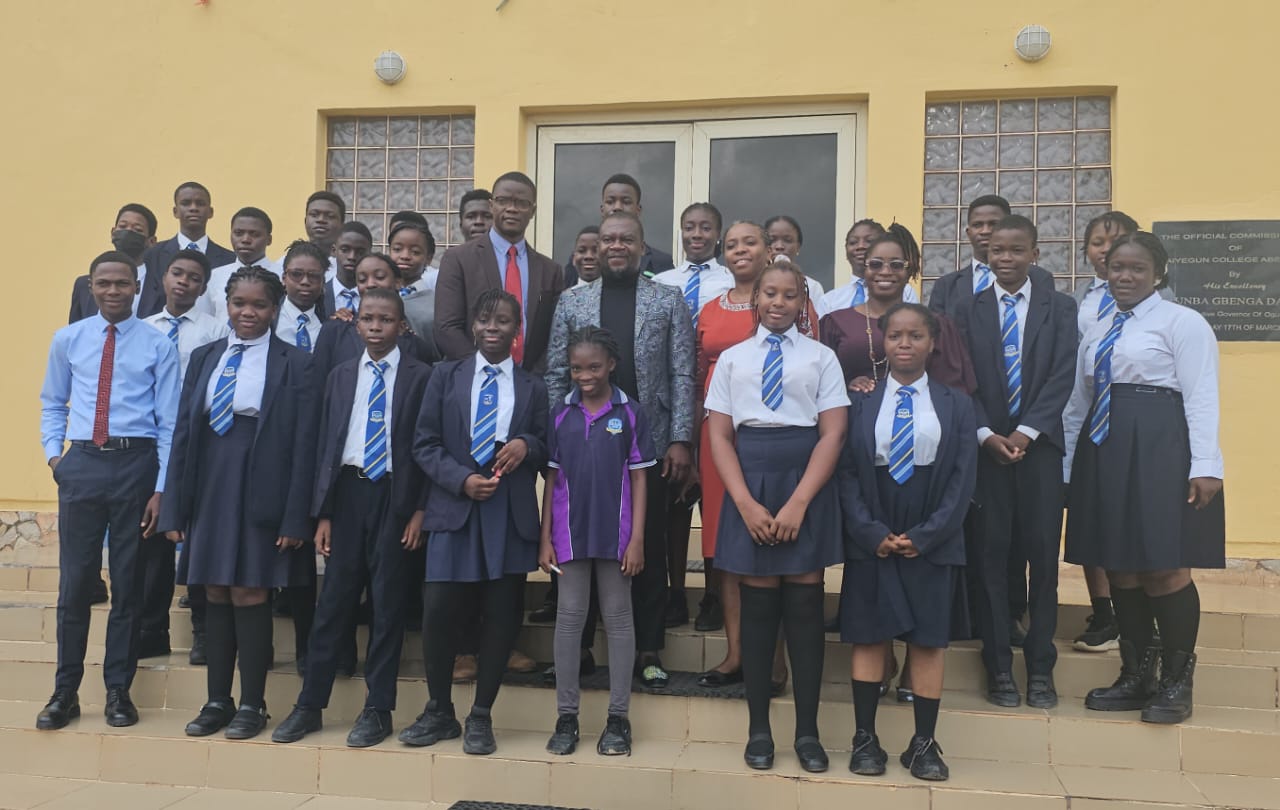 Aspire to be employer of labour, not job seekers..Pelican CEO tells students
The Chief Executive Officer, Pelican Valley Nigeria Limited, Dr. Babatunde has admonished secondary school students in the nation to aspire to be a job creature rather than seek to be a potential future job hunter.
Adeyemo, an anti corruption ambassador, further noted that its very important to catch the entrepreneurial attentions of the kids when they are still young, adding that the reason is company keeps growing is because he has been able to convince his customers with his integrity , character and delivery.
Adeyemo disclosed this on Wednesday while featuring as a guest speaker at the Nobel House College Career Day celebration, held at the school premises in Abeokuta, Ogun State Capital
The real estate entrepreneur urged the students to always think of becoming an employer of labour, saying that it is one of the surest ways that can help them to make their first millions at their tender age and also make them future billionaires…
Sighting David Adeleke popularly known as Davido, who was quoted as getting his first multi million naira endorsement deal at age 16, the reator challenged the young students to beat the popular singers record as a potential young realtor.
Adeyemo said, " I am here today to guide and implore you to see real estate business as an opportunity. However, without integrity and good character, you may have a problem. I have been into this business for over ten years, and I have been honest with my customers. I have not disappointed any of them. My integrity and good character speak for me. Real estate business is lucrative, I started with 2.5 million to the glory of God. We have now grown to be household name.
"I want to urge you to be versatile. When you leave here you are going to the universities of your choice. It is important you have to start developing your integrity and character because it is very important. We have so many personalities who made their first millions at tender age, and you can also be part of them if you are consistent, " he concluded.
The realtor implore the kids to go home and convince their parents to buy landed properly from Pelican Valley, in the children's name, describing such move as the most conscious and surest way to secure the children's future and also put them on the part of been a young realtor.
Pelican CEO is undoubtedly one of Africa's top realtors making a difference across the world.
He specializes in real estate acquisitions and disposition as well as property & assets management,with customers at the centre of its business philosophy.
He has helped many sellers get more for their properties, and buyers find their dream homes, thus bringing his brand to the fore-platform across Nigeria and the world.
Shareholders Applaud Fidelity Bank for Exceptional Performance in 2022 FY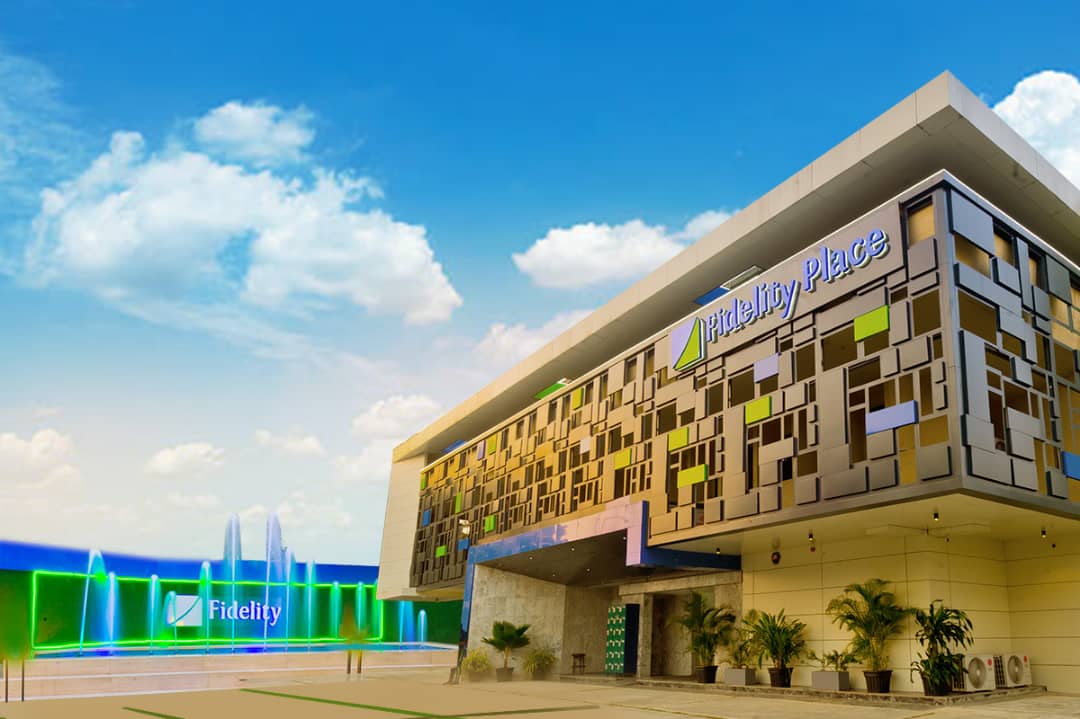 Shareholders Applaud Fidelity Bank for Exceptional Performance in 2022 FY
Shareholders of leading financial institution, Fidelity Bank Plc, have commended the board and management of the bank for delivering an exceptional performance in FY 2022. This was made known at the bank's 35th Annual General Meeting (AGM) held virtually on Tuesday, May 23, 2023.
Speaking at the AGM, the Chairman Emeritus of the Independent Shareholders Association of Nigeria (ISAN), Sir Sunny Nwosu applauded the bank's management for "listening to shareholders and declaring an interim dividend".
On his own part, National Chairman of The Progressive Shareholders Association Mr. Okezie Boniface lauded the bank for coming to customers' aid during the period of the Naira redesign policy, explaining that the bank's branches and Automated Teller Machines (ATM) always provided customers with Naira notes. He also commended the bank's leadership for prioritizing Corporate Social Responsibility (CSR) initiatives across its focus areas of youth empowerment, health and social welfare, education and environmental conservation and sustainability.
According to the bank's 2022 annual report uploaded on its website and distributed to shareholders, the bank grew by double digits along all the major indicators. Customer deposits increased by 27.4% from N2.0 trillion in 2021FY to N2.6 trillion. Net Loans and Advances rose by 27.6% from N1.7 trillion in 2021FY to N2.1 trillion in 2022 FY. Total Assets grew by 21.6% from N3.3 trillion in 2021 FY to N4.0 trillion in the period under review.
Giving his remarks at the meeting, Mr. Mustafa Chike-Obi, Chairman, Board of Directors, Fidelity Bank Plc said, "When we set the audacious target of attaining Tier 1 status a few years ago, we did not expect a smooth ride due to the endemic challenges in our operating environment. However, we were able to weather the storm because our business is built on a foundation of good corporate governance, effective risk management and shareholders' value enhancement.
In response to a shareholder's question on the deployment of capital raised during the recent private placement exercise, Mrs. Nneka Onyeali-Ikpe said, "The bank is growing in leaps and bounds and the capital would enhance our capacity to accommodate the business volumes coming our way. This is in addition to improving our technology especially in the light of the Cashless drive and creating more secured platforms that can handle the challenges posed by cybercrime.
Several resolutions were considered at the AGM including the declaration of a final dividend of 40kobo, re-election of non-executive directors -Mrs. Amaka Onwughalu and Chief Nelson Nweke, election of an Executive Director -Mrs Pamela Shodipo; amongst others.
Fidelity Bank is a full-fledged customer commercial bank operating in Nigeria with over 8million customers serviced across its 250 business offices and digital banking channels. The bank was recognized as the Best Payment Solution Provider Nigeria 2023 and Best SME Bank Nigeria 2022 by the Global Banking and Finance Awards. The bank has also won awards for the "Fastest Growing Bank" and "MSME & Entrepreneurship Financing Bank of the Year" at the 2021 BusinessDay Banks and Other Financial Institutions (BAFI) Awards.