Adron Homes Staying Power and it's Quest for Excellence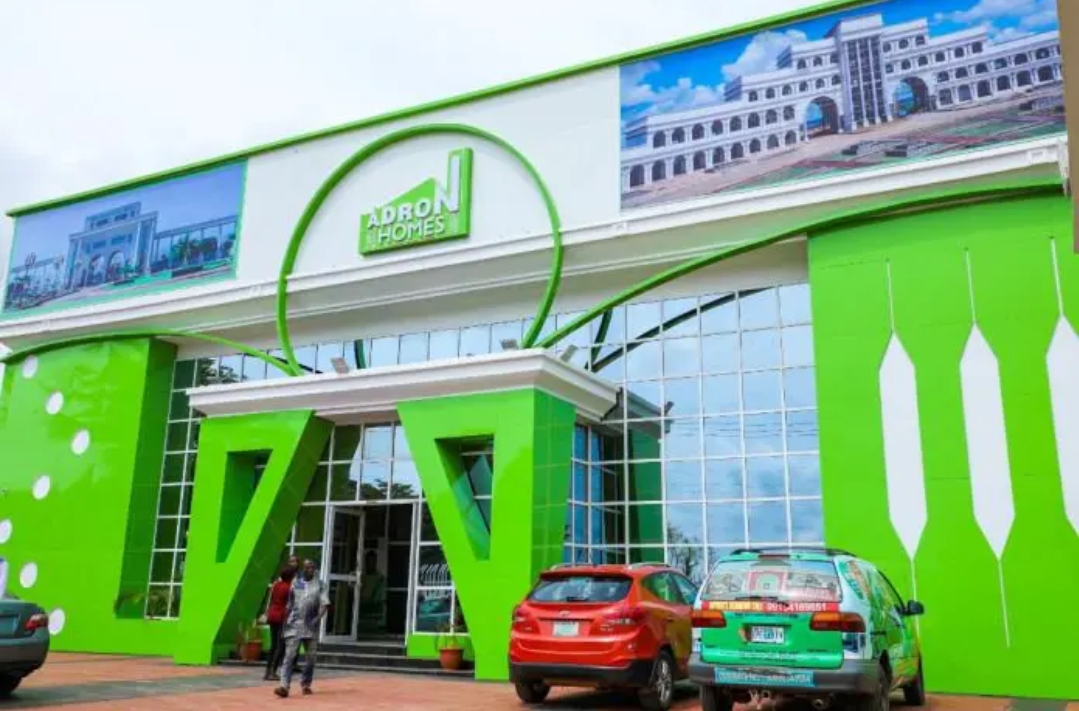 Adron Homes Staying Power and it's Quest for Excellence
By Oladapo Sofowora
In Nigeria today; one of the problems the government is facing and doing so much to curtail and proffer a lasting solution to is delivering basic amenities which is housing, food, clothing, and other basic needs for human survival. In Nigeria, the housing deficit is quite on the high side owing to some factors bothering on increase in population, increase in poverty ratio, and increased migration from the rural areas to the urban areas. These and many more factors contributed to the stunted growth in the housing sector.
As the newly ratified unified minimum wage is still begging to be signed and paid by some states, the poor living condition has affected so many because they earn far below the means to get them all the basic needs of life. This also makes housing mortgage hard to actualise in a country like Nigeria and due to the dwindling prices of building materials, it's almost impossible for many to build homes. In other to support the government in actualizing it's sustainable development goals in the area of housing as a basic need for human survival through private partnership and other means; Adron Homes and properties came into existence to bridge the gap and consolidate the government's efforts in delivering housing to the general populace with its low income earners target.
When Adron came into existence; they had a very big dream which is to give affordable homes to middle and low-income earners. They met their target audience with a mission and vision statement to create affordable housing with flexible payment plans. This idea looks disruptive as it took many by surprise how Adron was marketing their lands and packages. While many laughed at the payment plan, which is as low as 500Naira daily like a thrift contribution, some didn't believe such an idea would work. But trust Adron Homes under the leadership of its Group Managing Director GMD, Aare Adetola Emanuel-King, turning every impossibility into possibility was not hard for him. The idea worked perfectly as planned as many people took it seriously and started the payment plan which today many of them have built and become homeowners all thanks to Adron Homes for giving such a platform.
Foresight is one thing that stands Adron Homes out; also it's ability to turn a wilderness into a city with jaw-dropping modern infrastructure such as; roads, lighting, a massive gatehouse, security, drainages, a central sewage system, recreation parks and the rest. Adron Homes today have opened new estate that many never believed would be opened to development in the next 20 years. Lately, Adron has been celebrated for its ingenuity and generic way of doing things differently not joining the crowd. Despite the pseudo-Adron who copied the marketing style and payment structure of the brand, they have refused to stay afloat just like the popular parlance; 'If e no be Panadol E no fit be like Panadol'. Those who attempted to copy their style are today nowhere to be found. What has been Adron's staying power is it's quest for quality over quantity. It's constant evaluation and strictly leverage based on trust, longevity laced with sartorial elegance.
Those who reside in their estate often confess that they get 5 times the value of the money they paid with the level of infrastructure renewal they witness daily. You won't believe getting a concrete road and drainage with a massive gatehouse comes almost free for those who purchased lands at give away price. While many brands have tried to study their success code and how they make these things work because they have not been able to get a magic wand. Those close to the Adron brand, often say; Adron does not mind spending proceeds made from sales of land to ensure it's habitable and attractive for their numerous customers. They believe customers are Kings and royalty and they must be treated as such with state-of-the-arts facilities. Having invested years into the business, it's not about profit for them but the sustainability of the brand's ethos and what it stands for which is to give affordable homes to low-income earners.
Thriving in the saturated real estate industry in Nigeria, you need the heart of Hercules, the fearlessness of Achilles, the grace of Terpsichore, the memory of Macaulay, and the hide of a rhinoceros. You must remain firm like the proverbial cat with nine lives. Adron has remained tall above its arch-rivals and competitors giving a lot of real estate companies a run for their money. Just like the air we breathe, their Advertorial have taken over cyberspace. You can hardly go a day without being hit by its advertorial materials either billboards, Newspapers, radio, TV, Social media posts etc. For Adron, the hype is real and it's not by fluke but by sheer dint of hard work and resilience by the members of staff and solid management board.
Excellence is not served ala carte, it's earned and today, Adron Homes has earned its space as a real estate firm that has the love of the downtrodden at heart. More reason they have continued to thrive excellently well winning several laurels as a sign of appreciation with estates littered across the length and breadth of the country from Lagos, Ibadan, Ekiti, Abuja, Nasarawa, Ogun State, Akure and a host of others the estates.
At the just concluded Real Estate Conference and Recognition Award held at the Civic Centre, Ozumba Mbadigwe, Victoria Island, Lagos on Sunday the 14th of May 2023, the coy was adjudged the Biggest and Best Run Real Estate Company of the Year. Just like the popular parlance the reward for hard work is more work, Adron is committed to putting more effort toward its goal to keep building and to keep giving the Landlord status to many willing individuals across class strata. Adron is intensifying it's effort to ensure more work is done in a bid to sustain its growth and also continue to soar higher like an Eagle. In its quest for excellence; Adron is a moving train that is not stopping anytime soon. The company is in competition with itself to outdo itself and will continue to work assiduously well to achieve such a purpose.
Nigeria's Short Lets Surge Opens Doors to Unprecedented Real Estate Profits By Dennis Isong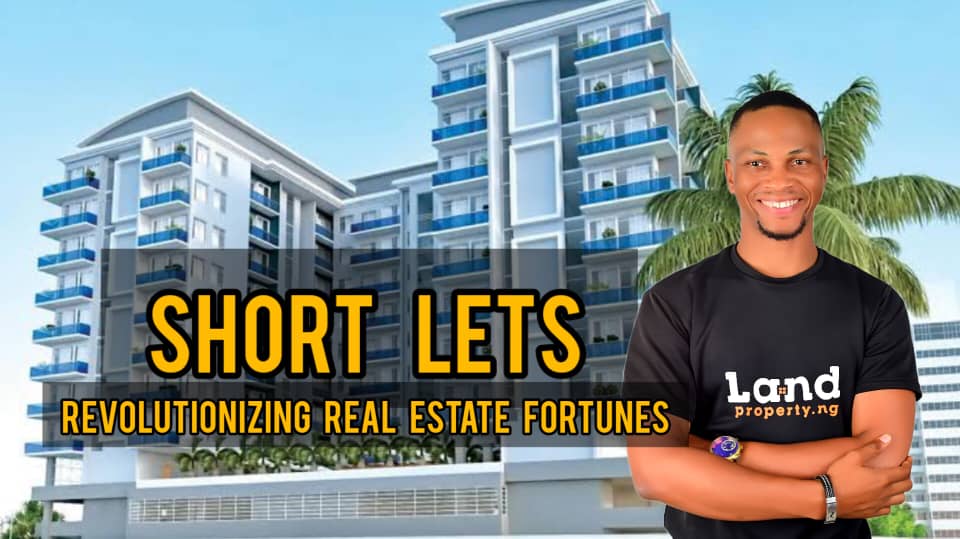 Nigeria's Short Lets Surge Opens Doors to Unprecedented Real Estate Profits By Dennis Isong
Sahara Weekly Reports That Short let, also known as short-term rental, has been gaining popularity in the Nigerian real estate business in recent years.
A short let refers to the rental of a property for a short period of time, usually ranging from a few days to a few months. This type of rental arrangement is becoming an attractive option for both landlords and tenants in Nigeria.
For landlords, short lets provide an opportunity to earn higher rental yields compared to traditional long-term rentals.
This is because short let tenants are willing to pay a premium for the convenience and flexibility of a short-term rental.
Landlords can also avoid the hassle and expense of finding a new tenant every time a long-term tenant moves out.
For tenants, short lets offer a cost-effective and flexible housing solution. They can rent a property for a short period of time, which is ideal for travelers, business professionals, and those who are in between homes.
Short lets also offer a more homely experience compared to hotels and other forms of temporary accommodation.
The popularity of short lets in Nigeria has led to the emergence of several short-term rental platforms, such as Airbnb and Jumia House.
These platforms have made it easier for landlords to list their properties and for tenants to find short-term rental options.
This has also led to the creation of new job opportunities in the real estate industry, such as property management and marketing.
However, there are also some challenges associated with short lets in Nigeria. For example, some landlords are not familiar with the legal and regulatory requirements for short-term rentals, such as obtaining a license and paying taxes. Tenants also face challenges, such as finding a property that meets their needs and navigating the rental process.
In addition to the challenges mentioned earlier, security is also a major concern for both landlords and tenants when it comes to short lets.
Properties that are left vacant for short periods of time can be vulnerable to theft and other forms of crime. To address this issue, landlords can invest in security systems such as alarms and surveillance cameras. Tenants can also take precautions by making sure the property is secure when they leave and by keeping valuable items locked away.
Another issue is the impact of short lets on the local community. In some areas, the influx of tourists and short-term renters can put a strain on local resources and disrupt the lives of residents. To mitigate these effects, some cities have implemented regulations on short lets, such as limiting the number of days a property can be rented out or requiring landlords to obtain a permit.
Despite these challenges, the demand for short lets in Nigeria is expected to continue to grow in the coming years. The country's tourism industry is expanding, and with it, the need for affordable and flexible accommodation options.
In addition, the growth of the gig economy and remote work is also driving demand for short-term rental options.
In conclusion, the prospect of short lets in the Nigerian real estate business is positive. With the increasing demand for short-term rental options, it is an opportunity for landlords to earn higher rental yields and for tenants to find flexible and cost-effective housing solutions.
However, it is important for landlords and tenants to be aware of the legal and regulatory requirements for short-term rentals and to use platforms that provide a safe and secure rental experience.
Dennis Isong is a TOP REALTOR IN LAGOS.He Helps Nigerians in Diaspora to Own Property In Lagos Nigeria STRESS-FREE. For Questions WhatsApp/Call 2348164741041.
Sterling Bank Declares Bounty At 61st AGM

– Sterling Bank Declares Bounty At 61st AGM
Lagos, Nigeria: The shareholders of one of Africa's fastest growing companies, Sterling Bank, have commended the board of directors, executive management and staff of the bank on its remarkable financial performance for the 2022 year, resulting in a recommendation of dividends of 15 kobo per ordinary share; a fifty percent increase from that paid in 2021. The shareholders gave this commendation at the 61st annual general meeting of the bank held in Lagos on Wednesday.
Speaking at the meeting, Mr. Rilwan Hamza, one of the shareholders, commended the board members and staff of the bank for the wonderful financial performance while another shareholder, Mr. Boniface Okezie, expressed delight at the level of transparency displayed by the board and commended them for the improved dividend payout.
The shareholders urged the board to make the most of the transition into a financial holdings company and establish more subsidiaries that will drive even more growth and increase shareholder value.
The bank's strong performance for the 2022 financial year was derived from growth in its assets base and customers' deposits by 14.4 percent and 9.8 percent respectively. This is despite strong economic headwinds experienced by the Nigerian economy in the year under review.
Addressing shareholders of the bank at the first meeting as a limited liability company, following its ongoing transformation into a holding company structure, Chairman of the bank; Mr. Asue Ighodalo remarked that, "Despite the challenges during 2022, our performance reflected our resilience and determination to deliver optimal value for our shareholders. We are pleased that we closed the year on a good note."
Mr. Ighodalo said the bank grew profit before tax to N 20.8 billion, representing a 29 percent year-on-year increase from N 16.1 billion recorded in 2021, and a 28.5 percent growth in profit after taxes (PAT) to achieve the sum of N19.3 billion for 2022.
He said the PAT growth was driven by an N18.6 billion improvement in net operating income amidst heightened inflationary pressure and regulatory policies, adding that the gross earnings grew by 16.6 percent to N175.1 billion compared to N150.2 billion reported in 2021.
On business outlook for the year, the Chairman noted that "We remain very optimistic about our bank's future and are devoted to effectively transforming our business to deliver optimal performance, and significantly offer superior services to millions of Nigerians.
"We are steadfast in our commitment to lead with best-in-class customer experience, establish a work environment that helps our employees became the best versions of themselves, become even more socially responsible as an institution, and create immense value for our shareholders."
The Chairman said, "Our transformation into a holding company structure will allow shareholders and customers to maintain continued exposure to the bank's existing lines of business and gain exposure to new business lines that will enhance shareholder value."
"As we chart a new future for our organization, the expanded company structure will give us the renewed ambition to conquer new ground and solve more problems."
The bank has maintained and increased momentum in 2023 with her citation as Africa's Most Valuable Commercial Bank Brand for 2023 by the African Brand Magazine , in a poll conducted by GeoPoll and Kantar; two of the world's leading brand research firms, a top three employer in Nigeria by LinkedIn in the social network's annual Top 25 List, and most recently, one of the top 100 fastest growing companies in Africa by the prestigious Financial Times.
Renowned for its now famous HEART of Sterling strategy; which focuses major investments in the Health, Education, Agriculture, Renewable Energy and Transportation sectors of the Nigerian economy, its irreverent brand voice and enviable talent management practices, the lender recently completed a major milestone towards the completion of its transformation into a financial holdings company with the relisting of its shares on the floor of the Nigerian Exchange (NGX).
Shareholders Commend Wema Bank Management on Good Corporate Performance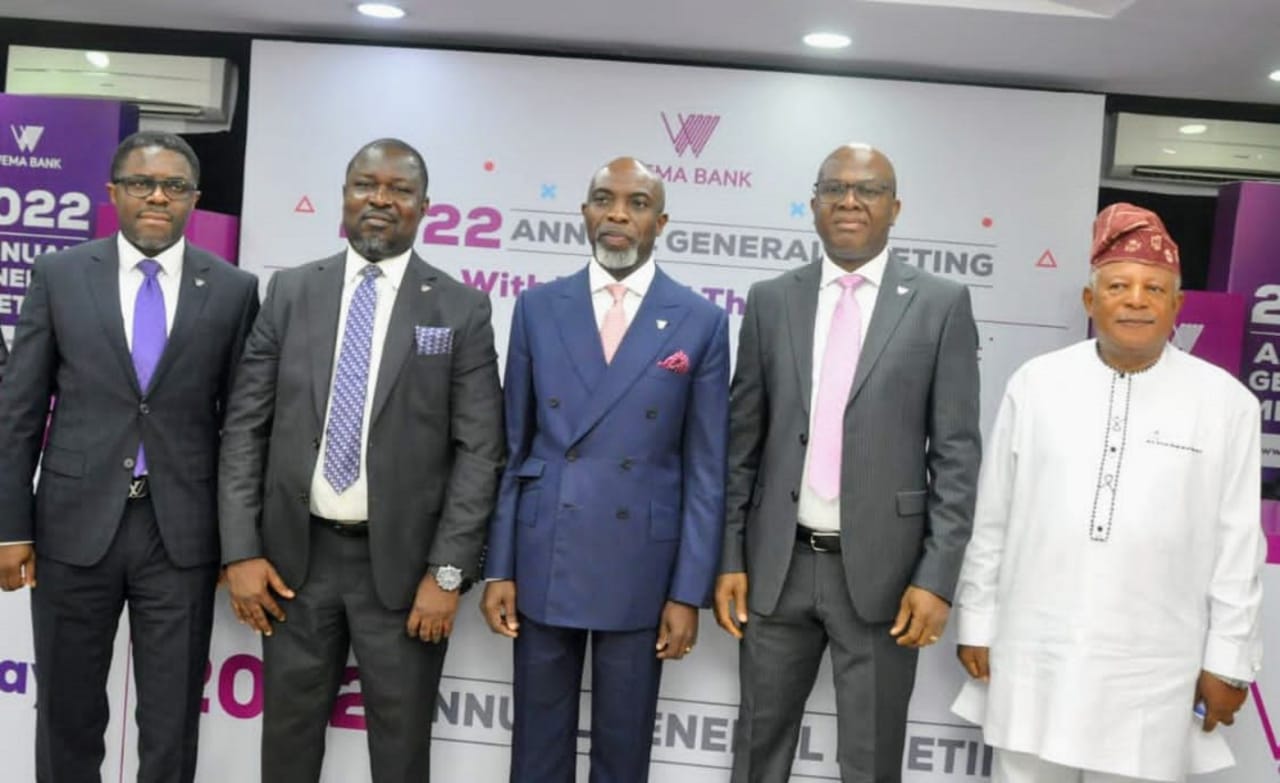 Shareholders Commend Wema Bank Management on Good Corporate Performance
Nigeria's most innovative financial institution,
Wema Bank Plc
, held its 2022 Annual General Meeting yesterday May 31st, 2023 amidst encomiums over the sterling performance of the bank and the huge dividend payout.
Specifically, shareholders of the
bank
commended the board and management for delivering a good result in the financial year.
A shareholder, Mr. Badmos commended the bank for proposing to pay 30kobo dividend per unit of ordinary share, saying it is the biggest in the history of the bank.
He charged the new management to sustain the tempo of excellent corporate performance so that shareholders could continue to get value from their investments.
Speaking on the occasion, the Managing Director/Chief Executive Officer of the bank, Mr. Moruf Oseni, said the present management which he leads is poised to making the bank the best financial house digitally.
Oseni said his management team is determined to scale up the bank, stressing that they would take it to its rightful place in the industry. According to him, the welfare of staff members would also be accorded top priority as a way of motivating them to contribute more in terms of their output.
In its audited financial results for the period ended December 31, 2022, the bank recorded gross earnings of N131.08 billion year on year, representing an increase of 42.3 percent over the N92.14 percent posted in 2021.
The results, which showed positive fundamentals across board, revealed a growth of 44.7 percent year on year in interest income to N106.07 billion from N73.30 billion. Non-interest income shot up to N25.01 billion to N18.83 percent, an increase of 32.8 percent.
Similarly, the bank's profit before tax grew to an all-time high of N14.74 billion year on year as against N12.38 billion the previous year, an increase of 19 percent.
According to the bank, shareholders will receive a dividend of 30 Kobo per ordinary share in what is the biggest dividend payout till date. The bank grew its deposit year by year by 26 percent as at full year 2022 to N1,165.93 billion from N927.47 billion in 2021. Its stock of loans and advances also grew from N418.86 billion in 2021 to N521.43 billion, showing a rise of 24 percent.
The impressive results showed that total assets hit N1,433.79 billion as against N1,164.52 trillion, a growth of 23 percent. Shareholders' funds also moved up to N82.62 billion from N70.36 billion in 2021, an increase of 17 percent.