Astonishing Picks for Goldberg vs. Drew McIntyre and WWE Royal Rumble 2021 Card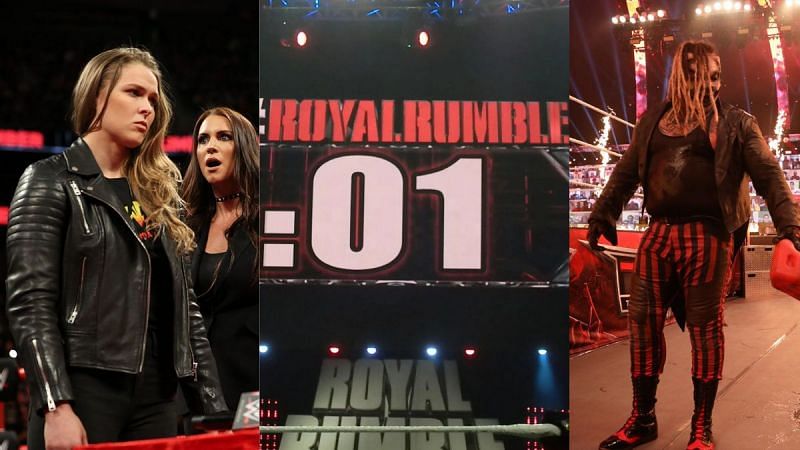 One of the most beloved events of the year is almost here. WWE Royal Rumble 2021 kicks off at 6 p.m. ET Sunday, with the main card set to get underway at 7 p.m.
While there won't be a crowd this year to count down the entrants, 30 men and 30 women will battle it out for chances to win some gold at WrestleMania 37.
Titles are on the line too, as Drew McIntyre faces Goldberg, Roman Reigns defends the Universal Championship against Kevin Owens in a Last Man Standing match and Carmella tries once more to win the SmackDown Women's Championship from Sasha Banks.
The long wait is just about over, and the clock is ticking to get in some final picks for what will happen at the Royal Rumble. Let's make one last round of predictions!
Sasha Banks retained the SmackDown Women's Championship against Carmella at TLC: Tables, Ladders & Chairs in December, so there's no reason to believe the same result won't happen again.
This feud has had such little pizazz to it in recent weeks that it seems WWE simply didn't want to think of an alternative direction for The Boss and figured continuing the same program that had been going on for months was good enough.
Sadly, that means this is rather pointless. Carmella has even less momentum on her side than before—particularly with Reginald stealing the show with his performance as of late—and losing here may keep SmackDown's untouchable star out of the Royal Rumble match.
If WWE were to pivot to Carmella as champion rather than continuing with Banks as the top woman on SmackDown, it would be one of the biggest shocks of the night.
Asuka's time as Raw women's champion has largely been spent on the sidelines. Despite holding so much gold this past year, rarely has she been at the forefront of her own stories.
WWE prioritized The Golden Role Models over her and then put more of a focus on Lana's angle with Nia Jax heading into TLC. All the momentum was thereafter switched over—seemingly at random—to the returning Charlotte Flair.
Oddly, since capturing the tag titles, Flair and Asuka have been kept at a distance. Flair has her own story with Lacey Evans, while Asuka has fought more with Alexa Bliss than alongside The Queen.
With all that's going on, this could just be an oversight. But it could also mean WWE never had any intention for these two to have a true title run and that course will be corrected in this match.
Reverting to the status quo of Jax and Shayna Baszler as champions just seems like something WWE would do. Flair got a tag title reign checked off her list, TLC is out of the picture and everyone can move on to other things heading into WrestleMania.