How Atiku Abubakar And Peter Obi Sold Their Candidacy To Nigerians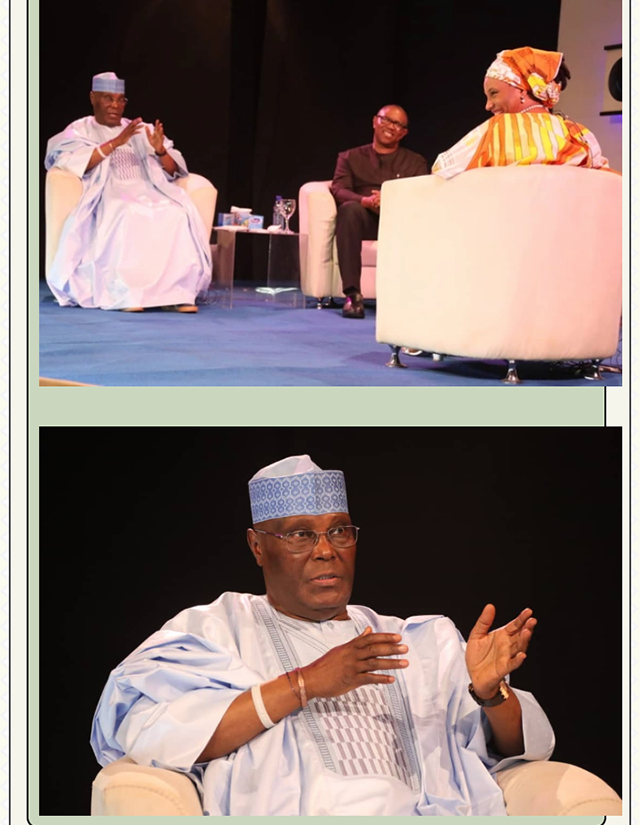 The chorus to Lupe Fiasco's 2007 song "Superstar" goes as follows:
If you are what you say you are
A super star
Then have no fear, the camera's here, and the microphone, and they wanna know
Oh oh oh oh
If you are what you say you are
A super star
Then have no fear, the crowd is here, and the lights are on and they want a show
It perfectly describes the occasion that PDP Presidential candidate Atiku Abubakar and his running mate Peter Obi competently rose to.
The occasion couldn't have been bigger. Atiku and Obi were the last of a set of candidates running for the highest office in the land that had sat down for a town hall meeting every Wednesday in January from the 9th to the 30th.

On January 9th, Kingsley Moghalu and Umma Getso of the YPP were in the hot seats.

On January 16th, it was President Buhari and VP Professor Osinbajo of the ruling APC party

On January 23,rd Yele Sowore and Dr Ahmed Rufai of the AAC
Finally, on January 30th, Atiku Abubaker and Peter Obi of the PDP.
The host of this series of town halls was journalist, tv host, and media entrepreneur Kadaria Ahmed. Her Daria Media company collaborated with NTA in order to bring the town hall to television and mobile phone screens to Nigerians across the country.
In what was a combative affair between the hosts and the candidates that focused mostly on corruption and saw Mrs Ahmed repeatedly interrupt them, Mr Atiku and Mr Obi presented themselves as private sector advocates who blamed the socialist tendencies of the Buhari administration for the hardship millions of Nigerians have been suffering for the past 3 years.
For many Nigerians that were disappointed that Atiku didn't get to debate Buhari on January 19th, this was an opportunity for them to hear him answer questions on how he would fix the economy, provide jobs to millions of unemployed Nigerians, improve healthcare and infrastructure.

In comparison to the Buhari performance on January 16th, where the President seemed to have a hearing problem and little to no idea about policy initiatives to tackle things like disabilities while requiring Osinbajo to bail him out with answers, Atiku not only required no assistance from running mate Peter Obi (He spoke longer than Obi compared to Osinbajo who had to be told by the host to stand down and let the President speak for himself), he met fire with fire by vigorously defending his record as vice president in the Obasanjo administration.

Atiku addressed allegations of corruption lobbed at him by factually stating he had been investigated but never found guilty. He addressed Boko haram, the herdsmen crisis, job creation, foreign direct investment, lowering corporate taxes to spur investment, expanding healthcare to more Nigerians, and improving education to account for the 13 million children currently out of school.

Peter Obi was the perfect wingman. He chipped in with witty analogies to support the case Atiku was presenting to Nigerians and also highlighted his record as Governor of Anambra and how investments he made on behalf of the state yielded dividends.
Atiku and Obi came off as competent and, forgive the pun, articulate. This was not an easy townhall. At times, it seemed as if the host was on a mission to undermine them by playing a game of "gotcha" with her questions, but both men used the opportunity to clear the minds of any Nigerians that had any lingering doubts about their collective integrity.

Above all else, what was most clear was the stark contrast between Atiku and Buhari. Based on this town hall, there was no doubt in anyone's mind that if both men faced off in a debate, Atiku would maul Buhari. No wonder his challenge for another debate with the incumbent has been ignored.
If you are what you say you are
A super star

Then have no fear, the camera's here, and the microphone, and they wanna know
Atiku and Obi had no fear. The cameras were there, and the microphone. Nigerians wanted to know if both men had the capacity to steer the country in the direction of recovery. What they got was two seasoned businessmen eager to take Nigeria from loss to profit.
February 16th awaits
@thepunditng

GBADEBO RHODES-VIDOUR CLINCHES LABOUR PARTY GUBER TICKET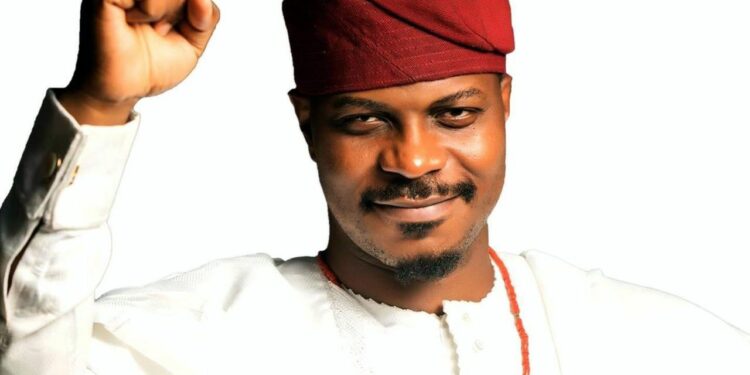 GBADEBO RHODES-VIDOUR CLINCHES LABOUR PARTY GUBER TICKET
The desire of the youths to drive a revolution through their votes in 2023 election, has once more paid off with the election of 39 years old Gbadebo Rhodes-Vivour as the governorship candidate of Labour Party in the substitution governorship election of the party, held on Wednesday 10th August, 2022.
Gbadebo who evinced the new face of hope of the teeming Lagos youths, polled 111 to defeat his much older opponent, Alhaji Moshood Salvado who polled 102 in the keenly contested primaries, observed by the Independent National Electoral Commission (INEC) and members of Labour Party National Executive Committee by the Deputy National Chairman of the party, Alhaji Lamidi Bashiru Apapa.
In his victory speech, Gbadebo pledges to run an all-inclusive campaign cum government, when elected governor of Lagos State to build a Lagos State that works for all.
He further opined that he will close ranks with all blocks in the party especially Alhaji Moshood Salvado to galvanize strong and broad support bandwagon.
Gbadebo Rhodes Vivour is renowned architect, activist, writer and designer who graduated from MIT. Gbadebo returned to Nigeria after graduating with an aim to explore the concept of affordable luxury as well as the potential of creating innovative designs and systems to tackle indigenous large scale problems. He is a youth ambassador and philanthropist of repute. In his quest to contribute towards a responsive leadership in the country, he had earlier vied for a senatorial seat under the PDP platform before moving over to Labour Party to actualize his dreams.
The head of the National delegate of the party and Deputy National Chairman of the party, Alhaji Lamidi Bashiru Apapa, while declaring Gbadebo Rhodes- Vivour winner of the contest said the outcome of the election reflects the exact wish of the people as the electoral committee led by State Secretary of the party, Chief Sam Okpala took their time in putting up measures that led to a free, fair and credible election.
Earlier, the Chairman of the party in the state, Comrade Kayode Ezekiel Salako said the wish of the party is to form the next government in Lagos State, hence they are organizing a credible primary that will throw up an acceptable candidate for the party and Lagosians at large.
Recall that Obidient movement of the Labour Party has caught the frenzy of social media users and Nigerians at home and in the diaspora who earnestly yearn for change for the better Nigeria all Nigerians yearn for, come 2023.
The peacefully contested substitution election was earlier scheduled for Monday 8th August, before it was shifted to 10th due to logistic reasons.
Substitution primary is conducted if the candidate of an elective position withdraws from the race, becomes incapacitated, or dies before the election.
I Spent $300,000 On The Show And Paid Kizz Daniel $60k To Perform But He Refused To Show Up – Tanzanian Show Promoter
I Spent $300,000 On The Show And Paid Kizz Daniel $60k To Perform But He Refused To Show Up – Tanzanian Show Promoter
The promoter of the Tanzanian show Nigerian singer, Kizz Daniel failed to perform has shared his own version of what transpired in an interview with famous OAP, Daddy Freeze.
Kizz Daniel was arrested by the Tanzanian police on Monday over his failure to perform at a show on Sunday, August 7, after being paid.
In the interview, the show promoter who gave his name as Stephen Uwa, said Kizz Daniel refused to perform because the airline failed to bring his bag containing his gold chains and insisted he will not perform without wearing all his gold chains.
"He said the airline didn't bring his bag that is why he cannot perform because his gold chain is not there and he had a gold chain on his neck. He wanted everything."
Uwa said he spent nothing less than $300, 000 on the show including $60,000 to Kizz Daniel as a performance fee, however, the singer flopped everything. He said he was on his knees weeping and begging Kizz Daniel to perform but he refused.
"My company is new here. PaulO is the one I booked Kizz from. PaulO cried all night trying to beg this guy 'Please go to this show", he called in from America!
I paid this guy $60,000 to perform on this show. I went down on my knees. I was like 'Bro, you are damaging me. I am trying to build my company here. You are going to damage me. I begged this guy 'Save my career, save me". I was on the table with Kizz Daniel for like five hours begging him, kneeling for him"
Stephen said the whole venue was damaged as the angry fans destroyed some of the items brought in by the sponsors of the show.
Kizz Daniel Arrested In Tanzania For Failing To Perform At Paid Show
Kizz Daniel Arrested In Tanzania For Failing To Perform At Paid Show
Popular Nigerian Singer, Kizz Daniel Arrested In Tanzania
Popular Nigerian singer, Kizz Daniel has been arrested in Tanzania over his failure to perform at a show he was paid for.
According to reports the singer "blatantly refused" to perform due to unavailability of his clothes he allegedly forgot in Uganda.
In a video posted online, the "Buga" crooner could be seen being escorted from his hotel by security operatives into the back of a pickup truck.
This is the third time in 2022 that Kizz Daniel would be called out for failing to perform at paid shows.