"Buhari can send soldiers to you to come and kill you, I'm not afraid of him"- Fayose fumes + Why Buhari will not do well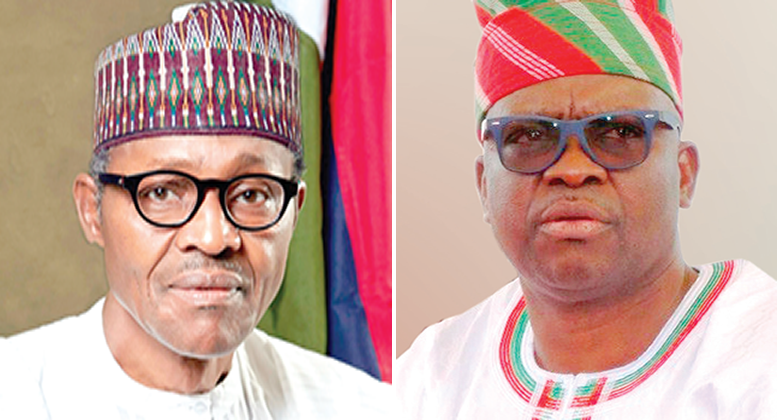 Gov. of Ekiti State, Ayodele Fayose has proven again to be a courageous and fearless man. He has been tagged as one of the most controversial Governor in the country, especially under President Buhari.
In this interview with Premium times, He gave reasons he won't stop blasting Buhari and talked about how Former Pres. Obasanjo made things tough for him during his administration.
Talking about how he came into power during his first term and his second term, he said "I am the first Nigerian governor to defeat two incumbent governors at two different attempts, landslide. I did not only defeat them, I defeated them in their homes, in their wives' bedrooms, in their sitting room, everywhere. They were badly defeated. They have all the forces, they have all the money, and they have the contacts. It shows with all the noise, all the controversies, I am the issue there".
When asked to access Buhari's administration, His response showed that he is angry with the present administration. He said "……. I told Nigerians that they should not vote for Buhari and that Buhari will not do well. My name is Ayo Fayose. He will not do well. The attitude of a man can only be corrected when you are still young. The older you get, you will continue to exhibit your traits. That is why I told you Buhari is a dictator; he can never lead a people or a government without being dictatorial"
However, he gave reasons for his attacks on Buhari's goverment. He said "You see, the power of Buhari is not more than to kill somebody.
but people will know that the killing is not normal. It must be a high-wired killing. I am not afraid of him. The power of Buhari is not more than you go and lock somebody up. I am not afraid of him. I am not in the calibre of politicians who are saying, 'ah don't let me die o! Don't let my mother die o,! You don't take the inheritance of your father if you are not sure you are ready to take it. I am not in that category. Most noble men today have gone underground for fear of the unknown. And in times like this, when you train a lion, when you keep a lion in your family house, those of you promoting that lion will end up in his stomach one day. The same thing we were telling Obasanjo that time. We said Obasanjo was a dictator. Obasanjo consumed most of them who were promoting him that time. I have never minced words, before the campaign…I am not a sycophant to say that it was after Buhari became president that I started praising or talking against him.. I started from day one"
He further gave description about the current administration. He revealed how Jonathan's government was better than Buhari's government and prophecied how Buhari is going to treat those working for him badly
" I am not impressed. I am not impressed. Buhari administration has shown the hallmark of a very vindictive leader. Let us reflect carefully on Jonathan. A leader needs all the peace to run a country. Part of the hallmark of a good leader is to be able to rally everybody in times like this. Look back. Jonathan was magnanimous. He could have said I am a sitting president and cause the country headache, but he did not do that. He willingly relinquished power because of the overall interest of the country. Instead of Buhari coming…….you begin to vilify everybody. You begin to do factional pursuance of the fight against corruption. It doesn't work like that. Go and look at Buhari's antecedent. I stand to be corrected. It doesn't matter how many people are feeding under him now, I can always tell you that those who are rearing this lion will end up in his stomach…..We know that the rate at which Buhari is going, he is going to destroy this country".