Buhari's 2018 Budget of Calamity and Stagnation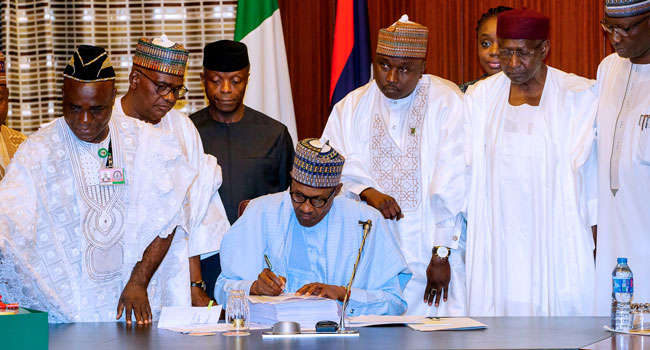 After overseeing one of the slowest recoveries ever recorded in modern history, the Buhari government has confirmed with the recently approved 2018 budget that it has no capacity for managing a growing economy such as Nigeria's.
There are four issues with the 2018 budget that we wish to call out.
Firstly, the 2018 budget is lacking in imagination and ambition. The focus of the budget remains fixated on the same incremental steps that kept Nigeria locked in a needless recession for two years, and delivered a tepid GDP growth of 0.8% in 2017, in the same environment where many developing economies were recording stellar growth. The Buhari government can learn how to take bold steps to grow an economy from the following nations that recorded higher GDP growth numbers in 2017: Ethiopia (7.5%), Rwanda (6.1%), Ghana (5.8%), Tanzania (6.8%), Uganda (5%), Niger (5.2%), Togo (5%), Senegal (6.8%), Sudan (3.7%) and Cameroon (3.7%).
Secondly, the Buhari government continues to throw good money after terrible and ill-conceived ideas. We are particularly concerned by plans to have government fund initiatives like the creation of commercial ranches, when innovative private sector driven schemes can be utilised to drive such programs. We encourage the Buhari government to study our manifesto in detail to understand how such programs can be effectively managed and implemented.
Thirdly, the dismal performance on the implementation of the 2017 budget does not inspire confidence that any of the goals set for the 2018 budget will be met. Of the N5.08 Trillion projected for revenues in 2017, only N2.7 trillion was raised (53%). The Buhari government achieved just 50% of its own GDP projection of 1.5%. A government that was unable to meet its revenue projection of N5.08 Trillion in 2017 has now raised its target to N7.16 Trillion in 2018. We are concerned that these unrealistic targets are setting Nigeria on course for record deficits and debt. When the fact is considered that this is an election year, we cannot help but wonder whether the stage is being set to leverage the national budget to fund the APC and President Buhari's 2019 re-election campaign.
Finally, by the Buhari government's own admission, the 2018 budget has been compromised due to an alarming N500 Billion padding corruptly inserted by members of the APC controlled National Assembly (NASS) for frivolous projects. It is a disgrace that the Nigerian people will be the ones to suffer the APC's failure to effectively govern.
We wish to assure the Nigerian people that our movement has plans in place to rescue the Nigerian economy from the visionless programs of the Buhari government by developing infrastructure, expanding power generation, prioritising job creation, boosting agriculture production, and expanding health care access to all Nigerians. We invite the Nigerian people to review our detailed plans for growing and transforming the Nigerian economy by reviewing our manifesto for progress and growth: https://sowore2019.org/our-manifesto-full/.
Nigeria MUST progress!
Rachel Onamusi – Kpiasi
Director, PR & Media
TakeItBack Movement / Sowore 2019
*Feature picture courtesy: Channels TV