Is Chikeluba Francis Ofoedu The Next Rashidi Yekini For Super Eagles?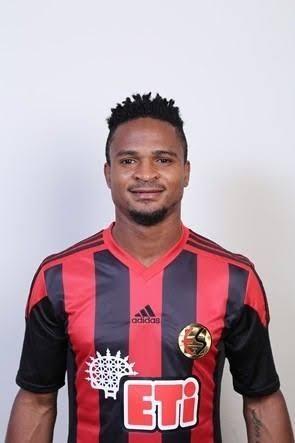 Ever since the late goal king Rashidi Yekini, who till date is the all time highest goal scorer of the Super Eagles, called it quits with the national team, Nigeria has not been able to find a replacement.
But the big question is why should finding a replacement for a top striker for the senior national team be a problem, considering the array of Nigerian goal bangers scattered all over the world?
Findings have shown that there is hardly a reputable football club in any part of the globe that doesn't have atleast a Nigerian player, majority of whom are strikers.
Some of them are so good that they have continued to be lured by football clubs from one country and continent to another.
And some of them out of patriotism and love for fatherland, have continued to yearn for an invitation to the Super Eagles, in order to fill the vacuum.
But unfortunately, their yearnings have continued to go unnoticed by handlers of the team and authorities concerned.
One of such "beautiful brides" and patriotic Nigerian is Chikeluba Francis Ofoedu, popularly known as Chico by his friends and admirers.
Chikeluba is not a stranger to many at the home front as he started his blossoming football career in Nigeria.
Chico was born on November, 12 1992 in Enugu, Southeast Nigeria.
He currently plays for Isreali top division outfit, Maccabi Tel Aviv, where he has become a highly celebrated footballer, going by his performances for the club since joining them just last year.
Chikeluba Francis Ofoedu began his football career in Enugu like every other footballer; playing on the streets.
But in 2003, he was able to give his career another meaning when he joined Rivlane Academy under the tutelage of a former Udoji United defender Jude Agada, who was his coach and the very first coach that started teaching him the rudiments of the game.
In 2007, having felt he needed a bigger challenge, he joined the University of Nigeria Teaching Hospital Football Club, an Amateur League side, where he became the highest goal scorer with 12 goals the following year.
The team also participated in the Federation Cup, Nigeria's oldest football competition.
He was later spotted by one of Nigeria's traditional football clubs, Enugu Rangers, where he got an opportunity to join the youth team.
His rare talent saw him make it to the senior team of the club in the 2011-2012 season, where he scored eleven goals in the premier league campaign and became one of the best performers in the Nigeria Professional Football League.
His feat got the attention of some European Football clubs, who approached Enugu Rangers for his signature. A deal was later struck with Turkish side 1461 Trabzon, where he scored seven goals in twenty five appearances.
This rare feat caught the attention of another Turkish side Karşıyaka in 2013, where he scored twelve goals in forty appearances.
He later moved to Samsunspor in 2014 and bagged twenty goals in forty-nine appearances for the club.
Another Turkish side Eskişehirspor saw a great petential in this young Nigerian and got his signature in the year 2014. He scored nineteen goals in fifty-eight appearances for the club between 2016 and early last year, a feat that made it difficult for the management of the club to release him when offers came for him from Israeli top division outfit Maccabi Tel Aviv.
But after a fruitful discussion and much persuasions, the management of Eskişehirspor agreed a term with the Israeli side and so Chico moved to Maccabi Tel Aviv last year, where he has recorded five goals so far in Ten appearances and two assists.
Chikeluba Ofoedu is rated as one of the best Nigerian strikers in Europe, a reason why the Super Eagles need him in it's fold.
It would be a great decision if the coaches and handlers of the Super Eagles could extend an invitation to this superb goal banger to compete alongside other strikers of the National team, since according to him, his biggest dream is to play in the Nigerian National team.
But would such dream come true for Chikeluba Francis "Chico" Ofoedu?
Only time will tell!