Child Advocacy group records over 300 cases of child abuse in two years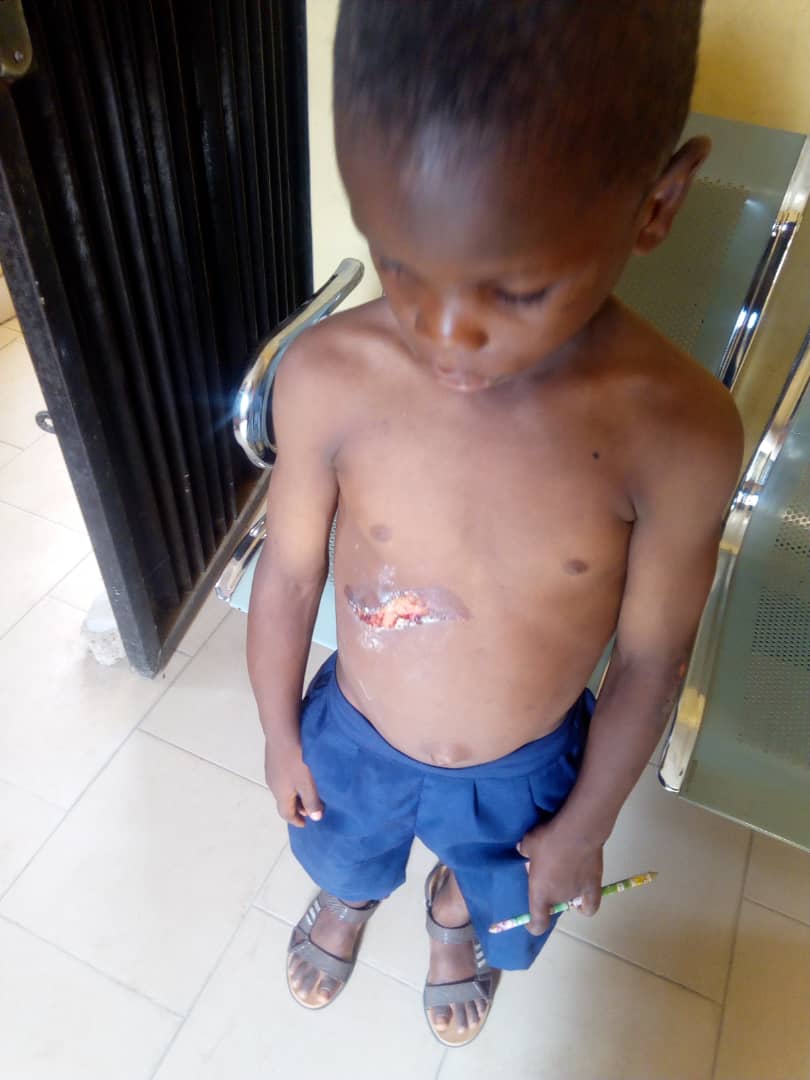 By Ifeoma Ikem
The Advocates for Children and Vulnerable Persons Network (ACVPN), a Non-Governmental Organisation says it has recorded more than 300 cases of child abuse in the last two years.
Mr Ebenezer Omejalie, the coordinator of the ACVPN said that domestic violence cases account for more than 100 of these, which he says is alarming.
He noted that on a weekly bases no fewer than 5 cases of child abuse are recorded, especially domestic abuses, in Lagos state.
According to him, `the root cause of these various abuses is simply loss of values and cultures by perpetrators, in most cases, family members'.
"As a result of these negative actions the survivors see them as a way of life and invariably violate other children."
Omejalie said that despite the inherent challenges, in some cases, the group has ensured that the abused got justice.
He said that another issue in sexual abuse on children is social psychological abnormal preference by perpetrators, simply because the law did not take its course as a result of compromise by some officers not doing their jobs.
He pointed out that police do not have financial vote in their budget for investigation and no provision of vehicles for specialised unit as do
State Intelligence Bureau (SIB),Juvenile Welfare Centre (JWC) and Gender Unit
"They are forced to spend their hard-earned salary and invariably some of them begin to accept gratification from arrested perpetrators.
"ACVPN team is determined not to let that deter us from staying on course in the fight against the acts of evil perpetrators''.
He also called on the government and good spirited Nigerians to join in the fight against child and domestic abuse.
"We need government support so that we can record more successful prosecution, by ensuring defaulting officers are duly disciplined.
"Both the government and the legislators should re-strategise on their commitment in the prosecution of such cases by increasinging fund for prosecuting agencies such as the Police and National Agency for the Prohibition of Trafficking in Persons ( NAPTIP).
TY Buratai Foundation Condole Families, Borno State Government over Demise of Qadi Kaka Shehu Imam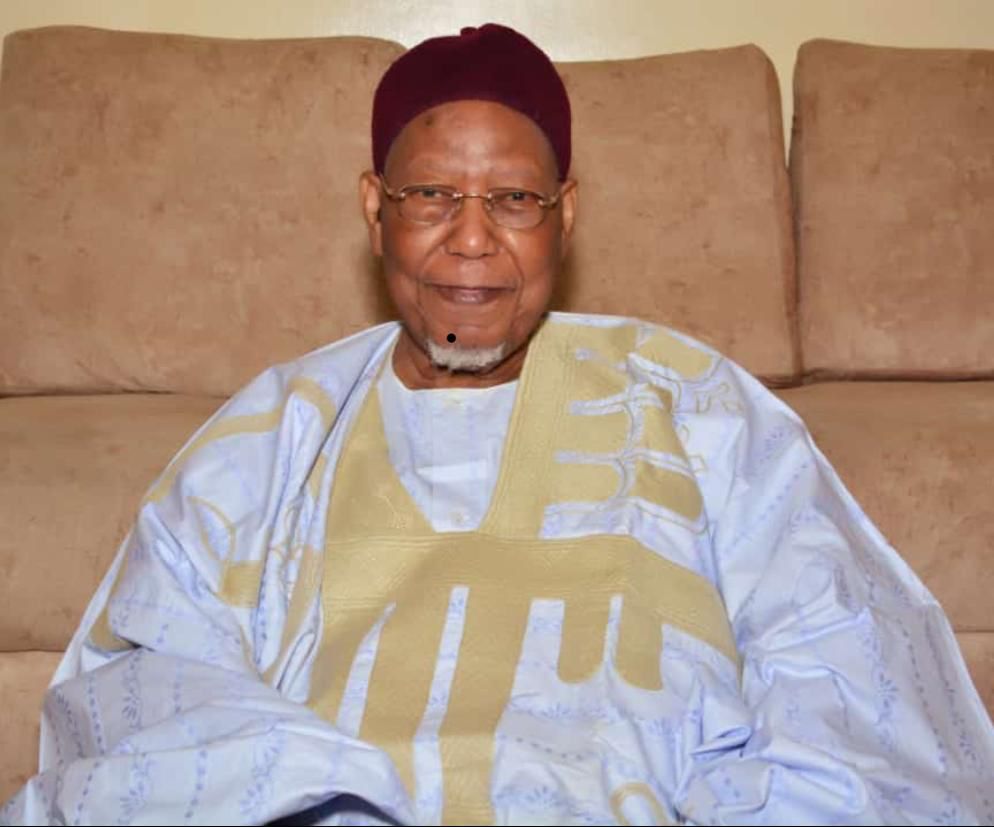 TY Buratai Foundation Condole Families, Borno State Government over Demise of Qadi Kaka Shehu Imam
Innalillahi Wa Inna Ilaihi Rajiun In a heartfelt gesture of sympathy, the
Humanity Care Foundation has extended its condolences to the families of Qadi Kaka Shehu Imam, a retired judge and elder statesman of Borno state, as well as the Borno State Government. The foundation, through a statement signed by its Chairman, Ibrahim Dahiru Danfulani Sadaukin Garkuwan Keffi, expressed deep sorrow over the demise of Qadi Kaka Shehu Imam.
Qadi Kaka Shehu Imam, who passed away on Monday, 25th September 2023, at the remarkable age of over 110, was laid to rest in accordance with Islamic rites. He was a prominent figure in the state and a member of the prestigious Limanti family. Until his passing, he held the distinction of being one of the oldest members of his family.
The news of Qadi Kaka Shehu Imam's demise has deeply touched the heart of His Excellency, Amb (Lt Gen Rtd) Tukur Yusufu Buratai CFR Betaran Biu, Garkuwan Keffi, the Grand Patron of the TY Buratai Humanity Care Foundation. He held Qadi Kaka Shehu Imam in high esteem as a father and elder statesman. The foundation acknowledges that his loss is not only felt by Borno state but also by the entire nation of Nigeria.
The TY Buratai Humanity Care Foundation, known for its philanthropic activities and commitment to the welfare of the people, stands in solidarity with the families of Qadi Kaka Shehu Imam and the Borno State Government during this difficult time. The foundation hopes that their sorrow will be eased by the outpouring of support and love from the community.
This condolence message serves as a reminder of the immense impact Qadi Kaka Shehu Imam had on the lives of many. His contributions to the judiciary and his role as an elder statesman will forever be cherished.
May the soul of Qadi Kaka Shehu Imam rest in eternal peace, and may his family find solace in the memories and legacy he leaves behind.
Housing shortage in Nigeria: Firm pledges 300,000 units of affordable housing across 18 LGA of Edo State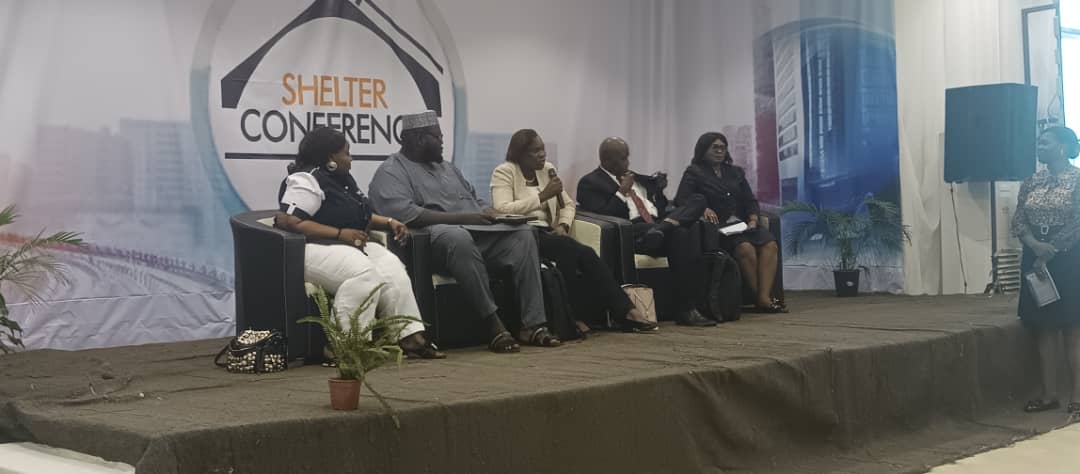 Housing shortage in Nigeria: Firm pledges 300,000 units of affordable housing across 18 LGA of Edo State
By Elvis Omoregie
Sahara Weekly Reports That In a bid to mitigate the impact of housing shortage on residents, citizenry, a Firm, "Neighborhood turn key project" has committed to providing 300,000 affordable housing units in 18 local government areas in Edo State.
The company said the initiative which is a pilot project in the State expressed concern that recent studies have shown that 28 million Nigerians need homes.
The Chief Executive Officer (CEO), Arc. (Mrs.) Cecilia Ovuarukpo Atohengbe disclosed this during the ongoing shelter conference in Benin City, Edo State capital.
Cecilia who is also the convener of the conference said participants would discuss housing, examine and profer solutions for the average citizens.
She stated: "Government over the years have come up with several projects to try and meet these housing needs of people leaving in shanties and slums".
Continuing on the "turn key projects", Arch. Cecilia said housing is key to reduce citizens desperation, corruption and criminality.
"And as a company, we have designed a solution to enable anyone who earns #40,000 to own a home within 12 months roads, water, light and other amenities are all included in the plan.
"Besides, aspiring house owners doesn't necessarily need to be a civil servant or own a bank account. He or she moves into the house and start paying- it's a rent own scheme", she added.
FG Aims to Grow Creative Economy to $100 Billion by 2030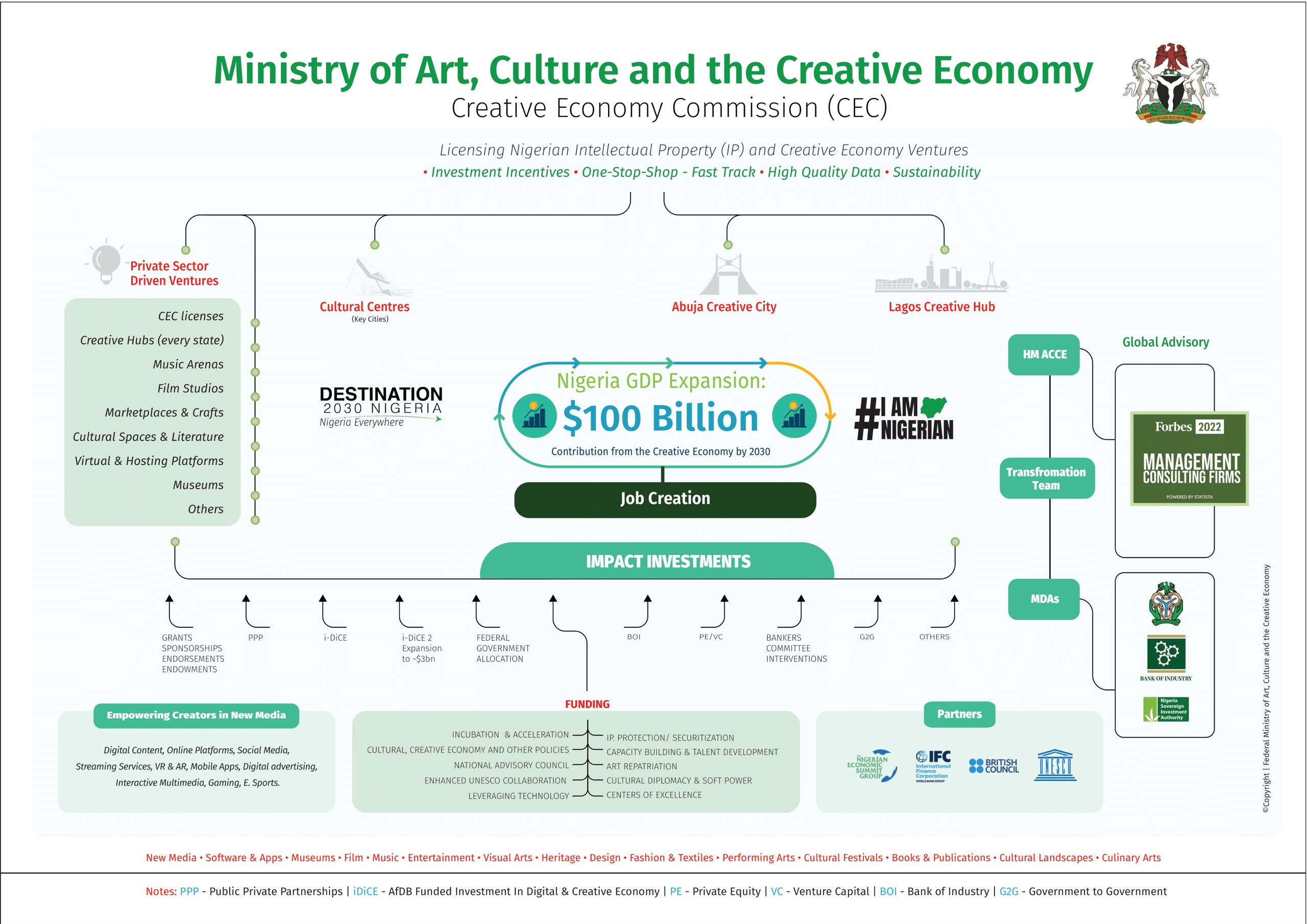 FG Aims to Grow Creative Economy to $100 Billion by 2030
Sahara Weekly Reports That The Federal Ministry of Art, Culture and the Creative Economy (FMACCE) in Nigeria has unveiled a strategic roadmap to grow the country's creative economy to $100 billion in GDP contribution by 2030.
The plan focuses on key sectors like music, film, software, museums, fashion, festivals, and the culinary arts. It aims to create jobs, empower creators, drive exports, and boost Nigeria's cultural influence globally.
Major initiatives involve setting up creative hubs and cultural centers in cities like Lagos and Abuja to serve as incubators for Nigerian talent.
Funding will come from government allocations, public-private partnerships, investment funds, sponsorships, and other sources.