Dentsu Nigeria Appoints Oyeleke Comms Manager, Promotes Officials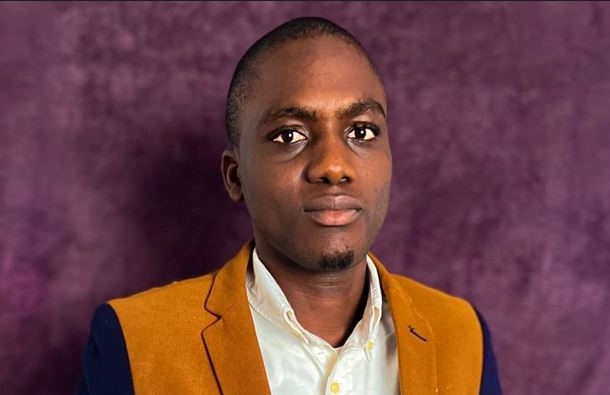 Dentsu Nigeria Appoints Oyeleke Comms Manager, Promotes Officials
…Rewards outstanding performance
A multinational full-service marketing communications agency network, MediaFuse-dentsu International, has appointed Sodiq Oyeleke, a versatile multi-media journalist, as its Group Corporate Communications Manager in Nigeria.
Oyeleke, who is the first to occupy such a position in the company, is an award-winning journalist and one of the leading digital and data journalists in Nigeria with over 10 years of experience within the media industry.
Before joining dentsu Nigeria, he worked at The PUNCH Newspaper, Daily Times; and Daily Independent as an Assistant Online Editor. Oyeleke is an Associate of the Nigerian Institute of Public Relations and a specialist in political, inter-governmental, corporate and crisis communications.
Also, Adeleye Fabusoro was appointed as Production Consultant of The Story Lab Nigeria.
Fabusoro, the Production Consultant for The Story Lab, spent over 14 years in several top media companies working for over 18 countries. He has produced more than 2,500 episodes of drama series, 700 episodes of TV shows, 30 documentaries, 30 feature films, eight short films and television commercials.
Seventy employees, including top officials, have also been promoted by Media-Fuse Dentsu across its agencies – Carat, Dentsu Creative, dentsu X, IproViz, Red Star, The Story Lab and Amplifi System. Among them, six top officials of the company were elevated to senior management positions.
Marian Ogaziechi was promoted to General Manager/Chief Operating Officer of The Story Lab and Amplifi System (Agyle Nigeria); Adekemi Alegbeleye, General Manager//Chief Operating Officer of Dentsu Nigeria; and Funke Adekola, General Manager/Chief Operating Officer of Dentsu McgarryBowen (DMB) and Isobar transforming into Dentsu Creative.
Others include Ugochukwu Maduagwu promoted to Media Director and Head of Business for Red Star Nigeria; Theresa Ogah, Media Director, IproViz Nigeria (formerly Vizeum); and Lola Akinyele elevated to the position of Strategy Director of Isobar Nigeria transitioning to Dentsu Creative Nigeria.
The announcement of the promotions was greeted with joy from members of staff as some employees also received appreciable rewards for their outstanding performance.
MediaFuse-Dentsu International's Group Chief Executive Officer and Managing Partner, Mr Emeka Okeke (FRPA), added that the promotions would take immediate effect.
According to Okeke, the promotions were done to recognise the contributions of the company's most-valuable resource – human capital.
Okeke explained that the promotions were made despite the economic challenges in the country to reaffirm the firm as a leading employer with human capital development at the core of its operations.
He said, "They are our most-valued assets and we cannot afford not to reward them despite challenges in the operating environment. With these promotions and appointments, we are set for a new drive-in brand building and communication experience.
We believe that motivation across board to reinforce staff morale and help them to deliver top-notch jobs to clients and the company. We are proud of the jobs done by our members of staff and this
will encourage them to do more.
"The Media-Fuse dentsu leadership and team have a proven track record of effective regional communication strategies driven by consistency in service and the recognition of cultural diversity."
Before her promotion as General Manager/Chief Operating Officer, Ogaziechi was the Business Director at both The Story Lab and Amplifi System (transforming into Agyle Nigeria).
Ogaziechi, who joined dentsu Nigeria in 2014, is well-grounded in media procurement, sourcing, content development and aggregation. Marshalled by hard work, innovation, and teamwork, she rose and led the company's commercial and content teams to various bids through competitive investment offerings for multinational and national clients in various categories.
Alegbeleye was promoted as the General Manager/Chief Operating Officer of dentsu X Nigeria. Alegbeleye, who joined dentsu Nigeria in 2014, is a marketing communications professional with over a decade of experience in creating connections strategies to deliver total marketing solutions across various industries and over 40 brands. She works closely with brands to ensure the profitability and growth of their businesses and to seek new business opportunities.
Adekola, now the General Manager Dentsu McgarryBowen, Nigeria, was the Client Service Director of DMB. Adekola specialises in brand building and business management, C-level client relationship management client servicing, business operations and creative business processes from start to finish. She has won accolades at both local and international advertising festivals such as Loeries, Africa Cristal, as well as the Lagos Advertising and Ideas Festival.
Maduagwu, the new Media Director and Head of Business for Red Star Nigeria, is a result-focused individual with strong analytical skills, who employs technical skills in the provision of marketing communication solutions from business development through to strategy and implementation.
Theresa Ogah, a former Associate Media Director, was promoted to Media Director, IproViz Nigeria (former Vizeum). Ogah is an integrated marketing communication expert, who specialises in strategic communications planning, implementation planning and data analytics and campaign management for several multinational brands across Africa.
Akinyele, who was also promoted to the position of Creative Strategy Director of Isobar Nigeria – transitioning into Dentsu Creative Nigeria – is a marketing and brand strategist.
About us
MediaFuse-Dentsu International is a full-service marketing communications agency network offering specialist media services, integrated communication planning, full creative services, production, content development and aggregation, search, and performance marketing; social/community management, data planning and implementation as well as effective location service, planning and execution in Nigeria.
A part of Dentsu International which operates in over 170 markets worldwide, Dentsu Nigeria has three core lines of business – Creative (Dentsu Creative), Media and Performance (Carat and Red Media), as well as Content/Customer Experience (StoryLab and Amplifi System).
SERVICE TO HUMANITY : SAVE OMOLOLA OGUNLAJA A 32 YEAR OLD TAYLOR NEEDS 15 MILLION NAIRA TO WALK AGAIN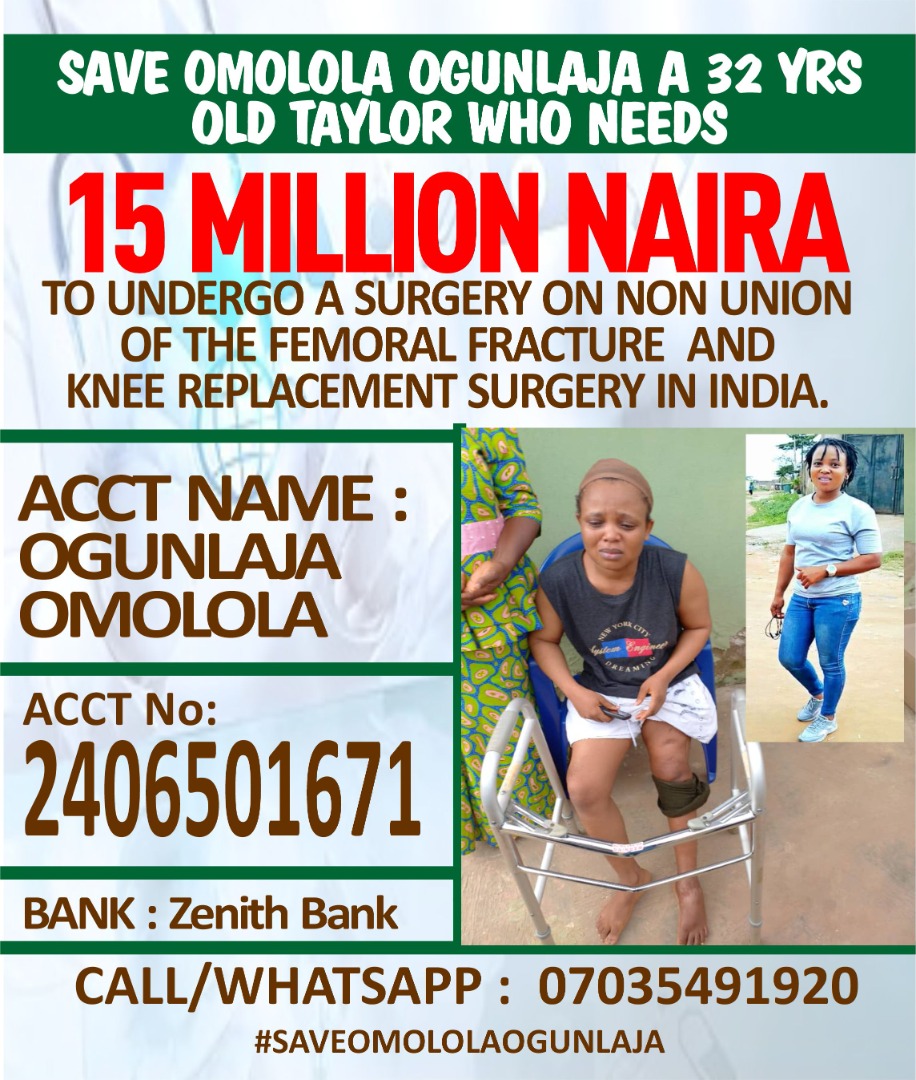 SERVICE TO HUMANITY : SAVE OMOLOLA OGUNLAJA A 32 YEAR OLD TAYLOR NEEDS 15 MILLION NAIRA TO WALK AGAIN
Service to humanity, they say it's the best work of life, what else could we have live for in life, if not seeing our fellow human living well. Pains isn't something we all clamor for, but in the case of a 32 years old Tailor, OMOLOLA OGUNLAJA she has been in pains since February, 2019.
Omolola Ogunlaja is a well known fashion designer who encounter the pains she has been in for over 3 years in the course of delivering her Job, as she had an accident on her way back from her esteemed customer. However, Omolola made it known to 1steleven9jatv that she has undergone varieties of surgery both in Lagos State and Abeokuta, but both surgery in both states were not successful as the injury has been infected.
She was however advised to undergo a surgery on non union of the femoral fracture and knee replacement surgery in India, which is why she called upon 1steleven9jatv for broadcasting help to the fellow Nigerians.
It's of our utmost priority at the moment to seek for the help of Nigerians both Home and Abroad for the surgery of our Dear friend, Omolola Ogunlaja who's currently down in sick bed and couldn't continue again with her chosen field sequel to the accident she had. We all can make her walk again and live beautifully well if we all support her with our little peanut which will go a long way.
Omolola is in need of 15 million naira to undergo the surgery, below are the account details for payment;
Account Name : OGUNLAJA OMOLOLA
Account Number : 2406501671
Bank : Zenith Bank.
Phone No : 07035491920.
May God bless us all with good health. See Graphics for more details. #Saveomololaogunlaja
Why You Should Patronize Winney's Secret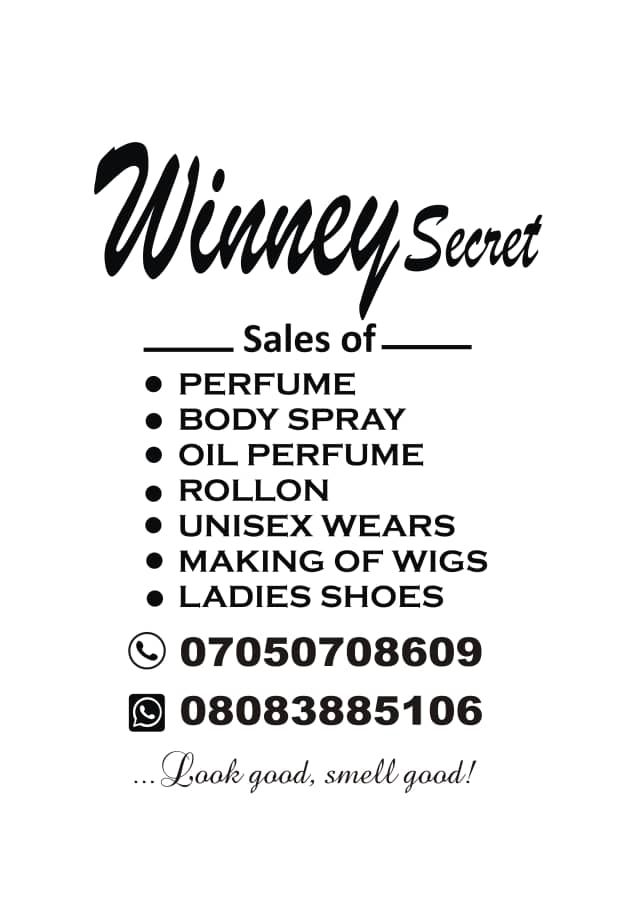 Why You Should Patronize Winney's Secret
Get your fashionable needs covered with winney secrets!
Make yourself, and your outfits noticeable with the best of Perfumes, Body spray, Oil perfume, and roll-ons from winney secrets, passing on a good impression to others.
Winney secrets also have got you covered on Unisex wears that are intriguing and eye-grabbing.
You can also get your wigs of various types, and various shades of beauty.
Also, you can shop for elegant shoes to make your feet look beautiful
To place an order;
Call: 07050708609
WhatsApp: 08083885106
Lady Born Without Legs Shares Emotional Story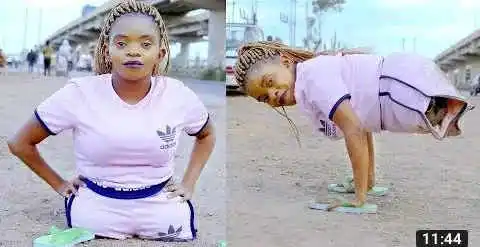 Lady Born Without Legs Shares Emotional Story
Lady born without Legs shared her experiences with his boyfriend. Eunice narrates how she was betrayed by people she loved and trusted so much with her life. Eunice, who was born with a disability, shared her story. Her parents died when she was 3 years old, and she was left in the care of her grandparents. She was humiliated, insulted, and demeaned in school because of her disability. She felt sad that she couldn't run with her peers because of her disability. She was "very upset" when a classmate asked her why she didn't have legs. She cried and asked her grandparents to send her to a disability school.
After graduation, she searched and searched for a job but was unable to find a job because of her disability. She later moved in with her brother. One of her family members volunteered to assist her and take care of her because of her disability. It wasn't long until she met someone she liked and they started dating; he came to see her often until the unexpected happened.
When she got home one day, after a long day of searching for a job, she found him and her caregiver on the couch embracing each other. When they saw her, they pretended to not be doing anything since they were in a state of awe.
The most terrible event of my life, because I loved him so much," says Eunice. When she tried to get in touch with her ex-boyfriend, he told her to never call his phone again and to delete all of his memories. According to her, the caregiver tendered an apology. In the end, though, she was able to move on and forgive her. She cry every day since she couldn't find a man to love her and marry her. Having a disability has made it difficult for her to get a job, she said.
As her brother prepares to get married, she is begging friends and family to please help her start a cosmetics business and rent an apartment for her so she won't be a financial burden to him. She always cry knowing she will may not find a man to marry her and might never find a job because of her disability now her career snatched the only man that loved her from her.