My vision for Ogbomoso if I ascend Soun throne — Oyegoke-Olaoye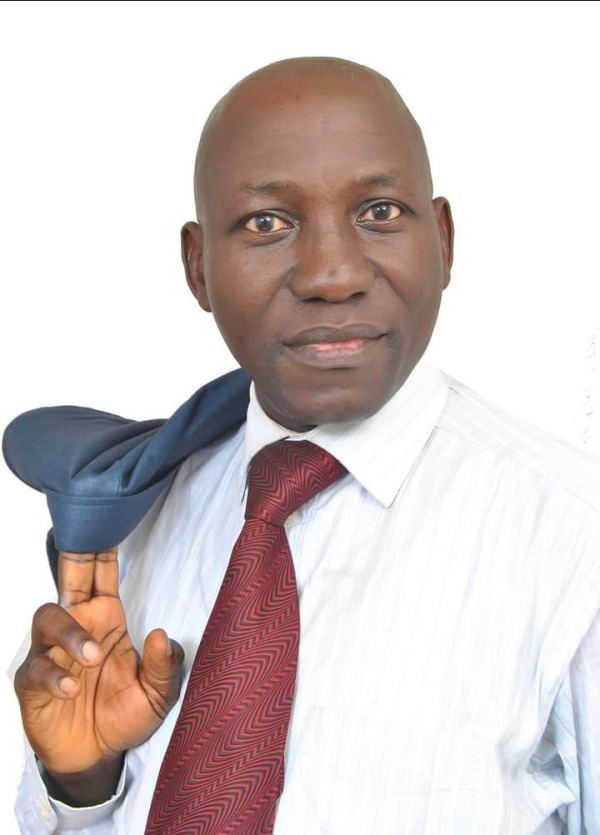 My vision for Ogbomoso if I ascend Soun throne — Oyegoke-Olaoye
World War II veteran and celebrated American author, salesman and motivational speaker, Hilary Hinton 'Zig' Ziglar, in his famous quote said: ''If you want to reach a goal, you must see the reaching in your own mind before you actually arrive at your goal.''
There have been enormous proven researches to the effect that visualising the outcome and understanding the 'how' to a predetermined destination would get a man of vision there no matter the obstacles.
A prominent Prince of the Olaoye Ruling House and frontliner in the race for the next Soun of Ogbomosoland, Prince Gbolahan Idowu Oyegoke-Olaoye, is well-cast in the class of visionary leaders as defined by Ziglar. He is already upbeat with ideas and thoughts on how to uplift the revered Soun of Ogbomoso throne and the ancient town with value-additions.
As the process of selection gets underway, the multi-talented and multi-disciplinary prince and descendant of Oba Atanda Olaoye Orumogege, a past Soun of Ogbomoso, has unfolded his vision for the development and growth of the ancient kingdom if he emerges the next paramount ruler.
Prince Oyegoke-Olaoye said his immediate preoccupation would be the reconciliation and unification of all the princes and various interested parties as the father of all. He also said the pursuit of religious harmony among the various adherents of the major religious faith – Christianity, Islam and traditional religion, amicable resolution of all pending court cases instituted in the contest for the throne, and promotion of peace would be expeditiously implemented.
''In the past few weeks, there has been some kind of pause on the religious harmony of Ogbomosoland. I'm sure it is not a big task; everything generated from the choice of who should become the next Soun of Ogbomosoland. I am sure by the time this is resolved and it turns out to be yours sincerely, we will speak to every religious leader individually and collectively.
''We will tell them what our town has been in terms of religious harmony. We love each other and there is no family you get to in Ogbomoso that you will not find all these religions – Christianity of several denominations, Islam and traditional believers. We feast together during festivals; there is no dichotomy among us. We will find a way to resolve that; it will be a very short period of time,'' he said in an interview, Prince Oyegoke-Olaoye, who is a leading candidate for the throne, also stated that he would find amicable resolutions of pending litigations occasioned by the choice of the new king, stressing that the Ogbomoso princes and the indigenes of the town are peace-loving people. ''They love peace. They want to fight for their right but once they see reasons they will join hands and resolve things and move ahead.''
He also promised to focus on key factors that can engender real development and growth of the historic town among which are human capacity development, youth empowerment, agriculture, industrialisation and harnessing the human resource asset by wooing indigenes in the Diaspora and friends to invest in the economy of the town.
His words: ''Majorly, the bigger picture – there has been clamour for industries and companies to come into Ogbomoso. I agree with it perfectly but I believe establishment of industries rests on one factor – human capacity and capability. Most of our indigenes that have capacity and capability live in bigger towns; you will find them in Lagos, Ibadan, London, America and northern part of Nigeria. They find it strange to stay in Ogbomoso.
''In the last seven months that I have been there physically to live among them, I have discovered that they are wonderful people, loving people. The stories that our forefathers have been telling us that 'they will kill you' are not real. If you go home nobody is killing anybody. So, we will try and bring them to see the good side of Ogbomoso. We will let them see the serenity of the town; the peace that exists in Ogbomoso. Except we have this set of people among us, we may not have growth. Once they come in, they will establish industries whether cottage industries or micro and small businesses.''
Prince Oyegoke-Olaoye further stated that the education sector would be invigorated, while the tourism potential of the town would be developed into recognisable international brands as part of steps to project Ogbomoso to the larger world.
Speaking further, he said he would leverage his vast professional expertise and work experience by bringing innovation into the administration of the kingdom, as well as leverage his circle of influence to attract investors for socio-economic prosperity to the benefits of the generality of the indigenes and residents of the town. "I also believe that as an individual we must have that capacity that is developed that we can sell to the world. If our young ones can develop their capabilities, we stand a better chance. Even for those that have learnt one trade, technical skills or the other they need to perfect that act. It is not compulsory that everybody must work in the office. We can boost the capacity and capabilities of our trained carpenters, tilers, masons and bricklayers; those who need them will come to Ogbomoso instead of going to bring people from Cotonou or Togo. By the time we grow their capacity there will be growth in our economy,'' he asserted.
While revealing that Ogbomoso is also blessed with rich agriculture land for large-scale farming, Prince Oyegoke-Olaoye, said he would attract investors within and outside the town to invest in the agriculture value chain, himself being a farmer with two large acres of farmland comprising a 10-acre farm at Jabata and another 20-acre farm at Budo-Ora.
On tourism, he explained that his vision for the sector would entail the development of the tourism potential of the town including transforming the various cultural heritages, sites and festivals such as Odun Oba and Odun Oole, as well as the rich local cuisines into international brands to make Ogbomoso an attractive tourist destination.
''We have good and rich local delicacies and assortment of cuisines. There are several good eateries in Ogbomoso. The breeze is superb. There is peace in our town. We will develop our festivals into tourism assets; we will give them publicity. We also have great people from this town that have made and are making impact nationally and globally. Some of them have been ignored; we will take steps to reach them. Despite the setback suffered by LAUTECH, it is still rated among the top 10 best universities in Nigeria. It will interest you to know that many of the students that graduate from LAUTECH don't like to leave the town. If you go to Under-G, most of the shops are owned by the students.
''Those who are outside the town who have the ideas that can bring innovation, we will invite them to come. If they need land, we will talk to families that own land to give them land. If it is to buy land, we will buy. The agriculture ecosystem of Ogbomoso is fantastic; there was a time IITA came to Ogbomoso to buy corn seedling, I brokered that deal. By the time we do all of these, Ogbomoso will become bigger in terms of human capital that will dovetail into economic wellbeing of the citizens,'' he noted further.
On education, Prince Oyegoke-Olaoye assured that he would launch some programmes to strengthen and support the various initiatives by the state government to revamp education. ''We cannot ignore the place of education because it is the bedrock of human capital development. The bigger vision will be improvement of human capacity that will dovetail into overall socio-economic wellbeing of the people of Ogbomosoland,'' he stressed.
Born on the 15th of August 1965 of the Kapelaye royal family compound in Ogbomoso, Prince Oyegoke-Olaoye is the great grandson of a past Soun of Ogbomosoland, late Oba Atanda Olaoye Orumogege. His biological father, late Prince Olaleye Oyegoke-Olaoye, was the first son of Aremu Oyegoke Olaoye, a direct descendant of Oba Atanda Olaoye Orumogege. Also in his blood line was Oba Lawani Oke Lanipekun, also, a direct descendant of Oba Orumogege.
Prince Oyegoke-Olaoye is currently the Head of Practice of a diversified group of companies comprising Gbolahan Oyegoke & Company (Chartered Accountants), Primehill Professional Services (Chartered Tax Practitioners), GIO Associates (Company Secretaries) and Capacity Building & Management Services. His experience cuts across start-ups, growing and matured private limited liability companies that are involved in banking, manufacturing, telecommunications, Information and Communication Technology with progressive responsibilities involving assisting, controlling and directing financial management and administration.
He holds multiple academic qualifications including NCE in Business Ed. (Accounting) from the Federal College of Education, Abeokuta; B. Sc. (Ed.) Economics from Lagos State University; Master's of Business Administration (MBA) in Marketing from the University of Port Harcourt, and another MBA (Financial Management) from Ladoke Akintola University of Technology, Ogbomoso. He also holds Masters in Education Administration and Planning from the University of Lagos and he is currently a Ph. D Student at UNILAG.
He is a Certified Forensic Accountant (CFA); Fellow, Chartered Institute of Administration of Nigeria (FCIA); Fellow, Chartered Institute of Taxation of Nigeria (FCTI); Fellow, Institute of Chartered Accountants of Nigeria (FCA); and Associate member of the Business Recovery & Insolvency Practitioners (ABR). He also holds CertIFR (ACCA) – Certificate in International Financial Reporting Standards and Certificate of Participation in Effective Project Management of the prestigious Lagos Business School (LBS).
On the career path, Prince Oyegoke-Olaoye has occupied numerous strategic and key roles at all levels and notably at middle, senior, managerial and executive levels. These include Assistant General Manager/COO, Network Support Services Limited; Manager/Group Head (Finance, Project & Admin.), Bocom Communications Limited; Manager/Head (Finance & Project), Mobitel Limited; Manager/Consultant, Solomon Osunba & Company (Chartered Accountants); Clerk, National Bank of Nigeria Limited; and Audit Clerk, David Osho & Company (Chartered Accountants). Others include Part-Time Lecturer, Auditing and Cost Accounting, Lagos State Polytechnic; and Lecturer, Cost Accounting& Financial Accounting (ATS II), Alpha Tutors, ICAN professional examinations preparatory class, amongst others.
Prince Oyegoke-Olaoye is a complete family man, married with a wife for the past 28 years and blessed with children. He is a devout practising Christian, a philanthropist per excellence, a highly respected community leader and well connected with his roots – both the Olaoye Ruling House and the royal dynasty, the Palace of the Soun of Ogbomoso. He is also an industry leader and has held many professional positions. He is a co-published author of professional books, a highly-sought conference speaker and training facilitator.
One can say without gainsay that as a man of vision, Prince Gbolahan Idowu Oyegoke-Olaoye is highly qualified, well-suited and well-prepared to occupy the vacant throne of Soun, barring all unforeseen last-minute circumstances.
By Ashiru AYINDE, A cultural enthusiast writes from Ogbomoso., Oyo State.
SERVICE TO HUMANITY : SAVE OMOLOLA OGUNLAJA A 32 YEAR OLD TAYLOR NEEDS 15 MILLION NAIRA TO WALK AGAIN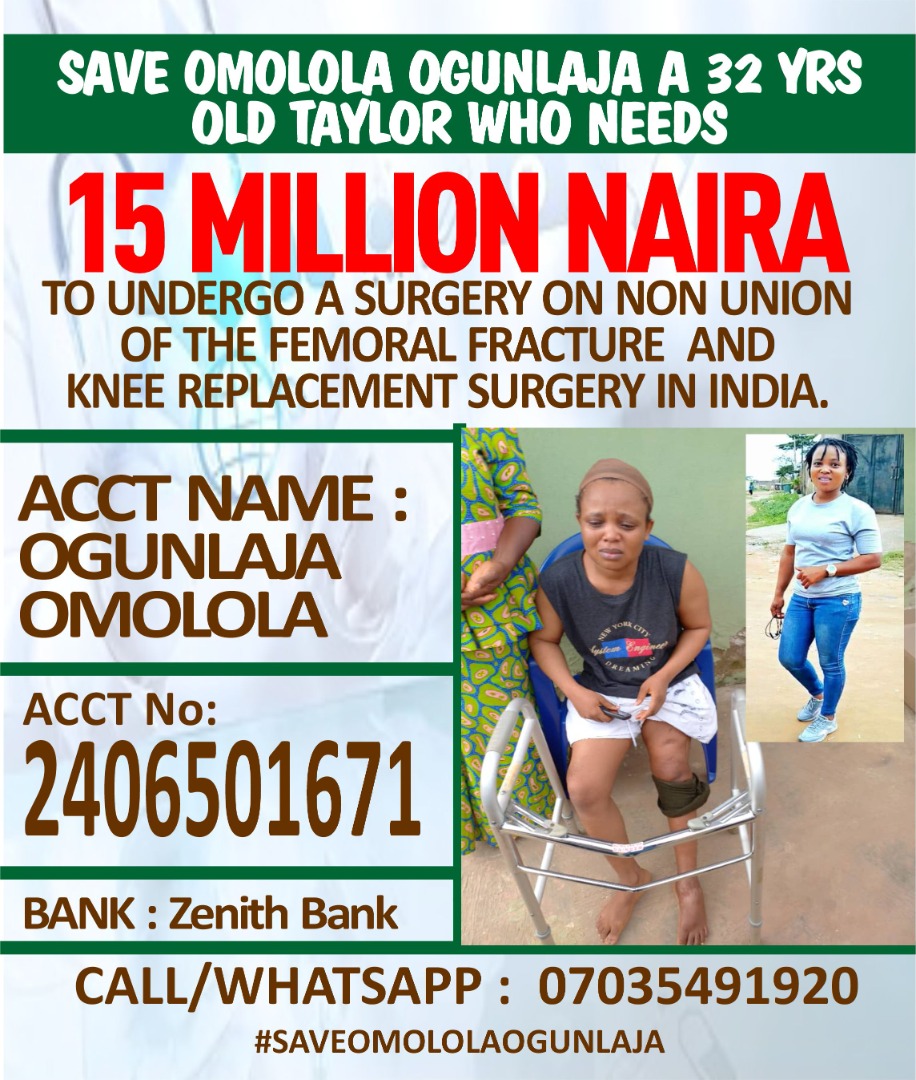 SERVICE TO HUMANITY : SAVE OMOLOLA OGUNLAJA A 32 YEAR OLD TAYLOR NEEDS 15 MILLION NAIRA TO WALK AGAIN
Service to humanity, they say it's the best work of life, what else could we have live for in life, if not seeing our fellow human living well. Pains isn't something we all clamor for, but in the case of a 32 years old Tailor, OMOLOLA OGUNLAJA she has been in pains since February, 2019.
Omolola Ogunlaja is a well known fashion designer who encounter the pains she has been in for over 3 years in the course of delivering her Job, as she had an accident on her way back from her esteemed customer. However, Omolola made it known to 1steleven9jatv that she has undergone varieties of surgery both in Lagos State and Abeokuta, but both surgery in both states were not successful as the injury has been infected.
She was however advised to undergo a surgery on non union of the femoral fracture and knee replacement surgery in India, which is why she called upon 1steleven9jatv for broadcasting help to the fellow Nigerians.
It's of our utmost priority at the moment to seek for the help of Nigerians both Home and Abroad for the surgery of our Dear friend, Omolola Ogunlaja who's currently down in sick bed and couldn't continue again with her chosen field sequel to the accident she had. We all can make her walk again and live beautifully well if we all support her with our little peanut which will go a long way.
Omolola is in need of 15 million naira to undergo the surgery, below are the account details for payment;
Account Name : OGUNLAJA OMOLOLA
Account Number : 2406501671
Bank : Zenith Bank.
Phone No : 07035491920.
May God bless us all with good health. See Graphics for more details. #Saveomololaogunlaja
Why You Should Patronize Winney's Secret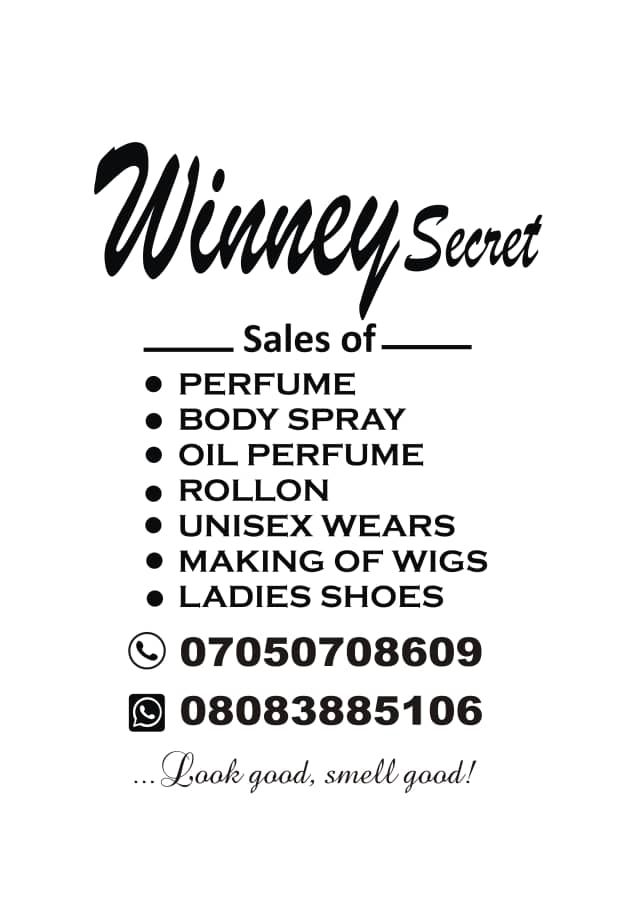 Why You Should Patronize Winney's Secret
Get your fashionable needs covered with winney secrets!
Make yourself, and your outfits noticeable with the best of Perfumes, Body spray, Oil perfume, and roll-ons from winney secrets, passing on a good impression to others.
Winney secrets also have got you covered on Unisex wears that are intriguing and eye-grabbing.
You can also get your wigs of various types, and various shades of beauty.
Also, you can shop for elegant shoes to make your feet look beautiful
To place an order;
Call: 07050708609
WhatsApp: 08083885106
Lady Born Without Legs Shares Emotional Story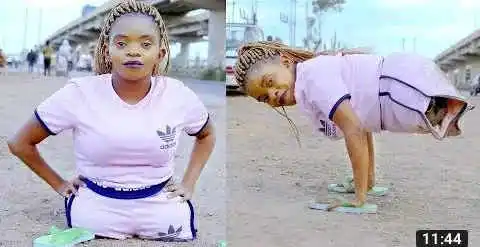 Lady Born Without Legs Shares Emotional Story
Lady born without Legs shared her experiences with his boyfriend. Eunice narrates how she was betrayed by people she loved and trusted so much with her life. Eunice, who was born with a disability, shared her story. Her parents died when she was 3 years old, and she was left in the care of her grandparents. She was humiliated, insulted, and demeaned in school because of her disability. She felt sad that she couldn't run with her peers because of her disability. She was "very upset" when a classmate asked her why she didn't have legs. She cried and asked her grandparents to send her to a disability school.
After graduation, she searched and searched for a job but was unable to find a job because of her disability. She later moved in with her brother. One of her family members volunteered to assist her and take care of her because of her disability. It wasn't long until she met someone she liked and they started dating; he came to see her often until the unexpected happened.
When she got home one day, after a long day of searching for a job, she found him and her caregiver on the couch embracing each other. When they saw her, they pretended to not be doing anything since they were in a state of awe.
The most terrible event of my life, because I loved him so much," says Eunice. When she tried to get in touch with her ex-boyfriend, he told her to never call his phone again and to delete all of his memories. According to her, the caregiver tendered an apology. In the end, though, she was able to move on and forgive her. She cry every day since she couldn't find a man to love her and marry her. Having a disability has made it difficult for her to get a job, she said.
As her brother prepares to get married, she is begging friends and family to please help her start a cosmetics business and rent an apartment for her so she won't be a financial burden to him. She always cry knowing she will may not find a man to marry her and might never find a job because of her disability now her career snatched the only man that loved her from her.