DNA Exonerates Man 47 Years After Rape Conviction
DNA Exonerates Man 47 Years After Rape Conviction
After 47 years, a New York man has been exonerated after new DNA testing conclusively excluded him as the perpetrator of a 1975 rape.
This is the longest-known wrongful conviction in US history to be overturned by DNA evidence.
The tests identified a different man, who has since confessed to the rape.
Leonard Mack, 72, spent over seven years in prison after being convicted in 1976 for a crime he did not commit.
Mr Mack said: "I never lost hope that one day that I would be proven innocent."
In May 1975, two teenage girls were walking home from school in the predominately white town of Greenburgh, New York when a man stopped them and held them at gun point.
One of the girls was raped twice while the other managed to escape and run for help.
The Greenburgh Police Department issued a dispatch for officers to be on the lookout for a black male in his early 20s.
Shortly after the attack, police stopped Mr. Mack, who happened to be driving through the neighbourhood.
Though Mr Mack had a strong alibi and was wearing different clothes than the suspect, police still arrested him.
The Westchester County District Attorney's Conviction Review Unit, along with the Innocence Project – a nonprofit committed to exonerating wrongfully convicted individuals – conducted new DNA testing in the rape case in 2022.
It revealed the actual perpetrator was a man who had been convicted of a burglary and rape in Queens that occurred weeks after this crime.
The man had also been convicted in 2004 for burglary and sexual assault of a woman in Westchester County.
"This exoneration confirms that wrongful convictions are not only harmful to the wrongly convicted but also make us all less safe," district attorney Miriam E Rocah said in a statement.
Ms Rocah praised Mr Mack's "unwavering strength" for fighting to clear his name for almost 50 years.
Witness misidentification is the leading cause of wrongful convictions, according to the Innocence Project. In this case, the girls identified Mr Mack during a flawed police identification process.
Susan Friedman, a senior attorney at the Innocence Project, said the case had "many of the ingredients of a wrongful conviction".
"The state's decision to continue the prosecution instead of reopening the investigation demonstrates the power of tunnel vision and the role that racial bias plays in the criminal legal system," she said.
Mr Mack, who is a Vietnam War veteran, has been living in South Carolina with his wife of nearly 21 years.
"Now the truth has come to light and I can finally breathe. I am finally free," he said.
Lawrence Grace Foundation Holds Annual Christmas Party For Widows on Dec 10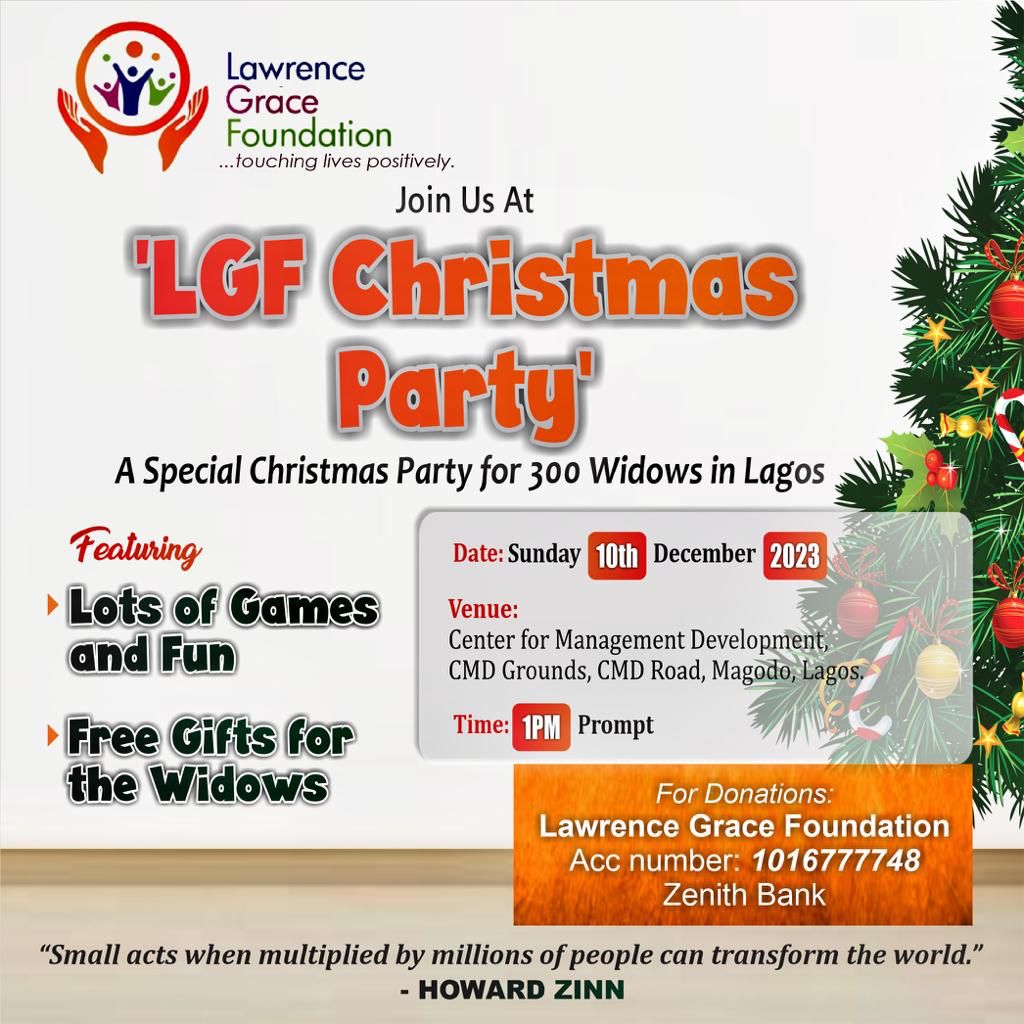 Lawrence Grace Foundation Holds Annual Christmas Party For Widows on Dec 10
A multi-award winning humanitarian group, Lawrence Grace Foundation will on Sunday, December 10 holds its annual Christmas party and multi-empowerment scheme for over 300 widows in Lagos state.
According to the Convener of the foundation, Mrs Oluyinka Adewoye the special Christmas party featuring several activities which include games and fun as well as free gifts to the widows has been scheduled for Centre for Management Development, CMD in Magodo area of the state.
"For Christmas, we are having our 'LGF Christmas Party' which is for 300 widows from various LCDAs in Lagos State. It holds on December 10th, 2023.This is to give them gift items for their families for Christmas and also celebrate the season with them and give them the sense of joy", Mrs Adewoye added.
How Primate Ayodele Foretold Attacks On Military Barracks In Sierra Leone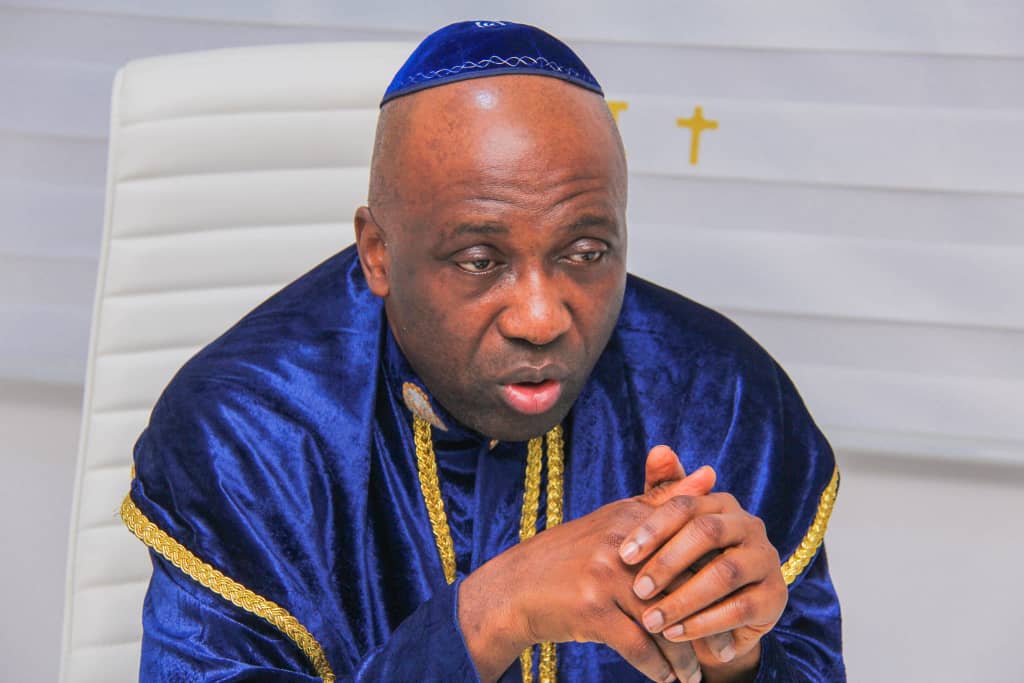 How Primate Ayodele Foretold Attacks On Military Barracks In Sierra Leone
The Leader Of INRI Evangelical Spiritual Church, Primate Elijah Ayodele has continued to remain a prophetic voice recognized globally. There is unarguably no country in the world where Primate's prophecy has not impacted in one way or the other.
His style of prophecy is majorly warnings to presidents of nations and there are countless references and proofs to confirm the authenticity of these prophetic warnings; if those involved listen and take heed to instructions, they avert troubles but if otherwise, they eventually happen. Unfortunately, most of these warnings have come to pass because the recipients don't follow divine instructions.
Among the most recent prophetic warnings that came to pass is the sudden attack on the main and largest military barracks and prison in Sierra Leone on Sunday, raising fears of a breakdown of order amid a surge of coups in the region.
The detention centers, including the Pademba Road Prisons — holding more than 2,000 inmates — were attacked just as security forces fought to restore calm during sustained shootouts at the Wilberforce military barracks, according to Information Minister Chernor Bah.
Due to this, Sierra Leone's President Julius Maada Bio announced a curfew.
"As the combined team of our Security Forces continue to root out the remnant of the fleeing renegades, a nationwide curfew has been declared and citizens are encouraged to stay indoors," he wrote.
Meanwhile, Primate Ayodele had foretold this exact situation in his annual prophecy book titled Warnings To The Nations (2023/2024) edition which was released in July 2023. He categorically mentioned that there will be an attack on the military in Sierra Leone.
These were his words
''The president will build connecting bridges that will lay the activities of his government. He must pray against attacks on their military''.
Just as Primate Ayodele noted in his prophecy book, an unprecedented attack was made on the largest military barracks in the country on Sunday by unknown gunmen. This has fulfilled the prophecy of Primate Elijah Ayodele.
Celebration TV Threatens Alkan Air With $2m Suit Over Repair Scam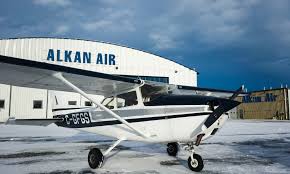 *Celebration TV Threatens Alkan Air With $2m Suit Over Repair Scam*
A Cairo based aircraft maintenance facility, Alkan Air, is in the eye of the storm. The facility is currently being threatened with a two million dollars suit by Celebration TV, owners of a Hawker aircraft who accused it of attempting to fraudulently take over the private aircraft three years after it was taken for repair.
According to investigation, the Hawker jet in 2020 was taken to Alkan Air for repair with a signed agreement that the plane would be fixed in six months. But, shockingly, we gathered, nearly three years after, Alkan Air has refused and neglected to execute its own part of the bargain despite that Celebration TV had paid the charges demanded for the maintenance running into several thousands of dollars.
While investigating further, this news medium stumbled on a mail sent to Celebration TV by Alkan officials suggesting that some interested buyers were willing to purchase the Hawker aircraft for a fee from which Celebration TV would be entitled to a commission, thereby capitalizing on the fact that if the Hawker is not repaired, it cannot be flown back to Nigeria as a result of restrictive international aviation regulations.
There was also a mail mandating Celebration TV to pay parking costs from January 2023. Yet, the jet has not been fixed let alone a certificate of release produced to the owner.
However, the Celebration TV promoter was said to have snubbed the idea, insisting that the jet be fixed and all overdue items be added at the company's cost and released to the owner or Alkan Air should be ready to meet them in court of law.
Sources revealed that the promoter of Celebration TV, a prominent Nigerian renowned for his no-nonsense disposition and commitment to fight for justice at all cost, has vowed to do legal battle with Alkan and he has reportedly begun plans to institute a two million dollars case against Alkan Air, while he also vowed to even drag the matter before the International Court of Arbitration in London, if necessary.
And given what was gathered from people close to the Celebration TV promoter, Alkan Air had better be ready for a long fight because he is renowned for doing legal battles with governments and institutions in Nigeria.