Errol Spence Jr. vs. Danny Garcia fight results, highlights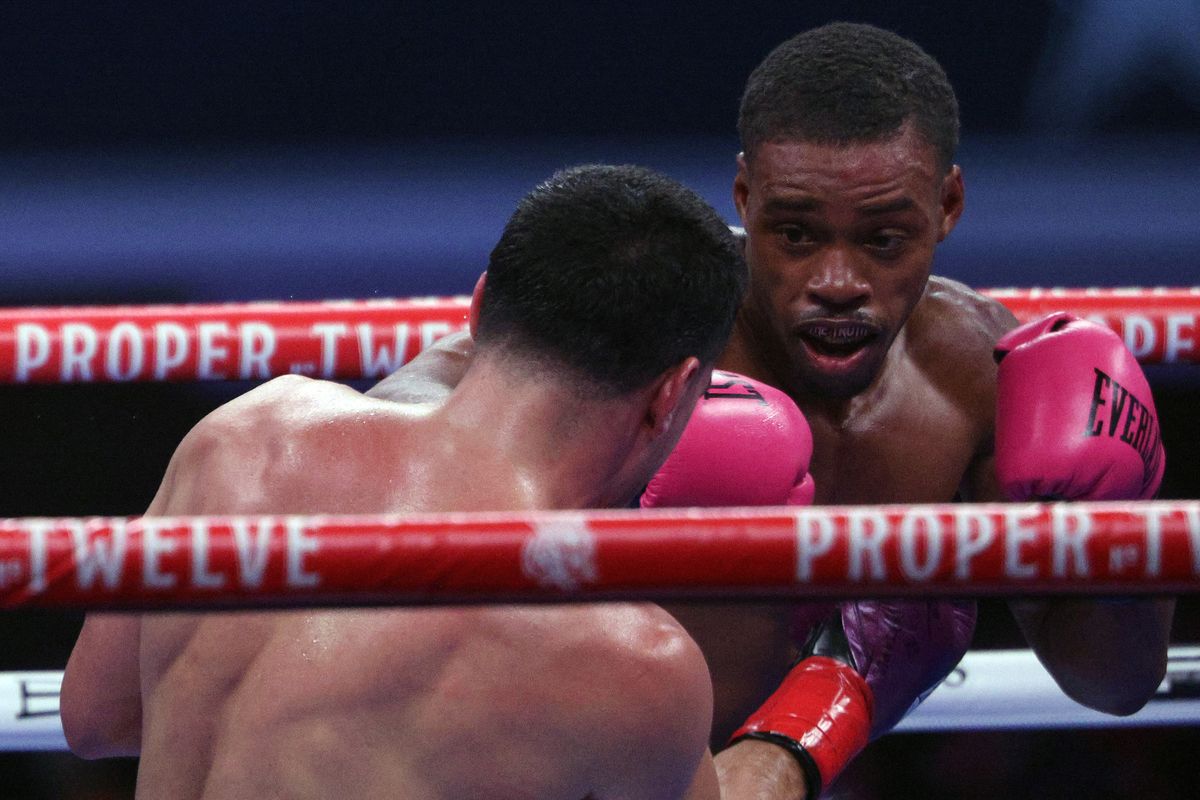 Errol Spence Jr. vs. Danny Garcia fight results, highlights- Fourteen months removed from the ring following recovery from a scary car crash, Errol Spence Jr. looked better than ever before in a strong case for consideration as the best 147-pound fighter in the world. 
Spence (27-0, 21 KOs) made a successful defense of his IBF and WBC welterweight titles with a thorough clinic of former two-division champion Danny Garcia inside AT&T Stadium in Arlington, Texas. All three judges favored Spence via scores of 116-112 (twice) and 117-111. CBS Sports also scored it for Spence, 118-110.
In his third straight headlining role at  pay-per-view card, the 30-year-old Spence showed no signs of ill effect after flipping his Ferrari multiple times before being ejected from the vehicle last October. Despite an arrest for DWI, Spence survived the ordeal without any broken bones and might've produced the best performance of his career against Garcia (36-3, 21 KOs).
"I proved to myself that I am the best 147-pounder in the world," Spence said. "Danny Garcia pushed me to the limits, especially in training. He's a great champion and I knew I would be 100 percent ready. That's why I chose him."
Spence relied on his jab throughout to cause swelling under Garcia's left eye. He also landed the harder shots throughout and avoided getting into any kind of trouble against his heavy-fisted opponent. He also out landed Garcia, 187 to 117, according to CompuBox.
"He was just the better man tonight. No excuses," Garcia said. "I fought a hard, tough fight. He had a difficult jab and I think that was the key to the fight. I didn't have a great jab. He had a great jab and that was the difference in the fight. He landed it better than me."
Garcia was game throughout and was responsible defensively. Yet as the fight began to slip away in the second half with the need for something dramatic rising, Garcia was seemingly unwilling to take the risk as he slowly wilted.
Spence adjusted to any form of rallying Garcia had in the middle rounds by switching off his jab to score repeatedly with a lead left hand that took away Garcia's right-handed version, which had been his only consistent punch. Spence also targeted the body repeatedly with his hard left cross, particularly in the later rounds while Garcia faded.
"The moment is surreal," Spence said. "It has been a dream of mine since coming back from my accident and I think I looked pretty good. I had a little ring rust in there but I shook off the cobwebs and I would love to be back in the summer.
"All training camp I felt good. I knew I was going to be good and that's why I told people I don't want a tune-up fight. I wanted someone like Danny Garcia who would push me."
Despite unbeaten WBO champion Terence Crawford and former champion Shawn Porter watching from inside the stadium and some believing Spence might call out WBA champion Manny Pacquiao afterwards, he instead chose to remain silent regarding his future.
"This was a comeback fight for me and I will definitely be 120 percent in my next fight," Spence said. "I'm going to chill on my ranch. I just bought a ranch with a couple of horses and chickens, two cows and my children and family. I want to go and get more horses and chickens. I want to enjoy my time and decide who to come back against but right now I want my rest time."
Garcia, 32, fell to 0-3 against defending welterweight champions following previous close decision defeats to Keith Thurman and Porter.
"I am going to sit back and rebuild and see what I need to do next," Garcia said. "I fought hard and I am proud."
In the co-main event, 6-foot-5 super welterweight Sebastian Fundora made quick work of Habib Ahmed with a second-round TKO. Fundora used his massive size to his advantage with his length creating power punches to stop Ahmed. The Florida native has now won three straight with two impressive finishes.
CBS Sports was with you throughout the entire way on Saturday, so. be sure to follow along with the live results and highlights below.
2026 WCQ: Oliseh Reacts To Super Eagles' Disapointing Draw Against Lesotho
2026 WCQ: Oliseh Reacts To Super Eagles' Disapointing Draw Against Lesotho
Former Super Eagles head coach, Sunday Oliseh, has expressed disappointment following the team's 1-1 draw against Lesotho in Uyo on Thursday.
Jose Peseiro's side were expected to run over their 153rd-ranked opponent but only rallied to earn a share of the spoils in the encounter.
Oliseh, a member of the Super Eagles side that won the 1994 Africa Cup of Nations in Tunisia, took to social media to express his frustration over the result.
"Haba, This nightmare go ever end? Woke up to this shocker this morning. Our homebased suppose dey beat Lesotho na! dem even first us score!!!! The painful part be say, no consequences for these national embarrassments sef!" the former midfielder wrote on his X handle.
The Super Eagles will hope to bounce back when they take on the Warriors of Zimbabwe on Sunday.
The encounter at the Huye Stadium, Butare, will kick off at 2 pm.
I Am The Most Successful, Decorated Football Player In Nigeria Says Mikel Obi
I Am The Most Successful, Decorated Football Player In Nigeria Says Mikel Obi
I'm still Nigeria's most successful, decorated footballer – Mikel Obi
Chelsea and Super Eagles legend, John Mikel Obi has bragged that he is "still the most successful and decorated football player in Nigeria".
He said despite all his achievements he was never ranked number 8 in the world by the Ballon d'Or like Nigerian youngster, Victor Osimhen.
Speaking in the latest episode of his podcast, The Obi One, which had Osimhen as a guest, Mikel said the Napoli striker has raised the bar high for Nigerian footballers.
He said, "I am still the most successful and decorated football player in Nigeria. But he [Victor Osimhen] got an award that I never got. He was ranked number 8 in the world by Ballon d'Or. That's absolutely amazing. I must say congratulations. The season you had, it was fantastic and I never got to that stage. You've raised the bar so high."
Responding, Osimhen reckoned that Mikel "is more than a legend" to many Nigerian footballers, adding that the former Super Eagles captain inspired him and others on and off the pitch.
On his Ballon d'Or success, the Napoli striker said "I just kept on doing my job, doing what I love so much and God just crowned my efforts."
Liverpool VS Luton Town: Dear Punters, Primate Ayodele Isn't Responsible For Your Predicament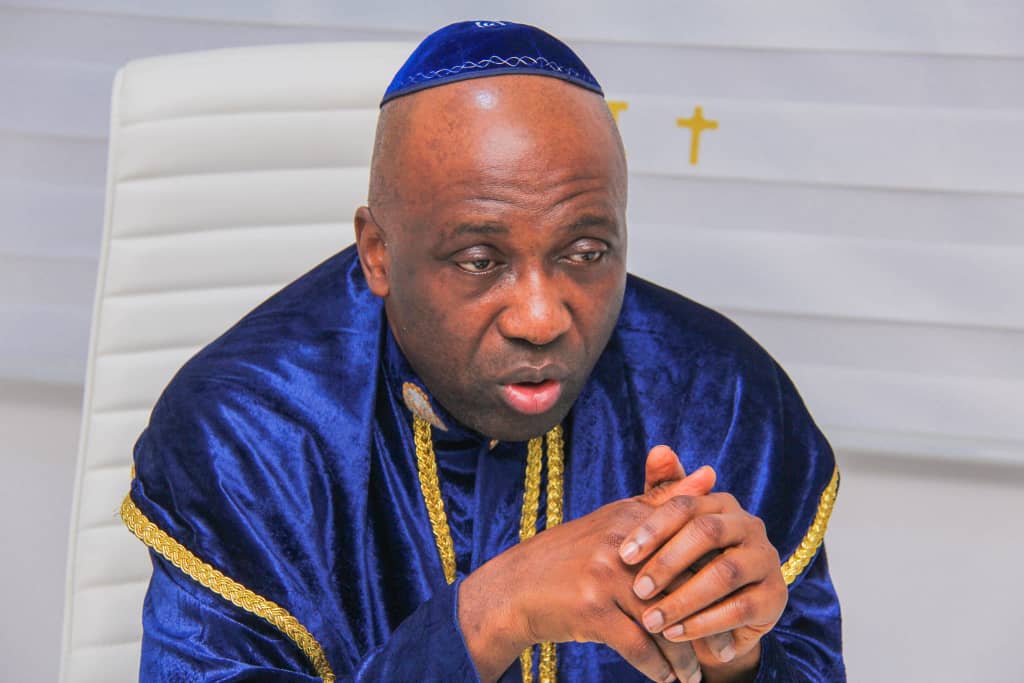 Liverpool VS Luton Town: Dear Punters, Primate Ayodele Isn't Responsible For Your Predicament
By John Olateju
On Sunday, the day Liverpool VS Luton Town match was played, the social media was literally on fire not because of the outcome of the match but because of a popular Nigerian prophet, Primate Elijah Ayodele.
Primate Ayodele trended immediately after the match with over 10,000 people mentioning his name on the timeline because he gave a prophecy earlier that Liverpool was going to win Luton Town but at the end, the match ended in a draw.
Many of the netizens that of course were majorly punters took to their several pages to hurl insults at the man of God because they lost their bet. Apparently, they had placed bets on the match based on Primate Ayodele's prophecy. They had played Liverpool to win in their betting slips and were disappointed and sad because they lost the ticket.
Many of them must have put in a huge amount of money because Primate Ayodele's football prophecies have always come to pass. They thought they could use prophecies to play bets without considering some factors.
It's quite sad that they lost money but someone needs to let these punters know that Primate Ayodele isn't responsible for their predicament. Thankfully, the prophet released a statement before the Liverpool match that his prophecies are not for betting or commercial purposes because he understands that prophecies are not meant for that purpose.
What they failed to understand is that prophecies are mostly warnings. It is when the people involved don't listen or fail to take heed that these warnings come to pass. The essence of prophecies is to reveal what to come, warn people ahead so that they can know what to do either to make the subject of the prophecy come to pass or avert it. If, as a person, a prophet tells you that something bad will happen to you on your proposed trip, won't you try to pray or even stop plans to embark on such a trip? If you don't go, definitely nothing will happen to you but if you embark on it, you are sure to experience a bad thing. If you stay in your house and get saved from the impending danger that lies ahead of you on your trip, would you now say the prophet is fake? Absolutely NO.
Even in the bible, a certain prophet came to Hezekiah to inform him that God said he should put his house in order because he was going to die. Hezekiah on hearing this ran to God in prayer, reminded God of some of his efforts and in the process, God sent the same prophet to tell Hezekiah that he has added an extra 15 years to his life. ( Isaiah 38vs1-3). Was the prophet fake? NO.
Another instance was the message God gave Prophet Jonah to deliver to the people of Nineveh. God was angry with the nation and asked Jonah to tell that he was going to destroy them. Jonah delivered this message but the people failed to accept their fate; they cried to God, prayed to him and in the end, God had compassion and forgave them. ( Jonah 3). Was Jonah fake because God didn't later destroy Nineveh? NO.
For Luton Town that heard the prophecy of Primate Ayodele about losing the match to Liverpool FC, no club would hear something like that and not work to ensure they don't lose. They already had hints that Liverpool was coming with a full force and to prevent losing to them as Primate Ayodele had said, they must have changed their strategies and tactics just like the people of Nineveh and Hezekiah; they must have put their best players in the match and try every possible tactic to ensure they don't lose the match so what's the fuss about Primate Ayodele's prophecy about?
The prophet warned that his prophecies are not for betting or commercial purposes, punters that don't know how prophecies work are now crying foul that they were misled. Who sent you to play bets with prophecy? The prophecy wasn't shared for you to play bets but for the clubs to listen and make amends where necessary but out of greed and love for quick money, you played bets with it and lost, why are you crying?
Primate Ayodele isn't a punter neither is he in support of gambling so I wonder why some punters would think he is making prophecies for them. It is only when the clubs in question don't do anything that they will lose but if they quickly adjust, they won't.
Punters should please note that Primate Ayodele isn't responsible for your loss or predicament, you were just stubborn and greedy.