Experts urge doctors to set high standard for members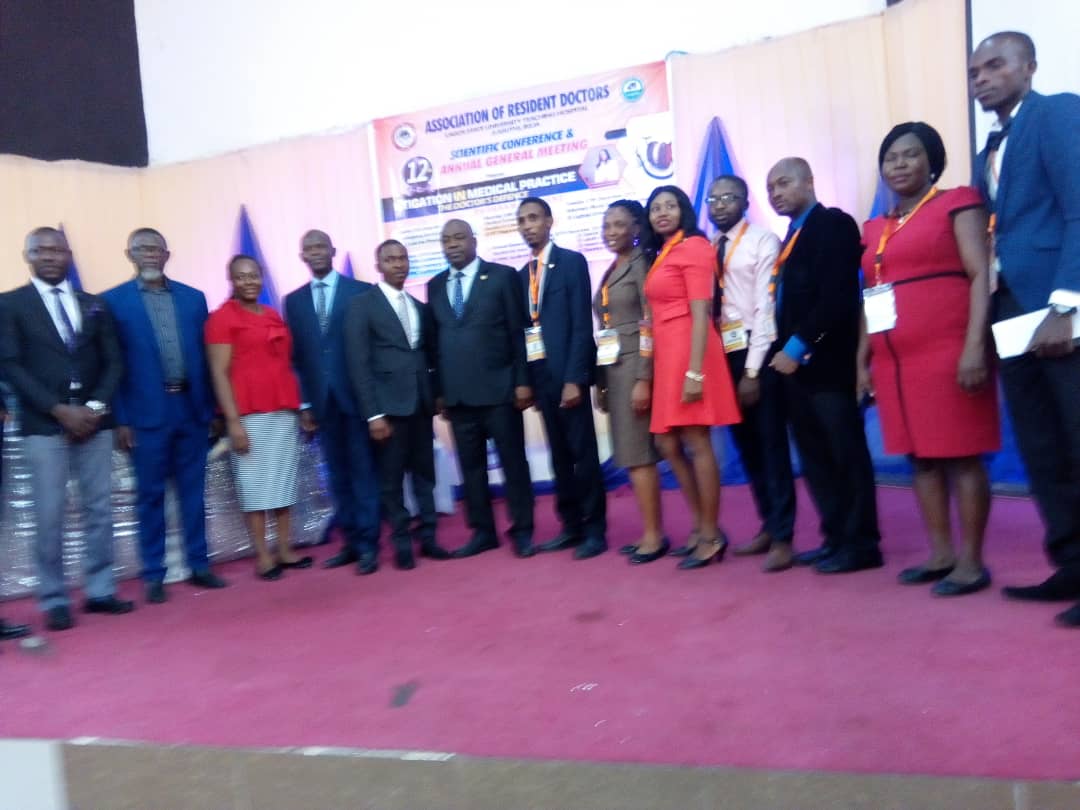 By Ifeoma Ikem
Medical experts have advise doctors across the country to maintain high level of professionalism and proper standard in handling their patients to avoid being victim of litigation in medical practice.
Speakers drawn from both medical and legal profession gave their separate advice and tutorial on way out of litigation while in practice in Lagos during the 12th scientific conference and annual general meeting organised by the association of resident doctors Lagos State University Teaching Hospital (LASUTH) Ikeja.
The conference with the theme:litigation in medical practice "the Doctor Defence"
offered professionals the opportunity to profer solution to the service of dispute between doctors and patient which have affected the medical practice in Nigeria and presently a serious problem that may affect the health need of Nigerians if urgent steps are not taken.
The keynote speaker of the conference Prof Clement Osime a professor of Surgical Oncology University of Benin Teaching Hospital (UBTH) who spoke on the theme of the conference"Litigation in medical practice the doctor defence took the floor for hours as he enumerate step by step what doctors should do to avoid becoming victim of litigation as Nigerians have join the global world people now seek for their right once it is infringe upon.
He urged doctors to abide by the ethics of the profession and always remember the oath they took to protect lives.
He said patient desire to be shown love therefore doctors should be polite and show some empathy for their patient "dont allow your social standing to affect the way you behave to your patient "he said.
Explain further the enumerate thus:provide adequate service and care to your patient, you can refer patient to another hospital if you can not handle the case, work within the limit of your professional competence,be willing to consult with your colleague,be competent when making a diagnosis or providing treatment, keep clear accurate medical records, pay due regard to efficacy and use of resources in discharging your duties.
He added that for any doctor to excel in the profession and keep off from litigation he or she must also listen to patients and respect their views and also give relevant inf to patients.
He warned doctors not to use the position to establish improper relationship with their patients or relatives of patients and also cautioned doctors not to divert patient directly to another hospital without due approval.
Explaining further Prof Osime urged doctors to make suitable plan for their patients when they are not around and also avoid accepting gift, travel grant and hospitality from patient with emphasis on companies because it can implicate doctors in the law court if the patient went back to office and over invoice what he paid.
While advising the doctors on what to do to avoid problems with patients that can seek redress at the law court the professor also admonished the doctors on legal protection while performing duties in compliance with professional and operational standards.
He noted that the doctor have the right to provide health care services in compliance with professional and operational standards.
He therefore warned doctors to refuse patient wish that is in conflict with rules and regulation,professional standard and ethics of the medical practice.
In his earlier remark the Chief Medical Director (CMD) Lagos State University hospital, Prof Adetokunbo Fabamwo acknowledge that there are many issues which need to be resolved as regard the welfare of doctors in the state hospital but non of the issue have lost relevance, adding that as we move into the year 2020 the management of the hospital will address all issues in the new year.
He thank the association and wish them successful deliberation.
Also in an interview Dr Olugbenga Oseni,the chairman of Nigeria Medical Association Lagos, said the issue of litigation in medical practice is a serious matter because it can make doctors not putting their best because of fear and in so doing many patient can lost their lives.
He noted that if a doctor is suspended or sack in a department for minor issue the management will not replace him then the remaining doctors will be doing the job and this will further make the job difficult.
Also speaking Prof Oluwarotimi Akinola a professor of obstetrics and gynecology Lagos State University College of medicine explained that litigation is a major issue presently affecting the medical practice in Nigeria. But noted that henceforth every case will be treated as a potential case.
He revealed that presently in many hospital there is the fear to treat lawyers especially now the country have the biggest challenge of poor electricity so no doctor can take the risk.
In his opening remark the President of the Association of Resident Doctors (LASUTH) Ikeja ,Dr Fatai Balogun said the conference become necessary as "there has been some awakening call among lawyers to look into our books is it for want of justice for patients? Is it for selfish target of increase in lawyers take home? these and many more concerns informed the choice for the theme of the conference :"litigation in medical practice :the Doctors Defence.
He lamented the scourge of brain drain as it is affecting the hospital and the entire medical profession and in LASUTH, the issue is made more worse due to inadequate motivational welfare package to staff, low take home package due to heavy taxation and nonavailability of residential quarters among other.
Also reacting on the conference one of the panelist Imrah Shitta-Bey said what doctors in Nigeria are experiencing could be attributed to age long problem of less concern that is people can do anyhow which allow everything to break down in the system.
He advise doctors to go back to the professionalism and urged the Association of Resident Doctors to set a high standard for all his members henceforth "then should rise up" he said