Fidelity Bank boosts well-being of host communities with CSR Projects
Fidelity Bank boosts well-being of host communities with CSR Projects
Foremost financial institution, Fidelity Bank Plc, has inaugurated Corporate Social Responsibility (CSR) projects in three South-Western states of Oyo, Ondo and Ekiti; as well as Kwara State.
The projects which include the provision of maternal and healthcare materials for hospitals, renovation and furnishing of a juvenile correctional facility as well as provision of computers for secondary and tertiary institutions were officially inaugurated on Thursday, 30 and Friday, 31 December 2021.
Speaking on the rationale behind the projects, Managing Director/CEO, Fidelity Bank Plc, Mrs. Nneka Onyeali-Ikpe said that the initiatives were executed in pursuit of the Bank's CSR objectives which are centered on the environment, education, health/social welfare, and youth empowerment.
According to Onyeali-Ikpe, "These projects, which are in line with the United Nations Sustainable Development Goals (SDG) Nos. 3 – Good Health and Well-being and 4 – Quality Education; are in demonstration of our corporate belief that profits should not only be measured in naira but in terms of the wellbeing of our host communities. That is why we regularly look for opportunities to advance the fortunes of people in locations we do business".
At the official handover of the renovated boys' hostel and administrative block facilities of the Oyo State Juvenile Correctional Institution/Child Care Unit, Ijokodo, Ibadan, the Oyo State governor, Seyi Makinde, who was represented by the Permanent Secretary, Ministry of Women Affairs and Social Inclusion, Mrs. Christiana Abioye, thanked Fidelity Bank for the intervention explaining that, "Oyo state government, in its drive to deliver a number of people oriented and social services to the teeming population of the state, has been able to reach out to many individuals, organisations and corporate groups to partner with it in the achievement of these mandates through the running of an open and sincere administration.
"I am glad that the management of this financial institution was able to avail itself of one of such opportunities offered by this administration to discharge its Corporate Social Responsibility in the state and in particular in this very special welfare institution", said Gov. Seyi Makinde.
Fidelity Bank is fast developing a reputation of a people-friendly institution with its numerous CSR programmes. It would be recalled that earlier in 2021, the bank completed the renovation of a primary health care center and a block of classrooms in the Southeast and Southwest regions of Nigeria respectively.
Retailer recounts impact of technology on her well-being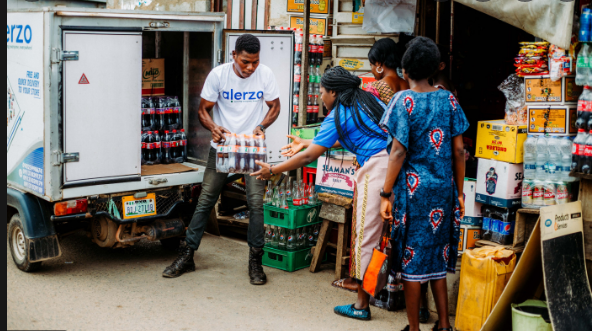 Retailer recounts impact of technology on her well-being
It truly takes time and energy in moving around an open market to source for goods in order to restock, which brings about body aches and fatigue most retailers have shared.
These experiences are fading with ease of shopping and feeling of well-being taking over as retailers conveniently make their orders online, make payment and within a maximum of four hours, their goods get directly delivered to their stores without inclusion of transport charges.
Isn't this pretty cool? Absolutely! Yisau Bolaji who runs a grocery store expresses as he recounts how his life has changed since he discovered Alerzo, an e-commerce platform that enables him carry out his business conveniently.
They do not have to leave their homes to get to the open markets to buy goods. They do not have to face the fear of being worn out, attacked or any mishap in the course of plying the roads.
The emergence of tech firms in e-commerce has been a game changer in the retail sector. More opportunities are being provided to help retailers operate their businesses with ease and maintain healthy lifestyles.
Bolaji who talked about how his health has improved said,"It is a lot of stress going to the market to restock. When I come back from the market, I come back with headache
"But since I started patronising Alerzo, things are different. Alerzo has a vast assortment of goods. Secondly, Alerzo saves me money on delivery and transportation, aside from the convenience .
"My health has improved because I no longer go through the stress of buying goods in the open market and returning home with a headache. So I'm enjoying the convenience and it is good for my health and wellbeing."
Mouka Parent Company, Dolidol International Group, Appoints Dr Adesegun Akin-Olugbade as New Vice Chairman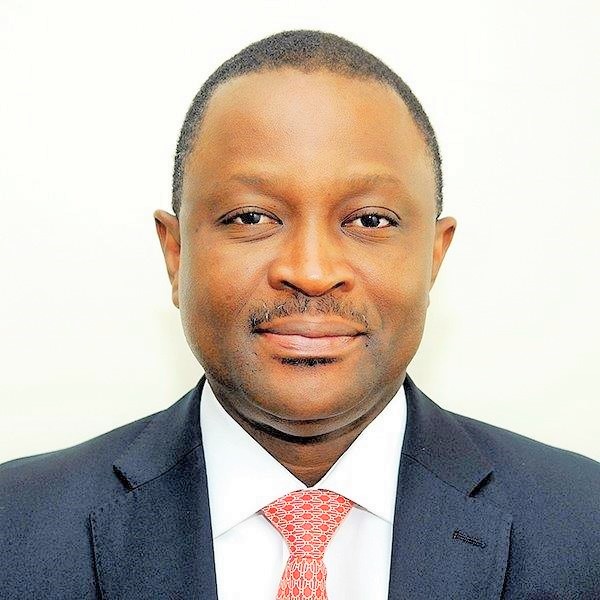 Mouka Parent Company, Dolidol International Group, Appoints Dr Adesegun Akin-Olugbade as New Vice Chairman
Mouka, the market leader in Nigeria's sleep industry and a new member of the Dolidol International group, has appointed Dr Adesegun Akin-Olugbade as its new Vice Chairman.
The Board of Mouka's parent company, Dolidol, has given their vote of confidence to the new Vice Chairman, who has an impressive resume of sterling accomplishments.
According to the Managing Director of Mouka, Mr Femi Fapohunda, the new Vice Chairman's expertise is in finance, corporate governance and law. As a Non-Executive Board Member, his input and guidance to decision-making by Mouka's Executive Directors would help propel Mouka to even greater heights.
Dr Adesegun is the Founder and Managing Partner of Luwaji Nominees, a legal and corporate advisory services firm and currently serves as Of Counsel at Clifford Chance (CC Worldwide Limited) and International Counsel at ÆLEX.
He is a graduate of King's College London (LL. B (Hons) 1983, LL.M 1985) and Harvard Law School (LL.M '88 and SJD '91), in addition to being the Overall Best Student at the Nigerian Law School in 1984. He has served for over 30 years in the legal profession and financial services sector; having worked at both the technical and executive management level, in the public and private sector, for leading commercial law firms, multilateral development banks and international financial institutions.
He was previously General Counsel and Senior Director at the African Development Bank (AfDB) (2000 -2007) and the first Chief Legal Officer and Head of the Legal Services Department of the African Export-Import Bank (Afreximbank) (1993 – 1997). In December 2018, he retired as Executive Director (Chief Operating Officer), General Counsel and Corporate Secretary of Africa Finance Corporation (AFC).
Adesegun A. Akin-Olugbade has significant Board level experience. He was a non-Executive Director and former Chairman of the Governance Committee of Ecobank Transnational Inc. (ETI). He was also a Founding Director and Managing Partner of AFC's wholly owned subsidiary, AFC Equity Investments Limited, Mauritius. He was a founding shareholder and former non-Executive Director of Asset & Resources Management (ARM) Company, a leading financial services company in Nigeria.
He is a life member of the Nigerian Conservation Foundation and Trustee of the African Refugee Foundation (AREF) and of the Nigerian Law School Class of 1984.
In 2003, he was invited to be a member of the Committee on International Monetary Law of the International Law Association (MOCOMILA) and joined the World Trade Board as the first African member in 2019.
Adesegun A. Akin-Olugbade is an alumnus of several Executive Management Programs including the Wharton CEO Academy, the IMD Executive Management Program and the HEC (Montreal) Management Development Program (MDP).
He is an Officer of the Order of the Niger (OON), a national honour conferred on him by the Nigerian Government in September 2012.
Nigeria Records $2.5bn loss in July as Oil Production Falls to 1.083m bpd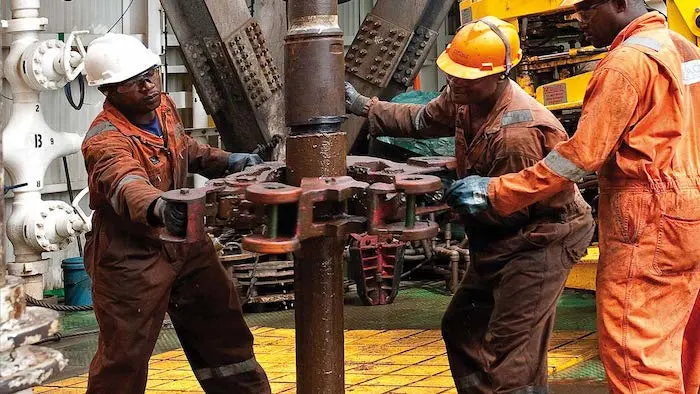 Nigeria Records $2.5bn loss in July as Oil Production Falls to 1.083m bpd
The expectation that Nigeria's current dollar crunch could subside soon has again been dashed as the country's crude oil production remained below expectation, slumping to 1.083 million barrels per day in July.
July's production figure, sourced from the data released by the Nigerian Upstream Petroleum Regulatory Commission (NUPRC), followed the trend in the country's abysmally low drilling capacity in at least the last 10 months.
For the month under review, however, the country's production allocation by the Organisation of Petroleum Exporting Countries (OPEC) was roughly 1.8 million (1.799) barrels per day.
This means that Nigeria could not produce as much as 717,000 bpd or 22.22 million barrels during July. When valued at a conservative price of $110 per barrel, the 22.22 million barrels were about $2.444 billion for the month.
While the rest of the oil-producing world and oil majors continue to enjoy high oil prices, Nigeria's case has been different.
Though the country currently needs every dollar it can get, as pressure on the economy, due to the near non-availability of the greenback continues to mount, the slump in oil production has dashed this hope.
For months, the Nigerian National Petroleum Company Limited (NNPCL) has not been able to remit a kobo to the federation account.
The company blamed the extant subsidy payment regime as well as the massive ongoing oil theft in the Niger Delta.
In addition, Nigeria has fingered years of declining upstream investment, inability to restart oil wells shut in the wake of the COVID-19 pandemic in 2020 as well as outright sabotage by oil-producing communities for its lack of capacity to raise production.
If there's no improvement by September, the production deficit is likely to get worse, since OPEC and its allies agreed to an increase in oil production this month, following calls by the United States and other major consumers for more supply.
In the latest round of distribution of quotas, Nigeria got a modest 4,000 bpd increase, raising its production quota to 1.830 million bpd for September as opposed to the 1.826 million bpd output it got for August and 1.8 million bpd in July.
Nigeria only managed to hit just 1.158 million bpd in the June assessment after it fell to a record low of 1.024 million bpd in the previous month of May.
In the 2022 budget, the federal government pegged the crude oil benchmark at $73 bpd with the projected oil production put at 1.88 million bpd
A recent review indicated that Nigeria produced less crude oil in the first six months of this year compared with the same period in 2020 and 2021.
It showed that Nigeria's total of 220.016 million barrels of oil drilled in 2022, is less than the 302.4 million in 2020. That's roughly a 27.15 per cent decrease.
The NUPRC data further showed that in the first six months of 2021, when the world had started recovering from the pandemic, Nigeria also surpassed this year's six-month drilling total for the same period by 28.6 million barrels.
Specifically, while the country managed to produce 302.4 million barrels in 2020, it drilled 248.6 million barrels in the same period in 2021, but it quickly degenerated to 220.016 million barrels from January to June this year. That is an 11.29 per cent change between 2021 and 2022.
Of the country's recorded 35 terminals/streams, the NUPRC data showed that Ajapa, Ima and Anambra Basin remain non-producing, while Tulja-Okwuibome started producing in 2022, after a period of dormancy in 2020 and 2021.
The new low production became worse in May when 1.024 million bpd was recorded. In June, it was 1.158 million bpd, according to self-reported data by the government, however, it has fallen again to 1.083 million bpd in July, far from the projection for the period. It was also markedly lower than the production for April, which stood at 1.219 million bpd.
Similarly, Nigeria produced 1.398 million bpd in January, 1.257 million bpd in February and 1.237 in March, according to the NUPRC data.
But despite the huge gulf between expected and actual production, the Minister of State, Petroleum, Mr Timipre Sylva, had recently said the gap would be filled by this August.
Sylva's comment came after similar assurances by the Group Chief Executive Officer, NNPCL, Mallam Mele Kyari, that the country would drill enough oil to cover the deficit by December last year.