How Passion, Hardwork made me relevant in the Nollywood Industry – Talented Actor/Director, Chief Chidi explains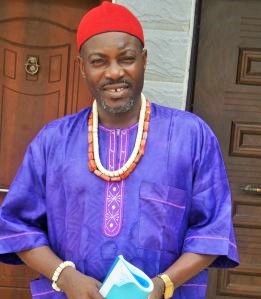 Multi-talented Nollywood actor, Producer, and Director, Chief Chidi Ohazurike, is no doubt one who has within few years of venturing into the industry, carved a niche for himself, he is one person whose passion and drive to take the movie industry to its highest level has kept him going, this is one of the reasons he abandoned his well paying Networking Job for the Nollywood Indusry.
  He came into the industry in just few years and has become a force to reckon with in the industry.
   Saharaweekly's Osho Oluwatosin caught up with him on the Shoot of 'Honey Contract' and had an interview with him. The Movie has the likes of Fathia Balogun, Sam Uche Anyamele, himself, Benson Lazarus and many other veterans in the industry.
    The Talented Nollywood actor talked about 2016, his plans and the movie he's on set for
Excerpts Below
Q – My name is Osho Oluwatosin from Sahara weekly magazine, Can i meet you sir?
R – My name is Chief Chidi Ihazurinike, I'm a nollywood actor, Producer and Director
 Q – According to our researches sir, we found out that you left a networking Job for the Nollywood industry, how has it been since delved into Movie industry?
R – Well, it hasn't been easy but with the grace of God, hardwork, passion for the Job, Its keeping me going
Q – How were you able to overcome the challenges you faced?
R – Moving from a computer environment where I'm comfortable to come on a foreign environment where there is a lot of hostility and you don't know your track, the first thing i did was to understand the business, the industry and training, which is key. With my experience as a manager and meeting people, understanding film making , I've been able to carve a niche for myself especially in the area of providing content for TV Stations, addition to what i do as an actor.
Q – Since you came into the industry, can you name those Jobs you've done?
R – I've done a good number of Jobs , i produced Corrupt  Trafficker, Star Infidelity, featured in so many films, lot of them.
Q – 2016 Just finished three months ago, how was the year for you?
R – The year was a fantastic one for me , despite the challenges, i was able to produce 5 movies personally, two have been edited and sold while the remaining three are still going through the editing process, It was just a beautiful year for me. At the beginning, i set a target of producing 5 films which i did.
Q – In 2017, what are the things your fans should expect?
R – I want to be on the marketing side this year, both image marketing and content marketing.  I want to be able to project myself more, i'll be working on my 3 remaining movies. My plans for this year, business wise is strictly to do marketing.
Q – Can you talk about those you will be working with?
R – I can't say for now, i meet a lot of people everyday , it depends on the Job. It's like a wind, you don't know where it's coming from, you don't know where it's taking you to but so far, i've worked with lot of them this year, RMD, Fathia Balogun, and many more.
Q – You are presently on the shoot of a movie, can you talk about it?
R – Yes, it's titled 'Honey Contract' and on the job, we have people like Adaslim, Fathia Balogun, Myself, Uche Anyamele, Edita Francis, It's star studded.
Q – What's the movie about?
R – It's about incest, thats the theme. We are trying to talk about what happens in many homes, may of our daughters face lot of challenges from their father, step-fathers, uncle, and they don't know to call to fight in so we want to use this product to expose that secret that happens in the family, what some girls are not saying, they can't even tell their siblings.