Kemta-Ilugun-Obantoko road re-construction nearing completion as residents laud Abiodun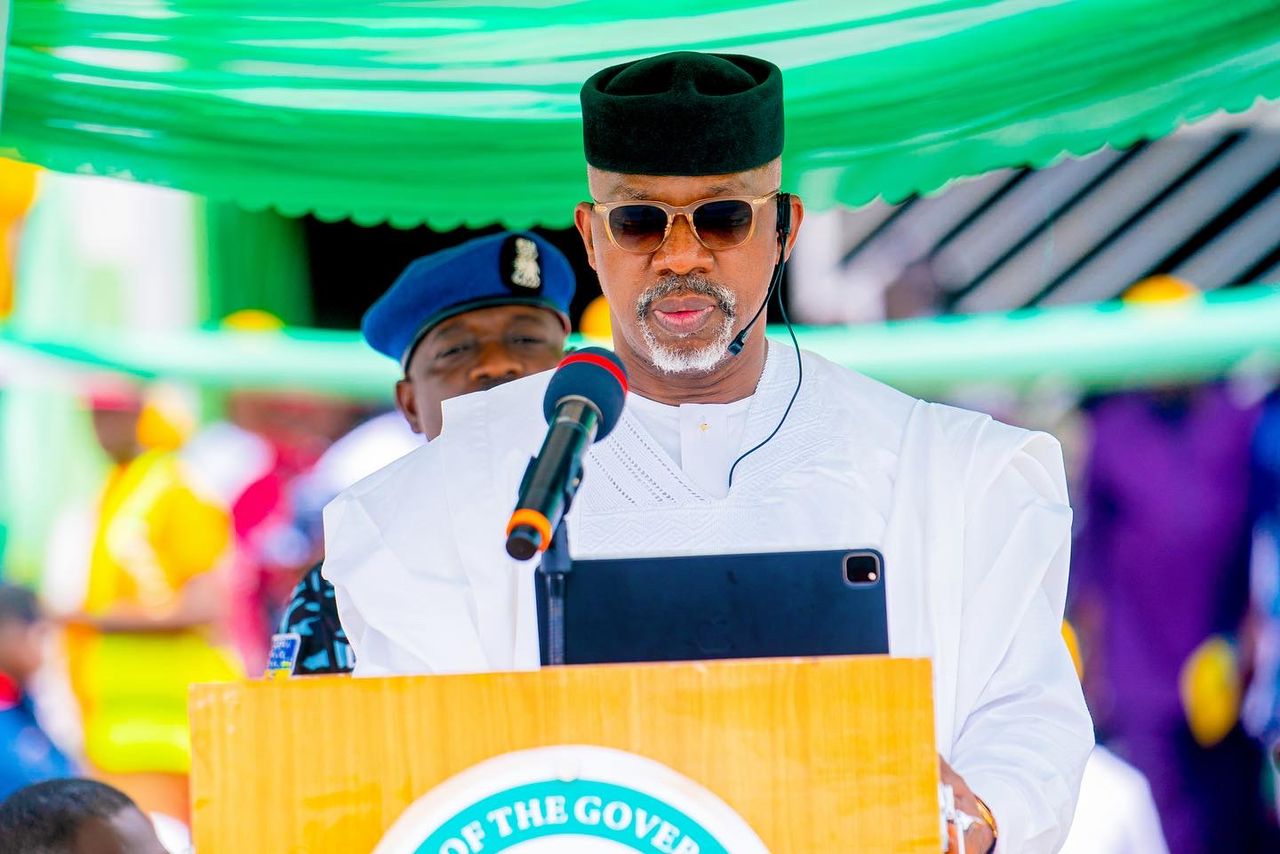 Kemta-Ilugun-Obantoko road re-construction nearing completion as residents laud Abiodun
The re-construction of Kemta-Ilugun-Somorin-Obantoko road in Abeokuta by the administration of Governor Dapo Abiodun has reached 80 percent completion stage.
The 6.9km road serves as a major bypass linking Obantoko with Kemta-Idiaba.
Repair work on the road has already increased economic and social activities of the adjoining communities.
Sequel to the construction of the road, hotels, shopping complexes, private schools and modern buildings have been springing up in the area.
Residents of the area have been upbeat and happy that the construction of the road has become a reality after waiting endlessly for succour which did not come until Governor Abiodun came to their rescue.
Some residents said they had hoped that the location of the residence of Nobel Laurette, Professor Wole Soyinka in the area would spur the state government to do the road.
The residents also expressed surprise that the road construction is being done without their houses being demolished because, the immediate past government of governor Ibikunle Amosun had earmarked some houses for demolition to pave the way for the road project.
An excited resident, Mr Abimbola Ogunmuyiwa, said the new road had brought development to the area in different dimensions.
Ogunmuyiwa said: "We are very grateful to the administration of Governor Abiodun for this particular road construction which has improved life in communities in this area in no small measure.
"Before this road was constructed, getting home after the day's work was very difficult but now you are at the Federal Medical Centre within 10 to 15 minutes, unlike before when you spent hours."
A journalist, Ernest Nwokolo, who lives at Ilugun, said the construction of the road was a big relief to residents of his area.
Nwokolo said: "Though the road is not yet 100 per cent completed, it has been of tremendous help to the people and it has increased the value of properties in the area.
"With the construction of the road, one can now keep appointments because one does not need to wait for a very long time before getting vehicles to Idiaba and from there to other parts of Abeokuta metropolis.
"For those who drive their own vehicles, relief has come for them because it will now save them the money being spent on spare parts to repair their vehicles.
"Apart from saving the man-hours being spent before bursting out at Kemta Junction, the road has made the value of properties to appreciate. A plot of land that was being sold for N500,000 in 2018 is now being sold for N3million and above depending on how close it is to the main road. Some are sold for as much as N5million."
The impact of the road is not only being felt by residents of the communities as people who commute daily from Osiele, Camp and Obantoko are now enjoying these dividends of democracy as the long man-hours being wasted in traffic on Obantoko-Asero-Adatan Road, is now over.
Dr Adewunmi Ayodele, a lecturer at the Federal College of Education, Osiele and whose house is at Laderin, said the road was a major relief for him and others that are living in the metropolis but working at either FCE or Federal University of Agriculture.
He said: "Before this road was constructed, I used to leave my house at Laderin by 6:15am and I won't get to the office earlier than 8:30am due to the long hours spent on the deplorable Asero/Obantoko Road.
"But now, I can leave my house at past seven and get to my office earlier than before because with this road, I just burst out at Somorin and off I go to Camp. It is a great relief for me and others working at Osiele and Camp axis."
Also speaking on the impact of the road, a taxi driver, Mr Mudashiru Alao, commended Governor Abiodun for a job well done.
According to Alao, he can now carry passengers directly from Lafenwa to Osiele in a shorter time, unlike before when he spent hours in traffic.
Alao, who said the road is now an outer ring road to Abeokuta from Idiaba to Somorin Obantoko, expressed delight that his income had increased because he now prefers to ply Lafenwa/Obantoko/Osiele directly without wasting too much time in traffic, stating that people should reward the good work by supporting Abiodun's second term election bid.
Do more to arrest land grabbing in Benin kingdom, Oba Ewuare charges Obaseki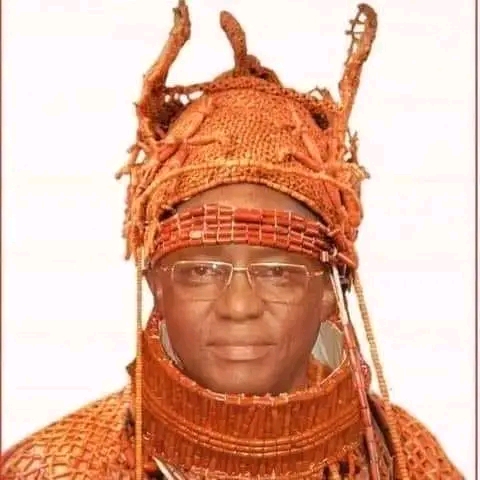 Do more to arrest land grabbing in Benin kingdom, Oba Ewuare charges Obaseki
By Elvis Omoregie
The Oba of Benin, Oba Ewuare II, has called on governor Godwin Obaseki, to do more in arresting the growing incidents of land grabbing in the state, especially in Benin and its environs.
The Monarch said this yesterday through the Benin Traditional Council (BTC), in clarification of the recent crisis in Ukhiri and Ulegun communities in Ikpoba-Okha local government of the State.
Speaking for the Oba, Chief Henry Obazuaye, the Aiwerioghene of Benin kingdom, said the land grabbing leaves the victims without compensation or respite.
"The practice of land grabbing in Benin City and environs has reached alarming proportions. Individuals and corporate owners of vacant lands in Benin City and environs often see their property encroached upon and sold off by unscrupulous community youths. This land grabbing is sometimes even condoned by community leaders".
"They sell other peoples' land knowing full well their action is illegal. Worst still, the purchasers are also often aware they are purchasing other peoples' land illegally".
He said those who engaged in the land grabbing argued that once a structure is hurriedly erected on the illegally acquired property in Benin kingdom,the Palace of the Oba of Benin forbids such property to be brought down.
According to him, the practice has reached unacceptable dimension and must stop. In Ukhiri village and other parts of Benin.
"The Palace is inundated with cases of land grabbing by victims who come to the Palace to seek redress. In many cases, peoples' farmlands are invaded and sold off to willing accomplices"".
" It should be noted that several parcels of land belonging to the Palace, have been taken over by land grabbers. The recent incident at Ukhiri happened because of the impunity of the Enogie and Youths of Ulegun, and the illegal buyers who typically built up structures hurriedly to avoid the law"
"The Palace condemns the practice of grabbing other peoples' land in Benin as it is against our culture. The palace regarded this as akin to domestic terrorism and kidnapping".
He however described the incident as a reconstructed form of the outlaw Community Development Association (CDA) notorious activities which he said will not be condoled.
"The Palace wishes to commend and encourage the State Government to do more in arresting this unsavouring behavior of grabbing other peoples' land and leaving the victims with no form of compensation or respite".
Recall that several houses allegedly built on the land allegedly belonging to the Oba were demolished at Ulegun on the order of the Palace.
The residents of Ulegun on Monday staged a peaceful protest over the alleged demolition of their houses supervised by the Palace Chiefs.
Atorise Lands In Trouble After Attacking Prophet Oladele Genesis Over Rev Esther Ajayi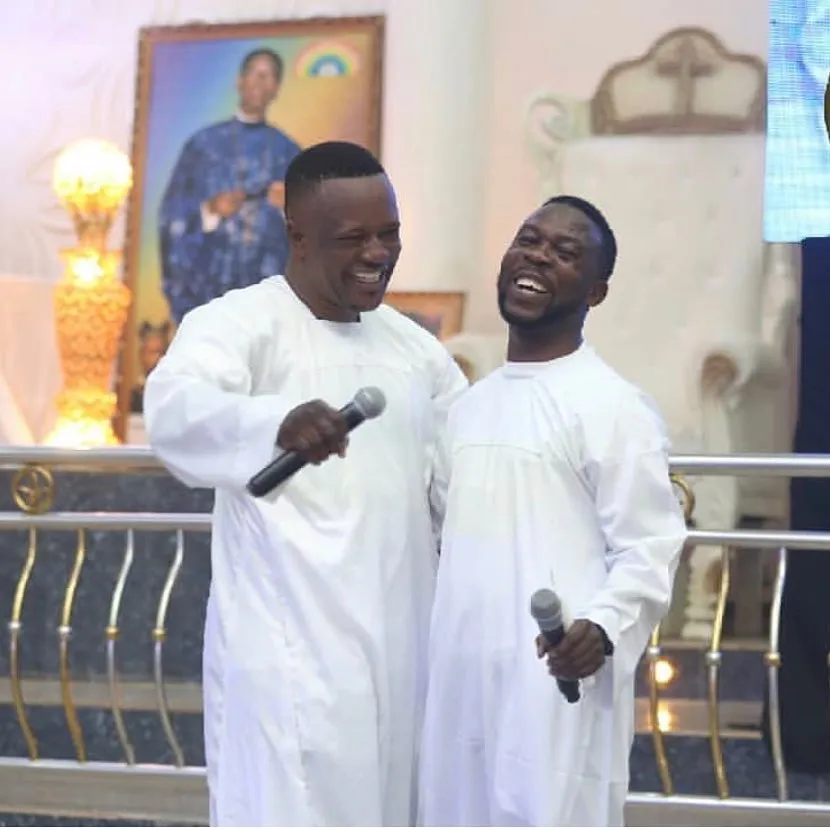 Atorise Lands In Trouble After Attacking Prophet Oladele Genesis Over Rev Esther Ajayi
An Abuja-based lawyer, Pelumi Olajengbesi, has warned singer, Lanre Teriba Atorise, to apologise and desist from threatening prophet, Israel Oladele Ogundipe Genesis over his bashing of Rev Mother Esther Ajayi.
Recall Ogundipe, who is the Shepherd-in-Charge of Celestial Church of Christ Global Genesis Parish, had slammed Ajayi of Love of Christ Generation Church, Cherubim and Seraphim, Lagos for abandoning him while he was in custody.
Reacting to the public rebuke of the clergywoman, Atorise in a video on his Facebook page on Tuesday expressed his love for Ogundipe and disappointment at his public bashing of Ajayi. He went on to demand that Ogundipe apologises to her within 24 hours.
"Mama Ajayi doesn't owe anyone anything. She is our benefactor. She prayed for you. I want to give him 24 hours to reverse what he has said. I will go to his church and fight him dirty, he knows me well.'' You can't talk to an elder like that," he said.
Olajengbesi via his Facebook page on Wednesday cautioned Atorise about his outburst and threats.
He said, "Lanre Teriba Atorise is advised to quickly caution himself with his nature of utterances in the dispute between Prophet Israel Ogundipe Genesis and Reverend Mother Esther Abimbola Ajayi. He should control his emotions now, nothing under the law gives him the right to threaten anybody. A threat is a crime under the law.
"The law allows an aggrieved person to express himself or herself just like Genesis has done, but the law will jail a person who threatens another even if he has not carried out his threats. Atorise is well advised because if anything happens to Genesis negligently, Atorise has bought a case he did not pray for. The person to apologise in 24hours so far now is Atorise."
Popular Ondo Monarch Graduates From Secondary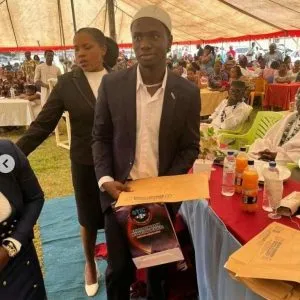 Popular Ondo Monarch Graduates From Secondary
A 19-year-Popular Ondo Monarch and ruler, the Arujale Ojima of Okeluse, Ose council area of Ondo State, Oba Oloyede Adeyeoba Akinghare ll, has graduated from secondary school.
Oba Akinghare, who is said to be the youngest ruling Yoruba monarch, graduated this month.
Recall that he was crowned king in 2019 at the age of 16, after the death of his father.
The monarch shared photos from his graduation ceremony on his Instagram page and thanked his family, school, and everyone for their support.
He wrote;" Congratulations to me as the journey of six years in secondary school finally ended today thankful to God Almighty, my parents, my sisters, my chiefs, my friends, well-wishers and the entire citizens of Okeluse Kingdom for all the support every one of you has rendered throughout the 6years of being in a boarding school.
"My journey into adulthood begins now with the numerous tasks ahead of me and I implore every single lover out there to support me as I can't do this alone
"I will continue to strive for the development of my kingdom, my people and elevating the stool of my forefathers into greatness. HRM Oba Oloyede Adeyeoba Akinghare 11, Arujale, Ojoma of Okelude, Kingdom".
Recall that his appointment was ratified by the governor Rotimi Akeredolu led state executive council following an election conducted by king-makers in the community.
Meanwhile, reports had it that the young king is the only son of the late monarch and that if his installation should be delayed till he is of age, manipulation could set in.