Man elopes with lovers' 3-year-old Twins after tricking her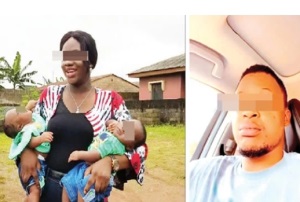 Man elopes with lovers' 3-year-old Twins after tricking her
A mother, Bolatito Adeniyi, has accused her erstwhile lover, Mayowa Oke, of tricking her and disappearing with their twin children, Taiwo and Kehinde.
Speaking to our correspondent on Wednesday, the 25-year-old said her former boyfriend called off their relationship two months after she became pregnant.
She said, "Mayowa (Oke) never rendered any financial support throughout the period of my pregnancy. I was staying with my parents at Irewan in Ijebu-Ode, Ogun State, till I gave birth through caesarean section. Before the caesarean section, my mum was staying with me in the hospital and it was my dad that paid the medical expenses.
"When my mum called Mayowa's mother to show support, she never showed up. We also called Mayowa; he showed up twice and never dropped any money. So, it has always been me, my parents and sister taking care of the children till they became one-year-old when their father started visiting them.
"Whenever he visited, all he did was to buy them beverages or give them N1,000 and return home. Sometime in January 2022, he visited and demanded to take the children to spend some time with him, but my mother opposed it because school had resumed."
Adeniyi said 36-year-old Oke, who left angrily, returned on Sunday, April 17, when one of the twins was sick.
"During that time, he had relocated to Ikorodu, Lagos, where he was staying with his live-in lover, Chioma. So, when one of the children was sick, he visited and said he wanted to take the children to a church in Ikorodu.
"But he drove us to his sister's place at Sango Ota. I was with his sister when he said he wanted to take the children somewhere to eat. After waiting for hours and they did not return, I called him and he said he was already in Ikorodu.
"He told me to wait at his sister's place and promised to return the children on Wednesday. He never gave me the address of his house in Ikorodu, so I had no choice than to wait but he did not return and that Sunday was the last time I saw my children," she added.
The aggrieved mother said she reported the matter at the Igbeba Police Station, Ijebu-Ode, but "policemen at the station demanded N100,000 to track him; they did nothing after we paid N30,000."
She, however, noted that she reported the matter at the Lagos State Ministry of Justice and was directed to the state Domestic and Sexual Violence Response Team, from where she was referred to the Igbogbo Police Station for investigation.
In a letter addressed to the Igbogbo Divisional Police Officer on July 22, 2022, the DSVRT case manager, Mojisola Jack, said Oke's actions constituted domestic violence "contrary to the provisions of the Protection of Domestic Violence Law, 2007, and Criminal Law of Lagos State, 2015."
Adeniyi noted that at the Igbogbo Police Station, she was directed to a policewoman, one Juliana, who demanded N30,000 to track the suspect.
She said she left the station because she had no money.
"I have been contacting his girlfriend in Ikorodu, Chioma, for their address but she refused to disclose it. Mayowa (Oke) took my children, dumped them with her and she also has a baby.
"At times, Mayowa won't come home for days or drop money for the children to feed.
"He has blocked my phone number. I have also called his girlfriend at Ajah, but she never disclosed the location in Ikorodu. I want my children back," Adeniyi added.
Oke failed to answer his calls or respond to a text message sent to his mobile phone number as of the time this report was filed.
However, his mother said, "I am aware and I told Bolatito (Adeniyi) that whenever she called him, she should plead with him instead of talking angrily to him.
"I have told my son and begged him to return the children but he said she (Adeniyi) was not taking care of them. I don't know where he lives."
Chioma, when contacted, said, "Did she (Adeniyi) tell you that I knew her before? Has she met me before? I didn't know her before."
When asked Oke's whereabouts, she disconnected the call.
The Lagos State Police Public Relations Officer, SP Benjamin Hundeyin, said the complainant had refused to show up despite being called by the Investigating Police Officer.
Regarding the N30,000 the policewoman allegedly demanded, Hundeyin said, "that allegation has been denied by the IPO."
The Ogun State police spokesman, Abimbola Oyeyemi, had yet to respond to calls and a text message regarding the matter.
Uyo Bishop Rejects Ben Ayade's N25 Million Gift, Tells Him To Use It To Pay Salaries
Uyo Bishop Rejects Ben Ayade's N25 Million Gift, Tells Him To Use It To Pay Salaries
It was a mild drama of sort as the Metropolitan Bishop of Uyo Diocese, Bishop John Ebebe Ayah, sublty rejected Governor Ben Ayade's undisclosed largesse to him during the Mass for Justice Emmanuel Agim Akomaye's elevation to the Supreme Court.
The Obudu-Obanliku Elites Forum, had organised a Thanksgiving Mass and grand civic reception in of honour Justice Agim, who hails from Obanliku, on his elevation to the Supreme Court at St. Patrick Catholic Church Ikot Ansa, Calabar at the weekend.
The Holy Mass, officiated by Bishop Ayah, also from Obanliku, coincided with the unveiling of the this year's harvest theme, "Harvest of Divine Intervention."
However, a mild drama ensued when Ayade was later invited to make a donation to support the harvest and he gaveTwenty-five million naira on behalf of the state government, his family and the judiciary arm of the government.
After the donation, the Governor turned to the direction of the presiding Bishop and said: "For our pride, the pride of Cross River North, the son of the soil, Bishop John Ayah, I will whisper my package to him later."
Without waiting much time and characteristics of Catholic Bishop speaking truth to power, Bishop Ayah in response to the donation rose up, collected the microphone and said: "I want to talk. The governor is my brother. We are both from Cross River North. I want to appreciate the governor and tell him to package whatever he has for me, add to it and use it to pay the salaries of the workers".
Bishop Ayah's reaction was greeted with loud ovation and shouts of "correct Bishop God Bless you" by the congregation.
And in defence of his earlier statement, Ayade collected the microphone immediately and said: "The salaries of the workers are already ready. Let me say this government has been faithful in paying salaries for seven years upward. The people will appreciate Ben Ayade when he leaves office."
Dignatories present at the thanksgiving Mass include the Chief Justice of Nigeria, Hon. Justice Olukayode Ariwoola, the Chief Justice of Cross River State, Hon Justice Akon Ikpeme, and his counterparts from Plateau and Sokoto states, few Justices of the Supreme Court of Nigeria, the Attorney General and Commissioner for Justice, Cross River state, the Accountant General Cross River state, the VC of University of Calabar, Prof Florence Banku Obi, the former Vice Chancellor of University of Calabar, APC and PDP chairmen, Alphonsus Ogar Eba and Venatius Ikem respectively, and the APC governorship candidate, Sen Prince Bassey Otu.
Focus More on Governance, Less on Succession Politics, Publisher Charges Gov Abiodun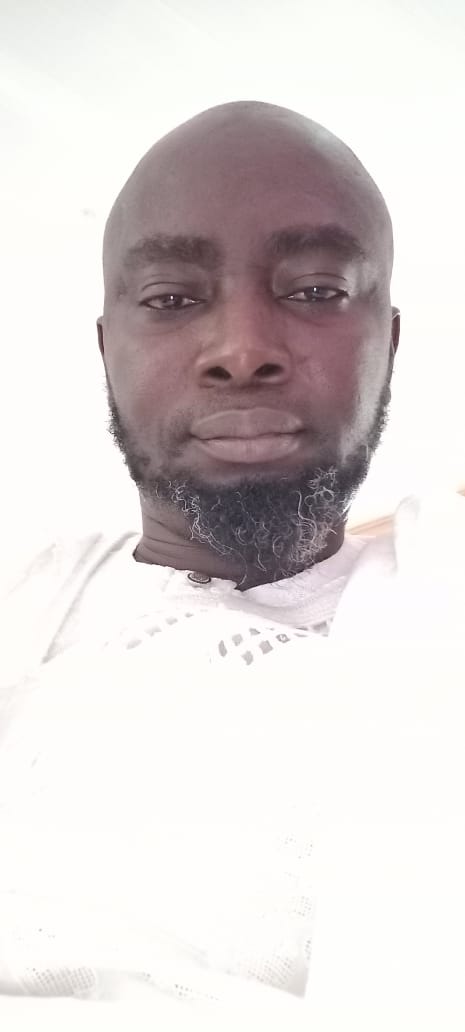 Focus More on Governance, Less on Succession Politics, Publisher Charges Gov Abiodun
A political analyst and Publisher of Gateway Times Nigeria news magazine, Mr Dayo Rufai, has advised the Ogun State governor, Prince Dapo Abiodun to dedicate more time to improving the lives of Ogun people than getting himself enmeshed in face-offs over a second term in office.
Rufai made the appeal in a press statement he personally signed and made available to journalists in Abeokuta, the Ogun State capital.
According to Rufai, the open exchange of diatribes between Abiodun and some political gladiators in the state, if allowed to fester, would be of no value but only distract the governor from fulfilling the electoral promises he made to people of the state.
Rufai noted that in the recent weeks, the state has witnessed heated confrontation between Governor Abiodun and his immediate predecessor, Senator Ibikunle Amosun as well as with the main opposition party in the state, the PDP.
"As the governor's first term winds down, he should by now be evaluating his electoral achievements across the 20 local governments in the state and work on the aspects that have not been touched," Rufai stated, adding that; "this is not the time for exchange of brickbats while the masses continue to bear the brunts. Certainly, there will be time to play politics, but the governor should use this period to channel his energy towards bettering the lots of Ogun electorates."
"From insecurity due to recurring cult-related killings to the deplorable state of roads and rots in public schools, Governor Abiodun still has a lot to contend with.
As witnessed in the recent Osun governorship poll, it is now clear, beyond reasonable doubt, that no governor gets a second term on a gold platter. A word, they say, is enough for the wise," he said.
Rufai affirmed that, though, Abiodun has done well in some sectors in the last three years and more, there are some areas still begging for his attention.
"Sir, please take your pen and paper and analyse the needs of people in each local government in the state and see if you have done enough to stand before the electorate and ask for another term," Rufai submitted.
E-Signed
Dayo Rufai
08055001970
Offa Grammar School Student Commits Suicide For Failing Exam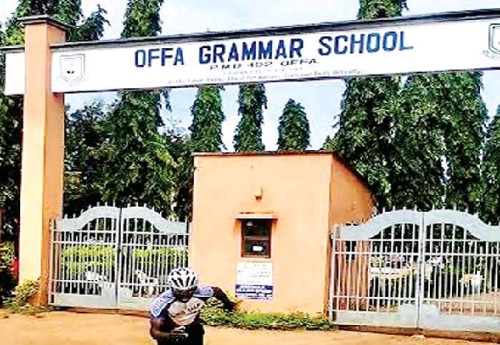 Offa Grammar School Student Commits Suicide For Failing Exam
A 17-year-old student of the Offa Grammar School, in the Offa Local Government Area of Kwara State, Adegoke Adeyemi, has allegedly committed suicide after failing to gain promotion to the next class in his school.
Adegoke, who was found hanging on a tree, reportedly decided to take his life because he would not be moved from Senior Secondary School 1 to SSS 2.
Report has it that the student was ashamed of repeating a class.
The Kwara State Police Public Relations Officer, SP Okasanmi Ajayi, confirmed the incident in a statement on Wednesday.
He said, "The victim, Adegoke Adeyemi, 17, a student of Offa Grammar School, was believed to have hanged himself as a result of his failure to pass his promotion examination from SSS 1 to SSS 2, which necessitated his being asked to repeat the class.
"Information was received by the Divisional Police Officer, Offa, around 3.34pm on August 2, 2022, to the effect that a boy's lifeless body was seen hanging on a tree behind Ariya Garden Hotel, Offa. A team of policemen from the divisional headquarters was swiftly drafted to the scene.
"The corpse of the deceased student was removed from the tree by a team of policemen from the divisional police headquarters, Offa.
"The corpse was taken to the Offa General Hospital for an autopsy, while an investigation has been launched into the matter."
In another development, the police spokesman said the command made a breakthrough in the arrest of a notorious cultist, Monday Ojoagbu, who had been on the wanted list of the police.
He said the suspect and other members of his gang were on a mission to carry out another attack when he was arrested.
Ajayi said while others escaped, Ojoagbu was apprehended by the police at a supermarket where the gang was traced to around 6pm on Tuesday.
"One locally-made pistol and two live cartridges were recovered from the suspect," he added.