Meet Tokunbo Wahab, The Man Who "Helped" LASU Students Escape ASUU Strike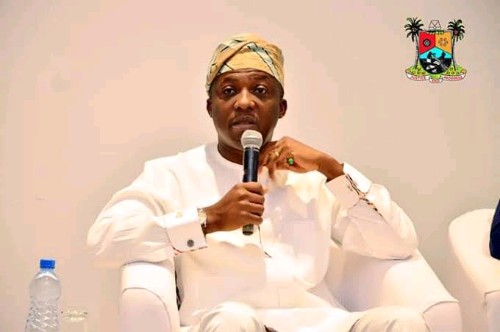 Meet Tokunbo Wahab, The Man Who "Helped" LASU Students Escape ASUU Strike
Whose proactiveness is getting the administration of Babajide Sanwo-Olu accolades
Lagos State University (LASU) is not part of the prolonged strike action by the Academic Staff Union of Universities (ASUU).
The action embarked on by ASUU since February 2022 has shut down other higher institutions of learning while LASU remains unaffected.
The man whose proactiveness is getting the administration of Babajide Sanwo-Olu accolades over this feat in the education sector.
He is the man simply known in the power circle of Lagos State as "TW", the Special Adviser to the Governor on Education whose full name is Tokunbo Wahab.
Tokunbo Wahab with the confidence reposed by Sanwo-Olu and the backing of the Commissioner for Education, Mrs Folashade Adefisayo did a detailed needs assessment of the Lagos State University on the assumption of office in 2019.
Inside information has it that armed with the findings, the Special Adviser that Governor Sanwo-Olu confirmed as one of the major players in his administration sat down with the management and unions in Lasu to iron out issues and create a transparent system that enabled him to get "approval to increase the monthly subvention of LASU by 40%, Implement of their minimum wage and pay the backlog of salary and other earnings to that enjoyed by the mainstream civil service"
"The issue EA (Earned Allowance) was ironed out and commitment to agreements reached sustained since then".
Added revelation has it that it helped in no small measures that Wahab an Alumnus of the prestigious Harvard Kennedy School of Government and former president of the Law Students Union of the University of Benin took a hard stance on blocking all revenue leakages in the system while he continues to spearhead ramping up the investment in the human and capital Infrastructure at the higher institution of learning owned and funded by the Lagos Government.
It was gathered that a slight increase in the school fees was thrown into the bargain that has helped undergraduates of the LASU escape the agony of the continuing strike by ASUU that has kept students of other public universities at "home" for over five months.
All the concerns the move championed by Wahab addressed at LASU are at the heart of the faceoff between ASUU and the Federal Government and the attendant ongoing strike action.
"That is why LASU did not join the strike action, the management and the unions are unaffected by the issues at stake".
A Partner at Wall and Ace – after earning his legal stripes at Paul Usoro (SAN) & Co and Aluko & Oyebode ( before he was appointed Special Adviser on Education to Sanwo-Olu), Wahab is identified as very passionate about Lagos and all that has to do with it.
From Epe, Lagos State, the Senior Special Adviser that clocked 50 in May 2022 is the son of two influential community and political leaders.
His father, Dodo – Prince Olugbenga Wahab of the Otuwunmi Ateshinmara Royal Dynasty- was a well known political leader in Epe while his mother Muyi Wahab – (Nee Sosanya Aberuagba) was a dogged women leader and grassroots mobilizer in Epe and Sagamu (Ogun State).
SERVICE TO HUMANITY : SAVE OMOLOLA OGUNLAJA A 32 YEAR OLD TAYLOR NEEDS 15 MILLION NAIRA TO WALK AGAIN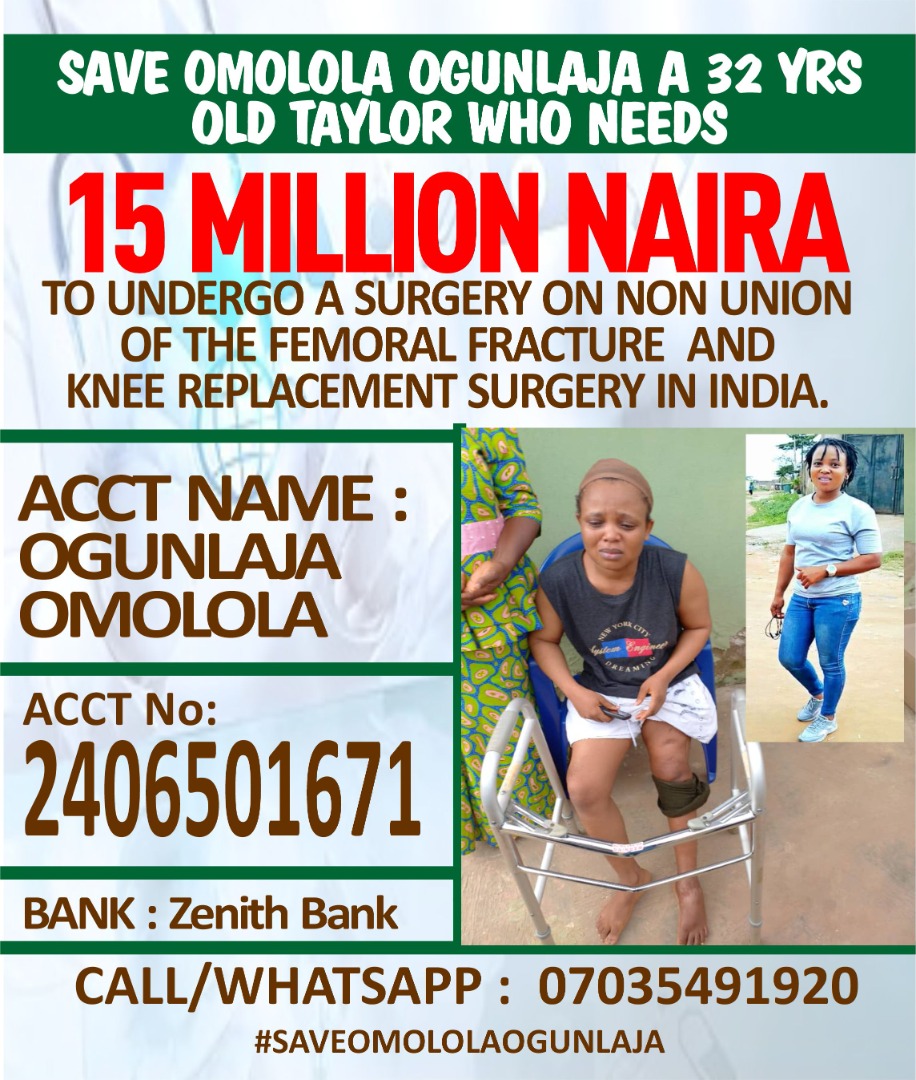 SERVICE TO HUMANITY : SAVE OMOLOLA OGUNLAJA A 32 YEAR OLD TAYLOR NEEDS 15 MILLION NAIRA TO WALK AGAIN
Service to humanity, they say it's the best work of life, what else could we have live for in life, if not seeing our fellow human living well. Pains isn't something we all clamor for, but in the case of a 32 years old Tailor, OMOLOLA OGUNLAJA she has been in pains since February, 2019.
Omolola Ogunlaja is a well known fashion designer who encounter the pains she has been in for over 3 years in the course of delivering her Job, as she had an accident on her way back from her esteemed customer. However, Omolola made it known to 1steleven9jatv that she has undergone varieties of surgery both in Lagos State and Abeokuta, but both surgery in both states were not successful as the injury has been infected.
She was however advised to undergo a surgery on non union of the femoral fracture and knee replacement surgery in India, which is why she called upon 1steleven9jatv for broadcasting help to the fellow Nigerians.
It's of our utmost priority at the moment to seek for the help of Nigerians both Home and Abroad for the surgery of our Dear friend, Omolola Ogunlaja who's currently down in sick bed and couldn't continue again with her chosen field sequel to the accident she had. We all can make her walk again and live beautifully well if we all support her with our little peanut which will go a long way.
Omolola is in need of 15 million naira to undergo the surgery, below are the account details for payment;
Account Name : OGUNLAJA OMOLOLA
Account Number : 2406501671
Bank : Zenith Bank.
Phone No : 07035491920.
May God bless us all with good health. See Graphics for more details. #Saveomololaogunlaja
Why You Should Patronize Winney's Secret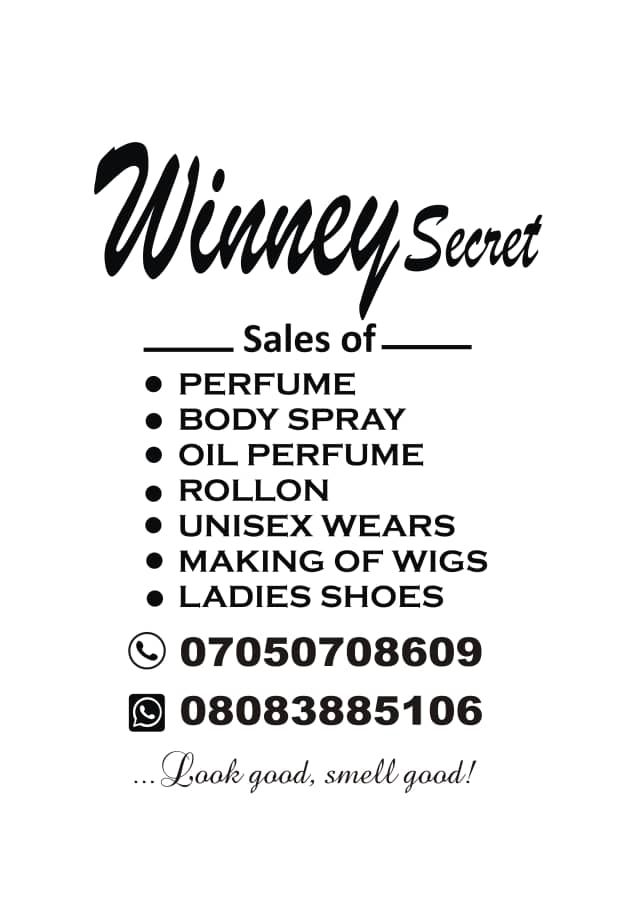 Why You Should Patronize Winney's Secret
Get your fashionable needs covered with winney secrets!
Make yourself, and your outfits noticeable with the best of Perfumes, Body spray, Oil perfume, and roll-ons from winney secrets, passing on a good impression to others.
Winney secrets also have got you covered on Unisex wears that are intriguing and eye-grabbing.
You can also get your wigs of various types, and various shades of beauty.
Also, you can shop for elegant shoes to make your feet look beautiful
To place an order;
Call: 07050708609
WhatsApp: 08083885106
Lady Born Without Legs Shares Emotional Story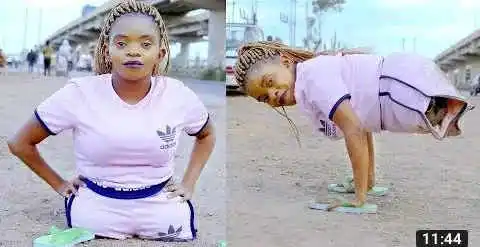 Lady Born Without Legs Shares Emotional Story
Lady born without Legs shared her experiences with his boyfriend. Eunice narrates how she was betrayed by people she loved and trusted so much with her life. Eunice, who was born with a disability, shared her story. Her parents died when she was 3 years old, and she was left in the care of her grandparents. She was humiliated, insulted, and demeaned in school because of her disability. She felt sad that she couldn't run with her peers because of her disability. She was "very upset" when a classmate asked her why she didn't have legs. She cried and asked her grandparents to send her to a disability school.
After graduation, she searched and searched for a job but was unable to find a job because of her disability. She later moved in with her brother. One of her family members volunteered to assist her and take care of her because of her disability. It wasn't long until she met someone she liked and they started dating; he came to see her often until the unexpected happened.
When she got home one day, after a long day of searching for a job, she found him and her caregiver on the couch embracing each other. When they saw her, they pretended to not be doing anything since they were in a state of awe.
The most terrible event of my life, because I loved him so much," says Eunice. When she tried to get in touch with her ex-boyfriend, he told her to never call his phone again and to delete all of his memories. According to her, the caregiver tendered an apology. In the end, though, she was able to move on and forgive her. She cry every day since she couldn't find a man to love her and marry her. Having a disability has made it difficult for her to get a job, she said.
As her brother prepares to get married, she is begging friends and family to please help her start a cosmetics business and rent an apartment for her so she won't be a financial burden to him. She always cry knowing she will may not find a man to marry her and might never find a job because of her disability now her career snatched the only man that loved her from her.