MMHS MASSAGE ME TRAINING FOR PROFESSIONAL MASSAGE THERAPIST

Massagemehomeservices.com/train/
Knowing that we lack professional massage therapist in Nigeria MMHS Massage Me a leading Home service massage outfit available in all major cities in Nigeria including Lagos, Abuja, Port-harcourt and, Ibadan set out and, created the First Training school available in Lagos Lekki region.
What's interesting is the trainings are affordable from N10 000 to N150 000 with certificate available at every level
IT oppourtunities are given with partnerings spa across Lagos, that means when you train you get a chance to work. The option of self employment is balanced with an oppourtunity to work at Spa near you.
Below are the Training programs which are conducted daily with scheduled timing, the classes are personal and, private so learning is easier with practicals given the major seat.
Find details bellows
Plan A : N40 000 you can have a month Intensive spa and, home service massage Training
swedish
deep tissue
relaxation
full body massage
Aromatherapy massage
Plan B: N60 0000 you can have two months training, and you can pay installment of N30 000 for training.
swedish
deep tissue
relaxation
full body massage
thai massage
Hot stone massage
Aromatherapy massage
sports massage
pregnancy massage
Plan C: N10 000 Training to learn one of the following massages
certification is N2 000 (it's the only plan we charge certification separately)
swedish
deep tissue
relaxation
full body massage
thai massage
Hot stone massage
chocolate massage
Plan D : 3 weeks intensive Training
Swedish massage
Deep Tissue massage and,
Aromatherapy massage N25 000
N150 000 to learn MLD and LDM Lymphatic drainage massage treatment
WHAT THE MASSAGE TRAINING ENTAILS
The training will cover the major massages available to the public or the most booked massages like Swedish, deep tissue, relaxation massage, couples concept massage, thai massage and, holistic massage.
You learn professional ethics and, how a massage therapist is separated by professional composure and, get a chance to change your life. Almost everyone would like a massage, ask anyone, massage BUSINESS is an act of care giving and, if you are an Earth Angel then MMHS Massage Me will be happy to have the CEO and, Best Therapist train you.
FIND OUR OFFICE
Thank you for reading
Why You Should Patronise Glopat Massage services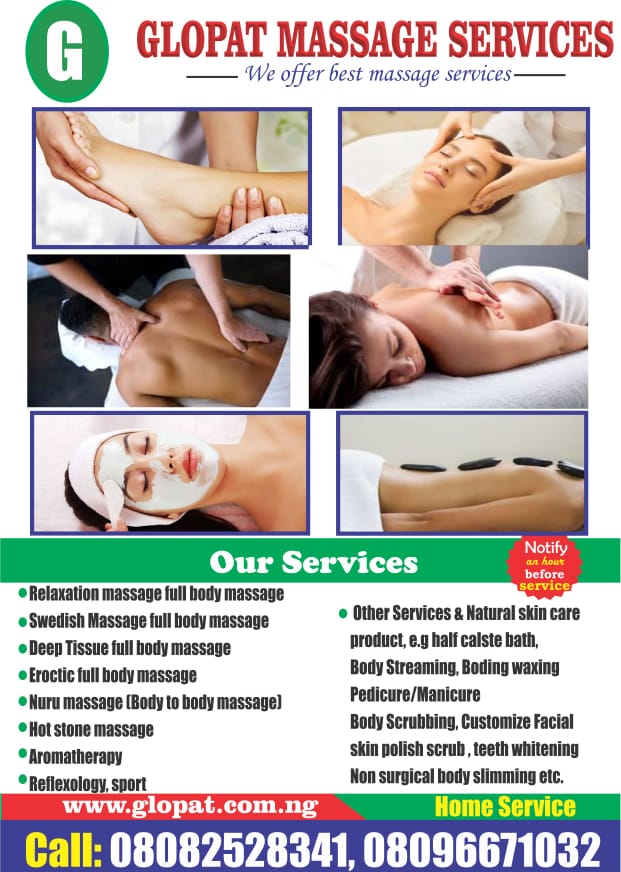 Why You Should Patronise Glopat Massage services
Of a truth, Glopat massage services offers the best massage services in Abuja.
Their topnotch services and well trained therapist has endeared them to dignitaries and celebs….
Some of their services include Swedish full body massage, relaxation and deep tissue massage,hot stone and aromatherapy.
Other services are natural skin care products such as half caste bath,body streaming,waxing,pedicure?manicure amongst others.
call 08082528341 or 08096671032
Healthgarde Addresses Domestic Violence, Hosts Awards Dinner for Achievers in Abuja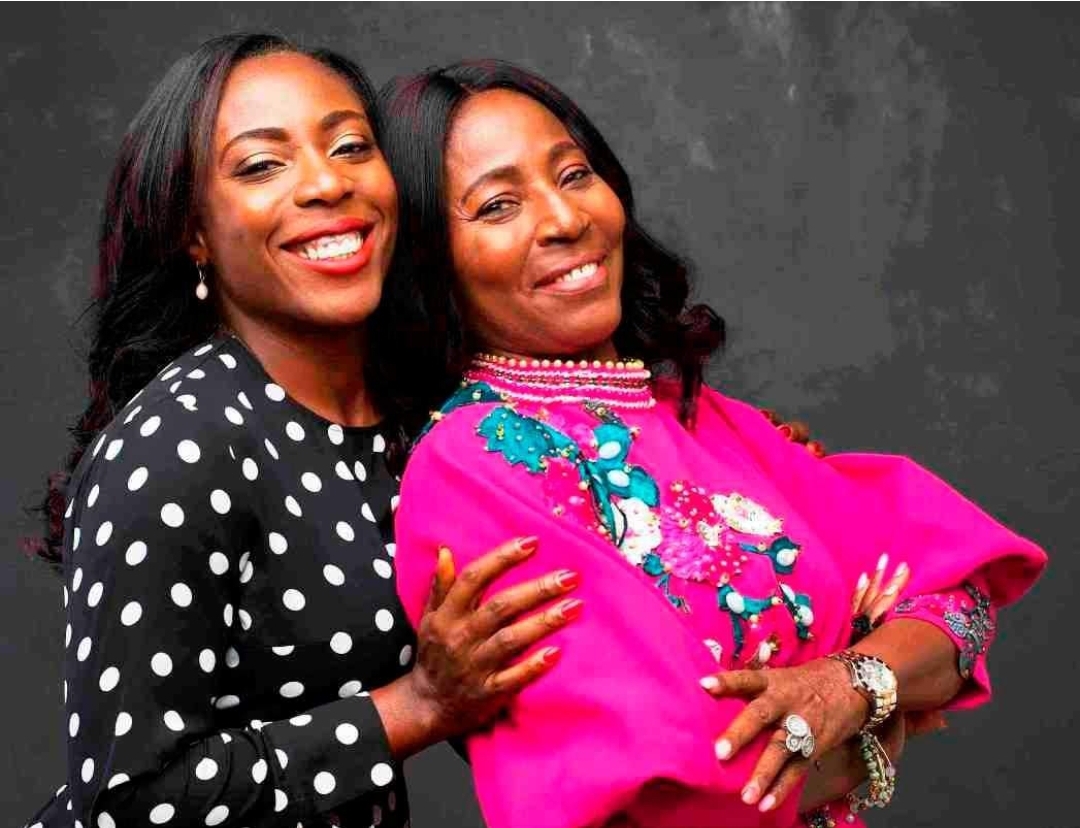 *Healthgarde Addresses Domestic Violence, Hosts Awards Dinner for Achievers in Abuja
Multilevel marketing giant, Healthgarde International, a physical and financial wellness organization owned by Africans for Africa is blazing a new trail this weekend in Abuja, Nigeria as it hosts a high level conference to address domestic violence and gender inequality at sunrise and at sunset, an exclusive awards dinner to celebrate high achievers.
Addressing news men ahead of the confab and dinner, the Chief Executive Officer, Healthgarde, Nneka Lovelyn Nwarueze, said "At Healthgarde International, we are faith-inspired and our goal is to create a thriving direct selling company developed in Africa by Africans for Africa with a mission to make a difference in people's lives by creating wealth through health.
"So this Saturday May 21 at a highbrow venue in the heart of the Federal Capital Territory, Abuja, Healthgarde is hosting two very important events. First is a no-holds-barred conference where our consultants and distributors will deal with the physical, emotional and legal issues surrounding domestic violence and gender-related inequality. We will be talking business and our speakers are Ogechi Ogbenna Esq and Healthgarde's top executives" Nwarueze explained.
Shedding more light on the day's activities, the Johannesburg, South Africa-based Chief Operating Officer of Healthgarde International, Lovelyn Bassey said, "Second is our awards dinner. It's going to be exciting and colourful. It is our mid-year Healthgarde recognition soiree. We will recognize and reward our top achieving distributors for their hard work and achievements so far this year. We would also officially launch our 'Travel to South Africa' incentive, which should truly excite our distributors."
Healthgarde has an active base of over 12,000 distributors and in Southern Africa, over 20,000 active distributors. Its business network and networth is spread across the United States, Nigeria, South Africa, Namibia, Lesotho, Swaziland, Ghana and Uganda, and is still growing.
Healthgarde International is led by the female trio of Nwarueze as CEO, Bassey as COO and Isabel Laubscher as MD, Southern Africa. Watch this space next week for the full exciting reports of the confab and dinner.
ABCHEALTH, UNAIDS sign partnership MOU for Improved Healthcare industry in Africa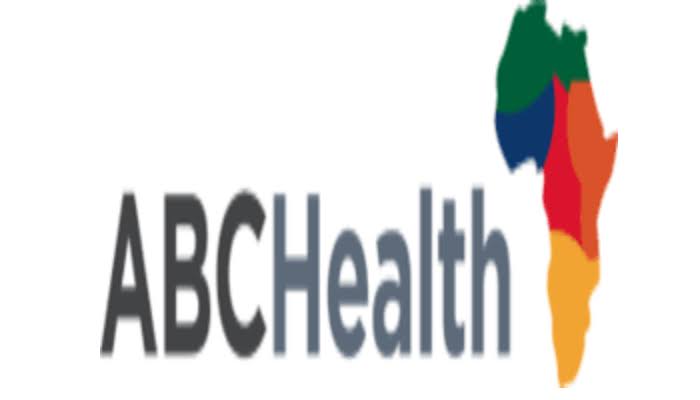 ABCHEALTH, UNAIDS sign partnership MOU for Improved Healthcare industry in Africa
ABCHEALTH– Joint United Nations Programme on HIV/AIDS (UNAIDS) and the African Business Coalition for Health (ABCHealth) have signed a Memorandum of Understanding (MoU) to partner on joint initiatives that will improve access to quality healthcare across Africa.
The MoU was signed by Dr. Erasmus Morah, UNAIDS Country Director and Dr. Mories Atoki, ABCHealth Chief Executive Officer on Thursday, May 5, 2022, in Lagos Nigeria. It covers the areas of cooperation which captures UNAIDS' strategic priorities as articulated in its Global AIDS Strategy 2021-2026 as well as ABCHealth's strategic priority of leveraging partnerships to drive sustainable development in Africa's health space.
Mr. Aigboje Aig-Imoukhuede, Chairman of the African Business Coalition for Health and Founder and Chairman, Coronation Capital Limited, spoke about the partnership; "Africa's healthcare systems demand significant investments to meet the needs of their growing populations, changing patterns of diseases and the internationally agreed development goals.
Governments alone cannot carry the burden; the continent's private sector must play a role and for us to achieve significant impact, the actions must be cohesive. Our coalition of businesses will continue to foster strategic alliances like this to address the health challenges the continent currently faces."
Speaking, Dr. Morah said; "I am delighted to sign this MoU between the UNAIDS Country Office for Nigeria and ABCHealth, to signify the growing partnership between our two organizations. We both share the common goal of playing a more enhanced role in Nigeria's HIV and health sector response, to accelerate equitable access to care, address institutional barriers to social justice and mobilize stakeholders in more fully resourcing for health.
I eagerly look forward to using the opportunity of our new relationship to reduce inequalities that increase people's vulnerability and put communities at the center of the response to HIV, including on other health challenges such as COVID-19."
Zouera Youssoufou, Chief Executive Officer of Aliko Dangote Foundation and Board Director of ABCHealth spoke about the potential benefits of the partnership between ABCHealth and UNAIDS. She said, "Since inception, we have been building the coalition into a powerful force that can make real impact by translating words into action. Africa's health and healthcare industry needs to be reformed and developed and Africa's private sector must play its part; COVID-19 revealed this much.
However, leaving this responsibility to governments alone is not realistic –– ABCHealth provides a platform that responsible corporates, businesses, philanthropists, and development institutions can trust to support their commitment to transforming the continent's health space."
Dr. Mories Atoki, the Chief Executive Officer for ABCHealth concluded saying;
"Africa's health sector is about to experience a significant shift due to the increasing interest that critical stakeholders in both the private and public sectors are showing to enhance health outcomes and improve livelihoods. We therefore urge businesses who truly believe in the health and wealth of Africa to join our Coalition so that we can achieve the desired impact."