NANS HONOURS YABATECH RECTOR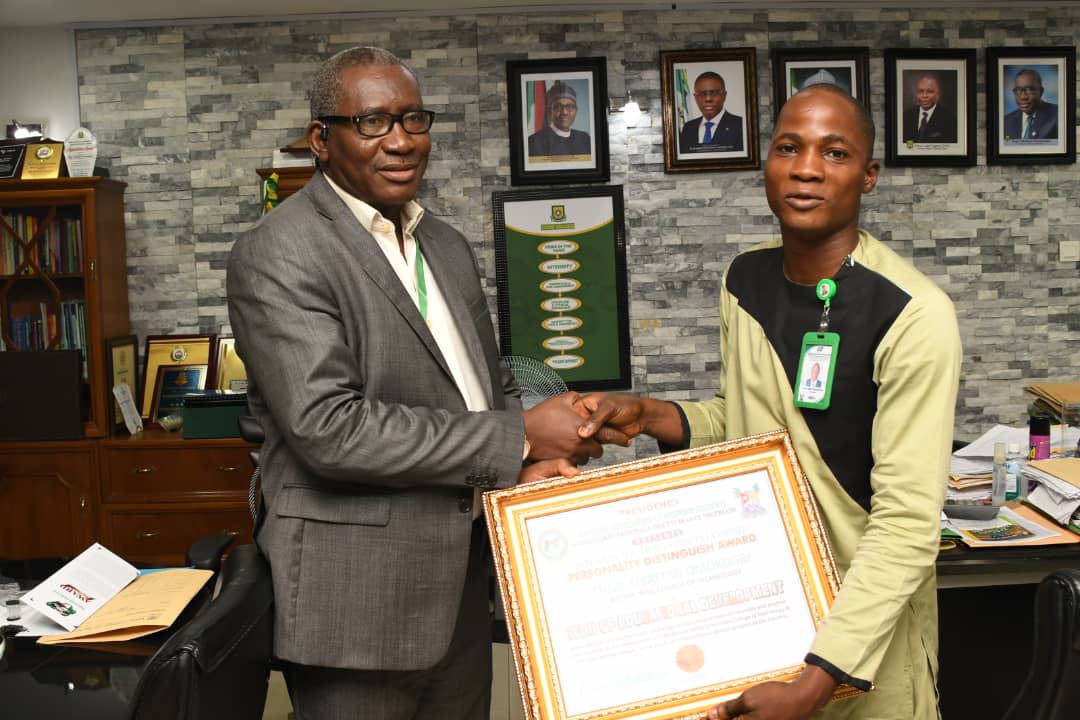 NANS HONOURS YABATECH RECTOR- NationalAssociation of Nigerian Students (NANS) South-West zone recently presented the 2020 NANS South-West Outstanding Personality Distinguished Award to the Rector, Yaba College of Technology (Yabatech), Engr. Obafemi Omokungbe as Icon of Education Development.
The 8-man delegation led by the Chairman, NANS JCC Lagos State, Comrade Abdulquowiyy Busari, noted that the award of excellence was given to Omokungbe for his able leadership and infrastructural drive which has created a conducive and enabling environment for proper learning and teaching.
Busari disclosed that he nominated 5 names of prominent personalities in the zone for this prestigious at the last NANS South- West zone meeting but Omokungbe was unanimously selected by all for the award.
He stated that the remarkable achievement of Yabatech Rector within the few years of his administration gave him the edge over his counterparts.
According to the Director of Gender, NANS South-West zone, Comrade Precious Abimbola who read Rector's citation, "We are proud of you.
You have made us understand that leadership is not about a title or a designation. It is about impact, influence and inspiration. Impact involved getting results, influence is about spreading the passion you have to what you do, and how you inspired the generation next (Youth). Sincerely you are a blessing to the next generation, as you remain a role model and mentor."
"Your unrelenting contributions towards youth and students developmental projects and passion for education were also considered as criteria for this honour bestowed on you today" she said.
In response, Omokungbe appreciated NANS for the honour, and the elated Rector promised that the award will spur him to do more. He also assured NANS that Student Union Government (SUG) would soon be resuscitated in Yabatech.
Lagos schools where alcohol, gambling thrive in broad daylight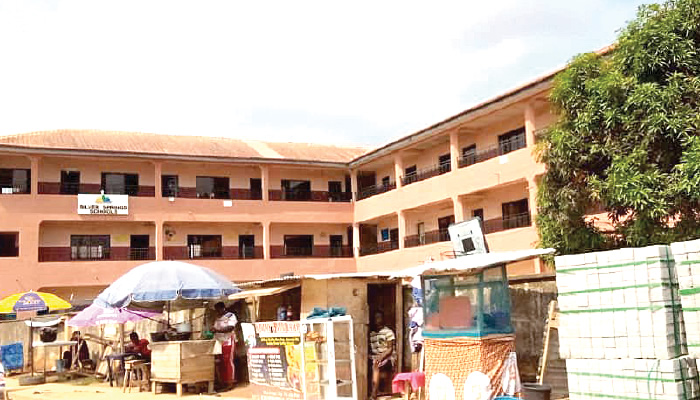 Lagos schools where alcohol, gambling thrive in broad daylight
A school environment is meant to be the epitome of sanctity, devoid of external vices capable of corrupting or influencing the minds of students.
Sadly, that is far from the picture cut by the surroundings of Silver Spring Schools in the Ikotun area of Lagos State.
For a first-time visitor to the area, it would be difficult to locate the school as it is obscured by a series of stalls and kiosks built close to the drainage, by the school fence.
The first impression that comes to mind on getting to the place is that of a fast-expanding local market meant to serve the immediate needs of those living close by.
However, a closer look would reveal something more sinister,  a melting pot for gamblers and alcoholics.
Based on findings made by our correspondent, due to easy access to alcoholic drinks packaged in sachets, students in schools around the area find pleasure in converging at the market to indulge and after getting high, would break into fights, disrupting the peace of the area.
How, succour came the way of motorists, residents and business owners, who have over the years complained about the activities of the traders.
Officials of the Lagos Waste Management Authority and the state's Ministry of Environment stormed the area and demolished stalls and kiosks built by the traders on the drainage channel beside the school.
Saturday PUNCH learnt that this development followed a request made by a lawyer and development consultant, Mrs Iyabo Awokoya to the Lagos State Ministry of Education and the Lagos State Environmental Protection Agency via her verified X (formerly Twitter) handle on Wednesday.
Meanwhile, according to the official internet portal for all schools in the state known as 'Lagos Schools Online', the Silver Springs Schools, which is situated at Onitire, Abaranje, was started by its proprietress, Mrs Olaide Fawehinmi in 2001.
The school, our correspondent gathered, has about 105 students and has another college located in Ijeshatedo, Surulere.
In a photograph of the school, which Awokoya appended to her post, an array of wooden kiosks and umbrellas owned by traders could be seen adjoining the fence erected by the school.
The traders who ranged from Point-of-Sale operators to those who hawked snacks and pastries had their merchandise placed over the drainage channel, beside the school building.
Findings by Saturday PUNCH revealed that in the past few years, through various press releases, the Lagos State Government had expressed worries over the increasing abuse of setbacks and incidental open spaces around public schools and has sought to check such infractions.
In a series of replies to comments elicited by her post on Silver Spring Schools, Awokoya lamented that the shops had repelled parents from registering their children in the school, noting that its premises had been turned into a marketplace.
She further disclosed that the efforts of the school proprietress, who is her aunt, to eject the illegal traders had failed and she had even become afraid due to the recalcitrance of the stall owners.
The post read, "Dear Lagos State Ministry of Environment, Mr Tokunbo Wahab, LASEPA official, Tunde, Please this is my aunty's school on Abaranje Road, Ikotun, in Lagos.
"See the way the traders have taken over the setback and have erected permanent kiosks even attaching them to the fence. We have reported in all the possible places to be reported to no avail. Later the Ministry of Education will come with a contravention order. How can a school be rendered to a market?
"And they are vicious. My Aunt is 70 years old and afraid of them now. They first promised to leave when the LGA came with my agent, but then they failed. Then the LGA also relented. There is nothing we have not done. We petitioned the LGA and LCDA,  Tunde Sosina," she wrote in two separate posts.
Govt evacuates illegal stalls
Barely 18 hours after Awokoya's post, state officials came to the school premises and removed the stalls and kiosks around the drainage setback.
The state Commissioner for the Environment and Water Resources, Tokunbo Wahab, in a post made via his X handle, on Thursday, said he gave the directive and urged the school principal to take over the school setback.
He wrote, "As I instructed, illegal kiosks built on drainage setbacks beside Silver Spring Schools, Abaranje Road, Ikotun were earlier today evacuated by the Lagos State Waste Management Authority enforcement team and the Lagos State Ministry of Environment monitoring officers.
"The monitoring officers were directed to request the principal of the school to take over the setback and then beautify it in accordance with the ' Greener Lagos' policy of the Babajide Sanwo-Olu-led administration."
Responding to this, Awokoya posted on Thursday, "Wow! I truly can't believe this. I cried out here yesterday about illegal kiosks that are erected in front of my aunty's school in Ikotun and right now they are being evacuated.
"Dear Tokunbo Wahab, this is an uncommon favour sir. My aunt just called me to let me know. I am grateful to LASEPA and its General Manager, Tunde Ajayi. Lagos is working. Please Oliver Twist needs a little more help. The okadas that are always parking in front of the school entrance should find another bus stop.
"My aunty was getting so frustrated that she was thinking of selling the school and just keeping her flagship school in Surulere. The (school) expansion led her into a problem. Now, the Ministry of Environment has asked that we beautify immediately and my aunt is a flower lover so I am sure she will get cracking immediately."
When our correspondent visited the school on Friday morning, he observed that the stalls had indeed been cleared and there were no more encroachments on the school fence.
A resident who gave his name only as Tunji commended the move which he said should not have happened if there had been strict enforcement.
"The stalls were removed yesterday and their owners have been forced to move elsewhere. They constituted much distraction to the students and the school surrounding was beginning to look ugly. Most of the people who patronised them were outsiders and if care hadn't been taken, the whole place would have become a hideout for hoodlums. This should never have been in the first place if there had been strict enforcements," he stated.
Invaded by alcohol-selling traders, gambling booths
Another resident of the area, Tobi Fagbemi, lamented that the setbacks of other secondary schools in Ikotun have been taken over by those hawking alcoholic beverages and gamblers.
"These traders have taken over all the setbacks in most of the secondary schools.  Especially the Ikotun High School.  It started gradually and now if you go around these schools, you will see people hawking herbal concoctions and alcohol in sachets. They also have gambling (Baba Ijebu) and sports betting kiosks.
"During school hours, you will see these students who are supposed to be in their classes learning subjects, sneaking out to hang around these joints. Even after closing hours, they still go there to spend their pocket money, and you'll see them sipping alcohol in sachets. The government has to ban these shops around schools," he told our correspondent.
School traders breeding thugs – Teacher
A teacher in a private school in Oshodi, Mrs Bukola Adelani, in a chat with our correspondent, expressed worries over the negative effects the presence of alcohol and cigarette vendors can have on students.
She said, "This problem is gradually getting out of hand because these traders around schools sell alcoholic beverages, cigarettes, and even aphrodisiacs to students. Students go there to take these things and they start misbehaving, sleeping with their colleagues, and becoming violent.
"There was a case where a student went to take one of these drinks and he started sleeping in class. This is how substance abuse starts. Who knows what else they are selling to these children that we have not yet discovered? If you go through these markets springing up around schools, you will find that they sell adult materials to underage students.
"These vendors know what they are doing. They see students in school uniforms, especially the females among them coming to purchase these things and they don't object. They will even argue that their gin is a remedy for stomach upset.
"The government needs to do something if we are to get rid of the menace of thuggery and drug addiction that is now spreading across schools in the state."
Commenting on the development, an Ikorodu resident, Saheed Lawal, in his reply to Awokoya's post on X, tweeted, "Go to United Secondary School and Ayangburen Secondary School in Ikorodu. These schools are adjacent to Ikorodu Road at the garage section, but they have all been taken over by people frying akara, clothes, food, ogogoro (local gin distilled from palm wine) sellers. It is absurd passing there every morning."
Another, a project engineer on X, Fayemi Olatunbosun, who stated that he was a part of the team that worked on the ongoing road construction in Abaranje, Ikotun, disclosed that the setbacks were allocated by some community members.
"I joined a team of engineers who worked on the aforementioned road. You won't believe that some people from the community allocated that small portion of the setback to different kiosks at a cost of not less than N30,000. They were doing this even when our work there was ongoing," he wrote.
Government urges collaboration
In a lengthy post on Friday, Wahab, stated that his office had been inundated with numerous complaints from concerned citizens about noise pollution, flooding, and obstruction of walkways by traders.
"As a ministry, we continue to act swiftly upon receiving these vital complaints, and we are fully committed to responding promptly and decisively to restore law and order across the state. As the custodians of the state's environmental well-being, we acknowledge the significance of addressing these concerns with utmost urgency.
"Flooding, noise pollution, and the unlawful blockage of walkways represent critical challenges that impact the lives and livelihoods of our citizens. Therefore, the Lagos State Ministry of Environment and Water Resources is diligently organising and implementing a comprehensive action plan to tackle these issues head-on.
"This proactive response will involve collaborative efforts among various departments within the Ministry, in conjunction with relevant authorities, to ensure the effective resolution of these environmental challenges. The ministry urges all residents and stakeholders to join hands in this collective endeavour to maintain a clean, safe, and sustainable environment for everyone in Lagos State."
Govt must implement EIA – Environmental researcher
An environmental researcher, Seun Awoyinfa, told Saturday PUNCH that the state government needs to implement an Environmental Impact Assessment to tackle the abuse of school setbacks.
"For every project, whether it involves erecting a kiosk or structure, especially around a school, an EIA must be carried out. There is no environmental sustainability without an environmental analysis.
"For instance, a school should not be close to the marketplace because the noise pollution will affect the level of concentration of the students. They should not be built close to a casino or betting spot otherwise, the intellect of those students is in contention due to that level of distraction.
"The same applies to allowing pubs or stores selling stimulants or drugs. They should not be sited close to a school because they could have negative impacts on students. The government should ensure that EIAs are carried out at each LGA and LCDA to curb this," he advised.
@PUNCHNG.COM
Ambrose Alli University, Ekpoma Matriculates Over 5,000 Students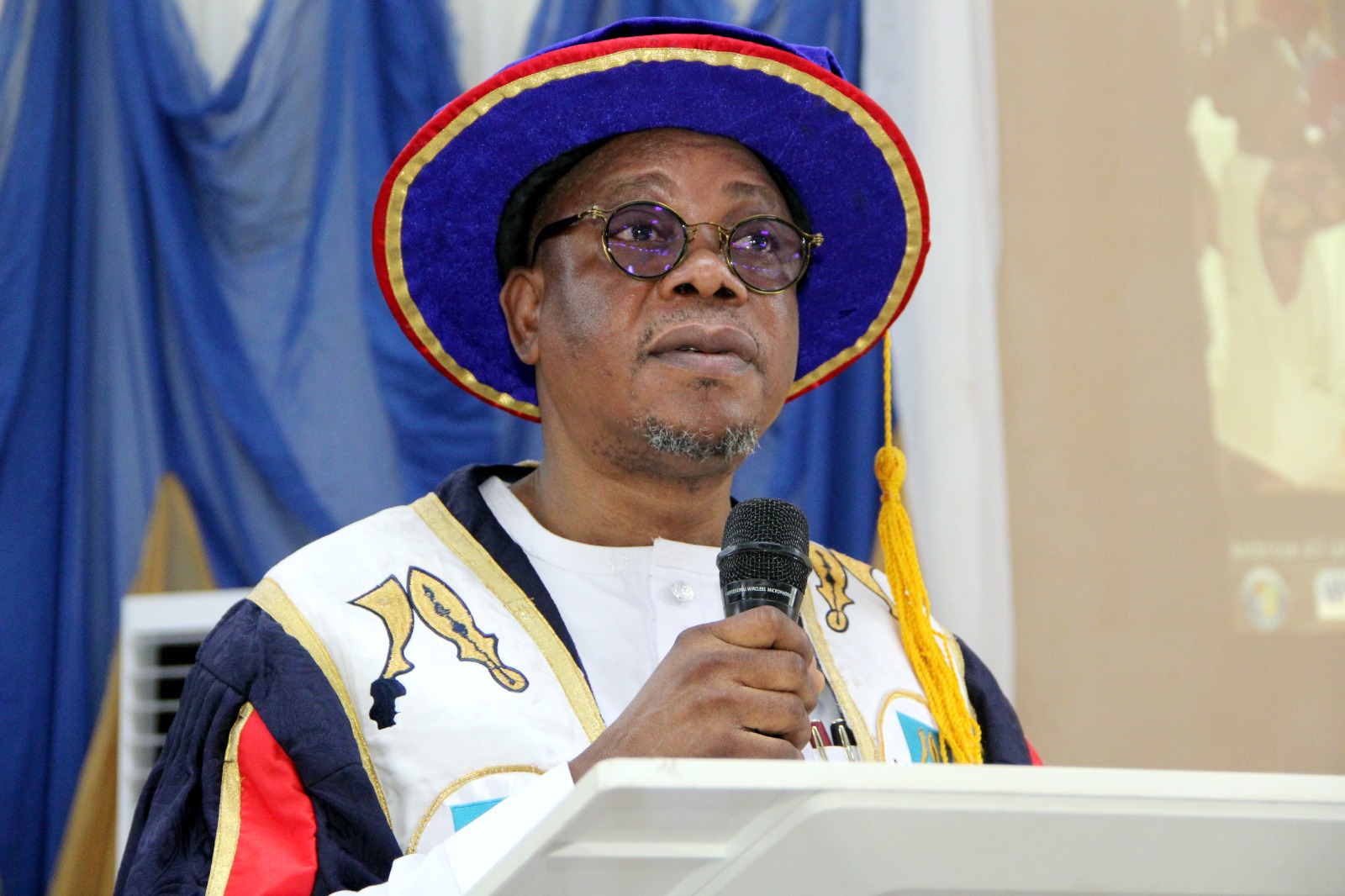 Ambrose Alli University, Ekpoma Matriculates Over 5,000 Students
By Elvis Omoregie
No fewer than 5,187 students, cutting across 63 programmes of Ambrose Alli University, Ekpoma, Tuesday, took their Matriculation oaths in accordance with laid down rules guiding studentship at the Edo State-owned University.
Administering the oath on the Matriculants, the Acting Vice Chancellor of the institution, Professor Asomwan Sonnie Adagbonyin, supported by Principal Management and Academic officers, enjoined the students to approach their studies with all dedication and commitment.
"The University will continue to expect that all admitted students meet their obligations to the University to matriculate. As you celebrate your studentship, my dear matriculants, my admonition to you is to be individualistic in your approach to your studies. As the saying goes: "Those that walk, walk with many, those that run, run with few but those that fly, fly alone."
"Life is absolutely a race of individuality and this applies to your studies as well. Therefore, take your studies seriously as an individual. Eschew things that will bring you trouble or bring shame upon you, your family and your University.
"Do not join those saying or writing negative things about your University. This is where you have, on your own freewill, elected to come and take a degree. Do not demarket it as you will only be undoing yourself. Be a worthy ambassador at all times."
Professor Adagbonyin disclosed that "There has been a very strict adherence to the admission quota set by JAMB. This accounts for why the University has had to firm up its policy of admitting only the best into 63 programmes in the University.
"I wish to assure you that the University Management is ever ready to create a conducive atmosphere for learning and other recognised activities. To that extent, every student should be focused, disciplined and obedient to University rules and regulations. You must handle your academic work with all seriousness.
Your degree would be awarded to you based on sound character and learning. I advise you to always make your Student Information Handbook your companion and always contact the ICT Directorate of the University and the University website for authentic information and guidance,"the AVC said.
On Security matter, the Acting Vice Chancellor enjoined the students to be more vigilant to happenings around them as
"The University Management will always endeavour to provide the needed security to ensure the safety of lives and properties. However, every individual should be security conscious, both within and outside the University Campus."
The 40th Matriculation ceremony of Ambrose Alli University, Ekpoma, for the 2022/2023 academic session had its high points with students taking the matriculation oath and signing same.
Parents, family, and friends of matriculants were seen after the ceremony in a jubilant mood within the University's main campus.
Breaking: Ondo Student, Omoyeni Joy Folakemi Makes 9As In WAEC, 338 In JAMB, 1400/1600 In SAT
Breaking: Ondo Student, Omoyeni Joy Folakemi Makes 9As In WAEC, 338 In JAMB, 1400/1600 In SAT
Interestingly, a brilliant Nigerian student of Telnet International Schools, Akure in Ondo State, Omoyeni Joy Folakemi, aced all the nine subjects she registered for in the 2023 West African Senior School Certificate Examination (WASSCE).
Joy did not just make her family and school proud with an A1 in all Nine subjects she took in her WAEC result, she also scored 338 in her Joint Admission Matriculation Board (JAMB) examination.
Sharing the enviable story with REPORTERS AT LARGE recently, the elated proprietor of the school said "A student in our school by the name Omoyeni Joy had 9As in the just released WAEC results. She also scored 338 in JAMB. She is one of our several success stories several."
The proprietor thanked God for making his student successful, recording the best result in the 2023 WAEC.
He described Joy as a Godly and focused girl whose determination, respect, and curious style of learning have paid off.
"She was known as one who always has questions for the teachers and takes her personal studies seriously. She had a JAMB score of 338 and an SAT score of 1400/1600. I, the school management, all of her teachers since her JSS1 and other students of rhe school are proud of her outstanding performance," the proprietor said.
Disclosing what cumulated into her excellent WAEC and JAMB results, Joy told REPORTERS AT LARGE that "For me, preparation for WAEC started from my very first class in senior secondary school. My school made it clear that they do not support examination malpractices but instead make supportive teachers available to help us understand things that seem difficult. I used this and got close to my teachers and it really helped me.
"When I got to SSS3, my school introduced us to early morning reading, after-school classes and drilling mock examinations for WAEC and JAMB. So I was basically always reading or having classes.
"But honestly, I want to thank God because none of this could have happened without Him."
Telnet International Schools, Akure is a coeducational boarding and day school with state-of-the-art boarding and day facilities. A citadel of excellence where all beloved students are empowered to emerge as godly leaders who have the values of integrity, hard work and honesty instilled in them.