NICArb hold 40th Anniversary and 2019 Annual Conference in Lagos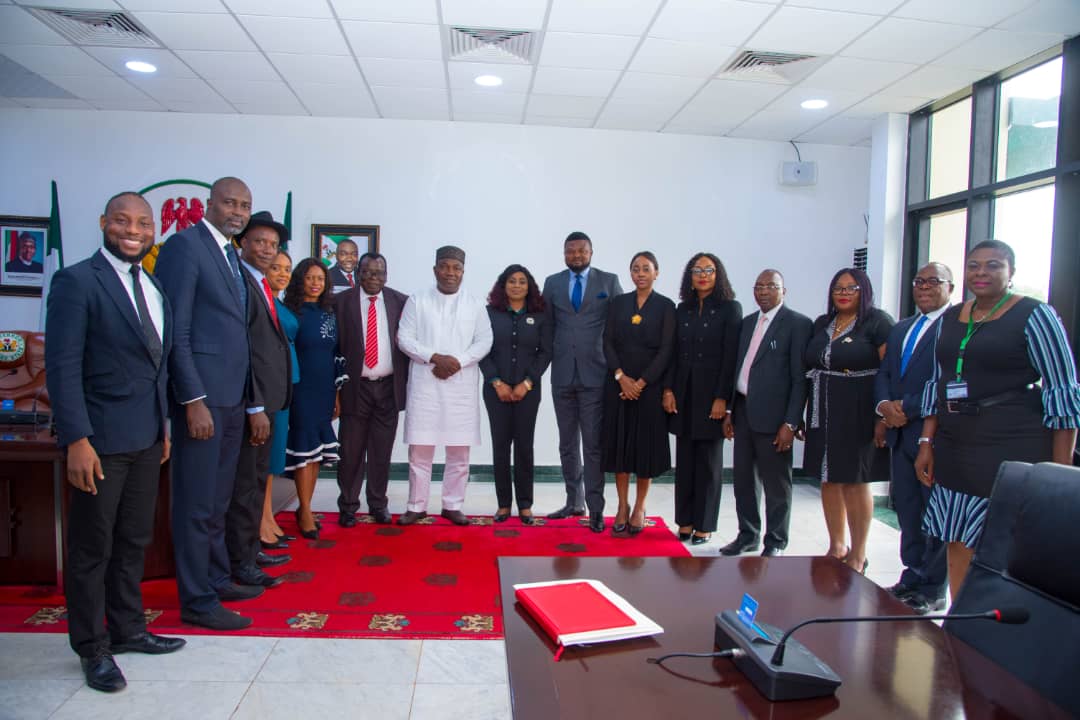 The Nigerian Institute of Chartered Arbitrators (NICArb) held a press conference recently , to address salient issues around its 40th Anniversary theme, titled, 'Building a Culture of Arbitration and Sustainable Institutions in West Africa'.
The 40th Anniversary Conference and Investiture, which will be held on 14 – 15 November 2019, at the Eko Hotel and Suites, Victoria Island, Lagos, provides a forum for the intellectual discussion of key issues affecting Arbitration in West Africa.
It is focused on yielding practical solutions, necessary to encourage the adoption of Arbitration and Alternative Dispute Resolution (ADR) in the West African sub-region. The conference promises a line-up of renowned regional and global speakers who are experts in the chosen subject areas and will feature panels made-up of technical experts and breakout sessions for intensive exploration of the chosen subject areas.
Also present at the briefing were Management and members of NICArb's 40th Anniversary and Annual Conference Planning Committee including Mrs. Funmi Obisan, FCArb, Mrs. Clara Umeano FCArb, Mrs. Shola John-Oshodi, FCArb (Registrar/CEO, NICArb), Mrs. Chinyere Onuorah, MCArb (Deputy Registrar NICArb) and Mr. Timi Olagunju (PRO, NICArb).
Mrs. Shola Oshodi-John, the Registrar/CEO of the Institute spoke about Nigeria becoming a Hub for Arbitration, she referenced the institutes previous press briefing emphasizing the need for national policies for strengthening Arbitration in Nigeria as well as calling for partners in the Arbitration/ADR space to join forces with the Institute to implement policies that help Arbitration take a foothold in Nigeria.
The briefing ended with a call to the members of the Arbitration (ADR) community and the general public, to take advantage of this first West Africa regional conference in Lagos, Nigeria, in November. Register on events.nicarb.org
ABOUT THE NIGERIAN INSTITUTE OF CHARTERED ARBITRATORS
The Nigerian Institute of Chartered Arbitrators is the first indigenous body of professional Arbitrators founded in 1979 under the leadership of His Excellency, Justice Bola Ajibola, SAN, KBE and duly incorporated in 1988 under the Companies Act as a legal entity Limited by Guarantee. The Institute was formerly known as the "Chartered Institute of Arbitrators Nigeria" and then later became "Nigerian Institute of Chartered Arbitrators" Ltd/Gte. It is a professional body dedicated to promoting, facilitating and determining of disputes by Arbitration, Mediation, Conciliation and other forms of Alternative Dispute Resolution (ADR) mechanisms.
The Institute is forefront in the development of alternatives to litigation in Nigeria. Besides being at the forefront of promoting the knowledge and practice of Arbitration and other dispute resolution alternatives, the Institute has gained reputation as the preferred appointing authority and Arbitration handling Institution for a broad spectrum of commercial disputants.
The Nigerian Institute of Chartered Arbitrators has over 1,500 members drawn from diverse vocational backgrounds including the Academia, Accounting, Construction, Engineering, Judiciary, Legal, Public Service and a host of others. The Institute has virtually all the greatest jurists of our time as Associates or Fellows. These include former Justices and Judges of the Supreme Court of Nigeria, President Court of Appeal, Chief Judges and Judges of High Courts, Senior Advocates and Retired Judges.
Membership
There are three categories of membership of the Institute:
• Fellows
• Member
• Associates
On the completion of the Institute Training Programme, a successful member/participant becomes a fellow and will be qualified to add the acronym 'FCArb' after his/her name. Upon the successful completion of the Member Training Program and active participation in the Institute's activities, the Associate/participant becomes a Member, and will be qualified to add the acronym 'MCArb' after his/her name, whilst a successful participant after the completion of the Institute Associate Training Program becomes an Associate and will be qualified to add the acronym 'ACArb' after his/her name.
Our Objectives
The Institute aims to train and develop Arbitrators, promote and facilitate the use of arbitration for dispute resolution.
Its objectives are:
• Promoting and facilitating the settlement of disputes by arbitration and other methods of alternative dispute resolution.
• Improving the standard of skill and expertise of arbitrators and those involved in alternative dispute resolution.
• Promoting the study and practice of arbitration law generally and alternative dispute resolution.
• Providing training and continuous professional development to its members.
• Maintaining and improving the standard of ethics and professional conduct in the arbitration profession and those involved in alternative dispute resolution.
Benefits of membership
• Access to the Institute's library
• Annual Conference on Arbitration (Arbitration Day)
• Discounts on arbitration seminars and workshops and conferences
• Distribution of Journals to paying members of the Institute
• Inclusion in Faculty database
• Maintenance of a panel of neutrals for arbitration
• Members' data, for possible appointments for arbitration
• Newsletter of value to members
• Online resource to support arbitration research.
• Opportunity for networking with diverse professionals
Our Activities
The Institute's focus is in the area of professional training and practical Arbitral and Mediation skills development. This is delivered by means of seminars and workshops for practicing and potential Arbitrators and Mediators. Participants benefit from a range of interactive exercises, cases, class discussions and practical training session of the moot Arbitration to get practical experience on the Arbitral procedure.
Some of its offerings include:
a. Associate Training Programme:
The Associate Training Programme – ATP is for all professionals irrespective of their field of discipline, who intend to practice Arbitration as Associates of the Chartered Institute of Arbitrators Nigeria.
The training program is a three days training that offers guidelines on the emerging trends in Arbitral proceedings and other modern dispute resolution mechanisms. It uses a variety of teaching formats, emphasizes participant participation in the learning process, and provides opportunities for participants to understand the practice of Arbitration and other forms of ADR.
At the end of the program, the participants are assessed through a written examination on the lessons learnt in the classroom.
b. Fast Track Associate Training Programme:
This 'Fast Track Associate Programme' – FTAP is a one-day intensive practical training course for very busy executives and top government officials, who intend being part of the Arbitration and ADR world but are not able to take part in the three days training and qualifying examination for Associates.
c. Fast Track Fellowship Training Program:
The 'Fast Track Fellowship Programme' – FTFP is a training programme for seasoned professionals who have distinguished themselves in their respective fields and who are interested in practising Arbitration as Fellows of the Nigeria Chartered Institute of Arbitrators. They must also have carved a niche for themselves in the practice of Arbitration and other forms of ADRs. It is a one -day practical training program on Arbitration and other forms of ADRs.
The training program takes participants through the basic principles of arbitration proceedings and other ADRs. It provides them the opportunity to acquire international best practice mechanism as it highlights practice of Arbitration and ADRs in other jurisdictions by giving a comparative study of these practices/procedures.
The programme looks at the intricacies involved in the writing of awards, directions and orders. Topics treated include the emerging forms of Alternative Dispute Resolution, such as Negotiation, Mediation, Conciliation etc.
At the end of the program, assessment of the participants will be done through by a Peer review process.
Before qualifying to participate in this program, candidates are required to submit evidence of having been part of at least two Arbitration or ADR proceedings and/or have written any article or book on Arbitration and other Forms of ADR.
d. The Mediation Programme:
The Institute organises mediation programmes, teaching on the practicality, processes and principles of negotiation and dispute settlement. At the end of the training, the participant becomes a qualified mediator and adds the acronym 'QMed' after their name.
e. Continuous Training and Development Program:
Associates and Members benefit from continuous training and development to enable them move to the next cadre of membership. Each category is expected to undergo at least three (3) training sessions in a year to be able to apply and be eligible for the next cadre.
f. Refresher Courses for Fellows:
The Fellow benefit from the continuous training to keep them abreast of the changes in the world of Arbitration. They are expected to participate in a least two of such trainings in a year.
g. Seminars:
The Institute organises seminars, workshops and symposiums to expose practitioners and intending practitioners to the need to promote Alternative Dispute Resolution as well as highlight its commercial and economic benefits to the development of a nation. These programmes are held every quarter in the year.
h. Annual Conference on Arbitration – Arbitration Day:
Through its annual conference, the Institute brings together experts in arbitration and ADRs to discuss national and global trends with an aim to proffering solutions to some challenges in the field. It is held once a year and is open to all professionals.
i. Annual Induction/Award Ceremony:
New members that have met and satisfied the requirement for administration and development of arbitration and ADRs are inducted in a unique and celebrated event, which culminates the Institute's calendar year.
Governing Council of the Institute
• Aare Afe Babalola OFR, CON, FNIALS, SAN, FCArb- President & Chairman of Council
• Hon. Justice Alfa Belgore, CON, GCON, FNIALS, FCArb
• Dr. Olisa Agbakoba, SAN, FCArb
• Dr. Michael Ajogwu, SAN, FCArb
• Professor Fabian Ajogwu, SAN, FCArb
• Mrs. Clara Umeano, LLM, FCArb Patrons
• Judge Bola Ajibola LLD, SAN, KBE, FCArb.
• Hon. Justice Kayode Eso CON, LLD, FCArb
• Dr. C.A. Atoki, PHD, FCIS, FCArb