Primate Ayodele's Warning In Newly Released Prophecy Book On Sri Lanka Comes To Pass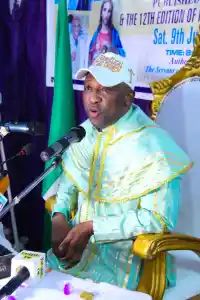 Primate Ayodele's Warning In Newly Released Prophecy Book On Sri Lanka Comes To Pass
By Olorunfemi Adejuyigbe
Popular prophet, Primate Elijah Ayodele of INRI Evangelical Spiritual Church has to continued to astonish his followers and critics with his prophecies, which has always come to pass
His prophecy about Sri Lanka where he said the people would invade the residence of their president in a move to push him out of power has come to fulfillment
This was stated in his annual book called WARNING TO THE NATIONS (2022/2023 edition) which he launched on Saturday, 9th Of July, 2022. The prophecy book contains warnings to all the countries in the world with prophetic revelation to what will befall them in coming days, years and years to come.
When writing about Sri Lanka, Primate Ayodele revealed that he foresees that the president will be CHASED out of office. He noted that the people will clamour for a new government and that only God can help the president not to be removed unceremoniously.
These were his words
''SRI LANKA :The spirit of God says the country will experience disorderliness. I foresee the government of the day will be chased out of office. I foresee the citizens will clamor for a new government. I foresee the Police and the citizens will clash as a result of protests against the government. The economy will not be stable as the cost of living will be so high''
''Of course, the country needs prayers not to collapse under the present government because the government will not understand how to stabilize the economy. I foresee the government will be trouble shooting with various economic theories. The spirit of God says Sri Lanka will need the support of western countries to get out of the woods. I foresee the people will not want the present government anymore. The opposition forces will go against the President. The spirit of God says only God can help the President not to be removed unceremoniously. I foresee the value of the currency will be nothing to write home about. I am seeing a new leadership in the country. I foresee the efforts of the government will be sabotaged. The government must pray against bomb blast and the negative effects of climatic troubles''
These words can be found on page 88 of WTN 2022/2023 edition which was released two days ago. It is also important to note that the prophecy was not just given on the day of the book release, the compilation of the prophecies included in Warnings To The Nations started in March 2022 so he definitely spoke way ahead of time.
As unbelievable as this prophecy was, the same day Primate Ayodele released this prophecy book was when the citizens of Sri Lanka stormed the residence of their president, invaded his house, broke into his rooms, ate his food just to demonstrate that they don't want him anymore. Due to these demonstrations, the president of Sri Lanka, Gotabaya announced that he will be resigning as the president of the country this week Wednesday.
Critically looking at the prophecy of Primate Ayodele, there are some very important keywords that played out in the unavoidable resignation of Sri Lanka president. The man of God mentioned that the president will be CHASED OUT OF OFFICE, THE PEOPLE WILL NOT WANT THE PRESIDENT ANYMORE, A NEW LEADERSHIP in the country.
As it stands, the president has been chased out of not office alone but the country, the people have shown that they don't want him, and with the resignation of the president, a new leadership will definitely emerge, all fulfilling Primate Ayodele's prophecy in Warnings To The Nations 2022/2023 edition.
Engr. Dr Funmi Ayinke Celebrates 40th  Birthday With Close Associates, Releases Chocolate Video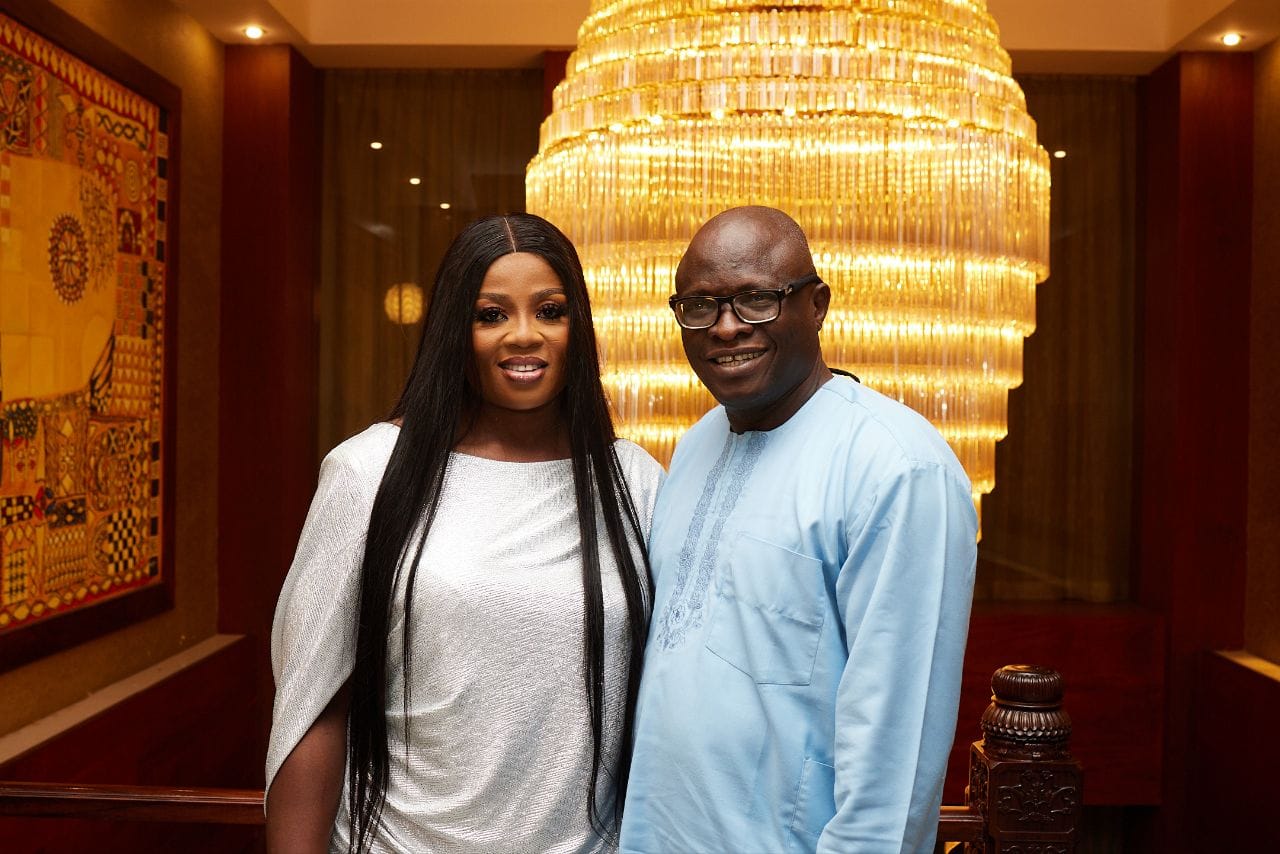 Foremost Nigerian engineer and musician, Dr. Funmi Ayinke Waheed-Adekojo has celebrated her 40th birthday in a classy manner with close associates in Lekki, Lagos state.
Similarly, she released the much-anticipated video for her hit single, Chocolate.
The event which took place on Saturday, 27th of May, 2023 had important personalities and celebrities who are friends of Funmi Ayinke. The likes of Gbenga Adeyinka The 1st, Kunle Afod, Fiokee, Professor Oluwatoyin Ogundipe, a member of the national assembly, Honourable Phillips, APPON members, Members of the Nigerian Society of Engineers, to mention but a few honoured the Engineer cum musician with their presence.
Funmi Ayinke, who had gotten a huge surprise earlier in the day and two car gifts last month to celebrate her birthday was astonished at the calibre of personalities present at her birthday celebration and the amazing things they had to say about her.
For the former VC of the University of Lagos, Funmi Ayinke was a huge part of his success during his tenure. He revealed that the musician, who is more like a daughter to him, helped him in different ways including saving him from committing a grave error.
''I want to return all Glory to almighty God. When I think about my success as Vice Chancellor, I can't talk about my success without the contribution of Funmi Ayinke. I would have committed an error if not for her intervention. I would have gone into a trap if not because I consulted with her and she warned me about the problems ahead.''
''Some of our funds were locked somewhere, she asked me not to worry and she told me what to do to get it. We put everything together and today we have a testimony ''
''Thirdly, the confidence she brings into whatever she's doing and professionalism. She says it the way it is. I want to thank God for her life, husband and children''
Honourable Phillips, who was just elected into the national assembly, extolled the positive contribution of Dr Funmi Ayinke to his victory at the last election. He spoke about the encouragement she gave him during the election and how she made some of his constituents vote for him.
''I am glad to be here tonight to celebrate Dr Funmi Ayinke. During my election, she was helpful. She encouraged me through some of her philanthropic gestures, she made some of my people vote for me. If we call her three-faced or four-faced, we will be wrong, I would like to call her many faces. She's multiple personalities in one person. As busy as politicians are during this period, I deem it fit to be here. We will be inviting her to the National Assembly so that Nigerians will learn from her''
The members of APPON who came from Abuja described the celebration as a professional and great woman. They expressed surprise at how easily she combines her thriving music career and profession without both clashing. They also announced that she has been nominated as the matron of the association and will be properly confirmed at an event later in the year.
''She's been a professional, a great woman. If you go to the music industry she's there, due process and professionalism in public procurement she's there. She's done so much for the profession. I bring greetings from all our platforms to celebrate with her. I pray God keeps you and blesses you. I want to announce that she has been approved as the matron of APPON, she will be confined properly at the event.''
Similarly, the national chairman of the national institute of mechanical engineers described Dr Funmi Ayinke as a fantastic and dynamic woman who has done so much for the profession. She noted that women are few in the mechanical engineering field but Funmi Ayinke is one of the best in the industry.
''She's one fantastic lady, dynamic, beautiful, hard-working and someone dynamic in nature. We are limited as ladies in mechanical engineering but she's one of the best we have. I was called from Ghana about giving her an award, I told them she deserves it. She's indeed a change agent God has brought into the industry.''
Furthermore, Professor Waheed Adekojo, husband to Funmi Ayinke, showered her with praises for all she has been through over the years. The highlight of his testimony about his wife was the fact that she is a prayer warrior who believes so much in God and has taught him to always run to God whenever there are issues.
''If I want to talk about my wife it will take a lot of time. She's someone who so much loves God, believes in God and prays to God and that's why whenever there's a disappointment, she's always run to GOD.''
''She has taught me to become prayerful and believe that with God there's nothing one can't achieve. This motivates her to impact people. She doesn't want to see people in pain, She doesn't want people to be in need. She's ready to spend the little she has for people.''
''She doesn't want failure, she moves sometimes at night to sort out problems for people. She's too hardworking and I am not surprised at her success. She believes in quality, if you have quality things it will last. She wants the country to work, she doesn't think about herself alone. I am not surprised God is doing all these for her.''
''She doesn't joke with her children, she has taught them to be prayerful. Above all, I love her so much''
In her reactions, Engr. Dr Funmi Ayinke appreciated everyone present at the party while speaking about how little she started and how God has tremendously blessed the work of her hands.
She revealed that her major motivation for success was the sacrifices of her mother while she was growing up. She noted that her mother took so many loans to sort some of her bills and this made her motivated for success.
''I want to thank everyone here tonight. People who know me when I was much younger know the journey was not easy. To every girl child, we all celebrate success but truly there's a process to success. I thank my mother and sincerely speaking, each time I see my mother make sacrifices for me back then, I am determined to slap poverty. I pledged to make it and I want to tell every Nigerian girl that they can be successful without losing integrity. What kept me going is believing in God. He is the one that can take you without giving up on you.''
Funmi Ayinke stated that she once sold Kerosene at a time to add value to society and through this initiative, she empowered many widows in the city of Ibadan.
''I believe in a person of value, I pursued value and didn't care about money. I was selling kerosene as a nursing mother, I repaired pumps for filling stations, and each time I go to my office, people call me 'Iya Ayo onikerorsene'. I made so many kerosene sellers in Ibadan and that is why whenever I cough in Ibadan, people rise for me.''
Continuing, Funmi Ayinke encouraged women in society and campaigned against looking down on the 'girl child' because women are agents of change in every society.
''I notice in life that when you are a goal-getter, the enemy targets you. While I was coming up, I faced so many hurdles. I once received a 36-page petition against me but God saw me through''
''When you look down on one woman, you kill a society. I want to tell everyone to pick a girl child, don't give up on them. My kids and I embark on fasting and prayers sometimes. I am a product of God's grace and what I am today has taken care of thousands of women. ''
With Governor Agbu Kefas, The Set Time For Taraba State Is Now! By Oluwatosin Alex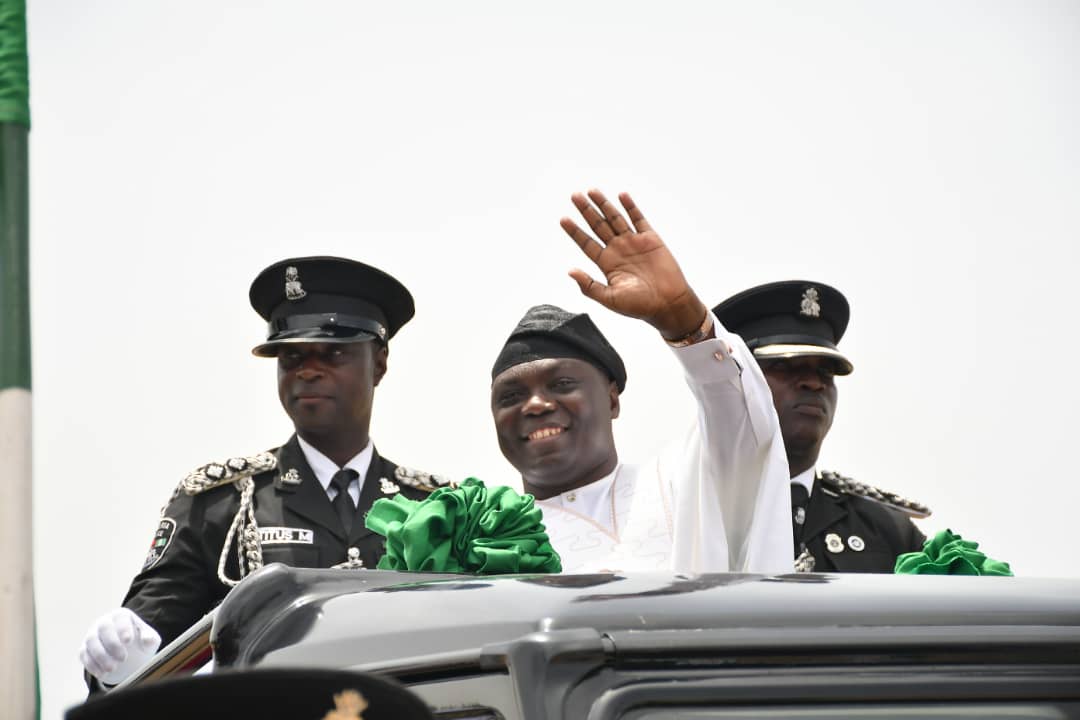 By Oluwatosin Alex
I have written several articles regarding Dr. Agbu Kefas since he won the keenly contested March 18 governorship election in Taraba state. In all these articles, I addressed him as the Governor-elect of Taraba state but now, the title has to change following the smooth inauguration ceremony that was held yesterday Monday, 29th of May, 2023.
Therefore, I would love to first congratulate Dr. Agbu Kefas on his successful inauguration as the duly elected Governor of Taraba state. This has further confirmed that indeed, He was voted for by the good people of Taraba who want rapid change in the affairs of the state. It's indeed a dream come true not for Governor Agbu Kefas but for the people of Taraba state. Once again, accept my congratulations.
Speaking about the inauguration, the venue of the ceremony, Jolly Nyame Stadium again mirrored the organic love and support the people of Taraba state have for him. The stadium was filled to the brim with shouts of joy as Governor Agbu Kefas took the oath of office and gave his inauguration speech.
For some of the attendees, it wasn't just an ordinary swearing-in ceremony but a significant event that marks the end of perilous times and the beginning of a new dawn. The event didn't just have supporters of Governor Agbu Kefas and PDP Chieftains alone, many members of opposition parties, former governors, elder statesmen, senior citizens, youths, and women representatives, among a host of many others, were in attendance. It wasn't a one-man's show but an event for the true lovers of Taraba state.
Many who are conversant with Governor Agbu Kefas can testify that he indeed has a great mind, a Midas touch, and extraordinary skills in turning situations around positively. It was only normal for true lovers of Taraba state to storm the inauguration ceremony in the interest of the state.
Governor Agbu Kefas during the inauguration melted the hearts of many when he gave his mind-blowing speech which reiterated his plans for the people of Taraba state and called for support from everyone while acknowledging that the job of governance isn't a one-man show thing but a collective effort in the interest of Taraba state.
His inauguration speech was not just a ceremonial speech but a statement of hope for the people of Taraba state. Governor Agbu Kefas is loved but was loved more after delivering the masterpiece of a speech at the inauguration ceremony.
Among his promises, He promised to prioritize security, women and youths empowerment, enablement of the disabled, and create an environment where everyone will prosper. Governor Agbu Kefas has never for once deviated from his campaign promises for the people of Taraba state.
Apart from his promises, He made his first appointments yesterday to hit the ground running as promised. It has also been confirmed that within 60 days in office, other appointments will be done for the sake of progress.
Governor Agbu Kefas' mantra since his campaign days has been 'Moving Forward' and undoubtedly, the set time for Taraba state to move forward is NOW.
Emmanuel fadipe….the face of humanity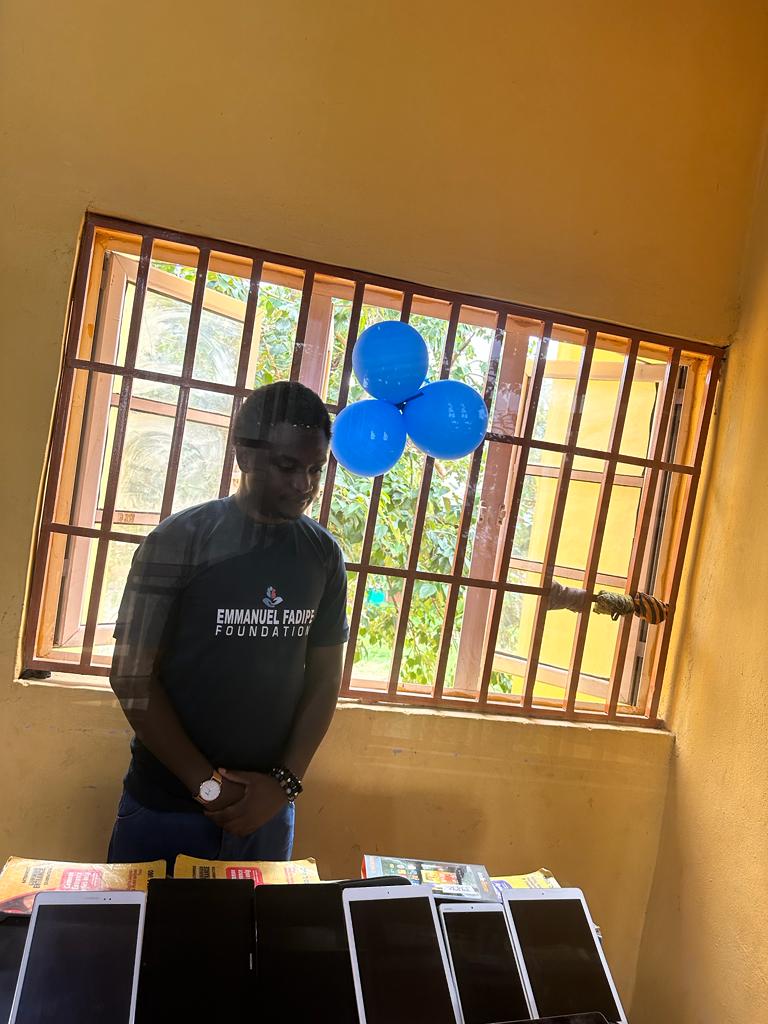 Emmanuel Fadipe…..the face of Humanity.
Sahara Weekly Reports That Emmanuel Fadipe the CEO of Emmanuel Fadipe Foundation whose personality over the years have been a great motivation to alot of young people all around the world have once again shown his selflessness through his interstate ICT project which he titled " 'Expanding the academic and career horizon of students through technological advancement, scientific growth and skill acquisition". The foundation once again made history through this project by donating high quality technological gadgets ranging from iPads, laptops etc. for the collective use of all the students in the institutions selected. The two day event covered four schools in Lagos state and these schools include Temidire Primary School, Oke Odo, Alimosho, AanuOluwapo Primary School Alimosho, Community Primary School Oke Odo, Alimosho and Community Secondary School, Akowonjo. Asides the donation of these gadgets to the above mentioned schools, the two day event also included academic ,capacity building and career development sessions which was well handled by professionals in different disciplines.
Emmanuel Fadipe who have won a lot of international awards in Academics,leadership and humanitarian endeavours is known characteristically for his humility, quietness and cultural values. His exceptional leadership when he led different organisations in diaspora recorded outstanding achievements and established great legacies which have structurally reinforced the organisations till date. His led administrations in different organisations experienced numerous historic achievements which include ensuring the discharge and acquaintance of wrongly sentenced Nigerians in diaspora is achieved, timely rescue of mentally depressed individuals at the edge of committing suicide, passionately discovering and promoting talents among Africans in diaspora, providing prioritised privileges for Nigerian students in government agencies, improving the general welfarism of Africans in diaspora;among many others
The Germany based doctorate researcher whose research discipline focus on Livestock infectiology and Environmental hygiene is reportedly planing to replicate the ICT project in other schools across the federation in the coming weeks. Report equally gathered that his foundation is set to ensure the sustainability of this project by providing solar energy power generation in most of the schools listed for the outreach. This and other value adding projects intended by the foundation will bring about immense development to Africa as a continent and the world at large.
The CEO of the foundation through his altruistic nature daily ensure that the objectives of the foundation is daily achieved and sacrificially pursue the course of humanity at the expense of his personal convenience and comfort.