Shareholders associations knock Kogi Govt, say action on Dangote Cement, dangerous for investment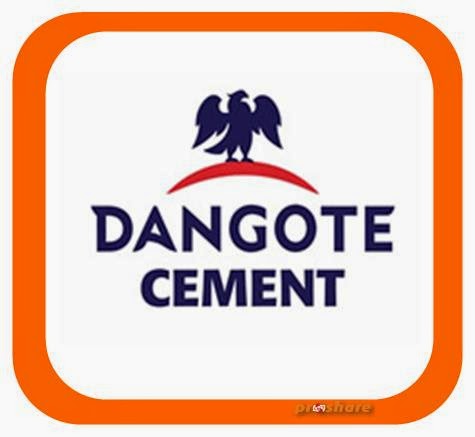 Shareholders associations knock Kogi Govt, say action on Dangote Cement, dangerous for investment
Group of Shareholders Associations in Nigeria have urged the Federal Government to urgently intervene and prevail on the government of Kogi State to stop further harassment of investors in Kogi State.
They described as barbaric the use of thugs to embarrass investors, such as meted out on Dangote cement and other companies located in Kogi State, noting that such unsavoury development will strongly discourage both local and foreign investments into the country.
It would be recalled that the Government of Kogi State last week, at the instance of the state governor, Yahaya Bello, invaded Dangote Cement, Obajana plant with over 500 armed members of the state's security outfit, the Vigilantes, shot 27 staff and wounded several others.
President of the Association for the Advancement of the Rights of Shareholders, Dr. Umar Faruk, while speaking on the development criticised the State Government for being so insensitive to its populace, thousands of whom are depending on the Dangote Obajana plant for their means of livelihood. He said it is unfortunate that someone who has championed investment, worth billions of Naira into a state in Nigeria, is being treated this way.
He called on the Federal Government to, as a matter of urgency, caution the Governor of Kogi State to be more civilized and professional in its dealing with Investors in the State. According to him: "Why should the governor of a state in Nigeria, mobilized vigilantes to seal a publicly quoted company? The same Governor did exactly the same thing to First Bank, making the bank close some of its branches in the state. Is that not executive rascality, using the state assembly to commit such an atrocious act?
"Federal Government should swing into action by protecting investors, else, the efforts being made to attract both foreign and local investors will come to naught. I hope the state realizes that Dangote Cement has foreign shareholders. What impression do you want these people to have of our government? I also urge the Federal Government to fish out those thugs, used by the State, for prosecution, so as to serve as a deterrent to others…This action will lead to loss of revenue, even for the Government, in terms of taxes, and erode the shareholder's value."
In the same vein, founder of the Independent Shareholders Association of Nigeria (ISAN) and President of Boys Brigade Nigeria (BBN), Sir Sunny Nwosu said a reasonable state government would have gone to court against any publicly quoted company rather than resort to a barbaric and ruthless method of chasing workers with guns and cutlass in the civilized age.
"What the Kogi State Government did, honestly was very bad and disappointing. How can a state use vigilante with guns and cutlasses against a company that is feeding thousands of its people? A reasonable government should have gone to Court and not taken laws into its hands.
"This action is bad and will smear the image of both the Federal and State government. It will also affect the ranking of ease of doing business in Nigeria. Kogi is blessed with so many natural resources, but with the attitude of this government, I doubt if any reasonable investor, either local or foreign, will want to do anything with the state anymore"
The President, Pragmatic Shareholders Association, Mrs. Bisi Bakare said: "As an investor, we are not happy about the way things are going. If the State has problems with Dangote Cement on tax issues or any issue at all, there are a far better-civilized ways of handling it than sealing a factory that is contributing more than 30 percent of the cement Nigerians are consuming.
"The governor should realize that his position is transient and that the people of his state, whom he has deprived their means of livelihood will always remember him for bad! Can you imagine the number of people that will be out of jobs and the huge revenue loss to the government, the company, and us, the shareholders? The state, to me, has done a very grave mistake and the earlier the company is re-opened the better."
Recalled that the Organised Private Sector (OPS) operators under the aegis of the National Association of Chambers of Commerce, Industries, Mines and Agriculture (NACCIMA) have lent its voice to the ongoing spat between Dangote Cement and Kogi state government which culminated into the closure of the Obajana plant of the Cement company.
NACCIMA expressed regret that the issues between the company and the state over tax disputes ought not to have led to sealing of the company but should have been resolved in a conciliatory and amicable atmosphere.
The body, in a statement signed by its Director-General, Olusola Obadimu, and issued in Lagos, said the state government should have trodden a path of caution and called for the immediate reopening of the factory for normal production activities to resume.
Obadimu stated that NACCIMA's position was based on some key considerations bordering on the impact of the factory's closure on the economy and thousands of people whose means of livelihood depend on the production activities of the factory.
"It is vital to note that it is a huge production plant that supplies key domestic input (cement) into the economy and employs hundreds of thousands of Nigerians, directly and indirectly. This is aside from its substantial budget for corporate social responsibility outside of taxes.
"Shutting off the factory does not necessarily help the controversial issue of compliance on tax remittable to Kogi state government. Rather a continuous operation of the plant would more likely facilitate a faster resolution of the dispute," he said.
The NACCIMA boss then urged that the factory be reopened as quickly as possible to enable it to continue its operation and fulfil its necessary responsibilities, not just on tax obligations, but also keep the hundreds of thousands of Nigerians in its direct and indirect employment dutifully engaged; while sustaining its crucial services not just to the people and government of Kogi State but Nigeria in general.
Mayor of Houston Texas endorses Fidelity Bank's Trade Expo (FITCC)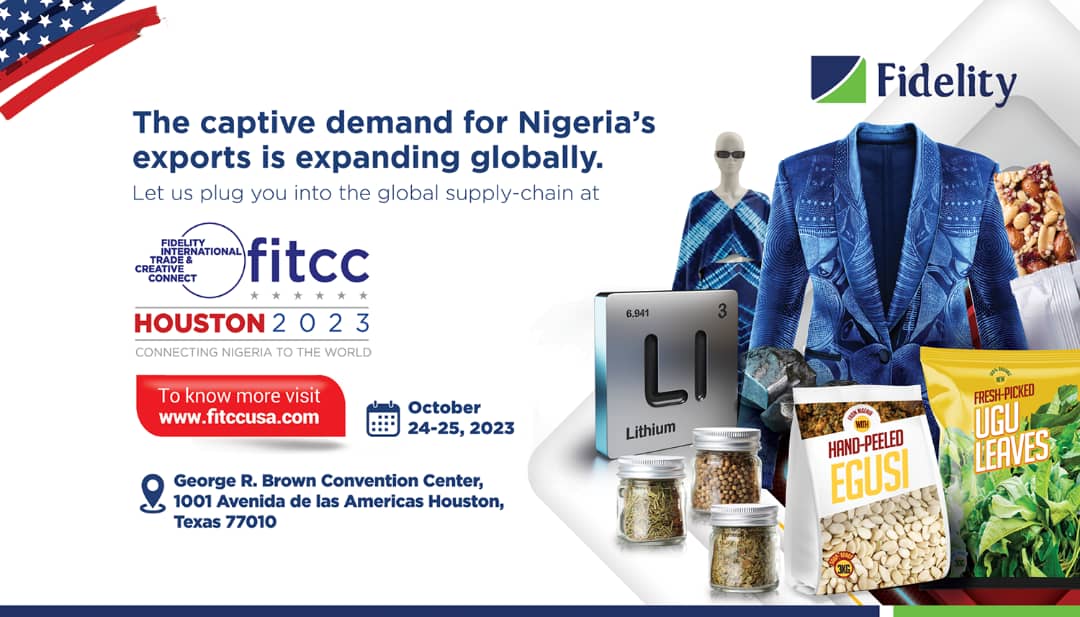 Mayor of Houston Texas endorses Fidelity Bank's Trade Expo (FITCC)
Fidelity Bank's upcoming trade expo tagged, the Fidelity International Trade and Creative Connect (FITCC Houston), has received a major boost as the Mayor, City of Houston, Sylvester Turner, has termed it, "A catalyst to support bilateral trade between Nigeria and Houston; and an opportunity for the Houston community and the diaspora to explore emerging trends, forge new partnerships and unlock new possibilities".
This was made known in a video message recently issued by the mayor. In the one-minute clip obtained by our journalist, the Mayor Turner highlighted the several side attractions scheduled for FITCC Houston and encouraged businesses to take advantage of the expo to expand their businesses beyond borders.
The event is scheduled for Tuesday, 24 and Wednesday, 25th October 2023 at the George R. Brown Convention Center, 1001 Avenida de las Americas, Houston, Texas 77010. The bank will be hosting exporters, leading businesses, entrepreneurs, investors and regulators operating in the commodity, service, creative, fashion and FinTech sectors in Nigeria and the United States with the view of promoting Nigeria's non-oil exports and facilitating integrations to global supply-chain networks.
Watch Mayor Turner's video here:
Register to attend the event at www.fitccusa.com
Shaping the PR Landscape: Media Intelligence Consultancy Gears Up for 24th #EvaluatePR Event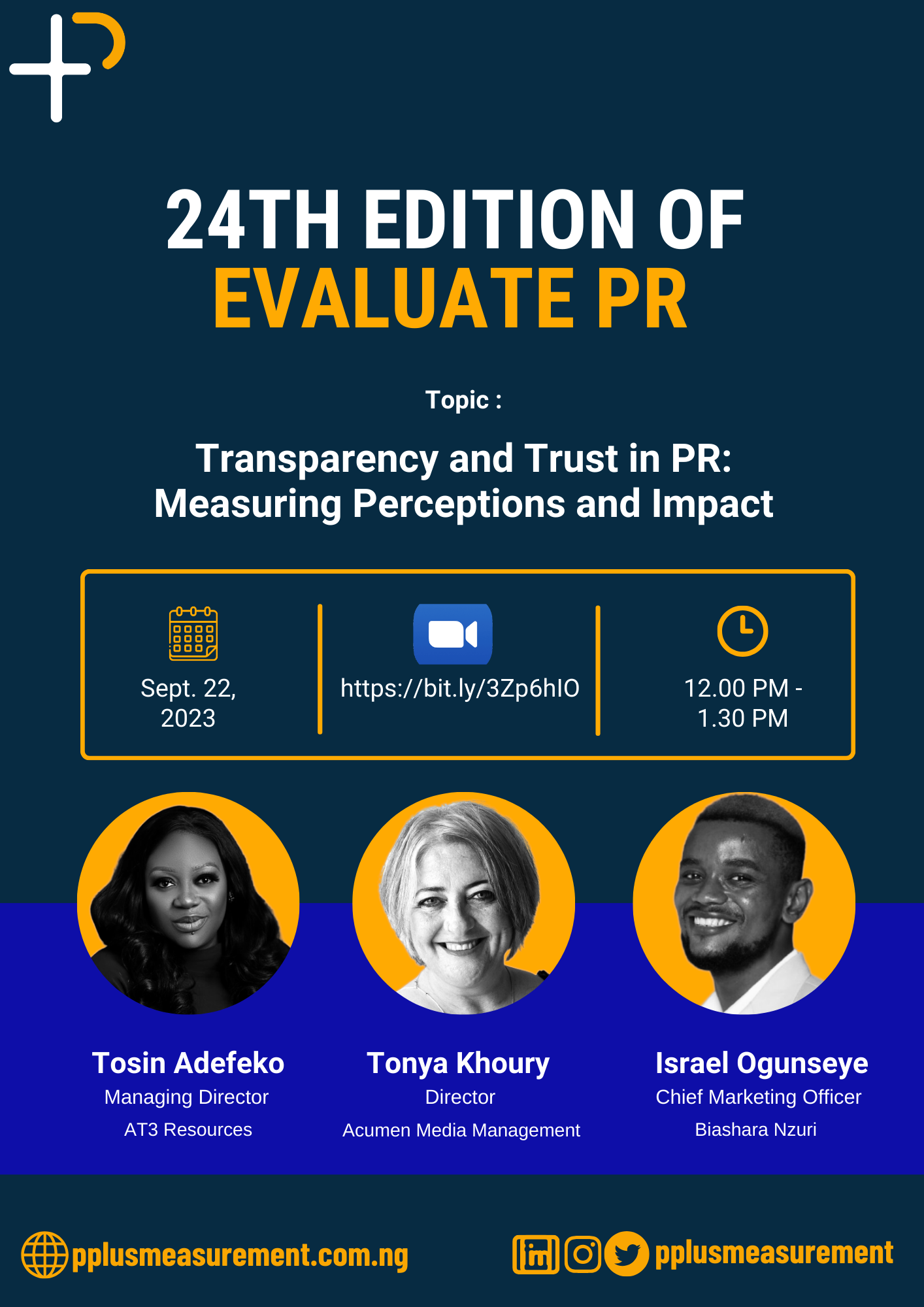 Shaping the PR Landscape: Media Intelligence Consultancy Gears Up for 24th #EvaluatePR Event

P+ Measurement Services, a leading Media Intelligence Consultancy, is excited to unveil the anticipated 24th edition of #EvaluatePR. This landmark event, held quarterly, will take place virtually on September 22nd, 2023, from 12:00 to 1:30 pm (West African Time). Designed to foster enriching discussions, offer invaluable insights, and keep industry professionals updated on the cutting-edge trends, #EvaluatePR remains a pivotal point for PR practitioners worldwide.
#EvaluatePR has firmly established itself as a foremost global platform, uniting PR professionals, industry experts, and academics to explore the evolving landscapes of public relations, communications, and media intelligence.
This edition is set to thrill participants with its distinguished lineup of guest speakers. Among them are Tonya Khoury, Director at Acumen Media Management; Tosin Adefeko, Managing Director of AT3 Resources; and Israel Ogunseye, Chief Marketing Officer at Biashara Nzuri.
With their extensive experience and profound insights, they will explore the theme "Transparency and Trust in PR: Measuring Perceptions and Impact," providing participants with practical strategies to navigate complex PR scenarios while emphasizing the critical aspects of transparency and trust. In a world where public perception and reputation can influence in an instant, understanding these skills is vital.
To participate in the discussion, use the Zoom meeting link below;
HACKAHOLICS DIGITAL SUMMIT 2023: WEMA BANK LAUNCHES AFRICA'S LARGEST GATHERING OF INNOVATORS, DISRUPTORS, REGULATORS, POLICYMAKERS, INVESTORS & CUSTOMERS IN THE DIGITAL SPACE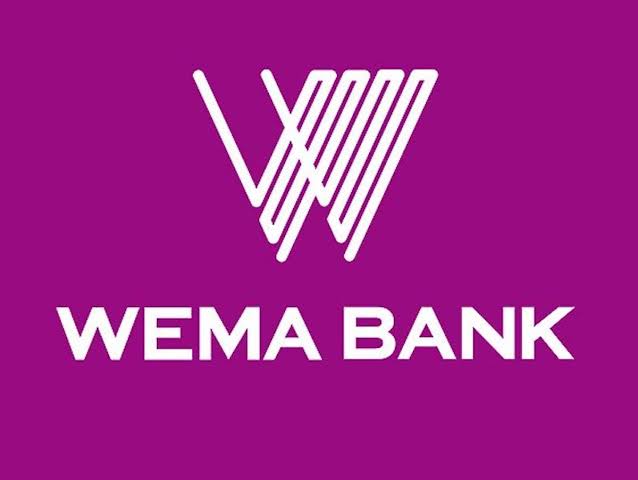 HACKAHOLICS DIGITAL SUMMIT 2023: WEMA BANK LAUNCHES AFRICA'S LARGEST GATHERING OF INNOVATORS, DISRUPTORS, REGULATORS, POLICYMAKERS, INVESTORS & CUSTOMERS IN THE DIGITAL SPACE
Wema Bank, Nigeria's most innovative bank and pioneer of Africa's first fully digital bank, ALAT, has announced the launch of the Hackaholics Digital Summit 2023, Africa's largest gathering of innovators, disruptors, regulators, policymakers, investors & customers in the digital space.
This groundbreaking summit will serve as a hub for sharing cutting-edge insights, trends, and best practices in the tech industry towards the positive transformation of technology and innovation not just in Nigeria but across the African continent.
In 2019, Wema Bank introduced Hackaholics, a dedicated initiative targeting youth and startups. Its mission is to provide a stage for entrepreneurs and innovators with transformative, tech-driven concepts to bring their ideas to fruition and refine their skills. The 4th edition of Hackaholics, launched in April 2023, involved several months-long journey to top Nigerian universities to identify and nurture talented students with creative ideas. These students were afforded the opportunity to collaborate, enhance their skills, and actualize their unique concepts through technology. The Hackaholics Digital Summit will host both the grand finale of Hackaholics 4.0 and the inaugural edition of the digital summit.
The Hackaholics Digital Summit 2023 is scheduled for October 6, 2023, in Lagos, Nigeria, under the theme "Re-Imagine: Disrupting the Ecosystem for Scale." This multifaceted event commences with the launch of the Hackaholics Digital Summit and concludes with the exciting grand finale of Hackaholics 4.0. During this grand event, the standout teams from the competition will showcase their innovations, contending for the prestigious titles of Hackaholics 4.0 winners.
Notably, the winning team will receive a grant of N10,000,000 worth of prizes, the first runner-up N7,000,000 worth of prizes, the second runner-up N5,000,000 worth of prizes, while a special N3,000,000 grant is reserved exclusively for a female-led team. Additionally, a N15,000,000 grant will be allocated to University STEM endowment.
The Digital Summit will further encompass an array of simultaneous master classes, providing attendees with the opportunity to witness the emergence of Africa's technological future while gaining invaluable insights from renowned experts. These masterclasses will delve into topics such as "The Future of Financial Services," "Venture Capital and Funding Viable Innovation for Scale," and "Strategic Technology for Impact & Societal Change: Transforming Today & Tomorrow's World."
Attendance to this prestigious event is by invitation only; however, interested customers and technology enthusiasts can secure a spot at the Wema Bank Hackaholics Digital Summit 2023 by registering at https://hackaholics.wemabank.com/digital-summit.
Don't miss the chance to be part of this exceptional gathering, charting the course for the future of technology in Africa.