South-South Socio-Cultural Organization Makes New Demands to Government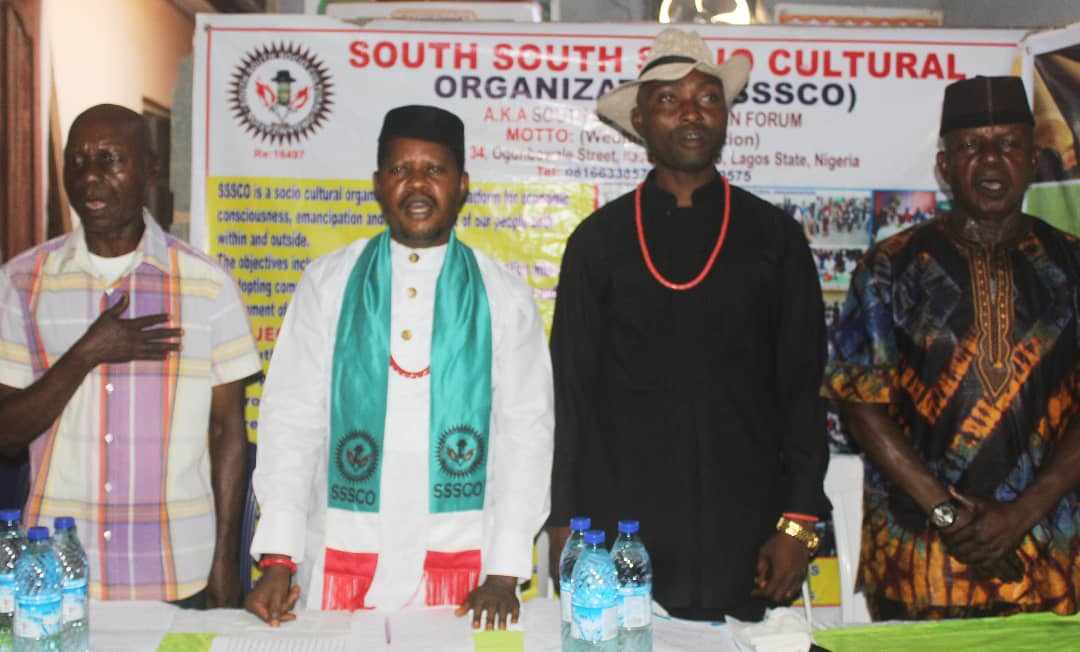 …wants relocation of oil multinationals operational base, resource control
By Ifeoma Ikem
The President General of the
South South Socio-Cultural Organisation, Lagos state,Comrade Dr. Annibest James has in strong terms called on the Federal government of Nigeria to began a smooth process of relocation of all the headquarters of oil multinational to their operational bases in the South South region as well as resource control by the region.
In addition, they he called for a rehabilitation process for the youths of the South South, whose persons have been completely violated and distorted over the years by the government and its agents.
Making a 7-Demand while addressing a world press conference in Lagos, the South South Socio-Cultural organisation, which is the Apex body of South South zone, is formed to create social political, economic consciousness, emancipation and empowerment of the people of the South South region.
The latest call is in consonance with a 7-point demand by the Governors and leaders of South South region from the presidency at presidential meeting with officials of the Federal Government vis a vis the position of South-South Socio-Cultural Organisation, Lagos state.
Reiterating, Dr. Annibest James
observed that as a body, they have "through sensitization, moblilization and varying empowerment programmes made strident calls for change and reorientation of all their people.
In his state, "Though like a lone voice in the wilderness, we have consistently and persistently call for radical introspection as a buffer to all indices negating development strides of South South as a zone.
"The call and demands by the governors and leaders of the zone now cannot be more apt. The position of our leaders for true federalism and resource control, fair revenue sharing and state Police as a sine-qua-non toward achieving a better Nigeria cannot be controverted.
Dr Annibest reechoed their stands, which he added aligns with the hope and aspiration of their leaders as their avowed position on our age long liberation struggle.
Describing South-South Socio-Cultural Organization as a focal and functional organ, "has developed a vision of South-South of our dream that is able, ready and willing to challenge for supremacy in all spheres of life.
Continuing, "We have also articulated structures for producing the chances needed to achieve the vision of our people rebuilding our people's psyche which has been battered overtime by absence of purposeful leadership, deprivation and neglects.
"We must be able to sensitize our people to begin to resist the indignities to which they have been subjected overtime and join hands with other progressives in the larger society to insist on the restructuring of the polity.
"As the hen that lays the golden egg, we shall no longer sit on the fence and play the Ostrich, adding that their demands have been made and would be marched with action otherwise it will turn to the mere lamentations," Dr Annibest reiterated.
He noted that a cursory examination of their lamentations reflect the pains of their people and "the cystallization of wide ranging, far-reaching contacts and consultations embarked upon by the group.
"Our challenge is now to create a templates/development of strategies for managing the agenda whose main aim is to liberate our people from long years of mental inertia clamped on them by a highly educated, very articulate but self-serving political class," Dr Annibest concluded.