Sterling Bank Declares Bounty At 61st AGM

– Sterling Bank Declares Bounty At 61st AGM
Lagos, Nigeria: The shareholders of one of Africa's fastest growing companies, Sterling Bank, have commended the board of directors, executive management and staff of the bank on its remarkable financial performance for the 2022 year, resulting in a recommendation of dividends of 15 kobo per ordinary share; a fifty percent increase from that paid in 2021. The shareholders gave this commendation at the 61st annual general meeting of the bank held in Lagos on Wednesday.
Speaking at the meeting, Mr. Rilwan Hamza, one of the shareholders, commended the board members and staff of the bank for the wonderful financial performance while another shareholder, Mr. Boniface Okezie, expressed delight at the level of transparency displayed by the board and commended them for the improved dividend payout.
The shareholders urged the board to make the most of the transition into a financial holdings company and establish more subsidiaries that will drive even more growth and increase shareholder value.
The bank's strong performance for the 2022 financial year was derived from growth in its assets base and customers' deposits by 14.4 percent and 9.8 percent respectively. This is despite strong economic headwinds experienced by the Nigerian economy in the year under review.
Addressing shareholders of the bank at the first meeting as a limited liability company, following its ongoing transformation into a holding company structure, Chairman of the bank; Mr. Asue Ighodalo remarked that, "Despite the challenges during 2022, our performance reflected our resilience and determination to deliver optimal value for our shareholders. We are pleased that we closed the year on a good note."
Mr. Ighodalo said the bank grew profit before tax to N 20.8 billion, representing a 29 percent year-on-year increase from N 16.1 billion recorded in 2021, and a 28.5 percent growth in profit after taxes (PAT) to achieve the sum of N19.3 billion for 2022.
He said the PAT growth was driven by an N18.6 billion improvement in net operating income amidst heightened inflationary pressure and regulatory policies, adding that the gross earnings grew by 16.6 percent to N175.1 billion compared to N150.2 billion reported in 2021.
On business outlook for the year, the Chairman noted that "We remain very optimistic about our bank's future and are devoted to effectively transforming our business to deliver optimal performance, and significantly offer superior services to millions of Nigerians.
"We are steadfast in our commitment to lead with best-in-class customer experience, establish a work environment that helps our employees became the best versions of themselves, become even more socially responsible as an institution, and create immense value for our shareholders."
The Chairman said, "Our transformation into a holding company structure will allow shareholders and customers to maintain continued exposure to the bank's existing lines of business and gain exposure to new business lines that will enhance shareholder value."
"As we chart a new future for our organization, the expanded company structure will give us the renewed ambition to conquer new ground and solve more problems."
The bank has maintained and increased momentum in 2023 with her citation as Africa's Most Valuable Commercial Bank Brand for 2023 by the African Brand Magazine , in a poll conducted by GeoPoll and Kantar; two of the world's leading brand research firms, a top three employer in Nigeria by LinkedIn in the social network's annual Top 25 List, and most recently, one of the top 100 fastest growing companies in Africa by the prestigious Financial Times.
Renowned for its now famous HEART of Sterling strategy; which focuses major investments in the Health, Education, Agriculture, Renewable Energy and Transportation sectors of the Nigerian economy, its irreverent brand voice and enviable talent management practices, the lender recently completed a major milestone towards the completion of its transformation into a financial holdings company with the relisting of its shares on the floor of the Nigerian Exchange (NGX).
Mayor of Houston Texas endorses Fidelity Bank's Trade Expo (FITCC)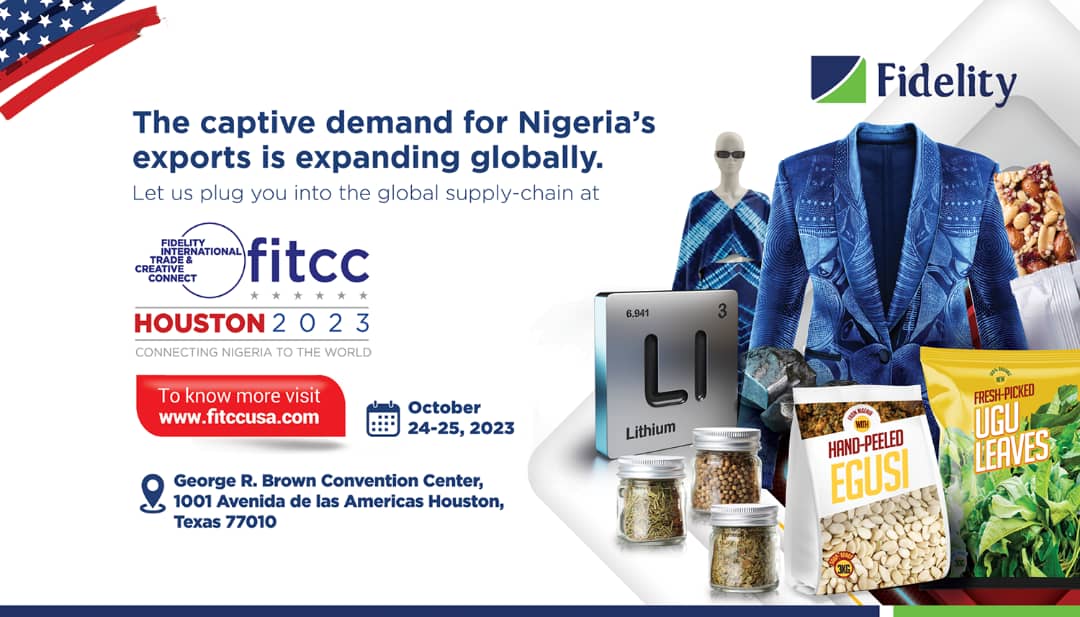 Mayor of Houston Texas endorses Fidelity Bank's Trade Expo (FITCC)
Fidelity Bank's upcoming trade expo tagged, the Fidelity International Trade and Creative Connect (FITCC Houston), has received a major boost as the Mayor, City of Houston, Sylvester Turner, has termed it, "A catalyst to support bilateral trade between Nigeria and Houston; and an opportunity for the Houston community and the diaspora to explore emerging trends, forge new partnerships and unlock new possibilities".
This was made known in a video message recently issued by the mayor. In the one-minute clip obtained by our journalist, the Mayor Turner highlighted the several side attractions scheduled for FITCC Houston and encouraged businesses to take advantage of the expo to expand their businesses beyond borders.
The event is scheduled for Tuesday, 24 and Wednesday, 25th October 2023 at the George R. Brown Convention Center, 1001 Avenida de las Americas, Houston, Texas 77010. The bank will be hosting exporters, leading businesses, entrepreneurs, investors and regulators operating in the commodity, service, creative, fashion and FinTech sectors in Nigeria and the United States with the view of promoting Nigeria's non-oil exports and facilitating integrations to global supply-chain networks.
Watch Mayor Turner's video here:
Register to attend the event at www.fitccusa.com
Shaping the PR Landscape: Media Intelligence Consultancy Gears Up for 24th #EvaluatePR Event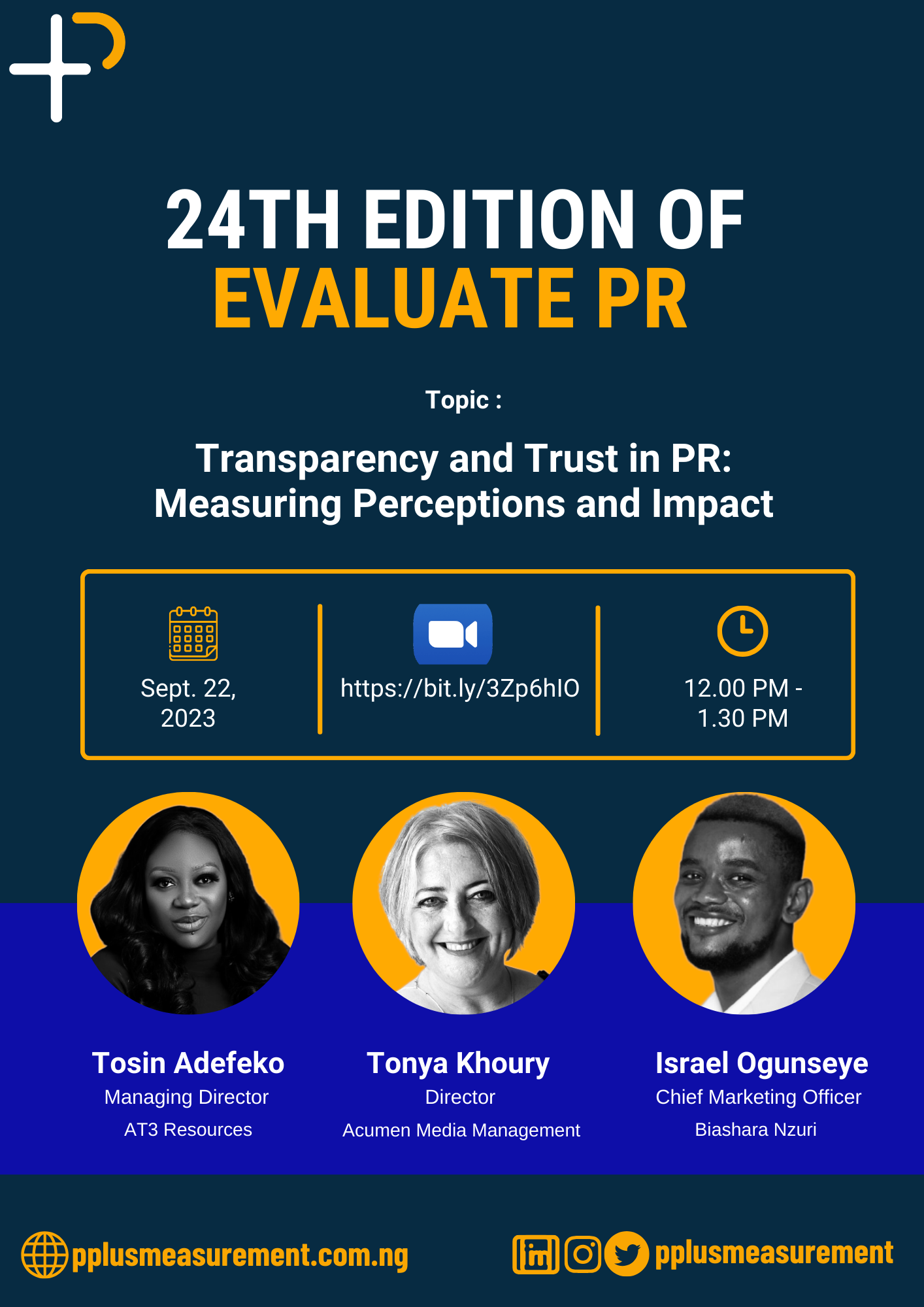 Shaping the PR Landscape: Media Intelligence Consultancy Gears Up for 24th #EvaluatePR Event

P+ Measurement Services, a leading Media Intelligence Consultancy, is excited to unveil the anticipated 24th edition of #EvaluatePR. This landmark event, held quarterly, will take place virtually on September 22nd, 2023, from 12:00 to 1:30 pm (West African Time). Designed to foster enriching discussions, offer invaluable insights, and keep industry professionals updated on the cutting-edge trends, #EvaluatePR remains a pivotal point for PR practitioners worldwide.
#EvaluatePR has firmly established itself as a foremost global platform, uniting PR professionals, industry experts, and academics to explore the evolving landscapes of public relations, communications, and media intelligence.
This edition is set to thrill participants with its distinguished lineup of guest speakers. Among them are Tonya Khoury, Director at Acumen Media Management; Tosin Adefeko, Managing Director of AT3 Resources; and Israel Ogunseye, Chief Marketing Officer at Biashara Nzuri.
With their extensive experience and profound insights, they will explore the theme "Transparency and Trust in PR: Measuring Perceptions and Impact," providing participants with practical strategies to navigate complex PR scenarios while emphasizing the critical aspects of transparency and trust. In a world where public perception and reputation can influence in an instant, understanding these skills is vital.
To participate in the discussion, use the Zoom meeting link below;
HACKAHOLICS DIGITAL SUMMIT 2023: WEMA BANK LAUNCHES AFRICA'S LARGEST GATHERING OF INNOVATORS, DISRUPTORS, REGULATORS, POLICYMAKERS, INVESTORS & CUSTOMERS IN THE DIGITAL SPACE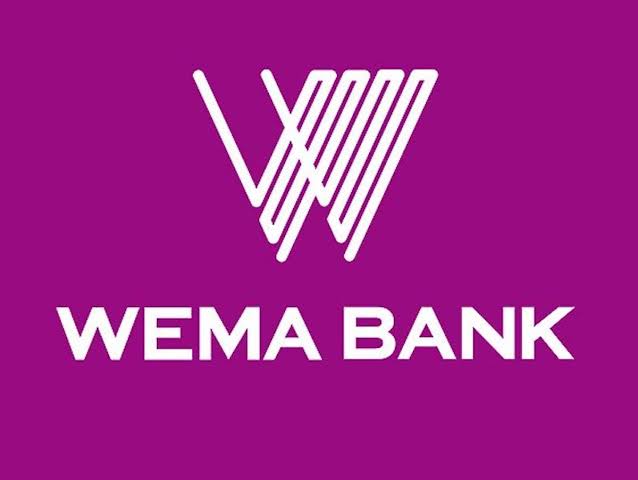 HACKAHOLICS DIGITAL SUMMIT 2023: WEMA BANK LAUNCHES AFRICA'S LARGEST GATHERING OF INNOVATORS, DISRUPTORS, REGULATORS, POLICYMAKERS, INVESTORS & CUSTOMERS IN THE DIGITAL SPACE
Wema Bank, Nigeria's most innovative bank and pioneer of Africa's first fully digital bank, ALAT, has announced the launch of the Hackaholics Digital Summit 2023, Africa's largest gathering of innovators, disruptors, regulators, policymakers, investors & customers in the digital space.
This groundbreaking summit will serve as a hub for sharing cutting-edge insights, trends, and best practices in the tech industry towards the positive transformation of technology and innovation not just in Nigeria but across the African continent.
In 2019, Wema Bank introduced Hackaholics, a dedicated initiative targeting youth and startups. Its mission is to provide a stage for entrepreneurs and innovators with transformative, tech-driven concepts to bring their ideas to fruition and refine their skills. The 4th edition of Hackaholics, launched in April 2023, involved several months-long journey to top Nigerian universities to identify and nurture talented students with creative ideas. These students were afforded the opportunity to collaborate, enhance their skills, and actualize their unique concepts through technology. The Hackaholics Digital Summit will host both the grand finale of Hackaholics 4.0 and the inaugural edition of the digital summit.
The Hackaholics Digital Summit 2023 is scheduled for October 6, 2023, in Lagos, Nigeria, under the theme "Re-Imagine: Disrupting the Ecosystem for Scale." This multifaceted event commences with the launch of the Hackaholics Digital Summit and concludes with the exciting grand finale of Hackaholics 4.0. During this grand event, the standout teams from the competition will showcase their innovations, contending for the prestigious titles of Hackaholics 4.0 winners.
Notably, the winning team will receive a grant of N10,000,000 worth of prizes, the first runner-up N7,000,000 worth of prizes, the second runner-up N5,000,000 worth of prizes, while a special N3,000,000 grant is reserved exclusively for a female-led team. Additionally, a N15,000,000 grant will be allocated to University STEM endowment.
The Digital Summit will further encompass an array of simultaneous master classes, providing attendees with the opportunity to witness the emergence of Africa's technological future while gaining invaluable insights from renowned experts. These masterclasses will delve into topics such as "The Future of Financial Services," "Venture Capital and Funding Viable Innovation for Scale," and "Strategic Technology for Impact & Societal Change: Transforming Today & Tomorrow's World."
Attendance to this prestigious event is by invitation only; however, interested customers and technology enthusiasts can secure a spot at the Wema Bank Hackaholics Digital Summit 2023 by registering at https://hackaholics.wemabank.com/digital-summit.
Don't miss the chance to be part of this exceptional gathering, charting the course for the future of technology in Africa.