Super Model Avatar releases Sultry pictures

Super model cum entrepreneur, Jasanya Adetutu widely known as Avatar has released fresh sultry pictures to reveal her brand .

She has travelled far and wide. And she has model  for different brands in Nigeria, Ghana, South Africa, Dubai and many others.

Her inspiration has always been photography's ability to stop and reveal what the naked eye cannot see.@The studio 360 my official photographer once told me to be bold in what so ever I want to do"

To book her check her handle @ts_avatar or adetutuavatar@gmail.com
Celebrities That Own Customized Mercedes Benz Sprinter VIP Van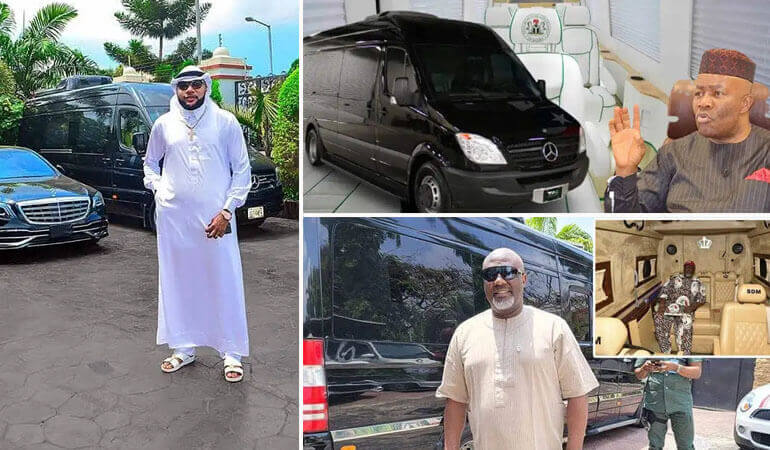 Celebrities That Own  Customized Mercedes Benz Sprinter VIP Van
Mercedes Benz Sprinter VIP Van has gained prominence in becoming the vehicle of choice for many celebrities and various wealthy people who need larger than usual average vehicles for their travel needs, luxury, or business engagements. The starting price of a Mercedes Benz Sprinter Van is nothing less than 18,000,000 NGN. Of course, the price gets higher depending on how celebrities want it customized. This implies you need to have a fat account to avoid the luxury of a Mercedes Benz Sprinter Van
The Mercedes Benz Sprinter is often regarded as a boxy vehicle on four wheels. This classic van with high end features has a dizzying array of body styles, engine choices and customization options. The fact is, whoever you are or whatever your travel needs are; there is always a Mercedes Sprinter that perfectly meets your itinerary. Mercedes-Benz Sprinter is a full-size van available in cargo, passenger and crew configurations. All vans come in 144-inch and 170-inch wheelbase lengths, and the longer-wheelbase versions are also available in extra-long cargo and crew configurations.
Due to its versatility, various celebrities are opting for the Mercedes Benz Sprinter Van. It provides space and comfort, and can easily be customized to fit the desires of whoever needs it and can pay for it. Below are popular celebrities who own one or more customized Mercedes Benz Sprinter Van.
E-MONEY
Emeka Okonkwo, popularly known as E-Money was born in Ajegunle, Lagos State on the 18th of February 1981. The young billionaire lives an extravagant life. This is no surprise because some quarters also call him Arab Money. He is the CEO of Five Star Group and Emy Cargo Limited.
He established Emy Cargo in 2007. This company is one of the best freight forwarding and shipping services companies in Africa. The company also sells both new and used American cars.
E-money is KCee's brother. This guy's got some wealth and is not afraid to spend it. Amongst his fleet of exotic vehicles is a customized Mercedes Benz Sprinter van. E-Money takes a lot of leisure cruises with his friends in his beautifully-styled Mercedes Benz Sprinter Van. The starting price for the customization specs used by E-Money in his sprinter van begins from 100,000,000 NGN
Godswill Akpabio
Godswill Akpabio  is the current Minister of Niger Delta, a former Senator of the Federal Republic of Nigeria and the Senate's Minority Leader. The veteran governor has wealth and affluence and doesn't hesitate to spend it on enjoying luxurious vehicles. In 2013, barely a few months after acquiring a $45 million private jet, Godswill Akapabio got himself several customized bulletproof Mercedes Benz Sprinter Vans.
The luxury vans were acquired from US-based Texas Armoring Corporation (TAC). Godswill Akapabio had his Sprinter Van customized by the Texas Armoring Corporation. Part of his customizations includes making the van bulletproof to enhance security. He also customized the seats white with a line of green and also had the Nigerian coat of arms imprinted on the headrest of the seats. His customized Sprinter van costs him several millions of dollars.
DINO MELAYE
Once a member of the House of Representatives, Dino is a politician, lawmaker and former senator of Nigeria. Serving as a senator, Dino Melaye represented the Kogi West Senatorial District under the People's Democratic Party. Senator Dino Melaye is one of the few senators who has stirred controversy in Nigeria with his attitudes and words. He is often referred to as the 'singing senator'.
Dino Melaye is a wealthy man. He is a busy man and travels a lot. Dino Melaye is the proud owner of a customized Mercedes Benz Sprinter van which he uses for most of his itinerary. For a wealthy politician, Dino Melaye can afford to have his Mercedes Benz sprinter van customized at a starting price of 130,000,000 NGN
PASTOR CHRIS OYAKHILOME
Popularly known as Christ Embassy, he is the president of LoveWorld Incorporated. Born on the 7th of December 1961, Pastor Chris Oyalkhilome is a pastor, televangelist and philanthropist. He is a graduate of the prestigious Ambrose Alli University, Nigeria.
Being a wealthy and successful pastor, Pastor Chris Oyalkhilome has a fleet of exotic cars and the Mercedes Benz Sprinter Van is one of them. This vehicle is customized to fit well the touring needs of the Man of God. Customized specifications of Pastor Chris Oyakhilome are that the van has armoured features and other advanced technology and safety features. Pastor Chris Oyalkhilome has not disclosed how much he spent on customizing his sprinter van.
Ayiri Emam
Ayiri Emami is a Nigerian activist and highly influential Niger Delta youth leader. He was the former chairman of the Delta Waterways Security Committee.
Wealthy and famous, Ayiri Emami is a versatile young man. Reports have it that he is a lover of expensive and exotic cars. Notable among his fleet of cars are Jeep Wrangler, Mini Cooper, BMW X6, Jaguar XJ, Bentley Mulsanne, Toyota Venza, Cadillac Escalade, Range Rover Sport, Lexus LX 470, Mercedes Benz G-Class etc.
He also owns a customized Mercedes Benz Sprinter Van. Very often, Ayiri Emami can be found cruising around town in his customized sprinter van with his wife and kids. His customized Sprinter Van costs him between 60,000,000 – 80,000,000 NGN.
Friday Ossai Osanebi
Friday Ossai Osanebi, born October 7, 1980, is a Nigerian and a member of the Delta State House of Assembly. He is the Lawmaker representing Ndokwa East Local Government Constituency in the State House of Assembly. He is the youngest legislator in the Delta State House of Assembly. The young lawmaker owns a customized Mercedes Benz Sprinter van which he used mostly during his campaign tours to be a lawmaker. Friday Ossai Osanebi has not revealed how much he bought his Sprinter van.
Val: Don't lose your dignity to ignorance, peer pressure, Helen Paul advises young ladies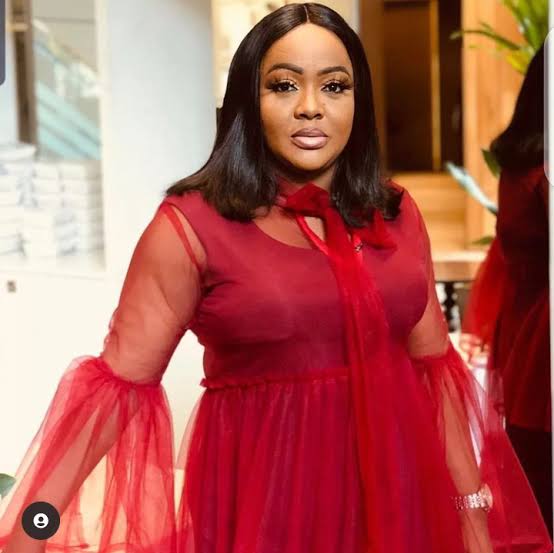 Val: Don't lose your dignity to ignorance, peer pressure, Helen Paul advises young ladies
Top Nigerian female comedian, Professor Helen Paul has said that the St Valentine's Day shouldn't be one that will be used to promote immorality, particularly between the opposite sex.
St. Valentine's Day, popular known as Lover's Day, is celebrated all over the world every February 14th, but the famous entertainer believes the celebration is often misinterpreted in Nigeria.
Helen Paul said "St Valentine's Day is a day to show love to people around you by exchanging gift items and providing for the needy in your own little way. It is not a day to exchange your body for material things and the likes. This is my humble advice to all young ladies out there. Do not lose your dignity to ignorance and peer pressure.
"Simply check on your loved ones with calls and text messages, even if you can't afford any gift item. A lot of people are battling depression, and you could have saved a life by checking on someone. That's the reason for the season.
"In preparation for next week's elections, the government has asked all university students go on break, but some students are staying behind because they want to do Valentine first. They want to drive Benz automobiles and use expensive phones and gadgets.
"This is just to let you know that we love and pray for God's protection over you. Kindly go back home to your family. They're missing you. Those things you're craving now are vanity."
Valentine Couples Dinner: Temitope Fabinu Adeniba Hosts "Love is a Beautiful Thing" @ Airport Hotel ikeja, February 18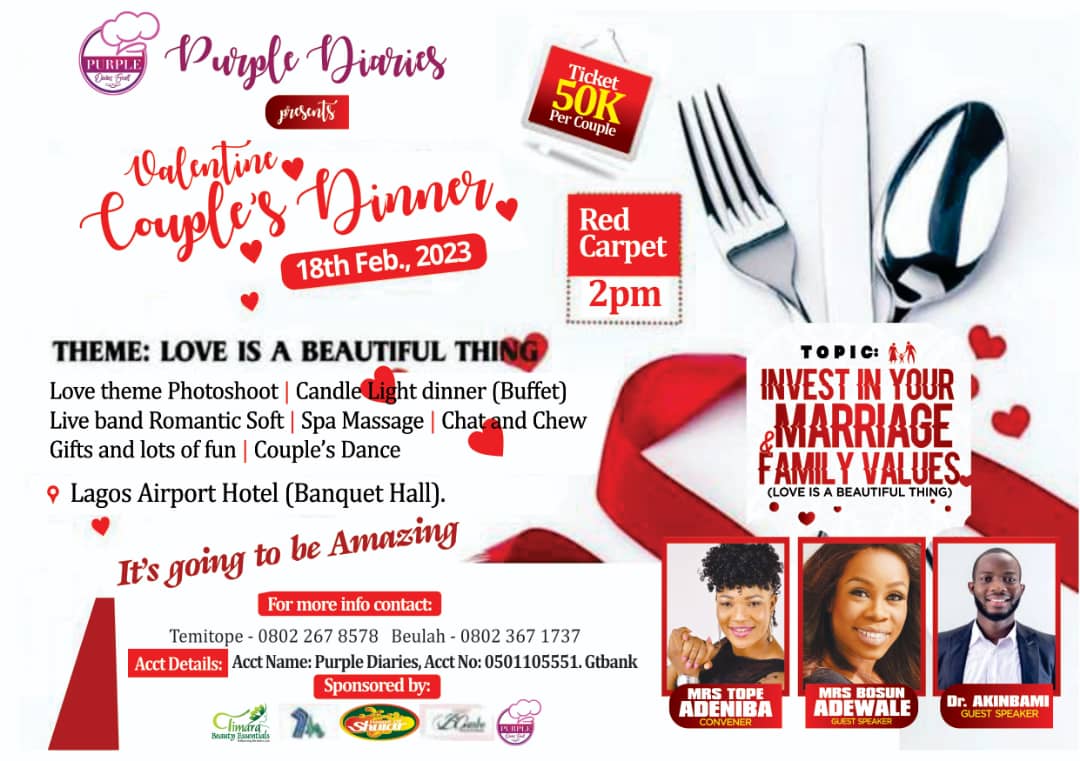 Valentine Couples Dinner: Temitope Fabinu Adeniba Hosts "Love is a Beautiful Thing" @ Airport Hotel ikeja, February 18
Light it up with Purple Diaries @ Lagos Airport Hotel Ikeja, on the 18th of February as we take the beautiful moment of fun and couples bond to another level….learning more on family values and making memories.
Temitope Fabinu Adeniba(host) is an event planning personnel with passion for family and children.
Valentine Couple's Dinner is going to be Amazing…don't miss it.