SYNAGOGUE CHURCH TAKES FULL CARE OF THE BEREAVED FAMILIES OF THE COLLAPSED GUESTS HOUSE- WITNESS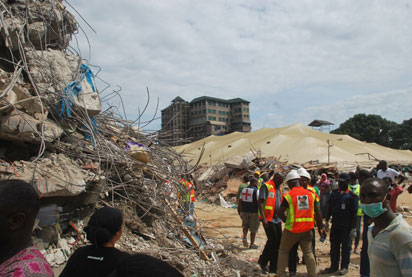 A survivor in the collapsed Synagogue Church of All Nations SCOAN, guest building, Mr Taiwo Taiwo has admitted before a Lagos High Court sitting in Igbosere that the Church has been responsible financially in looking after all the dependants of all the deceased persons from the day of incident till now.
The Lagos State Government had sued the Synagogue Church of All Nations over the collapsed building that  killed 116 worshipers of the Church, on September 12, 2014.
The defendants are Oladele Ogundeji and Akinbela Fatiregun charged alongside their companies – Hardrock Construction and Engineering Company and Jandy Trust Ltd.
They are facing 110-count charge of involuntary manslaughter while the Registered Trustees of SCOAN were charged with one count of building without approval.
The Lagos State Directorate of Public Prosecutions accused the defendants of violating Section 75 of the Urban and Regional Planning Law of Lagos State 2010 as well as Section 222 of the Criminal Law of Lagos State 2011.
They were arraigned on April 19, 2016, but they pleaded 'not guilty'.
The prosecution subsequently opened its case, called witnesses and tendered documents to prove the allegations against the defendants.
At the resumed hearing of the matter today Taiwo who is a volunteer guest worker in the Church, said that the Church has not failed at anytime to carry out this obligations, towards the dependants of the deceased.
The witness, led by Olalekan Ojo SAN, in his evidence in Chief, told Justice Lateef Lawal-Akapo, that he arrived at the collapsed building at about 12noon, before the incident occurred.
Narrating his experience on the day of the collapsed building, the witness who said his duties were to see to the feeding, accommodation and welfare said he was at the dinning on ground floor preparing for guests' lunch when he heard a thundering sound with a kind of horizontal light line moving across the walls.
He said he was unconcious and was only rescued a day after the incident, adding that he felt burning sensation on his back and when he opened his eyes, the environment was dark.
He also stated that he never saw any crack in any part of the building while attending to guests on the other floors
Consequently Justice Lawal-Akapo, adjourned the case till January 25, for continuation of trial.