Tears of Joy as Student, Ibrahim, receives Glo Promo House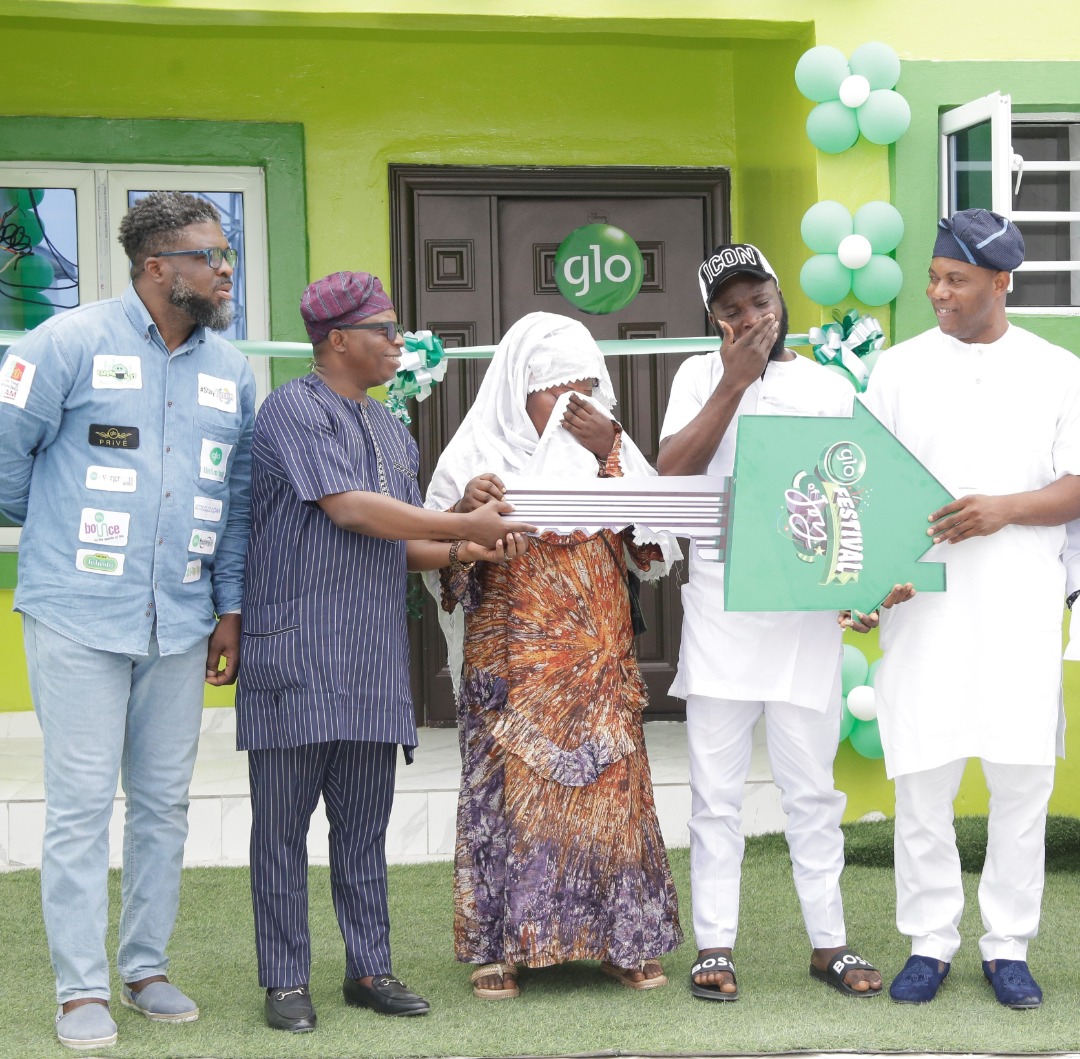 Tears of Joy as Student, Ibrahim, receives Glo Promo House
It was indeed an overflow of joy from 20-year-old Ibrahim Ayanleke Abiodun, a first year student of the University of Ilorin, and his mother as they were announced as the latest winners of a 3-Bedroom apartment in the ongoing Glo Festival of Joy promo.
On Friday, December 16, which was the day of presentation, the event proceeding was interrupted a few times to accommodate Abiodun and his mom's expressions of joyful tears as they received their new house keys.
The Executive Chairman of Ibeju Lekki Local Government, Engineer Abdullahi Olowa, Honourable Noherm Adams, member representing Etiosa Constituency 1 in the Lagos State House of Assembly, and Globacom officials, were among those who witnessed this exhilarating experience.
In his speech, the Executive Chairman of Ibeju Lekki, Engineer Abdullahi Olowa, appreciated the great strides of Globacom, stating that the company had, since inception, pioneered and sustained the noble tradition of putting subscribers first in its operations.
"It is heartwarming to note that Globacom still keeps faith with the tradition of adding wholesome value to the lives of its subscribers", he said.
Globacom's Regional Manager, Lagos 1, Mr Temitope Ayeni, encouraged subscribers wishing to participate in the promo to "dial the dedicated short code *611# and recharge as appropriate to stand a chance to win any of the prizes on offer. Subscribers who desire to win any of the 3-bedroom houses must make data subscription up to at least N20,000 during the promo period. The more they recharge, the higher the chances of winning", he said.
Five Lagos Communities To Enjoy Solar Energy Soon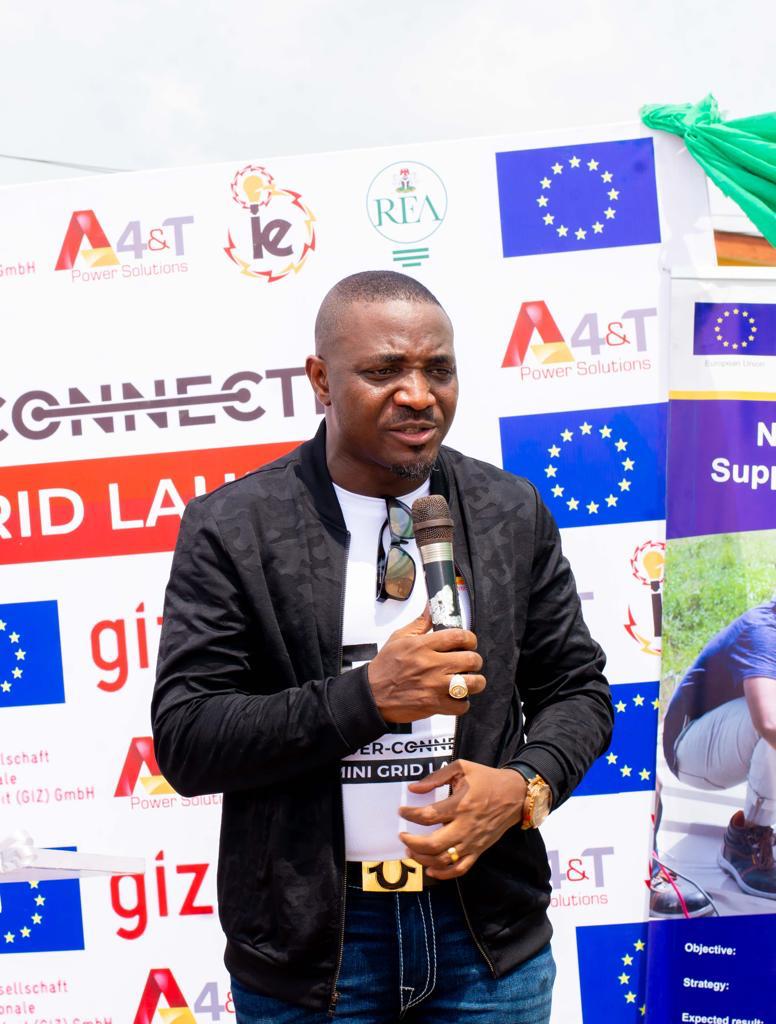 Five Lagos Communities To Enjoy Solar Energy Soon
By Ifeoma Ikem
No fewer than 12,500 residents in five communities at the Epe axis in Lagos State would benefit from solar mini energy project embarked upon by the Lagos State Government; A4&T Power Solutions Limited and Ikeja Electric PLC. The ground breaking ceremony of the interconnected solar mini grid was done recently.
The jubilation at the event was understandable for the reason that when the 0.88MW (scalable to up to 2MW) interconnected solar mini grid, will be completed, it will provide energy for the communities in Epe, Eredo Local Government Area of the State.
The project is being developed by A4&T Power Solutions Limited, in partnership with Ikeja Electric PLC. The project is a product of the Interconnected Minigrid Access Scheme (IMAS) program.
The Lagos State Governor , Babajide- Sanwo-Olu who described the project as laudable and first of its kind ,said it was a step in the right direction, towards bridging the energy gap, and enabling universal sustainable energy access in Lagos State.
"The Lagos State Government, via its Off-Grid Electrification Strategy and Action Plan, has set a target to achieve 1GW of Solar PV generation by 2030 and collaborative efforts of players in the sector, such as being witnessed today between A4&T Power Solutions Limited, and Ikeja Electric PLC, will help to accelerate the achievement of this target.
The Governor, who was represented by the Honorable Commissioner for Energy & Mineral Resources, Engr. Olalere Odusote, said," In line with its T.H.E.M.E.S agenda of making Lagos a 21st Century Economy, the Babatunde Olusola Sanwo-Olu administration is dedicated to fostering investment in the electricity sector towards achieving an optimal energy mix,and will continue to support, encourage, and partner with forward-thinking corporate entities to further promote, and deepen sustainable off-grid electrification in the State"
Mr. Odusote, thanked A4&T Power Solutions Limited, and its development partners for choosing the state as the investment destination,and commended the management of Ikeja Electric PLC for its dedication, and demonstrated efforts, towards improving electricity supply in unserved and underserved communities across the state.
Odusote reiterated the commitment of the Babajide Sanwo-Olu ( BOS) administration to supporting collaborative efforts aimed at accelerating sustainable energy access across the State as it continues to provide forward thinking leadership, and the enabling environment towards facilitating improved electricity supply for its continuously increasing populace.
On his own, Special Adviser to Lagos State on Innovation and Technology, Mr Tubosun Alake, said that the initiative would support the advancement of digital transformation, and provide alternative energy options for digital businesses within the state, and lauded the initiative.
Head of Business Development Ikeja Electric (IE), Ms Obianuju Okweze, while giving her goodwill message on behalf of the IE DISCO, expressed the company's commitment to serving underserved customers, and reducing the over-dependence on the grid.
The Epe mini-grid power plant will be powered by Solar and Gas, which will improve the energy mix and it is expected to benefit approximately 12,500 people,while reducing tons of CO2 emissions yearly.
Chairman, Board of Directors A4&T, Mr Victor Afolabi, expressed the delight for what the stakeholders were doing about the project. He shared that the organization's strategic objective is to continue to raise the bar of innovation in the industry through integrated utilities.
The CEO of A4&T Power Solutions, Mr Ayo Ademilua, provided an in-depth insight into the structure of the Hybrid Interconnected mini-grid plant. The CEO hinted on some unique modern technologies like Electric Vehicle charging station to power Electric motorcycles; Three Wheelers (popularly known as keke marwa), and Electric vehicles that would be demonstrated in the communities to further promote cleaner environment and reduction of carbon footprint in the state.
"This landmark project is the first of its kind in Lagos and marks a new era in sustainable energy solutions in Nigeria. it is set to make a lasting impact on the clean energy landscape of Nigeria as A4&T Power Solutions is poised to lead in bringing electricity to Nigeria's unserved & underserved communities towards creating a brighter, cleaner and more sustainable future.
The project is a product of the Interconnected Minigrid Access Scheme (IMAS) programmes.
The IMAS programme is aims at connecting approximately 27,600 households and impacting over 138,000 Nigerians. The programme is led by the Rural Electrification Agency (REA), under the Federal Government of Nigeria Ministry of Power with funded support from the European Union and the German Government through the Nigerian Energy Support Programme (NESP).
WHICH WOULD YOU CHOOSE; CRYPTOCURRENCY OR REAL ESTATE? By Dennis Isong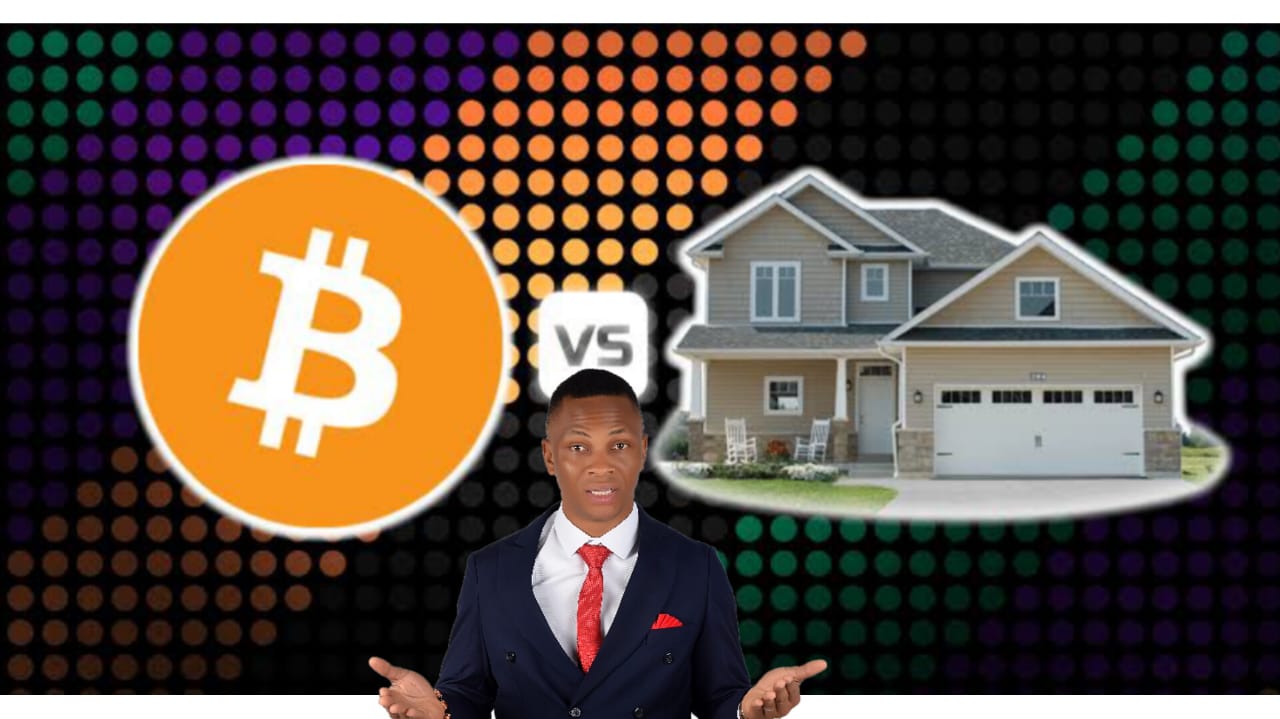 WHICH WOULD YOU CHOOSE; CRYPTOCURRENCY OR REAL ESTATE? By Dennis Isong
The most common investments that can fetch you a lot are Cryptocurrency and Real estate. So, when you mention investment, these are the two that easily come to mind.
Over the years, both have proven to be worthy choices, meanwhile, this is not to say that each doesn't have advantages and disadvantages. However, if you are perplexed about where to put your money, you may seek the assistance of your financial advisor.
Let's talk about real estate.
What is real estate investment?
Real estate investment is the purchase, management, and sale or rental of real estate with the intent to make a profit whether immediately or in the long run.
Real estate has a great track record of price appreciation in 2022.
PROS OF REAL ESTATE
–Steady cash flow
If you deal with rental or land flipping, you should be smiling to the bank all the time because you keep having cash flow all round year.
–Long-term security
Real estate promises safety for a long time. If you bought your property from a reputable company and your property is not built in a way that may obstruct future development, hence, demolishing, then you should rest assured of long-term security.
–Protection against inflation
This is not a big concern to you. Once your property is working for you, then, the effects of inflation on you are highly minimal.
–Appreciation
Property hardly depreciates. As the year goes by, it keeps appreciating and whatever decision, in terms of reselling the property is such a profitable one at the end of the day.
CONS OF REAL ESTATE
–High maintenance
Building a structure is not as expensive as maintaining it. You could spend a fortune on maintenance especially if a part of the house is not properly fixed, for instance, the plumbing aspect.
–Capital insensitive
Real estate requires a whole lot of money, so you have to be financially ready before you begin.
What is cryptocurrency investment?
Cryptocurrency, which has bitcoin as the most famous investment option. It is backed by blockchain technology, bitcoin is touted as an immutable currency. These digital currencies act as a medium of exchange globally as an alternative to money. The cryptocurrency had its tremendous run in 2021, with bitcoin hitting all-time highs of around $68, 000 in November, bitcoin is indeed the attention it deserves.
As more people set their eyes on digital assets as another possible investment, their popularity might grow further.
Moreover, cryptocurrencies such as bitcoin have a lower entry barrier when compared to real estate.
This allows the average investor who does not have a lot of capital to spare to start his investment journey.
Cryptocurrency is relatively new, there's not enough data to calculate its value. As recent price fluctuations show, the market is volatile.
In a twinkle of an eye, you could lose everything and go back to square zero. However, if you are willing to take the risk, you might be lucky.
PROS OF INVESTING IN CRYPTOCURRENCY
-Transactional freedom
You are free to do anything without waiting for documents to seek the approval of the government.
–Easy to trade
If you know your way around it, you can sit in the comfort of your home to trade.
–Low maintenance
Unlike having structures to maintain, cryptocurrency does not require any sort of maintenance. Technically, your investment is virtual.
CONS OF INVESTING IN CRYPTOCURRENCY
–Not a tangible asset
Just like I said with the pros of cryptocurrency, it is a virtual investment and not an investment you can heavily depend on.
–Security issues
Anything can happen. Your account can be hacked and you end up losing everything.
–Little or no government involvement
When the government is not involved in a certain sector, it is dangerous. This means, it has no law guiding it, so, whatever happens, you are solely responsible to bear the loss.
-High risk
There's no certainty of what would happen in the next few minutes. It's in two ways, "win big or lose flat out."
REAL ESTATE VS CRYPTOCURRENCY; WHICH INVESTMENT IS BETTER?
Choosing which of them is better depends on how vast your knowledge is, and the risk you are willing to take. Cryptocurrency is of low maintenance but highly risky while real estate will cost a fortune but of very low risk.
Just like they say now, "choose a struggle."
Dennis Isong is a TOP REALTOR IN LAGOS.He Helps Nigerians in Diaspora to Own Property In Lagos Nigeria STRESS-FREE. For Questions WhatsApp/Call 2348164741041
Fidelity Bank assures customers of cash payment
Fidelity Bank assures customers of cash payment
The management of Fidelity Bank Plc has assured customers of cash payment across all its branches nationwide.
Head of Corporate Communication of the bank, Dr. Meksley Nwagboh said this in a statement issued by the bank today.
He said, "Our customers can rest assured that we are working to meet their banking needs. All our branches nationwide are open to customers to pay in their old notes and withdraw the new notes in accordance with the Central Bank of Nigeria's policy on Naira redesign."
Nwagboh, therefore, enjoined customers of the bank to visit the nearest branch to carry out their banking transactions.