WINNERS EMERGE IN THE ZENITH BANK SPONSORED 2019MICROSOFT OFFICE SPECIALIST WORLD CHAMPIONSHIP QUALIFICATION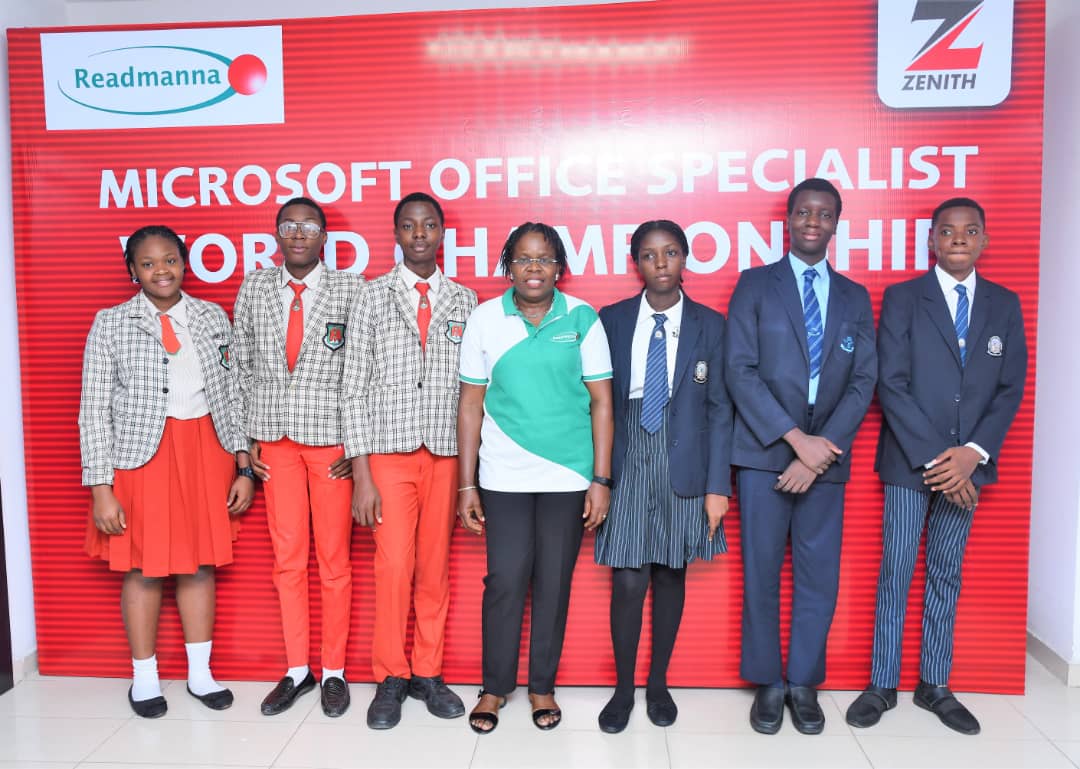 To represent Nigeria at the World Championship in New York.
The 2019 Microsoft Office Specialist (MOS) World Championship, sponsoredby Zenith Bank, has produced six national winners who will be representingNigeria at the World Championship taking place in New York, USA from July28 – 31, 2019.
The national winners of the 2019 Microsoft Office Specialist NigeriaCompetition are: PowerPoint 2013 – Ayomide Abiodun, Aduvie InternationalSchool, Abuja, FCT- Score 1,000/1,000 (Time Taken 9min 29sec). Word 2016 – Mbah Arinzechukwu Nnamdi, Faith Academy, Ota,Ogun State – Score 1,000/1,000 (Time Taken 12min 7sec). Excel 2013 – Pwahatado Vawe, Aduvie International School,Abuja, FCT – Score 1,000/1,000 (Time Taken 15min 14sec). Excel 2016 – Iyke-Osuji Victor Chibuzor, Faith Academy, Ota,Ogun State – Score 1,000/1,000 (Time Taken 16min 35sec). Word 2013 – Laah Asat Shawn, Regent Secondary School, Abuja,FCT – Score 1,000/1,000 (Time Taken 22min 16sec). PowerPoint 2016 – Udonsak Ubongabasi John, Faith Academy,Ota, Ogun State – Score 979/1,000 (Time Taken 16min 2 sec).The students will be accompanied by the following two ICT teachers: Mr Timothy Osaigbovo, ICT Teacher, Aduvie International School, Abuja, FCT – the ICT teacher of the student with highest score in the 2019 MOS Nigeria Competition. Mrs Victoria Adebayo, ICT Teacher, Faith Academy, Ota, Ogun State – the ICT teacher of the school with the largest number of certi?ed students in the Junior Competition – "2019 ReadManna Under13 Computing Fundamentals National Competition (Ages 8 -13)".Zenith Bank Plc, one of the biggest banks in the country by tier-1 capital andthe most pro?table bank in the country, has partnered with ReadManna,organizers of the competition in Nigeria, since 2007 and sponsored Nigerianwinners' participation in the World championship.The championship is organized annually in Nigeria by ReadMannaEmpowerment Initiative, a not for pro?t company led by Mrs Edna Augustoand focused on empowering students and youth in Nigeria with practical andrelevant basic computer skills aligned to global standards. ReadManna is
authorised by Certiport Inc, a Pearson VUE company, the initiator of CertiportMicrosoft Oce Specialist World Championship for Students to conduct thisinternational annual championship in Nigeria.The MOS World Championship challenges students to demonstrate theirpro?ciency in the use of Microsoft Word, PowerPoint and Excel – Versions2013 and 2016, and is open to all students aged between 13 and 22 yearsthat are enrolled in an academic institution. This year's competition, which was held over a period of 7 months between 1October, 2018 and 30 April, 2019 received about 1200 entries from 21Secondary Schools in Lagos, Abia, Kaduna, Ogun, Rivers, Kwara States andthe FCT.ReadManna boasts a remarkable record in the World Championship since itbegan to present teams to represent Nigeria in 2014, having produced worldwinners in various categories in the past. Olubunmi Agusto, Day WatermanCollege, Abeokuta, Ogun State, 2nd Place in Word 2007 and First AfricanChampion (2014); Atafo Abure, Childville School, Ogudu, Lagos State, 10thPlace in Excel 2010 (2015); Katherine Eta, Childville School, Ogudu, LagosState, 10th Place in PowerPoint 2013 (2016) and Katherine Eta, ChildvilleSchool, Ogudu, Lagos State, 3rd Place in Word 2016 (2017) have all done Nigeria proud at the global stage
Moruf Oseni takes over as the MD/CEO of Wema Bank Plc
Moruf Oseni takes over as the MD/CEO of Wema Bank Plc
·Appointments of Wole Akinleye as Deputy Managing Director, and Tunde Mabawonku as Executive Director also approved by the CBN
Wema Bank Plc hereby announces Moruf Oseni as the substantive Managing Director and Chief Executive Officer effective April 1, 2023. After serving in acting capacity since January 1, 2023, Oseni will be succeeding Ademola Adebise, following approval by the Central Bank of Nigeria (CBN).
Oseni's journey with Wema Bank began in 2012 when he joined as an Executive Director. Before his appointment as MD/CEO, he served as Deputy Managing Director for the last four years, a role where he demonstrated the capacity to lead the bank to even greater heights as it continues to evolve into a financial powerhouse.
With over 25 years of experience, including more than 16 years at senior to executive management levels, Oseni was the MD/CEO of MG Ineso, a principal investment and financial advisory firm. He had also served as Vice President at Renaissance Capital and was an Associate at Schroder Salomon Smith Barney/Citigroup Global Markets in London.
Oseni's credentials speak for themselves, with an MBA from the Institut European d'Administration des Affaires (INSEAD) in France, a Master's in Finance (MIF) from the London Business School, and a B.Sc. in Computer Engineering from Obafemi Awolowo University (OAU). He is also an alumnus of the Advanced Management Program (AMP) of the Harvard Business School and King's College, Lagos.
In addition to Oseni's appointment, the CBN also approved the appointments of Wole Akinleye as Deputy Managing Director, and Tunde Mabawonku as Executive Director. Wole Akinleye previously served as the Executive Director in charge of Corporate Banking and the South-West Business, while Tunde Mabawonku served as the Bank's Chief Finance Officer.
The Board is confident that these new appointments will be crucial to the continued transformation and growth of the Bank as it positions itself as a market leader in Nigeria's banking industry through technology and innovation.
All appointments are effective from April 1, 2023.
FIRSTBANK ANNOUNCES A NAME CHANGE OF ITS SUBSIDIARIES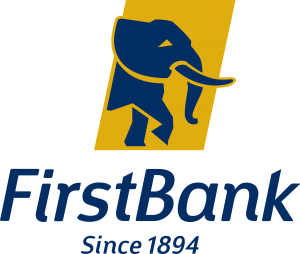 FIRSTBANK ANNOUNCES A NAME CHANGE OF ITS SUBSIDIARIES, REITERATES ITS COMMITMENT TO BOOSTING CROSS-BORDER BUSINESS OPPORTUNITIES IN AFRICA AND THE WORLD.
FirstBank of Nigeria Limited, Nigeria's premier financial services institution, has announced a phased corporate name change of its subsidiaries in the United Kingdom and Sub-Saharan Africa. FBNBank UK, FBNBank Sierra Leone, FBNBank Gambia and FBNBank DRC are the first set of subsidiaries effecting the name alignment. They are now known and addressed as FirstBank UK, FirstBank Sierra Leone, FirstBank Gambia and FirstBank DRC. The Ghana, Senegal and Guinea subsidiaries will be next in the phased name change implementation.
The name change is being implemented to align the subsidiaries with the parent brand and to enjoy the strong heritage and brand equity built by FirstBank Nigeria in its 129 years of banking leadership. This will further enhance the quality-of-service delivery resulting in better brand clarity, uniformity and consistency across all the markets where the Bank operates.
A leading financial inclusion services provider, FirstBank Group is committed to its nation-building goal. It has taken giant performance strides on its unique growth trajectory as it continues to build distinctive capabilities through partnerships and the constant drive to reinvent itself. This performance is evidenced in the numerous awards and recognitions bestowed on the institution.  These awards include Best Private Bank for Sustainable Investing in Africa 2023 by Global Finance Awards; Best Corporate Bank in Western Africa 2022 by Global Banking & Finance; Best CSR Bank Africa by International Business Magazine in 2022; and ranked as number one in Nigeria in terms of Overall Performance; Profitability; Efficiency and Return on Risk by the Top 100 African Bank Rankings 2022 released by The Banker Magazine from the stables of Financial Times.
In addition, in Euromoney Market Leaders, an independent global assessment of the leading financial service providers conducted by Euromoney Institutional Investor Plc., the Bank was crowned: Market Leader in Corporate and Social Responsibility (CSR); Market Leader in Environmental, Social and Governance (ESG); Highly Regarded in Corporate Banking and Digital Solutions and Notable: in SME Banking.
Speaking on the name change, Dr. Adesola Adeduntan, CEO of FirstBank Group, said '' the name change which coincides with FirstBank's 129th founding anniversary (March 31st, 2023) is indeed a milestone reflective of our resolve to continuously provide the gold standard of excellence and value as we put our customers First.  The new identity of the subsidiaries contributes to an enhanced brand presence. It helps our customers and stakeholders better appreciate the value of the diversified products suites, competitive pricing and extensive business networks the FirstBank Group offers. These include our commitment to boosting cross-border businesses including trade and investment opportunities essential to enhancing trade relations amongst countries, thereby strengthening the economies of host communities and reducing poverty," he concluded.
Union Bank and CIG Motors Announce Partnership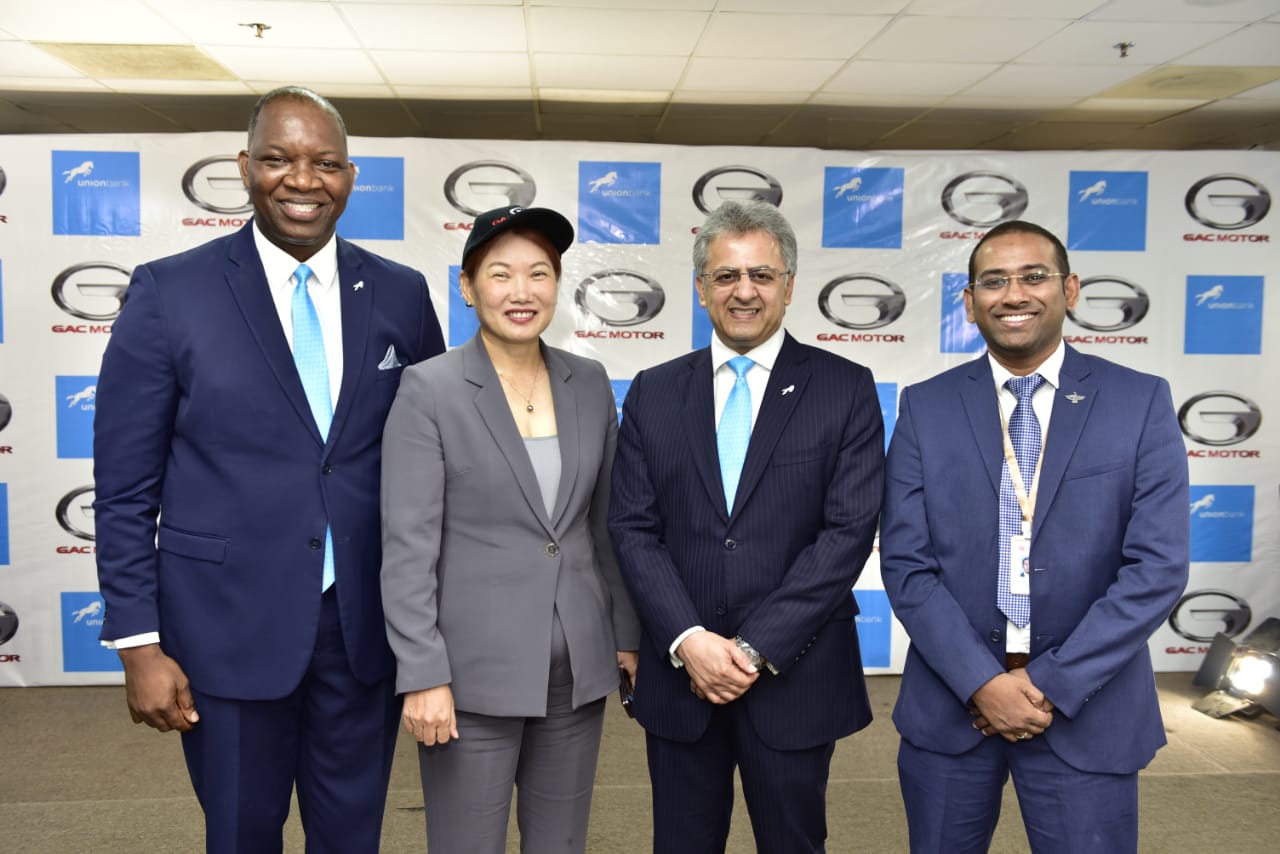 Union Bank and CIG Motors Announce Partnership
Union Bank of Nigeria has signed a commercial partnership agreement with Choice International Group (CIG) Motors Limited, a member of CIG Group of Companies, to provide auto financing services to the Bank's customers on purchase of GAC range of cars, through its asset finance loan scheme.
The deal, which was recently signed at Stallion Plaza, Union Bank's head office in Marina, Lagos, will allow customers to purchase brand new GAC vehicles with as low as 0% interest and N242,000 monthly instalment. In addition, subscribers to the Union Bank asset finance loan scheme will enjoy after-sales service and warranty during the tenor of the financing as well as access to other products from CIG Group at competitive prices.
Speaking at the official signing ceremony of the agreement, Mr. Mudassir Amray, Managing Director/Chief Executive Officer of Union Bank said:
"I am genuinely delighted to have a partnership with CIG Group who are inevitably a market leader in terms of providing quality products at affordable prices. We are determined to bring value to our clients through partnerships, be it health care, cross border business or transportation. We are convinced that with this agreement, our customers will be able to buy quality cars with easy payment terms, which will provide comfort and convenience to our customers."
Also commenting on the partnership, Chief Diana Chen, Chairman of CIG Group urged potential car owners to take advantage of the partnership and purchase brand-new vehicles that will withstand the test of time.
This partnership is a culmination of Union Bank and CIG Group's desire to collaborate and explore mutually beneficial business opportunities. This strategically aligns with the bank's aim to examine various options to provide financial support and incentives for its customers.