African Researchers hold Symposium on Africa's Development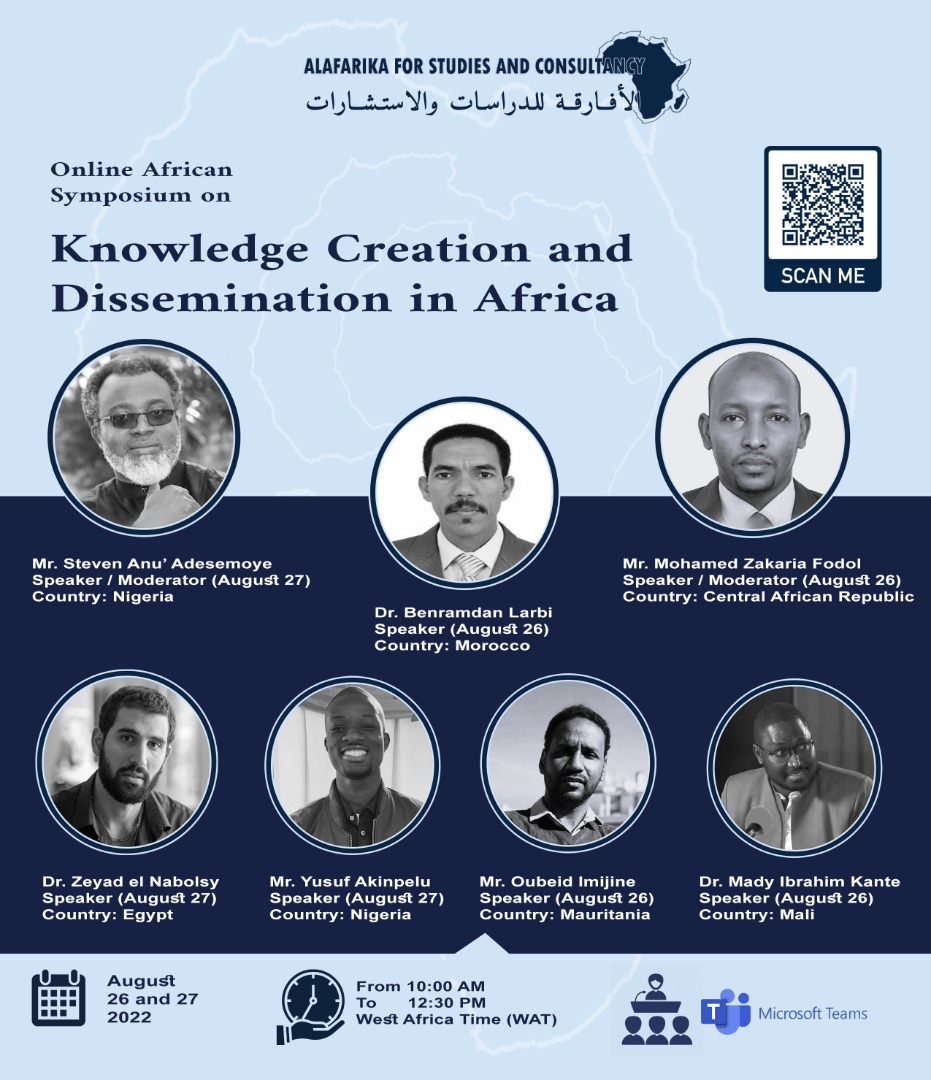 African Researchers hold Symposium on Africa's Development

A group of African researchers under the name Alafarika for Study and Consultancy had recently on August 26 and 27, 2022 organized a virtual symposium titled "Knowledge Creation and Dissemination in Africa", which researchers in African affairs from Morocco, Nigeria, Mali, Mauritania, Egypt, and the Central African Republic participated to come up with model for African Development. The participants commended the initiative for giving great importance to knowledge, its creation and dissemination, and considering it an initial and basic building block for developing and progressing in Africa.
The two-day session which dealt with a series of issues related to influencing African policy and politics with knowledge, the process of knowledge management for development; the role of the media in creating knowledge societies; and the challenges facing academic publishing and its potential solutions. The symposium also touched on the relationship between philosophy and human development in the African context and how revolutions and movements demanding change can be directed based on the knowledge that provides answers to the state-building and development that the continent needs in the twenty-first century and the digital age, in addition to the potential of investigative and data journalism to contribute to Africa's prosperity.
Talking about creating knowledge societies and influencing African politics, the speakers revealed that consultancy institutions are one of the means of influencing knowledge creation processes if these institutions are rooted in local issues and are experts in initiatives that touch the needs of the population and citizens. The speakers stressed that civilizations and advanced societies throughout history have depended on knowledge and actors in disseminating human sciences. Despite the lack of interest of some current African governments in knowledge, its means and tools for its dissemination, the history of Africa, its civilizations and kingdoms in different regions confirmed that Africa has rich experience in this regard. What is required today is to study these historical achievements and support the creativity of young people that may limit the brain drain in many African countries, in addition to attaching the utmost importance to educational institutions and their outputs.
They stressed that knowledge management is a necessary process for development because it relates to many sensitive areas and is an essential means of successful management and that it elevates knowledge to the forefront of any government or political system's success by emphasizing the knowledge capabilities of individuals, universities, and research institutions that facilitate access to knowledge, participation in it, distribution, preservation, and retrieval.
Talking about the impact of globalization and the rapid technological change in human societies, the speakers make knowledge the basis of domination and influence. Stating that all indicators show the strength of tomorrow's world will be determined by the interest in human capital and the exploitation of the energies and capabilities of the continent's population in sustainable human development. In terms of knowledge management and development, they are of the belief that there is a need to move from theories to real-life applications to meet the challenges of the continent and the rapid transformations in all fields without neglecting data technologies, which collect and categorize information to enable users of knowledge systems and services to access them when necessary. Pointing that all of these can be achieved through interviews and dialogues with experts and actors in national development policies, humanities, and modern methods that reflect positively on African societies and enable African countries to compete globally.
African Media Institutions are tasked with the process of creating knowledge society at a time when global media ignore the role of Africans in crystallizing global knowledge and the information explosion, without overlooking the fact that digital media plays some of the roles of traditional media, influencing different African societies and stages. Media roles are however agreed not be limited to the use of various means to highlight developments and experiences in African countries, their civilizations and history or to publicize their tourism sectors. Taking the information revolution and technological innovations the continent's youth seize today in Nigeria, Kenya, South Africa, Egypt, and other African countries to develop the financial, agricultural, and health sectors into consideration, the relationship between the media and the dissemination of knowledge shows a relationship of mutual influence that can be observed in concepts related to human values, the crucible of communication and understanding.
Another means of developing and changing society is the process of scientific research and academic publishing. It was also agreed that one of the tools through which sustainable development can be achieved thereby addressing the challenges facing academic publishing in Africa and the weak governmental attention to the results of research projects and recommendations of conferences and research sessions that may contribute to promoting development.
While one of the crisis facing academic publishing in Africa is lack of publishing and distribution centres for works, academic books, and scientific journals within Africa, without forgetting that education curricula and teaching methods in several African countries are rooted in the colonial era and ideas that strengthen Western scientific institutions while weakening African scientific institutions that are already short of the necessary infrastructural resources.
Speakers in the "Knowledge Creation and Dissemination in Africa" symposium also pointed out that African philosophy can help us understand the problems facing the creation of knowledge and enhance the patterns of knowledge production that the continent needs. Furthermore, studying African history and philosophy may determine the African position towards modern science and contemporary issues, especially since knowledge based on African philosophical foundations may transform African societies into freer societies and can provide answers to the most important factors contributing to political, social, and economic inequality.
The COVID-19 crisis has shown the repercussions of the lack of independent and effective scientific research, sufficient scientific and technological resources, and the lack of manufacturing capabilities in the global south in general and Africa in particular. As a result, most African health care systems relied on the so-called "goodwill" of the global north and foreign vaccines.
The symposium also highlights that recent protests and political transformations in Africa indicated that most movements calling for change were not based on knowledge foundations that meet the state-building processes Africa needs in the twenty-first century. This is despite the fact that between 2005 and 2014, 40 out of 54 countries on the African continent witnessed widespread protests and uprisings in their various forms at the local and national levels. The knowledge equation lies in the repeated mistakes of these movements and that some of these uprisings often exacerbate the situation in the countries where they occur. Knowledge gaps can also be seen in the ideologies and parties that refuse to bring about the continent's desired social and political changes.
In conclusion, the participants praised the role of investigative and data journalism in promoting African prosperity based on knowledge, as data and statistical information should contribute to achieving good governance and revealing corporate and institutional corruption and social injustice, in addition to presenting powerful and influential stories and revealing the truth. Thus, data is a mirror to confirm or deny a particular phenomenon or issue and a means of exploring its direction and foreseeing its future trend.
Dangote Refinery Receives Its Maiden Crude Cargo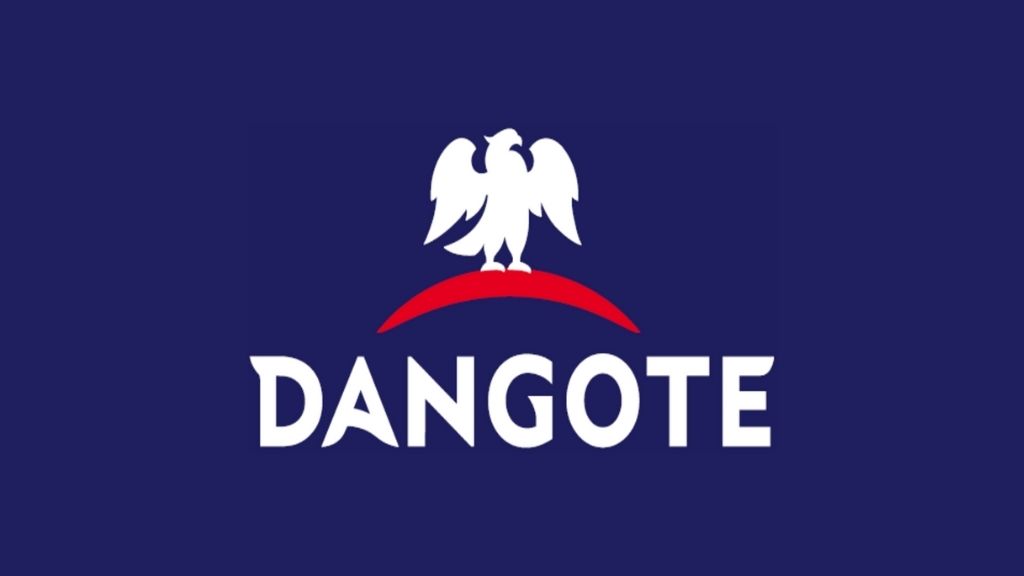 Sahara Weekly Reports in a major step towards boosting Nigeria's domestic refining capacity and attaining energy security (self-sufficiency), Dangote Petroleum Refinery and Petrochemicals plant has purchased 1 million barrels of Agbami crude grade from Shell International Trading and Shipping Company Limited (STASCO), one of the largest trading companies in Nigeria as well as globally, trading over 8 million barrels of crude oil per day.
The STASCO cargo contained 1 million barrels from Agbami and sailed to Dangote Refinery's Single Point Mooring (SPM) where it was discharged into the refinery's crude oil tanks.
The maiden 1 million barrels, which represent the first phase of the 6 million barrels of crude oil to be supplied to Dangote Petroleum Refinery by a range of suppliers, should sustain the initial 350,000 barrels per day to be processed by the facility. The next four cargoes will be supplied by the NNPC in two to three weeks and the final of the six cargoes will be supplied by ExxonMobil.
This supply will facilitate the initial run of the refinery as well as kick-start the production of diesel, aviation fuel, and LPG before subsequently progressing to the production of Premium Motor Spirit (PMS).
This latest development will play a pivotal role in alleviating the fuel supply challenges faced by Nigeria as well as the West African countries.
Designed for 100% Nigerian crude with the flexibility to process other crudes, the 650,000 barrels per day Dangote Petroleum Refinery can process most African crude grades as well as Middle Eastern Arab Light and even US Light tight oil as well as crude from other countries.
Dangote Petroleum Refinery can meet 100% of the Nigeria's requirement of all refined products, gasoline, diesel, kerosene, and aviation jet, and also have surplus of each of these products for export.
The refinery was built to take crude through its two SPMs located 25 kilometres from the shore and to discharge petroleum products through three separate SPMs. In addition, the refinery has the capacity to load 2,900 trucks a day at its truck loading gantries.
Dangote Refinery has a self-sufficient marine facility with the ability to handle the largest vessel globally available. In addition, all products from the refinery will conform to Euro V specifications.
The refinery is designed to comply with US EPA, European emission norms, and Department of Petroleum Resources (DPR) emission/effluent norms as well as African Refiners and Distribution Association (ARDA) standards.
President of Dangote Group, Mr. Aliko Dangote stated: "We are delighted to have reached this significant milestone. This is an important achievement for our country as it demonstrates our ability to develop and deliver large capital projects. Our focus over the coming months is to ramp up the refinery to its full capacity. I look forward to the next significant milestone when we deliver the first batch of products to the Nigerian market."
Country Chairman of Shell Companies in Nigeria, Mr. Osagie Okunbor stated: "We welcome the startup of a refinery that is designed to produce gasoline, diesel, and low-sulphur fuels for Nigeria and across West Africa and are happy to be enabling it."
Why You Should Patronize Oye's Food Place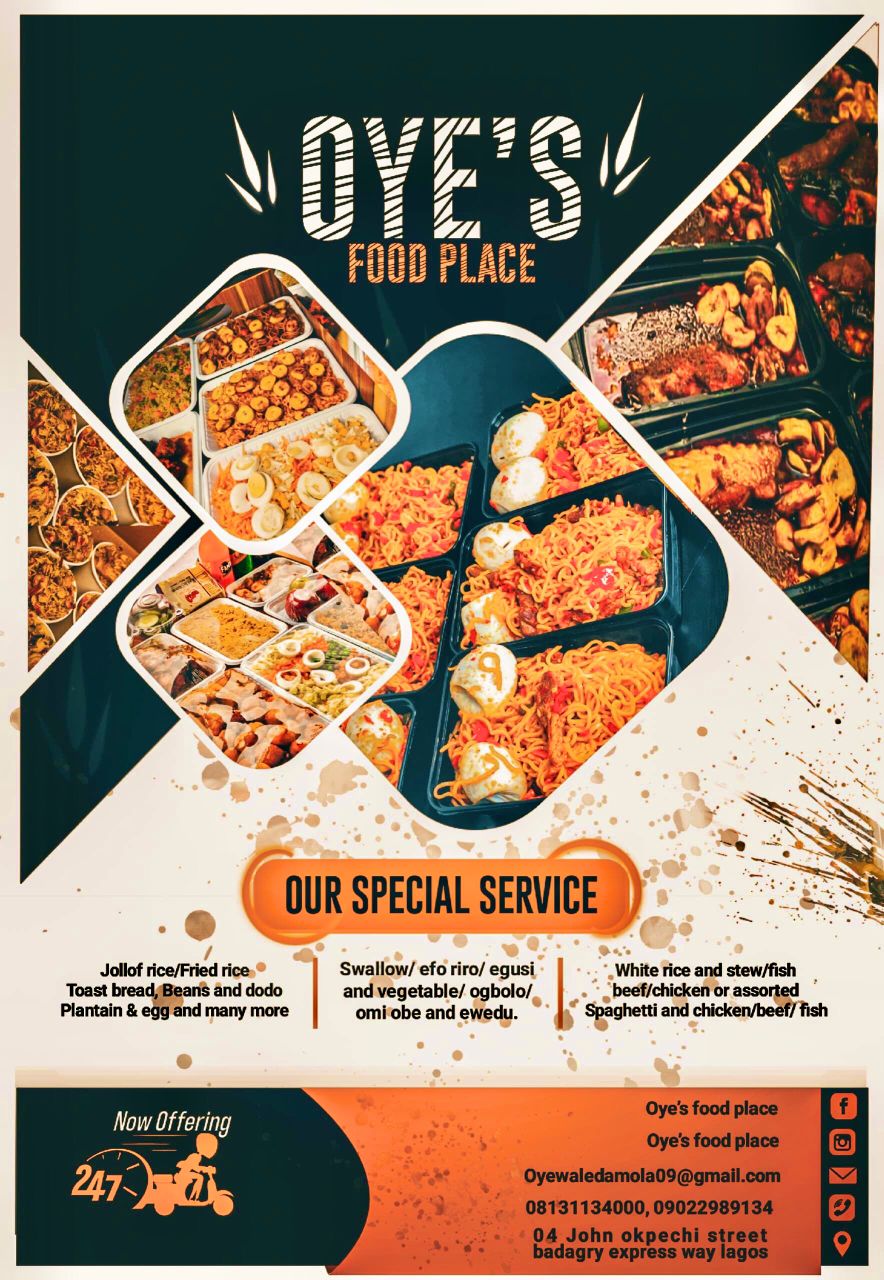 Why You Should Patronize Oye's Food Place 
Everyone deserves a good meal, especially after a hectic day at work. Oye's Food is the one-stop place to get delicious and nutritious food.
Run by Damola Oyewale, a gifted chef, Oye's Food prides itself in all kinds of food and soups both local and continental at the doorstep of your house. They take the stress off you and their delivery package is top-notch. That's why dignitaries prefer Oye's Food to take care of their food. A trial will convince you…
The Alternative Bank Delights Customers with Exclusive Seasonal Product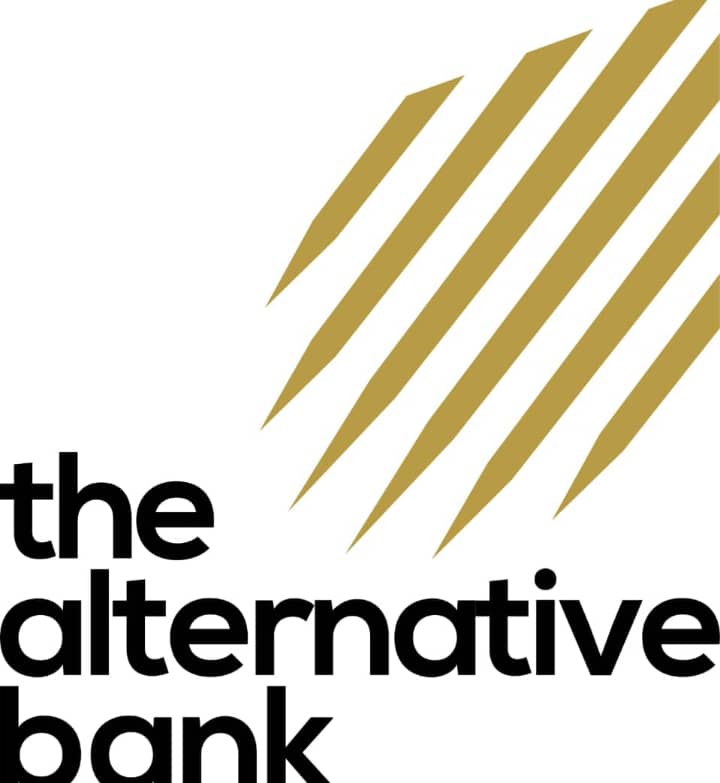 The Alternative Bank Delights Customers with Exclusive Seasonal Product
Ahead of the festive period, The Alternative Bank is offering customers an innovative financial product designed to enhance the holiday experience.
This pioneering solution – AltMall, allows individuals to instantly acquire desired items and pay in manageable instalments, freeing up funds for other essential needs.
AltMall provides customers unparalleled flexibility through deferred payment options, promising a seamless and stress-free shopping experience.
In an official statement, Mohammed Yunusa, Head of NIB Digital and Consumer Business at The Alternative Bank, acknowledged the challenging economic conditions and emphasized the bank's commitment to ensuring that customers can still enjoy the best of the season.
Yunusa stated, "The Alternative Bank recognises the economic challenges that may hinder many people from fully enjoying the festive season. In anticipation of this reality, we are proud to offer our valued customers a unique financial product as a solution."
"At The Alternative Bank, we understand the significance of family ties, reunions, and other festivities during this time of the year. With AltMall, we aim to provide a respite for our customers, enabling them to continue cherished traditions, regardless of the economic situation," he added.
AltMall is tailored for the modern consumer, providing access to the platform from the comfort of home or while on the go. Customers can conveniently choose deferred payment options aligned with their financial preferences, allowing them to savour their purchases while effectively managing their finances.
Yunusa highlighted AltMall's commitment to prioritizing customer convenience, stating, "AltMall gives our customers control over their purchases and payment schedules. Our platform ensures a seamless and user-friendly shopping experience, whether at home or on the move."
The Alternative Bank, known for its dedication to innovative financial solutions, reaffirms its commitment through AltMall. The product represents a significant step in redefining the intersection of finance and e-commerce, offering a unique shopping experience that combines convenience, variety, and financial flexibility.
As the festive season approaches, The Alternative Bank invites customers to make the most of AltMall, embracing a new way to shop online that aligns with their evolving needs.
ENDS