Back To School : Lira foundation donate school items to 5.000 pupils in Bariga Lagos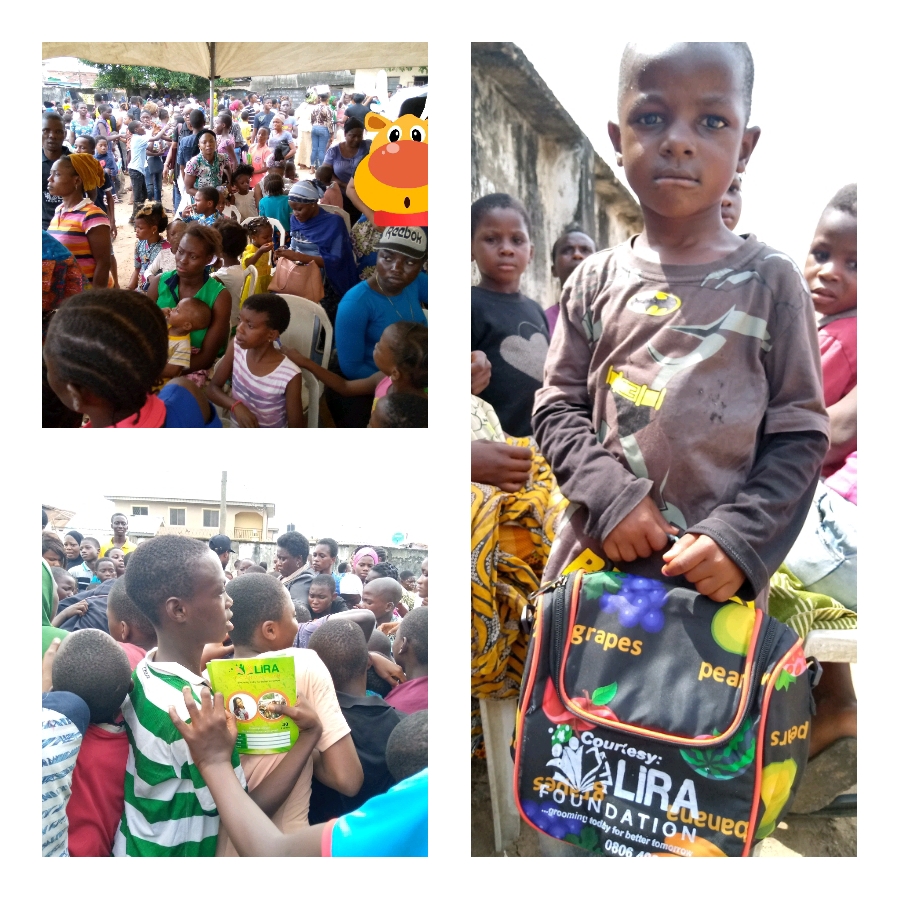 By Ifeoma ikem
A non governmental organisation Lira foundation today put smile in the faces of no fewer than five thousand pupils as the group donated Books, Bags,Biro,school sandals among others to them in Bariga area of Lagos.
The event held at Ladi Lak primary school Bariga attracted eminent personalities across the state metropolis.
The Iyaloja general of Nigeria Chief Mrs Mujidat Folasade Tinubu ojo who represented by Mrs Abimbola Junaidu was grateful to Lira foundation for the donations given to the children in Bariga /Somolu community.
She prayed to almighty God to help the foundation and urged well meaning Nigerians to give more support both financial and morale support to the foundation to enable them continue in their good work.
According to Iyaloja,Nigeria is bless with many wealthy individual she urged them to emulate the gesture of Lira foundation.
She also condemn drug abuse and child abuse in the society and advised the children to stay away from drug abuse.
The Iyaloja noted that in life their is the need for those that have succeeded to also look back and give back to the society just as Lira foundation has done
Speaking to the media, the founder Lira foundation Lijirin Ruth Ayomide said the idea to form foundation was borne out of the fact that she was born and brought up in the community hence she had alot of experience in the area.
"I grew up in this community so what we did today is our own way of giving back to the society. We are also kicking against drug abuse, child abuse "she said.
According to her, the foundation is doing everything Possible to create awareness against the consequence of child abuse and other vices in the society.
She call for more support from government as well as better partnership between government and the foundation.
A member of the foundation Mr Taiwo Kuforiji said the foundation which was set up a year ago has the major objective to address the need of children especially the vulnerable ones in the society.
He pointed that the founder is a grass root person who over the year has been catering for the need of people in the society. "we use this event to showcase the need of parents in this area, we cannot watch our children being abuse, so government should wake up and see to the welfare of the citizenry in the society.
One of the facilitator of the event Comrade Toyin Okanlawon member centre for community right advocacy and co-ordinator for advocate for children and vulnerable person net work in Nigeria said "the role of parents is very crucial in the training of children. Parents should not infringe on this rights of children.
He urge the parents in the community to control their birth and also stop using the same bathroom with their children to avoid exposing them to bad habit.
The distribution of the school items was successful as everyone went home smiling.