Best Source Homes and Properties limited offers Land for sales at Ibeju-Lekki, Epe.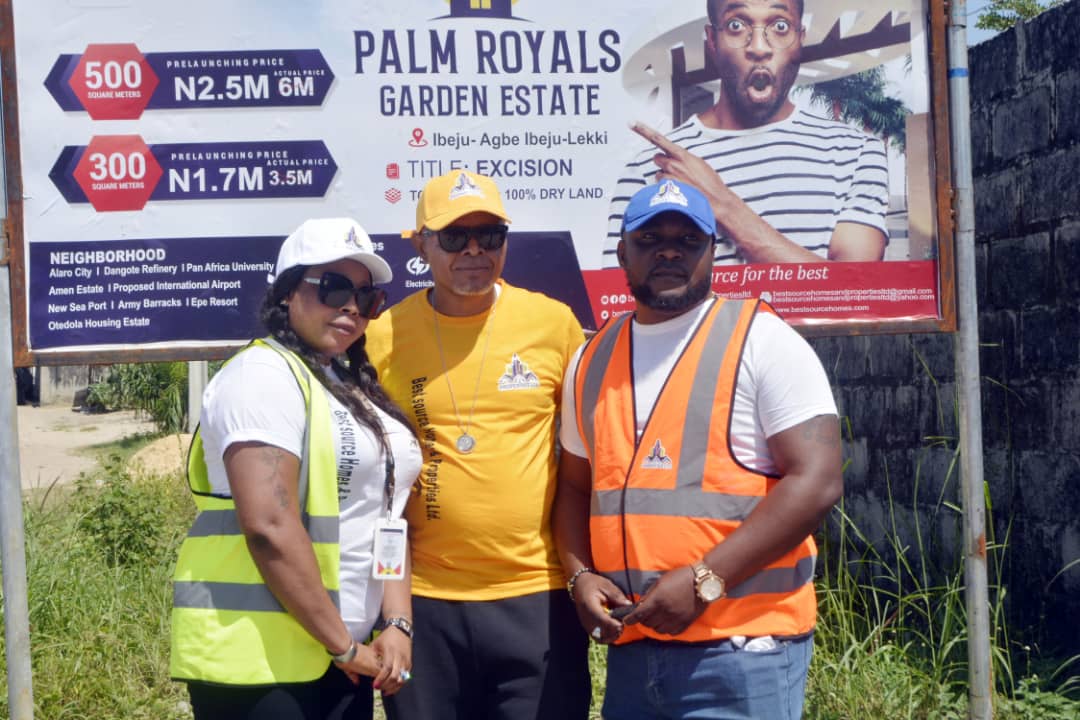 Best Source Homes and Properties limited offers Land for sales at Ibeju-Lekki, Epe.
Best Sources Homes Properties Limited with head office in Temidire plaza, Alesh Ajah, Lagos has set up sales landed properties in different places located in the Ibeju-Lekki and Epe area of the state.
The Estate located at Ibeju Lekki and Epe comes with Village Excision and C of O title and its features a good road and drainage network, beautiful landscaping, 24 hours light, amidst a host of other incentories .
According to the Chief Executive Officer of Best Sources Home properties
Limited, Mrs. Ogunmiloye Iva Promise said Palm Royals Garden Estate and Royal Court Gardens Estate has a large mass of land that is very rich and dried. It has land size of 300 m² & 500m² which is readily available for sale to interested members of the public.
Mrs. Ogunmiloye Iva promise, said the location of Palm Royal Garden Estate and Royal court Gardens Estate is strategic towards giving prospective landowners peace of mind in acquiring property in a developed and serene environment in its axis which is at ibeju- lekki and Epe.
Coach Spark Ovadie, a Nigerian real estate broker during the estate-wide tour said Best Sources Home properties Limited is the best place to be. According to him, "we are glad to tell you that the topography of the land is 100% dry land with a concessional payment plan".
The estates comes in 300sqm and 500sqm for 5 million naira and 7.5 million naira respectively at Royal Court Gardens, Epe, while Palm Royal Estate Garden, Ibeju goes for 4.5million naira and 3 million naira for the 500sqm and 300sqm respectively for the ongoing promo of Ember months.
Interestingly, investors are already capturing the opportunities available in the aforementioned real estates sector. The estates are now receiving mass subscriptions because of its proximity to neighborhood which include the Lagos State University, Epe Campus, Lekki-Epe International Airport, Dangote Refinery, Pan Atlantic University, Epe Resort, Lekki Free Trade Zone, New Sea Port, and several upcoming gated estates.
The brand ambassador to the company, a renowned Nollywood actor, Mr. Christian Paul salutes the Best Source Homes Properties Limited for their doggedness in the real estate sector and encouraged members of the public to key into the housing schemes to become a landlord in the new face of Lagos City.