EXPECTATIONS ABOUT DANGOTE REFINERY INAUGURATION ARE EXTREMELY EXAGGERATED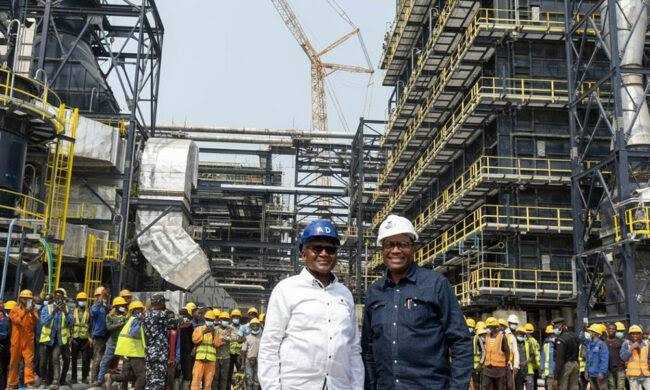 EXPECTATIONS ABOUT DANGOTE REFINERY INAUGURATION ARE EXTREMELY EXAGGERATED
From Editorial Board, Africa Oil+Gas Report
The ceremony around the planned visit by the Nigerian President to the Dangote Refinery on May 22, 2023, will peak with a cutting of the ribbon, inaugurating the 650,000 Barrels per stream Day Plant, located in the Eastern flank of Lagos, the country's commercial city.
Everyone, it seems, look forward to the production of petroleum products from the plant after that symbolic activity.
But it will not happen.
As President Muhammadu Buhari leaves office a week after commissioning one of the largest single train hydrocarbon processing plants on the planet, he could be forgiven for believing he had had his wish to be in such a large place but technology does not sit well with politics.
The ongoing technical commissioning process has not gotten anywhere close to the point of introducing raw hydrocarbon into the plant, let alone delivering petroleum products.
One key challenge of Nigeria's chattering classes is that they hardly look up the regulation. Hydrocarbon will be introduced only when the Nigerian Midstream Downstream Regulatory Agency (NMDPRA) approves and issues Licence To Operate the Refinery to Dangote.
Speculations about inauguration and commissioning are just, well, speculations. Both words do not appear anywhere in the Procedure to License a Refinery in the Nigerian law.
The three stages are:
License to establish a Refinery
Approval to construct Refinery
License to Operate the Refinery
Nowhere does inauguration or commissioning appear.
So the Refinery can be inaugurated or commissioned as the Licensee desires, as long as no attempt is made to operate the Refinery by introducing crude oil and make products for sale, it does not concern NMDPRA.
The claim that some "large sub-sea pipeline infrastructure connected to Oil and Gas blocks in the Niger Delta region for supply of crude feedstock" is a false narrative. What's in the plan is that Single Point Mooring (SPM) buoys will play the transportation role in input crude delivery and output petroleum products.
We live in a society where optics trumps everything. Buhari has been president for 8 of the 9 years that the Refinery project has been on. What is wrong with Dangote asking the President to inaugurate the Refinery so his name is on the marble when the Refinery becomes fully operational? Afterall no law will be breached by such gesture?
That said, Aliko Dangote the billionaire owner of the Refinery is determined that the 19billion-dollar project, the second of his three, hydrocarbon processing mega projects (Fertilizer, Refinery and Petrochemicals) is delivered by end of 2023.
The technical work has gone far, involving trial-running every single equipment, which has taken a while because of the lengthy time of construction. Some equipment were installed six years ago, and were just standing there in the air, water or even underground. Anything, literally could have happened.
As of February 2021, the installation of the Crude Distillation equipment had been completed. So had the kitting up of the Residue Fluid Catalytic Cracking Unit (RFCCU).
Supply chain challenges thrown up by the COVID-19 did slow down work, but the construction of Africa's largest hydrocarbon processing factory picked up steam again in mid-2021.
"The electrical and instrumentation works are usually invisible to the gaze of non-refinery workers, but they are key. Their installation needed extreme care and it consumes over 30% of the Refinery construction time," say several managers familiar with the project.
"A lot of our contractors are Chinese. Those who went home couldn't come back quickly, but the project workflow recovered and those installations especially that of the Crude Distillation Column, which arrived Nigeria in December 2019 were expedited.
"We will have 15 process units in the Refinery and they must all work together" the managers tell us.
The operations planning will emphasize the mantra at the commissioning: we must flow everything out with air, then do it with water, then with steam, them with air again". This is all to ensure that the likelihood of moisture absorption is zero, as the contrary will lead to cracks.
"The equipment must be pickled. What that does is that it oxidizes the facility". The Dangote Refinery is significantly an Indian supervised operation.
But a significant percentage of the 1,000 Nigerian engineers sent to training in India for the eventual operations of the facility, have returned and are currently engaged on site.
The relationship between the Nigerian crude oil refining sector and Indian engineering expertise goes back to 1988, when the second (larger) refinery in Port Harcourt, the major city in the country's oil producing Delta region was being constructed.
"Some of the experts working on Operations Planning were part of the construction of the Port Harcourt Refinery 35 years ago", our sources say.Mr Dangote initially announced the likelihood of the project in 2013. But it was at the All-Convention Luncheon at the Annual Conference of the Nigerian Association of Petroleum Explorationists NAPE, in November 2014 that he provided the first relatively comprehensive details of the facility. He told the roomful of geoscientists that the capacity had increased from 500,000 BSPD to 650,000 BSPD.
Dangote Industries was advised by Jacobs Engineering and it licensed the Honeywell UOP for the basic engineering design. On a daily basis, the facility will have the capacity to produce 59million liters of gasoline, 20million litres of kerosene and 9million litres of diesel and others.
The construction has taken a while and has been the most excruciating economic challenge Nigeria has ever faced. Would Dangote Industries have delivered this project much earlier if it had awarded it to a world- class EPC contractor like Bechtel, TechnipFMC, Siemens, KBR?
"Yes", said Alex Ogedengbe, a retired Group Executive Director at NNPC who was involved in the construction of the Warri and Port Harcourt Refineries in the 1980s. "There are just about six or seven such EPC contractors in the world," he explained. Mr Ogedengbe was speaking at a private webinar organized by oil and gas analyst, Ronke Onodeko in April 2020.
Dangote sources maintain that the cost would have been at least 30% higher if that route had been taken. And while it could be argued that Dangote Industries could have had good value for money if a Bechtel or KBR had handled the construction, multiple sources argue that the delay could have been minimized if the current structure had been in place since inception. The company went into this project with the mindset of constructing a cement plant, which was its major competence before this huge assignment. "We wasted the most time at the engineering stage", one manager recalls. "A reputable EPC contractor would still have hired expertise from outside like we are doing and subcontract several units. Dangote Industries bought brand new equipment for this work; an EPC contractor might not have even done that, but it would have coordinated things better at the outset."
One more advantage of building it yourself: all the equipment you purchase for logistics and construction purposes are yours.
Everyone we spoke to agreed that things began to take very good shape when Giuseppe Surace came along. The Italian engineer who had been Chief Executive of Saipem in Nigeria and Brazil, joined the project in June 2017 as the Chief Operating Officer. "On the factory floors, in the Executive Offices, everywhere on site, the consensus is that one of the best decisions that Aliko Dangote made was Surace's appointment. "He saved the project" said our sources.
A highlight of the swirling speculations around President Buhari's impending visit is the description of how crude oil will be pumped into the Refinery. One widely circulated message talks of large sub-sea pipeline infrastructure connected to Oil and Gas blocks in Niger Delta region for supply feedstock ".
This is a false narrative.
The truth is that Single Point Mooring SPM buoys will play a huge role in input crude delivery and output petroleum products. There are three of them either way. Three SPMs will deliver the input crude oil from vessels into a jetty from which it is pumped into the plant. And three SPMs will ferry petroleum products out to vessels on the sea for export. "We have facility to evacuate through roads, we have large loading capacity (103 loading terminals) and we can evacuate 75% of our production through road and we can evacuate 75% of our production through the sea so that if we want to export", Dangote officials have repeatedly explained.Within Nigeria, we can evacuate to Warri, Port Harcourt, Calabar and so on, those options are available", the officials say.
On the table is the idea of a 6-lane road through Epe, a town in the east of Lagos. But what of the supply of the product to Lagos? Will some of it be through Lekki Expressway? The subject of the quality of Nigerian roads to take in the products, through land tankers is still a fraught one.
Editorial, Oil+Gas Report
Nigeria's Short Lets Surge Opens Doors to Unprecedented Real Estate Profits By Dennis Isong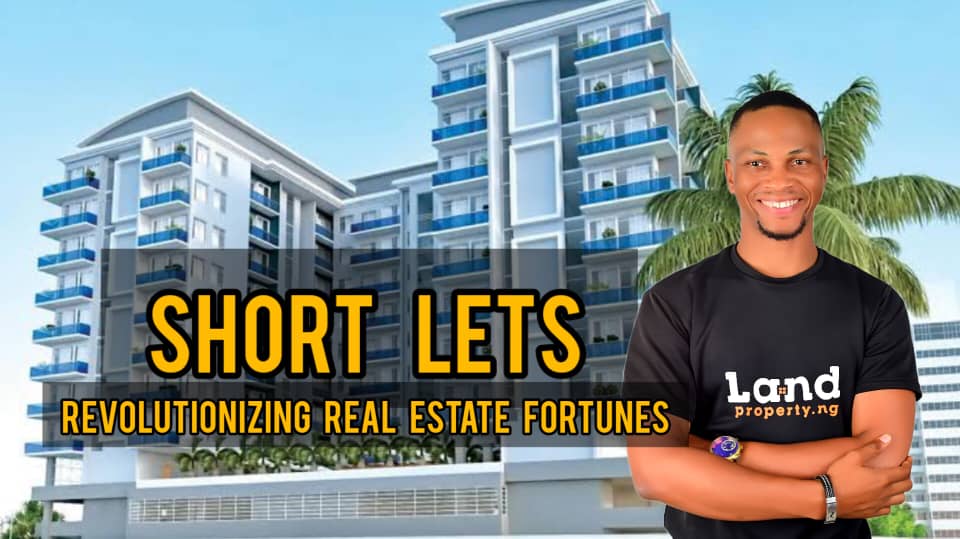 Nigeria's Short Lets Surge Opens Doors to Unprecedented Real Estate Profits By Dennis Isong
Sahara Weekly Reports That Short let, also known as short-term rental, has been gaining popularity in the Nigerian real estate business in recent years.
A short let refers to the rental of a property for a short period of time, usually ranging from a few days to a few months. This type of rental arrangement is becoming an attractive option for both landlords and tenants in Nigeria.
For landlords, short lets provide an opportunity to earn higher rental yields compared to traditional long-term rentals.
This is because short let tenants are willing to pay a premium for the convenience and flexibility of a short-term rental.
Landlords can also avoid the hassle and expense of finding a new tenant every time a long-term tenant moves out.
For tenants, short lets offer a cost-effective and flexible housing solution. They can rent a property for a short period of time, which is ideal for travelers, business professionals, and those who are in between homes.
Short lets also offer a more homely experience compared to hotels and other forms of temporary accommodation.
The popularity of short lets in Nigeria has led to the emergence of several short-term rental platforms, such as Airbnb and Jumia House.
These platforms have made it easier for landlords to list their properties and for tenants to find short-term rental options.
This has also led to the creation of new job opportunities in the real estate industry, such as property management and marketing.
However, there are also some challenges associated with short lets in Nigeria. For example, some landlords are not familiar with the legal and regulatory requirements for short-term rentals, such as obtaining a license and paying taxes. Tenants also face challenges, such as finding a property that meets their needs and navigating the rental process.
In addition to the challenges mentioned earlier, security is also a major concern for both landlords and tenants when it comes to short lets.
Properties that are left vacant for short periods of time can be vulnerable to theft and other forms of crime. To address this issue, landlords can invest in security systems such as alarms and surveillance cameras. Tenants can also take precautions by making sure the property is secure when they leave and by keeping valuable items locked away.
Another issue is the impact of short lets on the local community. In some areas, the influx of tourists and short-term renters can put a strain on local resources and disrupt the lives of residents. To mitigate these effects, some cities have implemented regulations on short lets, such as limiting the number of days a property can be rented out or requiring landlords to obtain a permit.
Despite these challenges, the demand for short lets in Nigeria is expected to continue to grow in the coming years. The country's tourism industry is expanding, and with it, the need for affordable and flexible accommodation options.
In addition, the growth of the gig economy and remote work is also driving demand for short-term rental options.
In conclusion, the prospect of short lets in the Nigerian real estate business is positive. With the increasing demand for short-term rental options, it is an opportunity for landlords to earn higher rental yields and for tenants to find flexible and cost-effective housing solutions.
However, it is important for landlords and tenants to be aware of the legal and regulatory requirements for short-term rentals and to use platforms that provide a safe and secure rental experience.
Dennis Isong is a TOP REALTOR IN LAGOS.He Helps Nigerians in Diaspora to Own Property In Lagos Nigeria STRESS-FREE. For Questions WhatsApp/Call 2348164741041.
Sterling Bank Declares Bounty At 61st AGM

– Sterling Bank Declares Bounty At 61st AGM
Lagos, Nigeria: The shareholders of one of Africa's fastest growing companies, Sterling Bank, have commended the board of directors, executive management and staff of the bank on its remarkable financial performance for the 2022 year, resulting in a recommendation of dividends of 15 kobo per ordinary share; a fifty percent increase from that paid in 2021. The shareholders gave this commendation at the 61st annual general meeting of the bank held in Lagos on Wednesday.
Speaking at the meeting, Mr. Rilwan Hamza, one of the shareholders, commended the board members and staff of the bank for the wonderful financial performance while another shareholder, Mr. Boniface Okezie, expressed delight at the level of transparency displayed by the board and commended them for the improved dividend payout.
The shareholders urged the board to make the most of the transition into a financial holdings company and establish more subsidiaries that will drive even more growth and increase shareholder value.
The bank's strong performance for the 2022 financial year was derived from growth in its assets base and customers' deposits by 14.4 percent and 9.8 percent respectively. This is despite strong economic headwinds experienced by the Nigerian economy in the year under review.
Addressing shareholders of the bank at the first meeting as a limited liability company, following its ongoing transformation into a holding company structure, Chairman of the bank; Mr. Asue Ighodalo remarked that, "Despite the challenges during 2022, our performance reflected our resilience and determination to deliver optimal value for our shareholders. We are pleased that we closed the year on a good note."
Mr. Ighodalo said the bank grew profit before tax to N 20.8 billion, representing a 29 percent year-on-year increase from N 16.1 billion recorded in 2021, and a 28.5 percent growth in profit after taxes (PAT) to achieve the sum of N19.3 billion for 2022.
He said the PAT growth was driven by an N18.6 billion improvement in net operating income amidst heightened inflationary pressure and regulatory policies, adding that the gross earnings grew by 16.6 percent to N175.1 billion compared to N150.2 billion reported in 2021.
On business outlook for the year, the Chairman noted that "We remain very optimistic about our bank's future and are devoted to effectively transforming our business to deliver optimal performance, and significantly offer superior services to millions of Nigerians.
"We are steadfast in our commitment to lead with best-in-class customer experience, establish a work environment that helps our employees became the best versions of themselves, become even more socially responsible as an institution, and create immense value for our shareholders."
The Chairman said, "Our transformation into a holding company structure will allow shareholders and customers to maintain continued exposure to the bank's existing lines of business and gain exposure to new business lines that will enhance shareholder value."
"As we chart a new future for our organization, the expanded company structure will give us the renewed ambition to conquer new ground and solve more problems."
The bank has maintained and increased momentum in 2023 with her citation as Africa's Most Valuable Commercial Bank Brand for 2023 by the African Brand Magazine , in a poll conducted by GeoPoll and Kantar; two of the world's leading brand research firms, a top three employer in Nigeria by LinkedIn in the social network's annual Top 25 List, and most recently, one of the top 100 fastest growing companies in Africa by the prestigious Financial Times.
Renowned for its now famous HEART of Sterling strategy; which focuses major investments in the Health, Education, Agriculture, Renewable Energy and Transportation sectors of the Nigerian economy, its irreverent brand voice and enviable talent management practices, the lender recently completed a major milestone towards the completion of its transformation into a financial holdings company with the relisting of its shares on the floor of the Nigerian Exchange (NGX).
Shareholders Commend Wema Bank Management on Good Corporate Performance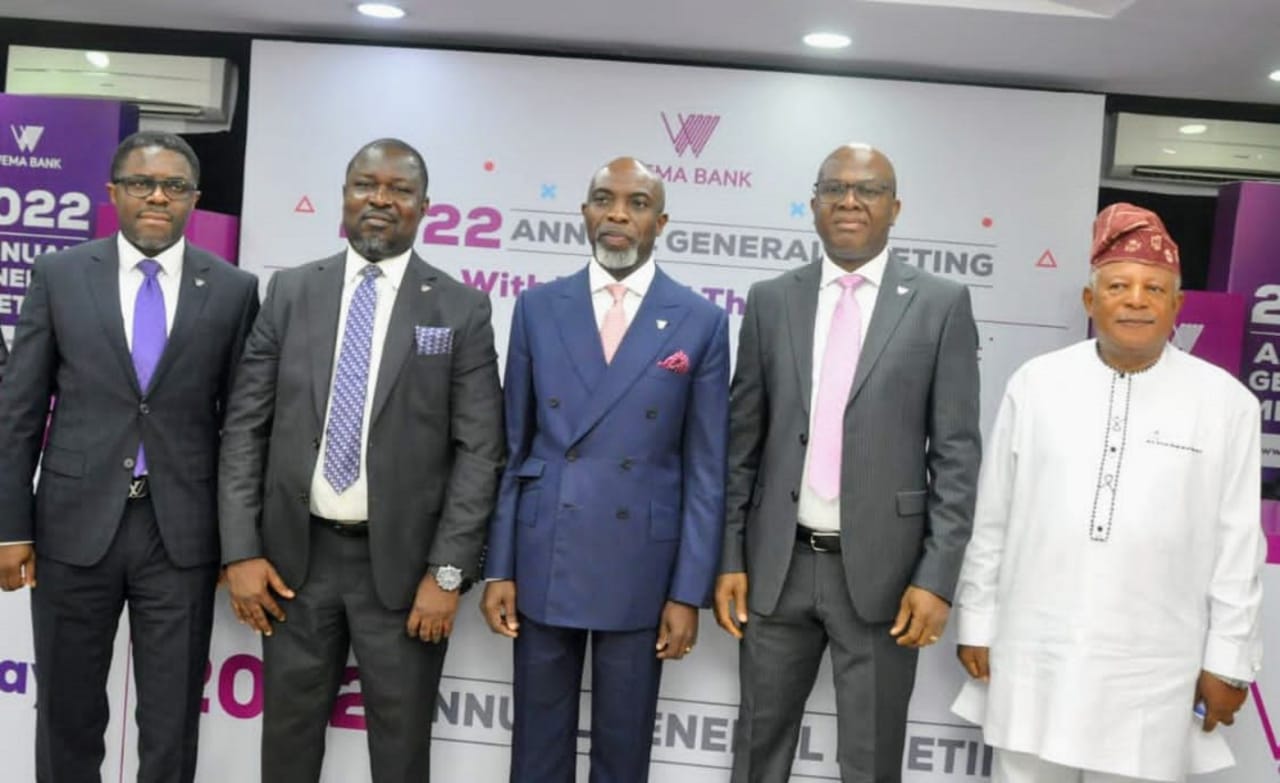 Shareholders Commend Wema Bank Management on Good Corporate Performance
Nigeria's most innovative financial institution,
Wema Bank Plc
, held its 2022 Annual General Meeting yesterday May 31st, 2023 amidst encomiums over the sterling performance of the bank and the huge dividend payout.
Specifically, shareholders of the
bank
commended the board and management for delivering a good result in the financial year.
A shareholder, Mr. Badmos commended the bank for proposing to pay 30kobo dividend per unit of ordinary share, saying it is the biggest in the history of the bank.
He charged the new management to sustain the tempo of excellent corporate performance so that shareholders could continue to get value from their investments.
Speaking on the occasion, the Managing Director/Chief Executive Officer of the bank, Mr. Moruf Oseni, said the present management which he leads is poised to making the bank the best financial house digitally.
Oseni said his management team is determined to scale up the bank, stressing that they would take it to its rightful place in the industry. According to him, the welfare of staff members would also be accorded top priority as a way of motivating them to contribute more in terms of their output.
In its audited financial results for the period ended December 31, 2022, the bank recorded gross earnings of N131.08 billion year on year, representing an increase of 42.3 percent over the N92.14 percent posted in 2021.
The results, which showed positive fundamentals across board, revealed a growth of 44.7 percent year on year in interest income to N106.07 billion from N73.30 billion. Non-interest income shot up to N25.01 billion to N18.83 percent, an increase of 32.8 percent.
Similarly, the bank's profit before tax grew to an all-time high of N14.74 billion year on year as against N12.38 billion the previous year, an increase of 19 percent.
According to the bank, shareholders will receive a dividend of 30 Kobo per ordinary share in what is the biggest dividend payout till date. The bank grew its deposit year by year by 26 percent as at full year 2022 to N1,165.93 billion from N927.47 billion in 2021. Its stock of loans and advances also grew from N418.86 billion in 2021 to N521.43 billion, showing a rise of 24 percent.
The impressive results showed that total assets hit N1,433.79 billion as against N1,164.52 trillion, a growth of 23 percent. Shareholders' funds also moved up to N82.62 billion from N70.36 billion in 2021, an increase of 17 percent.