Femi Branch Is A Gold Digger, Goes After Rich Women And Was Locked Up In KiriKiri Prison – Wife Reveals About The Actor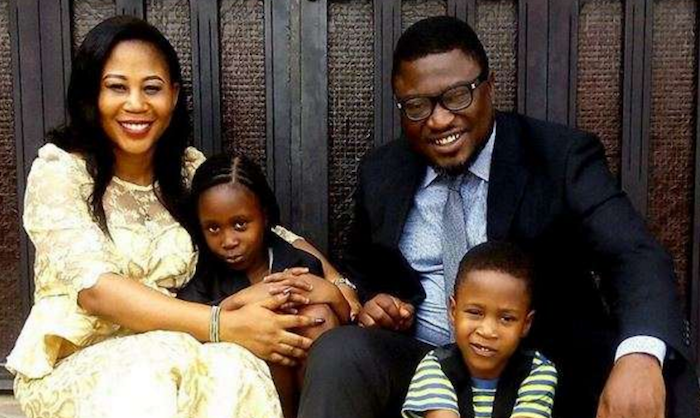 A couple of weeks back, the social media was agog that actor Femi Branch was set to wed for the third time after separating from Ibitola, the mother of his two children. Encomium.ng had an interview with the estranged wife on what led to their marriage break up. Apart from being beaten, her story of financial deprivation laced with humongous lies by her actor husband of ten years whom she accused of living a reckless life, sounds unimaginable. Ibitola Branch also told us about her husband's incarceration in Kirikiri and abandonment for ten months.
Excerpt:
We heard that you and Femi Branch have called it quit. Is it true?
Yes, it is
What actually happened?
I came back from work that day, and he went out as well. I waited till 11 pm and I didn't see him. I tried calling him on phone when I didn't see him. He complained that I was screaming, I apologized for screaming and I asked him for his whereabouts. I told him he wouldn't have gone that long since he wasn't on location. All he said was that he was coming, he also said I was screaming which I apologized for again. But Femi did not come back to the house till 1am. I was up waiting since he said he was coming. When he came, I went to open the gate and I told his friend that I wouldn't come down that late again if he comes back late. I was really upset. I asked his friend to warn him because of another time. I added that he should be telling me if he would come home or not because that wasn't his first time. The next thing Femi said was, "You dey craze." And I replied the same way. He started bragging, "Do you know who you are talking to? I am Femi Branch," and he descended on me and started beating me. He was hitting me hard and his friend was trying to stop him. He left me and went upstairs and told me to meet him upstairs. His friend said I shouldn't go, but where will I go by that time? So I went upstairs. Femi continued beating me and insulting me. His friend tried to intervene again, all these while I never raised my hands against him. You can imagine him with his stature hitting me. His friend said I shouldn't sleep in the house, so I followed him because he was also a married man with a kid. I slept in his house that night.
What is the name of his friend?
I wouldn't want to drag him into this, it was a close friend of his.
Would that be the first time he would be beating you?
Truth is, that was the first time. But before then, he had pushed me hard against the bed that I almost hit my head on the wall. That was two years ago. Such things don't happen without signs, him pushing me the first time and now beating me. It could develop into something else. I have always said I can't stay in a marriage if the man is beating me, I know I can get killed if it continues. I have risked my life enough in that marriage so I decided to leave.
What happened next after moving to his friend's house?
The second day, his younger brother asked me to come over to his own house as he wasn't happy I was staying in a friend's house. I moved there and was shuttling between that place and my sister's house till I could get a place of my own.
What were the signs that showed things were getting really bad?
The issue is that we women see signs even before marriage. I would like to say that Femi came extremely late on our wedding day. People were already waiting for almost three hours before Femi came and he was not apologetic about it.
What exactly happened?
I don't know, but it took him almost three hours before he showed up and he was not remorseful about it. Then, when I got married to him, he has only paid my daughter's school fees for just one term. My daughter is nine years, that means I am the one who has been responsible for her upkeep.
What was his excuse for not being responsible?
He made me believe he does not have money. Later on, I heard he goes out and spends money anyhow. He goes to clubs, pops champagne and spends crazily. It was a regular occurrence, people used to call me that he was in one hotel or the other. There was this particular day someone called me that he was in a hotel spending money. That person knew Femi was not responsible at home. All I was trying to do was to patch the marriage and make sure things were fine. You know in the African setting when you are married, you have to endure. Up till this moment that I am talking to you, he doesn't know how his children are eating or faring. The last time he saw them was January this year. He said they should spend the New Year with him and he returned them empty handed.
Was there no time you called him to order?
Several times, we spoke severally. He was always saying jobs were not coming, he doesn't have money. Femi is a successful actor getting lead roles, so why was he irresponsible? It is unfortunate outsiders have a different picture of him. Femi is someone who can be in church speaking in tongues and the next minute he is out with the guys drinking, smoking and womanizing. He acts a lot. He is not the same person at home and outside.
Are his parents and siblings aware of this?
Funny enough, he has a very wonderful family. They knew about it and spoke with him severally. In fact, his family made me stay this long in the jmarriage. His family complained and talked to him, they did everything they could. It is only prayer that can change him, Femi lies a lot. Can you give me instances? He would tell me he has gone on location and he would lodge in a hotel, do whatever he likes. There was a time he was part of the crew following Jimi Agbaje during his campaign period. I was in Abeokuta then. After the whole exercise, everybody left the hotel except Femi. He was enjoying himself. One of his colleagues whom I had complained to called me to inform me that he was the only one left in the hotel. It is the same hotel he is indebted to now. He has a case at the Ikeja magistrate court. The story is true that he was locked up in Kirikiri. He is owing the hotel to the tune of millions
 What steps did you take about this?
I asked, spoke with him and he would always give excuses. It is what Femi wants that he will do. It took him eight months before he came home. When he was arrested, I was in Abeokuta and he was in Lagos. I traveled to Lagos that night to bail him out but I couldn't bail him that night. That was in November 2015. I did all these for Femi but to him I have done nothing. Where exactly did you guys meet? We met in a church in Abeokuta.
 I thought you guys met in school. I should have said you should have noticed some of these traits in him?
No, we never went to the same school.
Which school did you attend?
Moshood Abiola Polytechnic.
What about him, we learnt he graduated from Ife?
I don't know if he graduated or not. You can go to Ife and ask.
But you were married for ten years, how come you don't know?
I told you Femi lies a lot. Ask him to produce his certificate. He has lied so much and he will continue to lie, that was what he told me.
Is it true that he was married before he met you?
Yes, he was married before we met. According to what I heard, the lady didn't stay up to a month. I was told a funny story about it, I was told the mother-in-law was to collect cow leg and the lady left.
Cow leg, how?
I think they were to share a cow and she wanted a particular part of the cow. I don't really know, that was what I was told. Maybe the lady noticed something else. If I have the opportunity to meet her I would ask her. My parents didn't believe the story as well, we just let things be.
Have you heard he wants to get married again?
Yes, I have. I was just laughing, and I said, Wow, Femi has caught a big fish. According to what I heard, the lady is British. I said Femi has caught a big one.
How would you say such a thing?
Because I know Femi, he would only go to women who have money.
That means he married you for your money?
I am not saying that but before I married him, I do travel out a lot for leisure. When we got talking, he had the idea of the type of life l lived before meeting him. Maybe he felt I had money or that I had a British citizenship. I was even pregnant before we got married but the baby was still birth. Immediately it happened, I traveled abroad to rest. Good for the lady, I pray they find happiness together. But there must be more to why Femi wants to marry that lady. I am not granting this interview because I am bitter, I have moved on. I just want to clear my conscience because my family didn't know what I went through for ten years. It was when I left last year that I told my family. People have called to blame me, some said I should go back to him.
Has he filed for divorce?
We are just separated, not divorced.
How come he is getting married again?
We had a white wedding and a traditional one.
But you had a marriage certificate?
Yes, we were given one but we are not divorced. We got married in a white garment church.
Why did you leave your children in the first instance?
When I left the house, my children were with my parents for holiday. When the holiday was over, I went to pick my children and took them back to our house. I told them to go upstairs that I was coming. I then turned my back and left. I did that not because I wanted to leave my children, but I wanted his family to be sure of all I had been saying,). I knew he can't take care of those children. I was crying when I left and I prayed that I would get them back, it was not up to two weeks that Femi took the children to the village, to his parents. He did not drop money for their upkeep or anything, so his parents took them to public school and he never visited them for once in that four months they were there from April to July. I went there two times to check on them, I later called him that I wanted the children back. He said was I not the one who dumped them before? I told him I needed to make a statement that he couldn't take care of his children that was why I left them in the first place. He eventually released the children. Arrangement was made, he picked them up and dropped them at his brother's house and I picked them there.
 Was there no intervention from his siblings or parents to reconcile the two of you?
When the incident happened, some of his elder brothers tried to call and I told them that I was no longer interested. Family members were trying to reconcile but the person that caused the trouble was not remorseful. He did not apologize for beating me, he didn't say he was sorry. This was the same person that had an accident in 2012 on location. I was the only one taking care of him. You know marriages have their own challenges, I have stayed through thick and thin. I covered up for so long, my mum will always call me, Are you okay? Are you sure you are okay? I almost shut my mum up on his case. I have never done that in my life. My mum will always complain that I was always telling her he was on location, that it means he doesn't have time for his family. But I always calm her down. His family tried but I have made up my mind about the marriage. I don't think I can endure any longer. If Femi reads this, he knows that I am not lying. I was practically fending for the family throughout the ten years. Someone asked me, 'Does it mean he has not done anything good for you in the last ten years?' And I told the person the bad he did was far more than the good. I don't want my daughter to go through what I went through in marriage, and I don't want my son to be like his father.
You left him in April and he's getting married a year after, do you suspect they started dating before you left him?
I don't think so. I heard the church he attends now did the matchmaking.
Did the church call to intervene in the case?
No, they never did. No one knows what he told them about me.
Encomium
AdeDimeji Lateef, Dele omo Woli , Bash , Other A-list Comedians storm ijebu for Mc Baffy's Ijebu Go Laugh '23 Edition*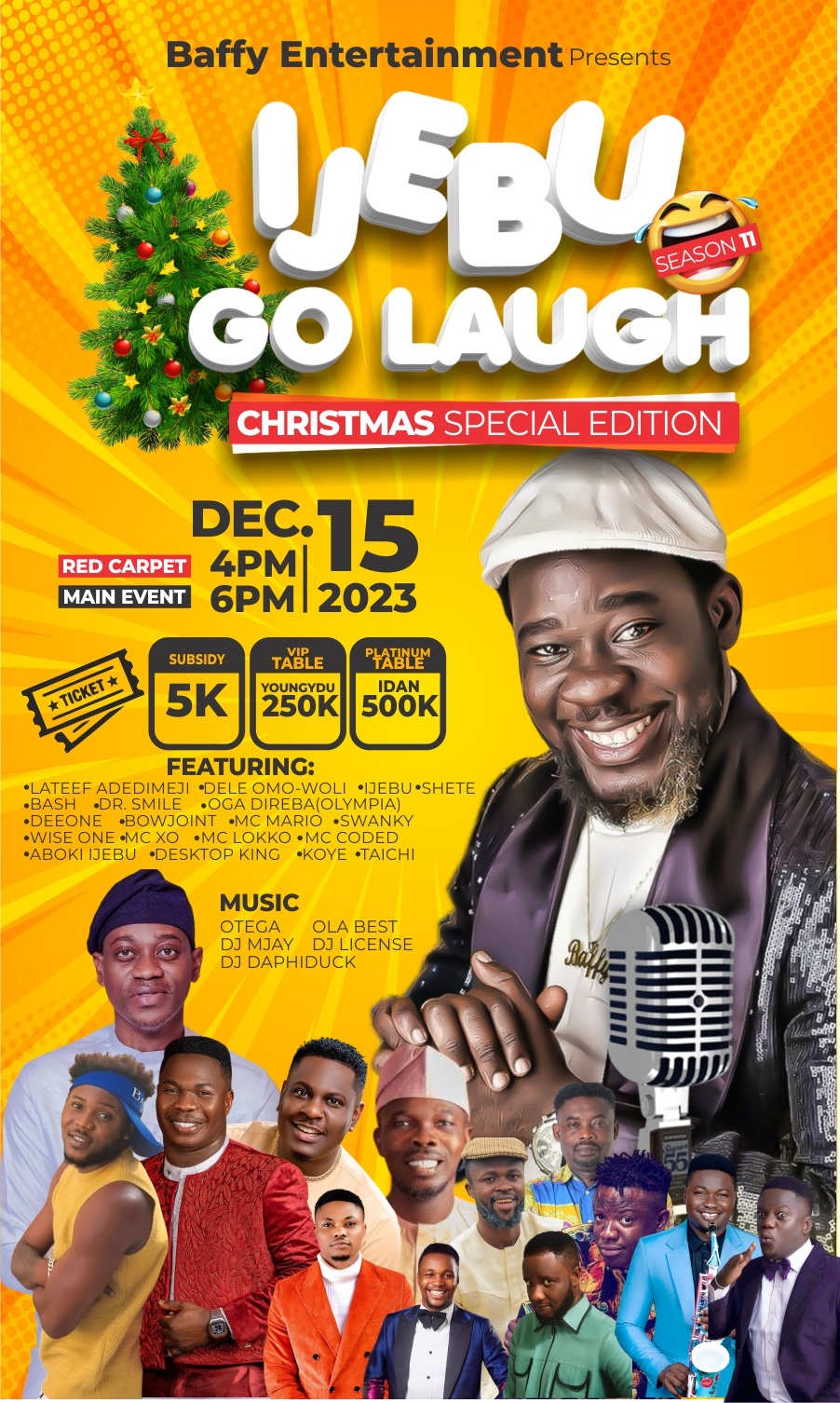 AdeDimeji Lateef, Dele omo Woli , Bash , Other A-list Comedians storm ijebu for Mc Baffy's Ijebu Go Laugh '23 Edition*
Fast-rising comedian and Master compere, Ayodeji Atanda prominently known around town as Baffy De Comedian will in few days time bring the AY Live experience to Ijebuland.
The grand event which promises to be a hit will hold on Friday, December 15, 2023 at the upscale Rolak Hotel and Suites, Imowo road, Ijebu Ode, Ogun state, starting from 4pm.
The annual comedy concert which has gathered momentum in recent years will have A-list comedians and artists like Lateef Adedimeji, Dele Omo-Woli, Ijebu, Dr Smile, Bash and Mc Mario in attendance.
Others music artistes and Nollywood celebrities expected are Olabest, Otega, Hephta, Koye, Shete, Mc Coded, Dj License and many others.
According to the convener of the award-winning programme, Mc Baffy, the comedy concert has been holding successfully in the last 11 years. We are out to thrill the audience with a breathtaking performance. I am bringing an AY LIVE experience to ijebu for ther first time and I am sure my people will be impressed.
DSS Raid: Igboho Denies Turning Into Cat To Escape Arrest
DSS Raid: Igboho Denies Turning Into Cat To Escape Arrest
Sunday Igboho, a Yoruba Nation activist, has finally spoken out about rumours that he transformed into a cat during a midnight raid on his home by the Department of State Services (DSS) in July 2021.
In an interview, Igboho refuted the report, saying that nothing like that occurred during the DSS raid.
He added that the DSS fired sporadically during the raid, killing multiple cats.
According to the activist, the DSS wanted to either kill or arrest him during the raid.
He said, "It is true that some cats were killed during the attack. Because the DSS just kept firing bullets in all directions. I was rearing cats as pets, and I had many of them in my house. So, anything or movement attracted sporadic gunshots.
"Their mission was to either kill me or arrest me and take me to an unknown destination, but the Almighty God is greater than anybody in this world, including the despotic ex-President Muhammadu Buhari."
Igboho added that he does not know whether the DSS brought three herbalists during the raid.
Yoruba Movie Gist Awards To Hold At RM Place Magodo Lagos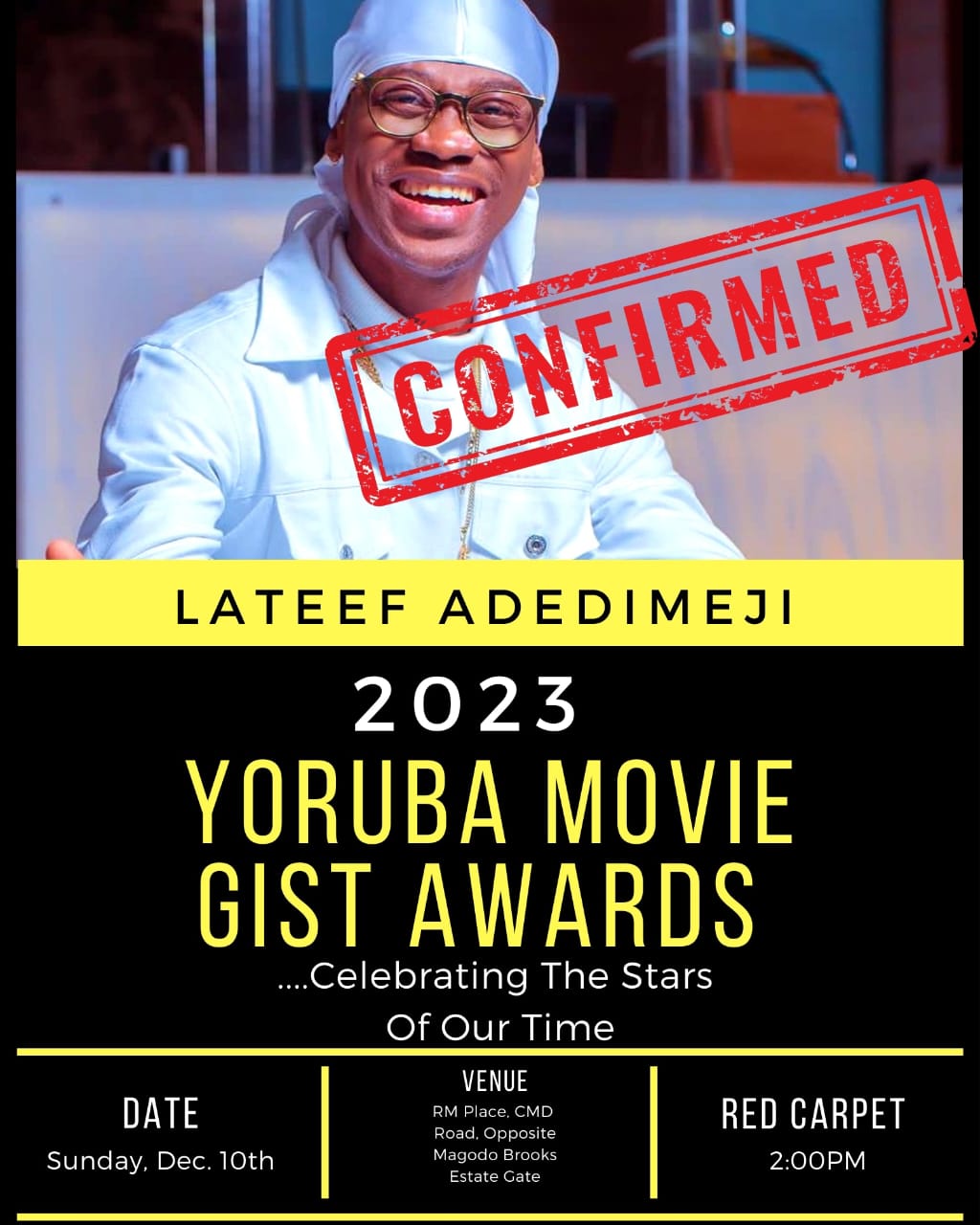 Yoruba Movie Gist Awards To Hold At RM Place Magodo Lagos
Olakiitan Adetutu Communications, spearheaded by Gbolahan Adetayo, the brains behind the esteemed Yoruba Movie Gist Awards, has disclosed RM Place, Opposite Brook Estate, CMD Road, Magodo, Lagos State, as the designated venue for the much-anticipated 2023 edition of the awards.
The prestigious ceremony is set to commence with a glamorous red carpet session at 2 pm, strictly adhering to a punctual schedule, and the main event will follow suit at 4 pm. The organizers emphasize a strict "No African time" policy, ensuring a timely and seamless experience for attendees.
This star-studded occasion promises the presence of top-tier Nollywood personalities, including the likes of Lateef Adedimeji, Ayo Olaiya, Yinka Salawu, Wumi Toriola, Omowunmi Ajiboye, Biodun Okeowo, and an array of other luminaries from the Yoruba movie industry.
Save the date, as the 2023 Yoruba Movie Gist Awards at RM Place, CMD Road, Magodo, Lagos, is destined to be an evening of glamour, recognition, and celebration within the vibrant landscape of Nollywood.