FIRSTBANK INTRODUCES THE FIRST HUMANOID ROBOT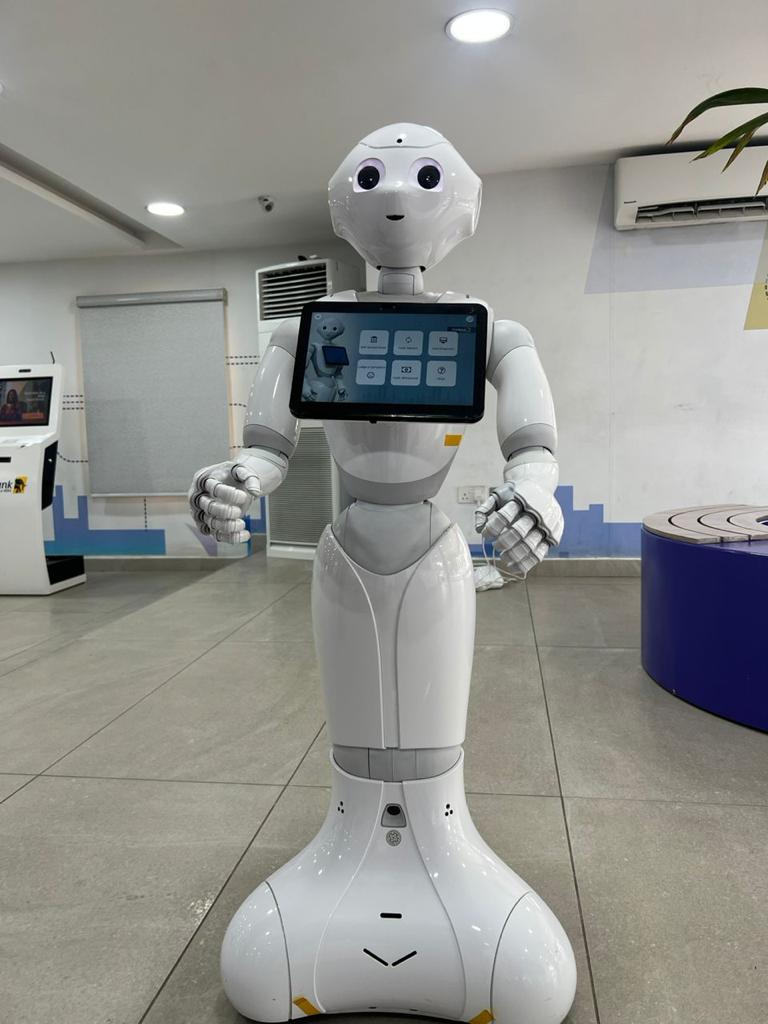 FIRSTBANK INTRODUCES THE FIRST HUMANOID ROBOT, REINFORCES ITS COMMITMENT TO PROVIDING INNOVATIVE FINANCIAL SOLUTIONS FOR CUSTOMERS 
FirstBank has launched an industry-first Humanoid Robot at its Adetokunbo Ademola VI, Lagos Digital Experience Centre (DXC) Branch
The robot is among the phased configuration of the bank's state-of-the-art digitally led self-service branch
The Humanoid Robot is equipped with Video Banking and Artificial Intelligence (AI), taking on the role of friendly branch staff.
In furtherance to its leading role in providing innovative financial solutions in Nigeria, First Bank of Nigeria Limited, Nigeria's premier financial institution and leading financial inclusion services provider, has announced the launch of a Humanoid Robot, the first of its kind in the financial services space in Nigeria.  The robot is equipped with Video Banking and Artificial Intelligence (AI), taking on the role of a friendly branch staff.
The Humanoid Robot can engage customers in conversations as well as through a touch screen strapped to his chest. The services performed by the robot include responding to customer enquiries on cash deposits, withdrawals, and ATM cards. The robot also aids complaint management as customers can log a complaint via QR with feedback generated within the advised time.
The Humanoid Robot also keeps customers up to date with happenings about the Bank, including products launch and upgrades designed to strengthen the customer experience and satisfaction. The robot is a one-stop point to keep customers informed about the Bank. It also effectively manages customers' accounts.
Expressing his delight at the initiative, Dr Adesola Adeduntan, the CEO of FirstBank Group noted that "the addition of the Humanoid Robot to our state-of-the-art Digital Experience Centre represents a purposeful stride towards transforming the banking landscape in the country and further showcases the priority we give to innovation within the Bank. With its advanced capabilities, the robot is designed to elevate the quality of our customers' lives in today's rapidly evolving digital world. Our unwavering dedication to delivering unparalleled banking services remains steadfast, as we leave no stone unturned in innovating to fulfil our customers' needs." he concluded.
The introduction of the Humanoid Robot is among the phased configuration of the Bank's state-of-the-art digitally led self-service branch called Digital Experience Centre, launched in December 2021.
Another Humanoid Robot will also be deployed in the Bank's next and second Digital Experience Centre, soon to be announced in the coming months.
About FirstBank
First Bank of Nigeria Limited (FirstBank) is the premier Bank in West Africa and the leading financial inclusion services provider in Nigeria for 129 years.
With over 800 business offices across our footprints and over 200,000 Banking Agents spread across 99% of the 774 Local Government Areas in Nigeria, FirstBank provides a comprehensive range of retail and corporate financial services to serve its over over 41 million customer accounts (including digital wallets) in Nigeria and over 700,000 customer accounts outside the country. The Bank has an international presence with subsidiaries operating in 9 other countries. These subsidiaries are FirstBank (UK) Limited in London and Paris, FirstBank in The Gambia, FirstBank Sierra-Leone, FirstBank in the Republic of Congo, FBNBank in Ghana, FBNBank in Guinea, FBNBank in Senegal as well as a Representative Office in Beijing, China. The Bank is at the forefront of promoting digital banking in the country and has issued over 12 million cards, the first bank to achieve such a milestone. FirstBank's cashless transaction drive extends to having more than 12 million people on its USSD Quick Banking service through the nationally renowned *894# Banking code and over 4.5 million people on the FirstMobile platform. It is, by far, the leader in the number of digital transactions per minute across multiple channels.
FirstBank's commitment to Diversity is shown in its policies, partnerships and initiatives, such as its employees' ratio of female to male (about 39%:61%; and 32% women in management) as well as the FirstBank Women Network, an initiative that seeks to address the gender gap and increase the participation of women at all levels within the organization.  In addition, the Bank's membership of the UN Women is an affirmation of a deliberate policy that is consistent with UN Women's Women Empowerment's Principles – Equal Opportunity, Inclusion, and Nondiscrimination.
Since its establishment in 1894, FirstBank has consistently built relationships with customers focusing on the fundamentals of good corporate governance, strong liquidity, optimised risk management and leadership. Over the years, the Bank has led the financing of private investment in infrastructure development in the Nigerian economy by playing key roles in the Federal Government's privatisation and commercialisation schemes. With its global reach, FirstBank provides prospective investors wishing to explore the vast business opportunities available in Nigeria an internationally competitive world-class brand and a credible financial partner.
For six consecutive years (2011 – 2016), FirstBank was named "Most Valuable Bank Brand in Nigeria" by the globally renowned The Banker Magazine of the Financial Times Group and "Best Retail Bank in Nigeria" eight times in a row, 2011 – 2018, by the Asian Banker International Excellence in Retail Financial Services Awards.
Notably, in 2022, the Bank took a long stride on its growth trajectory with the Bank's Viability and Long-Term Issuer Default Ratings upgraded to 'B' from 'B-' (with Outlooks Stable) by Fitch, a leading global rating agency. This is an indication of the Bank's strong internal capital generation and the corresponding recession of its risks to capitalisation. Fitch also upgraded the Bank's National Long-Term Ratings to 'A (nga)' from 'BBB (nga)', to reflect its improved creditworthiness relative to that of other issuers in Nigeria. Furthermore, the Top 100 African Bank rankings 2022 released by The Banker Magazine revealed FirstBank's ranking as number one in Nigeria in terms of Overall Performance, Profitability, Efficiency and Return on Risk.
Other laudable feats in 2022 include FirstBank's international recognitions on major indices by Euromoney Market Leaders, an independent global assessment of the leading financial service providers where FirstBank was crowned:
Market Leader: (tier-1 recognition) in Corporate and Social Responsibility (CSR),
Market Leader: (tier -1 recognition) Environmental, Social and Governance (ESG),
Highly Regarded: in Corporate Banking and Digital Solutions,
Notable: in SME Banking.
Also, in 2022 International Finance Magazine named the Bank "Most Innovative Banking Product in Nigeria" and "Best Retail Bank in Nigeria". FirstBank was also awarded "Best Corporate Banking Western Africa, 2022" and "Best CSR Bank Western Africa, 2022'' by Global Banking and Finance Magazine. Other notable awards in FirstBank coffers include: "Best Bank in Nigeria" by Global Finance magazine – fifteen times in a row; "Best Private Bank in Nigeria-2021" awarded by Global Finance magazine; "Best Internet Banking Nigeria" and ''Best CSR Bank Africa'' by International Business Magazine.
In 2023, FirstBank has received notable awards including "Best Private Bank for Sustainable Investing in Africa 2023" by Global Finance Awards; "Best Sustainable Bank in Nigeria 2023" by International Investors Awards; "Best Bespoke Banking Services in Nigeria 2023" by International Investors Awards; "Best Financial Inclusion Service Provider in Nigeria 2023" by Digital Banker Africa; and "African Bank of the Year" by African Leadership Magazine.
Our vision is 'To be Africa's Bank of first choice' and our mission is 'To remain true to our name by providing the best financial services possible. This commitment is anchored on our core values of EPIC – Entrepreneurship, Professionalism, Innovation and Customer-Centricity. Our strategic ambition is 'To deliver accelerated growth in profitability through customer-led innovation and disciplined execution and our brand promise is always to deliver the ultimate "gold standard" of value and excellence to position You First in every respect.
Folake Ani-Mumuney
Group Head, Marketing & Corporate Communications
First Bank of Nigeria Limited
Why You Should Patronize Oye's Food Place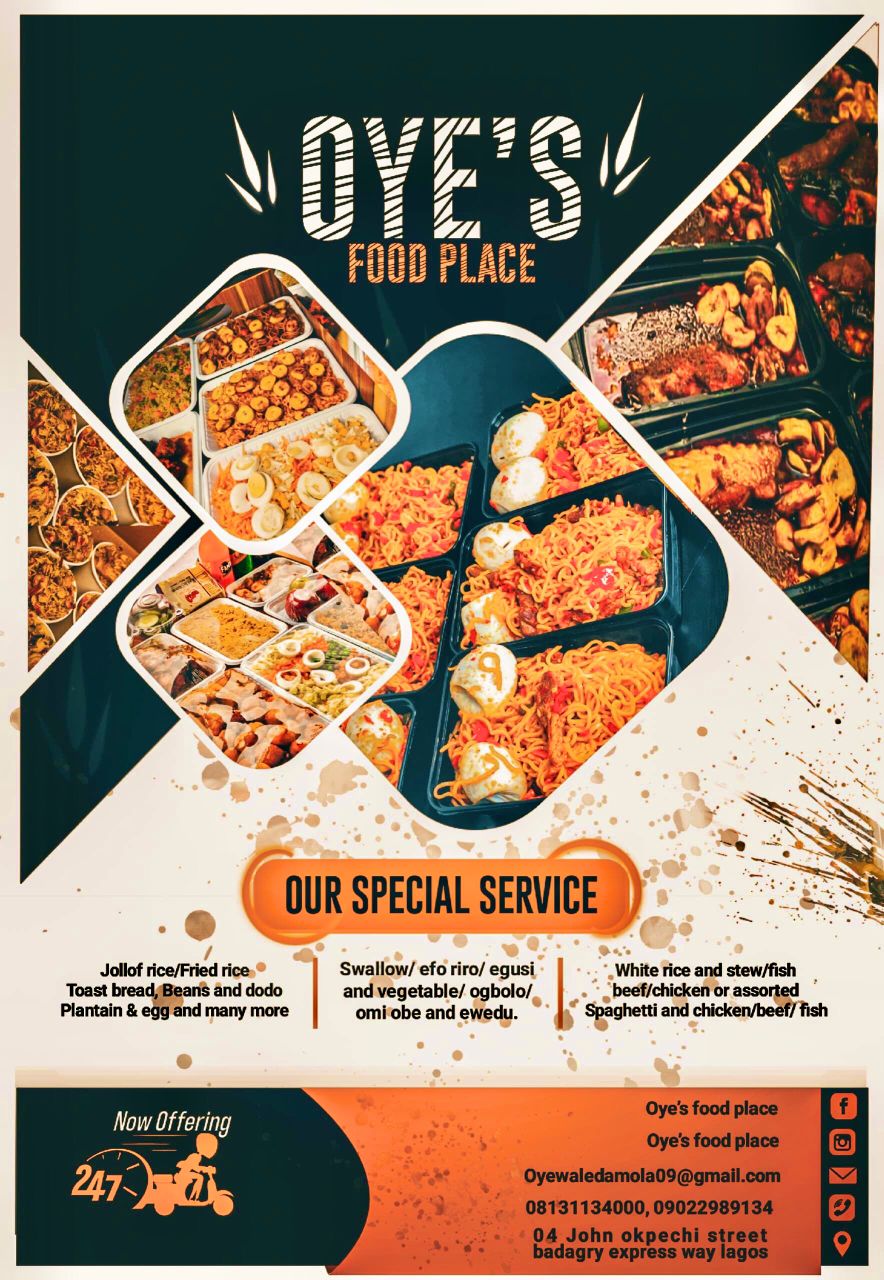 Why You Should Patronize Oye's Food Place 
Everyone deserves a good meal, especially after a hectic day at work. Oye's Food is the one-stop place to get delicious and nutritious food.
Run by Damola Oyewale, a gifted chef, Oye's Food prides itself in all kinds of food and soups both local and continental at the doorstep of your house. They take the stress off you and their delivery package is top-notch. That's why dignitaries prefer Oye's Food to take care of their food. A trial will convince you…
The Alternative Bank Delights Customers with Exclusive Seasonal Product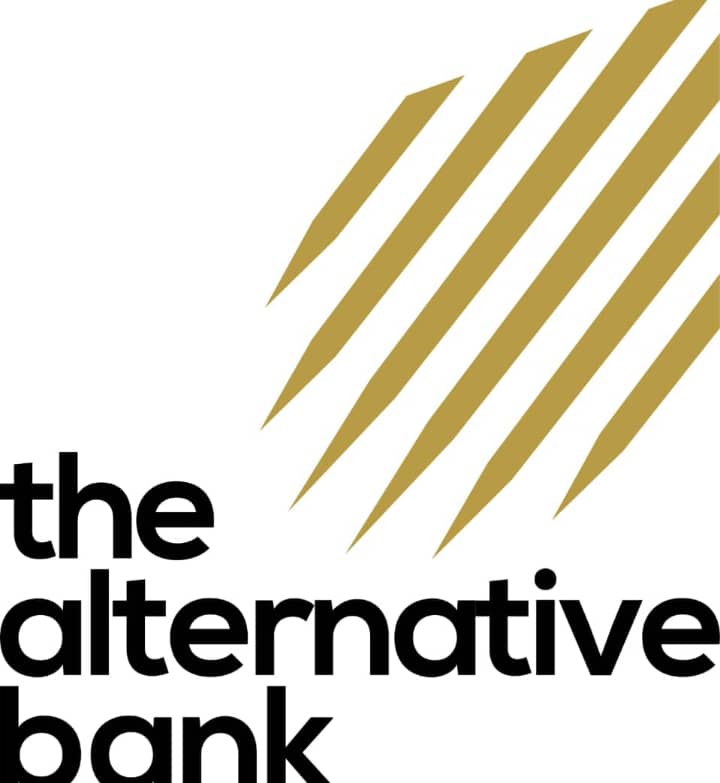 The Alternative Bank Delights Customers with Exclusive Seasonal Product
Ahead of the festive period, The Alternative Bank is offering customers an innovative financial product designed to enhance the holiday experience.
This pioneering solution – AltMall, allows individuals to instantly acquire desired items and pay in manageable instalments, freeing up funds for other essential needs.
AltMall provides customers unparalleled flexibility through deferred payment options, promising a seamless and stress-free shopping experience.
In an official statement, Mohammed Yunusa, Head of NIB Digital and Consumer Business at The Alternative Bank, acknowledged the challenging economic conditions and emphasized the bank's commitment to ensuring that customers can still enjoy the best of the season.
Yunusa stated, "The Alternative Bank recognises the economic challenges that may hinder many people from fully enjoying the festive season. In anticipation of this reality, we are proud to offer our valued customers a unique financial product as a solution."
"At The Alternative Bank, we understand the significance of family ties, reunions, and other festivities during this time of the year. With AltMall, we aim to provide a respite for our customers, enabling them to continue cherished traditions, regardless of the economic situation," he added.
AltMall is tailored for the modern consumer, providing access to the platform from the comfort of home or while on the go. Customers can conveniently choose deferred payment options aligned with their financial preferences, allowing them to savour their purchases while effectively managing their finances.
Yunusa highlighted AltMall's commitment to prioritizing customer convenience, stating, "AltMall gives our customers control over their purchases and payment schedules. Our platform ensures a seamless and user-friendly shopping experience, whether at home or on the move."
The Alternative Bank, known for its dedication to innovative financial solutions, reaffirms its commitment through AltMall. The product represents a significant step in redefining the intersection of finance and e-commerce, offering a unique shopping experience that combines convenience, variety, and financial flexibility.
As the festive season approaches, The Alternative Bank invites customers to make the most of AltMall, embracing a new way to shop online that aligns with their evolving needs.
ENDS
Why You Should Patronize dElite Couture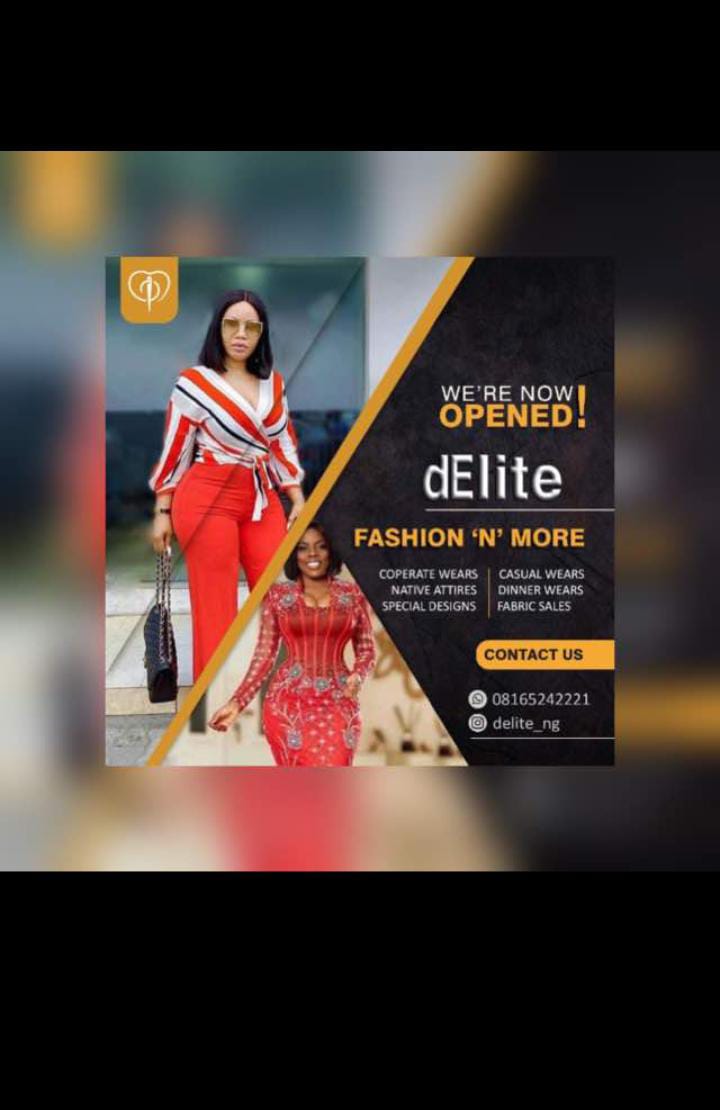 Why You Should Patronize dElite Couture
Arguably, one of the leading Couture in Nigeria is dElite Couture. Owned by delectable Oluwatosin Afeniforo, its a haven of fashion and more.
Known for trendy styles and quality services, celebrities and dignitaries are finding dElite as the place to be for top-notch fashion styles.
A trial is enough to convince anybody that dElite couture is the place to be where fashion is concerned.