Gbenga Ibuoye Nigeria Limited workers protest stoppage of work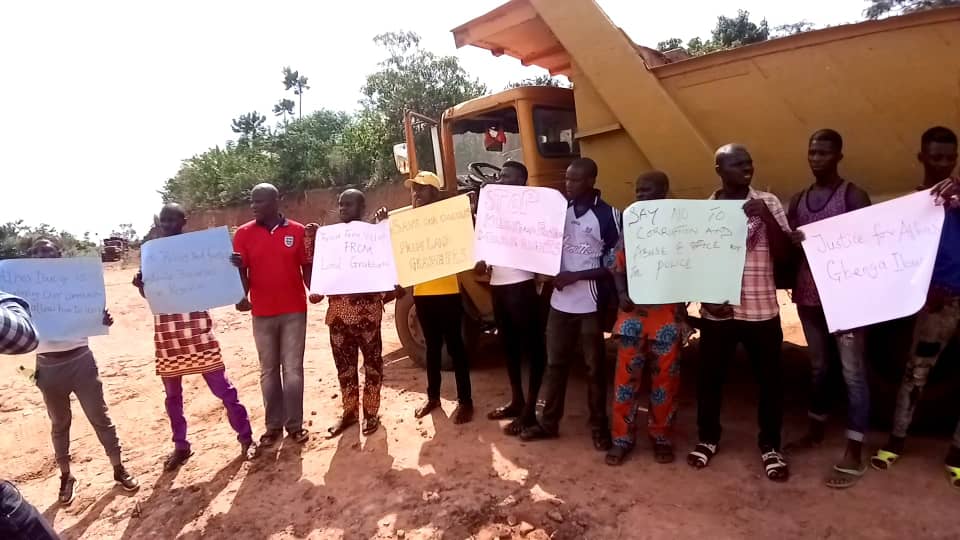 By Ifeoma Ikem
Workers at Gbenga Ibuoye Nigeria Limited mine site protest against the order by the ACP Monday Agbonike, the Area Commander Sango Ota stopping them from working at the site.
Mr Wole Olaoye, one of the workers said that things have been difficult for most of them to take care of the family financially since they were asked to stop.
Another anonymous worker who spoke with our reporter begged government to save the situation saying that the land grabbers are sponsored to frustrate the good work the company is doing in the community.
A worker, who identified himself as Segun, also appealed to the Ogun state government to intervene on the land case because it is affecting their job. Saying "everyone is happy working in the site without any issues.
Mr Bamidele Olatunji, who also worked at the site, questioned where they can get another job with the situation in the country to take care of their family.
"The hardship in this country is much, the rich do not want the less privileged ones around them,'' he added.
"The three families of Falola, Odunifa Faloun and Gbadamosi Onigbeyin, Itele, Ado-Odo/Ota Local Government Area of Ogun State agreed to sell the land to Gbenga Ibuoye Nigeria Limited, a company that is into laterite mining, based on an agreement that he will construct road that will link us to other communities within the Ogun state metropolis.
"With this, it will create an enabling environment for us as community members to invest do business successfully.
Honestly, Gbenga Ibuoye Nigeria Limited has not failed as he promised since he commenced mining: recently we got a report from the company that some persons disrupted the work at the site claiming to be the bonafide owners the land.
Mrs. Elizabeth Modupe, who represented the families, commended the humanitarian service of Gbenga Ibuoye Nigeria Limited and its Chief Executive Officer Alhaji Gbenga Ibuoye who kept to his words.
"I appreciate what he is doing and also everyone is happy in the community for the development he brought.
"We are happy with Alhaji Gbenga Ibuoye, the three families agreed to sell the land to get what you are seeing in the community now, our community was under developed until God used him to remember us,'' she said.
"Those people that came to disrupt the work is yet unknown by the families and we are waiting for them to bring their claims so that we can settle it at court but they are just faceless persons claiming to be the original owners.
However, when the Area Commander, ACP Monday Agbonike of Ota, was contacted, he told our reporter that the case is in court.