Madam President Clocks 4, As Linda Ikeji Also Marks 40th Birthday With 80 Pairs Of Shoes, 32 Designer Bags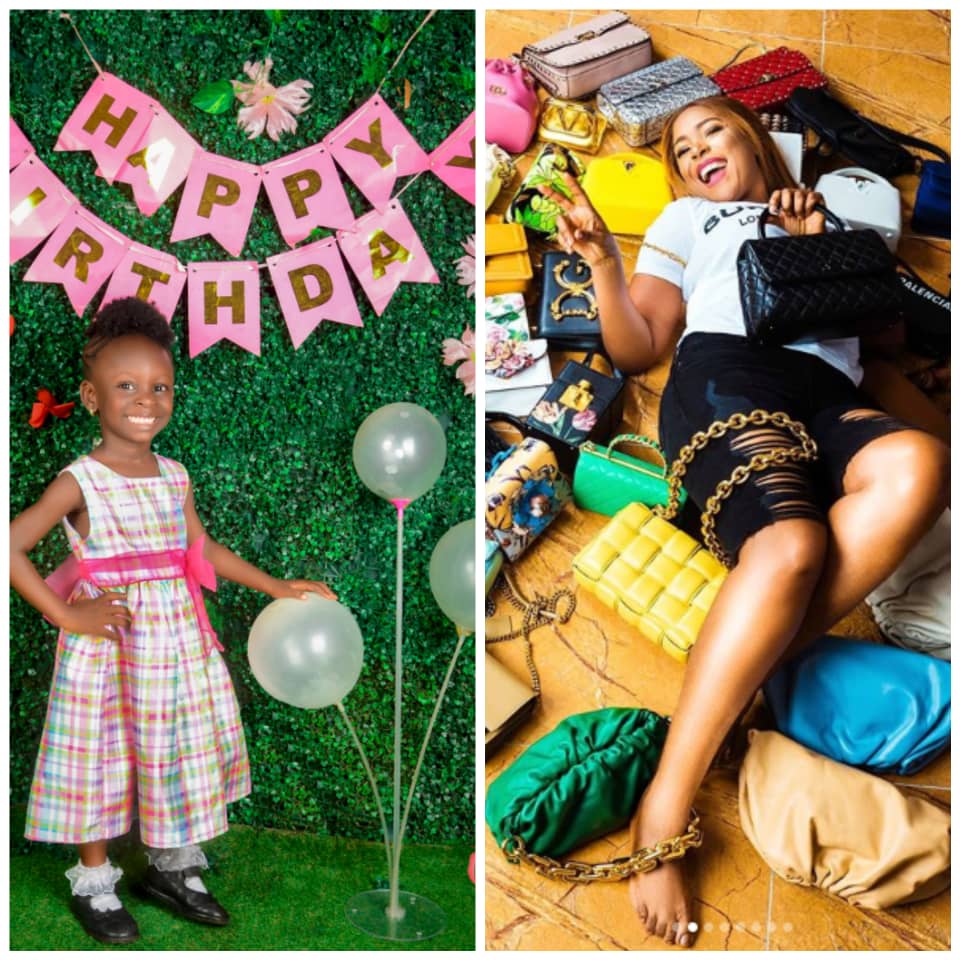 First daughter of popular Journalist, Social media influencer and Blogger, Shaba Gbenga, Ireayo Mirabel Shaba, aka Madam President is marking her fourth year birthday today.
The beautiful and intelligent girl who was born in Lagos on 19the September, 2016 is the first daughter of celebrity journalist, Shaba who is the publisher of www.Omonaijablog.com.
Madam President as she is fondly called is however marking the day with another celebrity blogger, Linda Ikeji, who has broken the internet on her 40th birthday as she celebrates with 80 pairs of shoes and 32 designer bags.
The mother of one took to her Instagram page and disclosed that she initially planned to celebrate with 40 pairs of designer shoes and 40 designer bags, but the shopping spree wouldn't stop and she ended up settling for 85 pairs, with 5 pairs yet to be delivered. However, for the bags, she ended up buying 35 but three are yet to be delivered.
She further added that she bought the entire pairs and bags at a time, a present to herself on her 40th birthday.
She posted, "OK, let's do this! Hehe. Surrounded by my birthday present from myself to myself. I was going to buy 40 designer shoes to celebrate turning 40 and then I started shopping and couldn't stop! Too many beautiful shoes to select from so I ended up buying 85 pairs…. (80 in the pic, 5 on da way). And yes, I bought all of them at the same gaddam time!. Who does that?, ME, that's who!.
I'm so grateful, so thankful, so happy! Happy birthday to me! . P.S, These photos don't do the shoes justice."
About her designer bags, Linda wrote, "Ok, here we go again..lol. Surrounded by my birthday present from myself to myself. I was going to buy 40 new designer bags to celebrate turning 40. And then I started buying…and well, these bags are bladdy expensive so I stopped at 35. (32 in the photo and 3 on da way). And yes, I bought them all at the same gaddem time.
Dear God, forgive me! But money is meant to be spent, right? I know I'm one of the lucky ones and I dont take my blessings for granted. Happy birthday to me!"
Happy birthday to Madam President and her 'god mother' Linda Ikeji.