OGUN STATE EMERGES BEST STATE IN ICT PENETRATION AND ADOPTION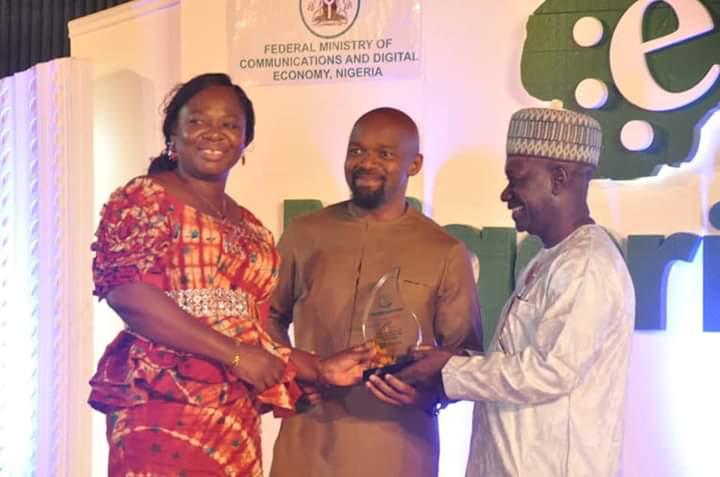 Ogun State Government under the Leadership of Prince Dr. Dapo Abiodun (MFR), was awarded BEST STATE IN ICT PENETRATION AND ADOPTION by the Federal Miinstry of Communications and Digital Economy during the E-NIGERIA awards and gala night in ABUJA on the 29th of November, 2019.
Over the last 6 months of this present Administration, under the good governance of the Executive Governor of Ogun State Prince Dr. Dapo Abiodun (MFR) The Bureau of Information Technology has achieved to mention just a few of the following:
1. Internet expansion to Ministries, Departments and Agencies
Internet bandwidth up from 85Mbps to 300Mbps
The metro fiber presence has been increased to a number of agencies via fiber including the State secretarial complex at Oke Mosan, Ogun state Television, Ogun State Broadcasting Corporation, Cultural Centre, Bureau of Transportations, Signage, Inland Revenue Service, Ogun state printing, SUBEB, Bureau of Information Technology and the Ogun State TechHBUB.
2. Re-design of the Internet network from a Mesh topology to Point-to-Point.
3. Upgrade of the inverter powering the State's Internet equipment.
This would provide six hours power backup for the equipment around Oke-Mosan.
4. Deployment of Wifi to all MDAs in the state for easy access to the internet
5. Setting up proper Emailing Systems.
The Bureau is currently in the process of creating email address for each civil servants and political office holders. This would make communication and governance better and faster.
Officers from different ministries and agencies had been trained on how to use email services.
6 Launching of the Ogun TechHUB
The Hub was launched on September 3rd 2019 and it has be involved in training with over 2,500 already trained in Web design, Digital Marketing, Computer IT Essentials, Hardware repairs, Data Science, Cyber Security, Animation and cartooning and STEM (for children), etc. Ogun Tech Hub is an open living lab and pre-incubation space designed to be a multi-functional, multi-purpose space where work to catalyze creative social tech ventures take place.
7. Ogun Kid's Tech Club
Creating an enabling environment for our kids and other young technocrats to network, socialize, brainstorm and build the next innovative digital solutions that will solve local challenges to improve the quality of life of the people of Ogun state, and the world at large, without hindering their Academic pursuit.
8. Shared Services and Data Centre
The bureau now operate a datacenter. We currently have a 42U Rack at the DC and would soon be deploying the second Rack. The Rack host the state mail server and other application servers being used by other MDAs.
9. Ogun State Document Management System
The State is currently digitalizing documents management. The process which started with the Civil Service Commission has seen over six thousand files converted into electronic form (scanned and saved). The commission has fourteen thousand documents.
This would be done for other ministries, departments and agencies.
10. Ogun State Job Portal
In a bid to eradicate the situation of unemployed youths in the State, the State Government provided an e-channel for youths to register and for employers to easily find qualified candidates to fill professional roles.
11. Migration of various siloed application servers to a secured shared services environment.
Starting process for a complete State wide IT audit of all MDA's.
This meritorious award was received by the Special Advicer to the Governor on ICT, Mr. Dayo Abiodun and the Director, Ogun State Bureau of ICT, Mrs. Adekunte Olatundun.
To God be the Glory!