Organizers of #UNLEASHSeasonV release list of 23 FINALISTS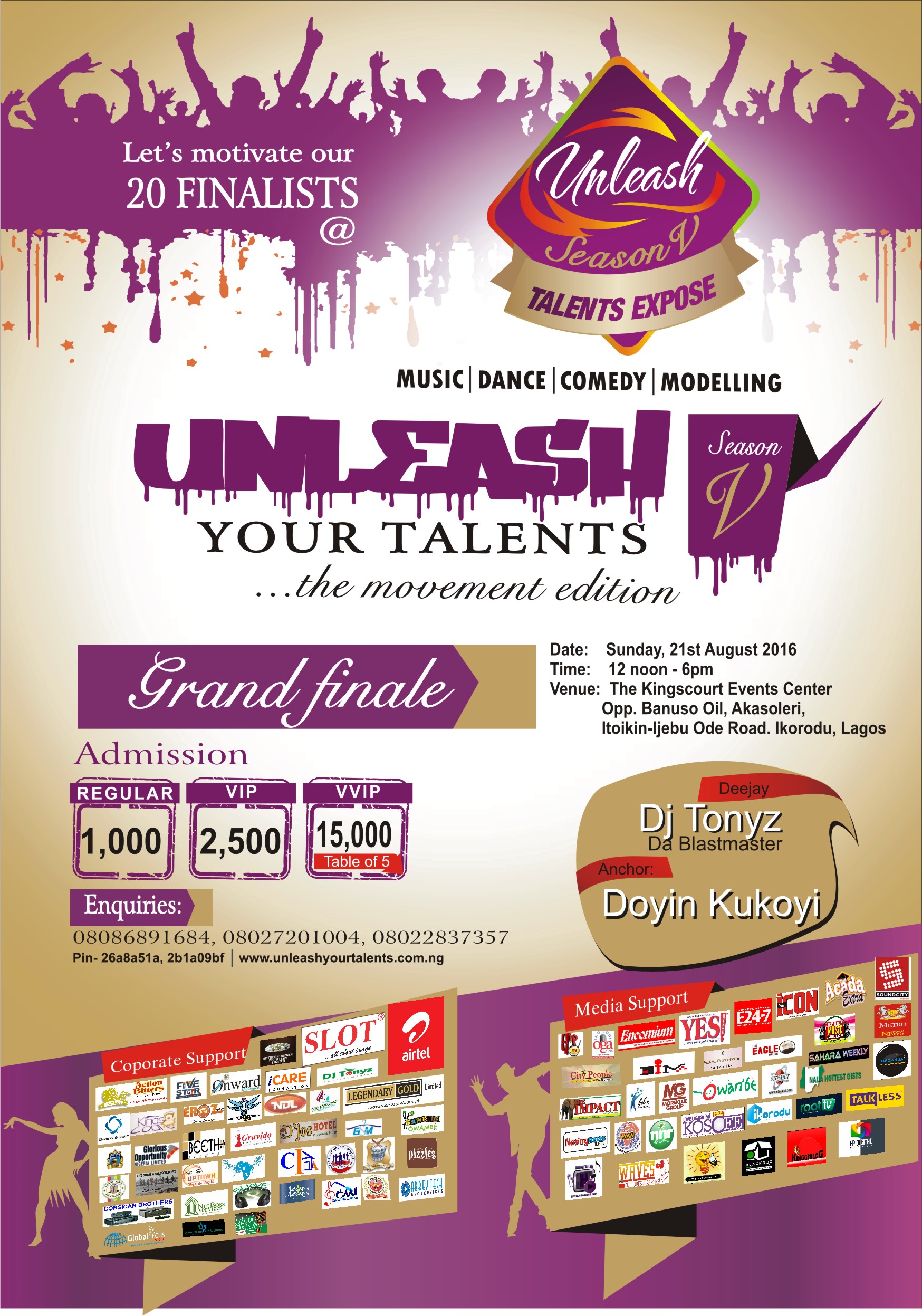 True to the words of the organizers of the foremost grassroots talents exposition "UNLEASH Your Talents" to make this edition quite a memorable one, the Organizers finally released to the public in a fashionable way the list of finalists lucky to make it to the #UNLEASH Orientation camp.
The list which was expected to have been released not too long after the final audition experienced a week delay with all registered contestants been kept in suspense.
As against the traditional twenty (Five finalists in each category), this edition eventually list out Twenty-three finalists with the breakdown: Music- 6 finalists, Comedy- 4 finlists, Dance- 6 Finalists and Modelling- 7 finalists.
The Coordinator, #UNLEASHSeasonV, Princess Aderoju Ladega posited in the official press release that "our resolve to rebrand and repackage the content and resultatnt effect of the project UNLEASH Your Talents series led to the delay in selection of the finslists. We had to go through the painstaking process of collating results from the Judges recommendation from stage 1 of the audition, the contestants' online rating, their behavioural tendencies and finally the scores from the Final audition before arriving at this list."
On why the additional Three as against the traditional Twenty, Princess Ladega stated that "it relly was a tough call especially in the Dance, Modelling and Music segment. While collating the results, we just couldn't afford to entertain any form of sentiment, we tasked ourselves with the sole objective of bringing out the best only on merit and without any form of bias. Also, we discovered one or two of the contestants had their rating at par, forming a tie, hence, we  had to give them the chance to prove their mettle at the camp and finally at the Grand finale.
The list of finalists is as follows:
MUSIC
OLOSUNDE EUNICE TEMITOPE
OKUNADE SUNDAY AYODELE (HOJAY Sunny)
DUROJAIYE WASIU
ANTHONY N. CHRISTOPHER
OGBOLU ONYEKACHI MERCY
AHMED AMEERAH BOLATITO
COMEDY
OYAKALE TEMITOPE
ADEBAYO TOSIN
ALOZIE MATTHEW
FAKUNMOJU SOLOMON AYOBAMI
DANCE
FLEXIBLE TWIST
DANCE 2 FAMILY
ROOTS OF DAVID
FRUITFUL STEPPERS
AKINFOLARIN BUSAYO
IZAH CHRISTIAN
MODELLING
EBHODAGHE BLESSING
AZIAPONO FAITH INIFOME
ATOYEBI AFOLASHADE
UMORU MUBARAK
ADARAMOLA OLUWASEYIFUNMI
AKINOLA OLAMIDE
OBASI STEPHANINE
The #UNLEASHSeasonV camping is scheduled to kick off a week before the Grand finale which is slated to hold  Sunday, 21st of August 2016.
This year edition has the identification leading telecommunication Giant, Airtel Nigeria, as well as the support of leading Mobile devices sales/service company SLOT Nigeria and other private and government establishments such as Intercontinental Distillers, ICare Foundation, Legendary Gold Ltd, G & M Dry Cleaners, Glorious Opportunity, Globatech World Computers, Laspotech, StojaIct and Corsican Brothers. Other supporting brands includes Organization of Party Entertainers of Nigeria (O.P.E.N), Gravido Fashion, DuoSystems, Chess Int'l and Ikorodu Ambassadors, D.O.M.F among others.
  Photos of Finalists: