Sterling Bank Continues Support for Ake Festival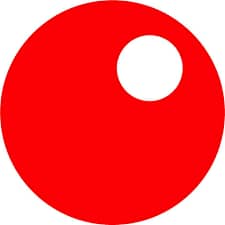 Sterling Bank Continues Support for Ake Festival
Sterling Bank, Nigeria's leading commercial bank, is proud to announce its continued partnership with the Book Buzz Foundation for the 11th edition of the Ake Arts and Books Festival, taking place from November 22nd to 24th, 2023, in Ikeja, Lagos. This collaboration reaffirms Sterling Bank's unwavering commitment to enriching lives and investing in the communities it serves. The bank firmly believes that its prosperity is intertwined with the thriving of the community it operates in.
Maurice Igugu, Chief Marketing Officer of Sterling Bank, highlighted the bank's ongoing commitment to five key sectors of the economy under its HEARTS strategy: Health, Education, Agriculture, Renewable Energy, and Transportation. "Through strategic investments in education," said Mr. Igugu, "we aim to empower communities with knowledge, equipping them to combat poverty and elevate their standards of living."
The Ake Festival, founded by director Lola Shoneyin, plays a vital role in nurturing the creativity of young individuals and enabling them to flourish. Sterling Bank remains steadfast in its support of the festival as part of its continued efforts to promote creativity and community growth.
The 2023 edition of the festival adopts the theme of "Blood Ties," exploring concepts of family, love, relationships, loss, and togetherness. This theme reflects the festival's commitment to inclusivity and promoting a diverse range of voices and perspectives.
Lola Shoneyin expressed her gratitude for the partnership with Sterling Bank and Luminate, organizations aligned with the festival's goal of celebrating and promoting creativity while facilitating discussions that empower the youth. She also introduced a notable addition to this year's festival, The Africa Rights Forum, which aims to train agents and editors in sub-Saharan Africa to navigate the global rights market and enable African publishers to establish a presence in the global marketplace.
Visitors to the festival can look forward to stimulating panel discussions covering a diverse range of topics and featuring some of Africa's finest thinkers. "This year," said Shoneyin, "we have eight incredible panel discussions with some of Africa's brightest minds. Everyone leaves Aké Festival feeling enriched."
Beyond panel discussions, the festival will showcase in-depth interviews with a diverse array of writers from Africa and beyond, delving into the themes they explore, their memorable characters, and the magical worlds they create for readers.
Why You Should Patronize dElite Couture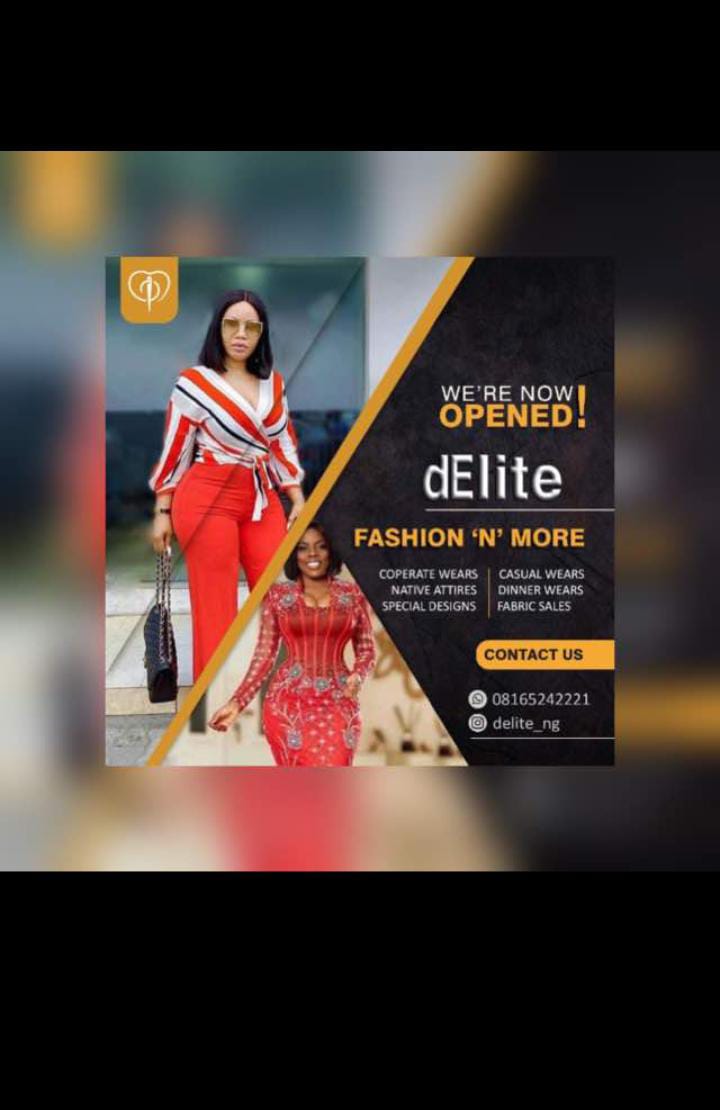 Why You Should Patronize dElite Couture
Arguably, one of the leading Couture in Nigeria is dElite Couture. Owned by delectable Oluwatosin Afeniforo, its a haven of fashion and more.
Known for trendy styles and quality services, celebrities and dignitaries are finding dElite as the place to be for top-notch fashion styles.
A trial is enough to convince anybody that dElite couture is the place to be where fashion is concerned.
Naira Recovers Against Dollar, Sells At N806.73/$1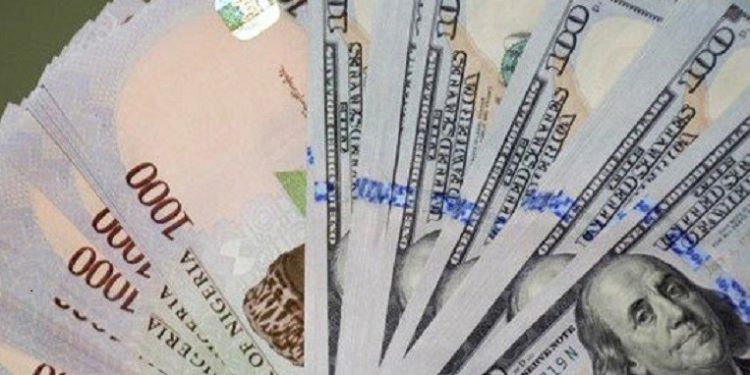 Naira Recovers Against Dollar, Sells At N806.73/$1
For the second time this week, the naira appreciated significantly against the United States dollar at the Nigerian Autonomous Foreign Exchange Market (NAFEM), the country's official exchange rate window.
The naira recovered from N837.77/$1, on Monday, to N806.73/$1, on Tuesday, after it slumped to N927.19/$1 on Friday, December 1, 2023 at the official market.
According to Data from FMDQ Securities Exchange, a platform that oversees foreign exchange (FX) trading in Nigeria, the rate recovered from the N830.90/$1 it opened on Tuesday to close N806.73/$1, thereby, gaining by N24.
The recovery was against the report of the National Bureau of Statistics 'Foreign Trade in Goods Statistics (Q3 2023),' report that Nigeria's foreign trade in the third quarter of 2023 rose by 53.16 per cent year-on-year to N 18.80tn.
According to the report, crude oil revenue surged by 83.23 per cent to N8.54tn in the quarter under review. In the third quarter of 2022, total crude oil sales amounted to N4.66tn.
Buoyed by an increase in trade activities in the period, total exports increased by 60.78 per cent to N10.35tn.
The report, released on Monday, read in part, "Nigeria's total merchandise trade stood at N18.80tn in Q3, 2023. The value indicates an increase of 54.62 per cent over the amount recorded in Q2, 2023 as well as by 53.16 per cent when compared to the value recorded in Q3 2022.
"Total exports accounted for 55.02 per cent of total trade in the reviewed quarter with a value of N10.35tn, showing an increase of 60.78 per cent and 74.36 per cent over the value recorded in the preceding and corresponding quarters respectively.
"Exports trade in the third quarter of 2023 was dominated by crude oil exports valued at N8,535.61 billion representing 82.50 per cent of total exports while the value of non-crude oil exports stood at N1.81tn accounting for 17.50 per cent of total exports; of which non-oil products contributed N677.57bn or 6.55 per cent of total exports.
"On the other hand, the share of total imports accounted for 44.98 per cent of total trade in the third quarter of 2023 with the value of imports amounting to N8.46tn in Q3, 2023. This value indicates an increase of 47.70 per cent and 33.33 per cent respectively over the value (N5.73tn) and (N6.34tn) recorded in the preceding and the corresponding quarters of 2022."
Lagos Task Force dislodges Ikorodu roadside traders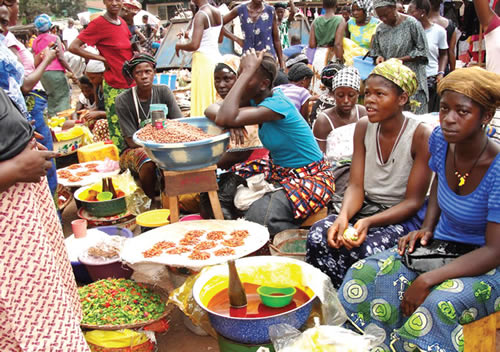 Lagos Task Force dislodges Ikorodu roadside traders
In its continuous efforts to rid the state of the menace of street trading, operatives of the Lagos Environmental Sanitation Corps and the Kick Against Indiscipline, on Tuesday, dislodged roadside traders around Aunty Kenny in the Agric area of Ikorodu.
A statement by the Lagos State Ministry of the Environment and Water Resources said the dislodgement was part of measures to sustain zero tolerance for street trading in the state.
It read, "Operatives from the LAGESC/KAI on Tuesday dislodged recalcitrant street traders on the kerb at Aunty Kenny Agric on lkorodu Road as part of measures to sustain the zero tolerance for street trading."
Similar enforcements were carried out on Monday at Oshodi-Mushin Road, Ojuelegba Road, Yaba-Muritala Muhammed Way, Oyingbo under the newly constructed bridge, inner and outer Marina-CMS, Victoria lsland and Lekki areas of the state, following directives of the Commissioner in the ministry, Tokunbo Wahab.
According to a statement, many of the defaulters were arrested in the course of enforcement and taken to the LAGESC/KAI headquarters where they were handed over to the appropriate section for interrogation and prosecution.
The commissioner also gave directives to operatives of LAGESC/KAI and other related agencies to sustain the dislodgment and ensure that the traders do not return to the areas
@Punchng